Night Snake
Hypsiglena torquata
Last updated: November 14, 2022
Verified by: AZ Animals Staff
© Matt Jeppson/Shutterstock.com
Night Snake Locations
---
Night Snake Facts
Lizards, frogs, insects
Over 100,000
Triangular-shaped head
Two dark brown splotches at the base of its head

desert, meadow, rocky area, or forest, tropical or temperate climate
Omnivore
Night snake
17
This post may contain affiliate links to our partners like Chewy, Amazon, and others. Purchasing through these helps us further the A-Z Animals mission to educate about the world's species..
View all of the Night Snake images!
---
---
Key Points:
Night snakes are easily mistaken for young rattlesnakes due to their triangular-shaped heads and elliptical pupils.
There are 17 different types of night snakes including the Texas night snake, California night snake, and San Diego night snake.
The bite from a night snake is poisonous, but the venom only affects smaller animals like lizards, frogs, and small snakes.
Night snakes are sometimes mistaken for rattlesnakes due to some shared characteristics.
The range of the night snake stretches from the southern part of Canada, through the western part of the United States from Idaho to Texas, then down into Mexico. Their habitat includes deserts, meadows, forests, and rocky areas. It's considered fairly small in size at up to 26 inches long. They hide beneath rocks, brush, and other debris during the daytime hours. This reptile has a small amount of venom in its saliva.
4 Night Snake Amazing Facts
It is commonly mistaken for a young rattlesnake due to its triangular-shaped head and elliptical pupils
Baby snakes of this species hatch in late summer
It goes into brumation in the winter sometimes sharing a den with rattlesnakes
Its fangs are in the back instead of the front of its mouth
Where to Find a Night Snake
The night snake lives in Canada, specifically the southern portion of British Columbia. They live in the western and southern parts of the United States from Washington through Idaho, California, and Utah continuing southward into Texas. They also make their home in the northern part of Mexico.
This snake is seen in lots of different habitats. They can live in a desert, meadow, rocky area, or forest environment. These snakes can survive in a tropical or temperate climate.
This snake is active at night. That's how it got its name! At dusk, they come out from beneath piles of brush or rocks to start hunting for prey. Baby night snakes start looking for insects so they can learn how to hunt.
Countries where the night snake lives:
---
---
Types of Night Snake
Night snakes are members of the very large Colubridae family. Within that family, the Hypsiglena genus includes at least 17 types of night snakes. Some examples are:
Texas night snake (Hypsiglena torquata jani)-The Texas night snake is rear fanged like the Hypsiglena torquata and has similar coloration. But the Texas night snake is smaller in size at about 16 inches in length.
California night snake (Hypsiglena torquata nuchalata)-This type of night snake has a mild venom, a flat head, and lives in a desert or rocky habitat. One difference between this snake and the Hypsiglena torquata is its range doesn't extend past California.
San Diego night snake (Hypsiglena ochrorhyncha klauberi)-The San Diego night snake is another example of many night snakes living in California. It has the same elliptical pupils as a Hypsiglena torquata as well as a flat head and nocturnal behavior. However, this snake is definitely smaller in size at just 8 to 16 inches in length.
Scientific Name
Hypsiglena torquata is the night snake's scientific name. The Latin word torquata means neck chain or collar. This refers to the two large, dark brown blotches at the base of this snake's head. These blotches give the impression of a collar on this snake.
Its family is called Colubridae, and it is in the Reptilia class.
Population and Conservation Status
The IUCN Red List of Threatened Species reports there are 100,000 plus night snakes in existence. The status of their population is described as stable especially in Mexico and they are identified as Least Concern.
Appearance and Description
The night snake is 12 to 26 inches long with a thick body. This snake has a narrow snout that gradually widens until it reaches the base of its head. This gives its head a triangular shape. Its eyes have elliptical pupils.
This snake has dull gray or light brown scales with a pattern of dark brown splotches on its back. It has two large dark brown splotches located at the base of its head and a dark stripe that connects to the edge of each eye. The belly of this snake is white.
How to identify a night snake:
Gray or light brown with dark brown splotches on its back
Two dark brown splotches at the base of its head
A triangular-shaped head
White belly
Elliptical pupils
Night Snake vs. Rattlesnake
Night snakes are sometimes mistaken for young rattlesnakes. This can be a problem. One snake is extremely poisonous and dangerous to humans while the other is not. Recognizing the similarities and differences between these two snakes can be helpful.
One similarity between these two snakes is they both have a dark stripe touching each eye. Also, both snakes have elliptical pupils. Furthermore, a night snake has the ability to flatten its head making it look even more triangular. When it feels threatened and takes this pose, it looks a lot like a rattler! Fortunately, there are some differences to look for when identifying these snakes.
One big difference is a rattlesnake has a row of rattles on its tail whereas a night snake's tail doesn't have any rattles. Also, rattlesnakes are normally much longer than night snakes.
Keep in mind that rattlesnakes have a potent venom while night snakes have mild venom that doesn't pose a threat to humans.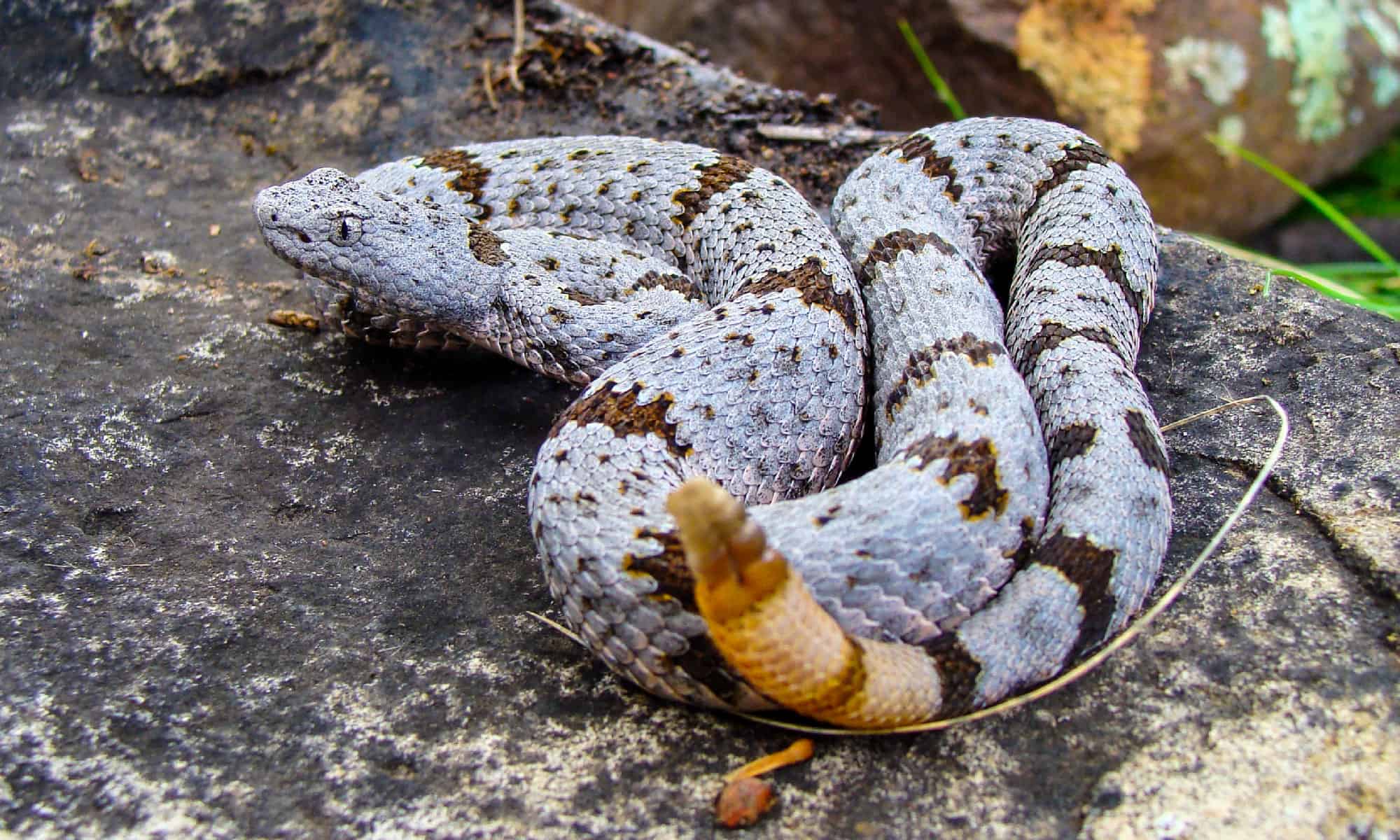 Night Snake Venom: How Dangerous Are They?
Night snakes are poisonous. But the venom that drips out of their rear-fangs is only a threat to its prey of lizards, frogs, and small snakes. In short, a person who receives a bite from a night snake is not likely to be harmed by its venom. But it's still a snake bite and needs attention and care.
Washing the bite wound with soap and warm water is the first step. Next, apply first-aid cream to the injury and adhere a bandage over it. Be on the lookout for extreme redness or swelling that can indicate the growth of infection. If either of these symptoms develops, go to a medical professional for further care.
Night Snake Behavior and Humans
Night snakes are timid reptiles. Their mild temperament combined with their small size has made them an appealing pet for some reptile enthusiasts. Remember that pet snakes need unique care. They need a temperature-controlled habitat, the proper level of humidity, and the right type of diet to remain healthy. It takes a dedicated owner to care for this snake.
Night snakes are a common sight for drivers traveling on desert roads at night. These snakes are out looking for food.
View all 59
animals that start with N
---
Night Snake FAQs (Frequently Asked Questions) 
Why is it called a night snake?
It's called a night snake because it's active at night.
Are night snakes venomous?
Yes, they're poisonous. But the venom is not dangerous to humans.
How do night snakes hunt?
They come out around dusk and travel through their desert, grassland, or forest habitat in search of prey. After the sun goes down, this snake uses its sense of smell to locate small animals. It grabs a lizard or frog and bites, injecting its venom. After the prey is dead, the night snake swallows it.
Are night snakes aggressive?
No, they are mild-tempered snakes.
Where do night snakes live?
They are found in the western and southern parts of the United States. Their range goes from the State of Washington and Idaho to California and down through Texas. Night snakes also live in southern British Columbia in Canada. The northern portion of Mexico is another place where they are found.
What do night snakes eat?
Lizards make up the main portion of this snake's diet. Frogs and smaller snakes are other types of prey. Baby night snakes have a diet of insects.
Where are night snakes found?
These reptiles are out at nighttime crossing roads and slithering through rocky areas, deserts, and woodlands looking for something to eat. But, during the day, they are hiding beneath rocks, in burrows, and under piles of sticks and grass. They sometimes take cover in rock crevices during the daylight hours.
What do night snakes look like?
A night snake is gray or light brown with dark brown blotches on its back. It has a pair of brown blotches at the base of its head. This snake has elliptical pupils and a horizontal dark stripe near each eye.
How long are night snakes?
The size of this snake is 12 to 26 inches long.
Sources

Desert Museum, Available here: https://www.desertmuseum.org/books/nhsd_night_snake.php
IUCN Red List, Available here: https://www.iucnredlist.org/species/63823/12719256
California Herps, Available here: http://www.californiaherps.com/snakes/pages/h.o.klauberi.html
EOL, Available here: https://eol.org/pages/963474
Wikipedia, Available here: https://en.wikipedia.org/wiki/Hypsiglena_jani
CDC, Available here: https://www.cdc.gov/disasters/snakebite.html
Nature Mapping Foundation, Available here: http://naturemappingfoundation.org/natmap/facts/night_snake_712.html