Last updated: March 9, 2023
Verified by: AZ Animals Staff
© Lacen - Public Domain
Can live for up to 200 years!
---
Advertisement
---
Sea Urchin Locations
---
Sea Urchin Facts
Algae, Fish, Barnacles
6.0-9.0
Rocky ocean floor and coral reefs
Fish, Birds, Crabs, Sea Otter
Omnivore

Algae
Sea Urchin
2000000
Can live for up to 200 years!
This post may contain affiliate links to our partners like Chewy, Amazon, and others. Purchasing through these helps us further the A-Z Animals mission to educate about the world's species.
View all of the Sea Urchin images!
---
---
Sea urchins are also called sea hedgehogs, sand dollars, and sea biscuits.
Sea urchins are animals that are typically small, spiny, and round. They live in all the earth's oceans, at depths ranging from the tide line to 15,000 feet. Because they cannot swim, they live on the sea floor. Their main defense against more agile predators like eels and otters is their hard, spiny shell called a 'test.'
3 Sea Urchin Facts
Secret weapon: The carrier crab uses a sea urchin like a suit of armor for extra protection from predators.
Five-fold symmetry: The bodies of mature sea urchins contain five symmetrical sections, unlike mammals, which have two.
Shy of the spotlight: They have no detectable eyes, but experts suspect their entire body is a compound eye that is sensitive to light.
Classification and Scientific Name
Sea urchins are in the Echinodermata phylum. The scientific name is Echinoidia, which is also the name of their class. They are in the Camarodonta order, and some belong to the Echinidae family. This family contains genera including Strongylocentrotus and Lytechinus.
History and Origins
Sea urchins form colonies in the ocean for a specific purpose. When they spawn, males release sperm, and females release eggs that then fertilize when they meet. This is why larger colonies are advantageous, as they have a better chance of producing more embryos. Sea urchins have been around for an astounding 465 million years, constantly adapting to environmental changes in order to survive. It's remarkable that such a creature with no brain can stay alive for so long.
Sea urchin fossils have been found dating as far back as 465 million years ago during the Middle Ordovician period. The hard calcite plates of these creatures are well-preserved in rocks from this time period, with some specimens even having spines. Isolated spines are also commonly found as fossils. Some of the Cidaroida from the Jurassic and Cretaceous periods had club-shaped spines that were quite heavy.
---
---
Fossils of sea urchins from the Paleozoic era are often incomplete and consist of spines and pieces of crushed individuals. Estonia is well-known for its Ordovician and Silurian period shallow-water limestones featuring sea urchins. These ancient sea urchins likely lived in calmer waters, as their thin shells would not have been able to withstand being in more turbulent seas like some present-day species. During the Paleogene and Neogene periods, 66 to 1.8 million years ago, sand dollars emerged with flattened shells and small spines that were adapted for life in shallow water or even under the sand. These fossils are common in southern European limestones and sandstones.
Species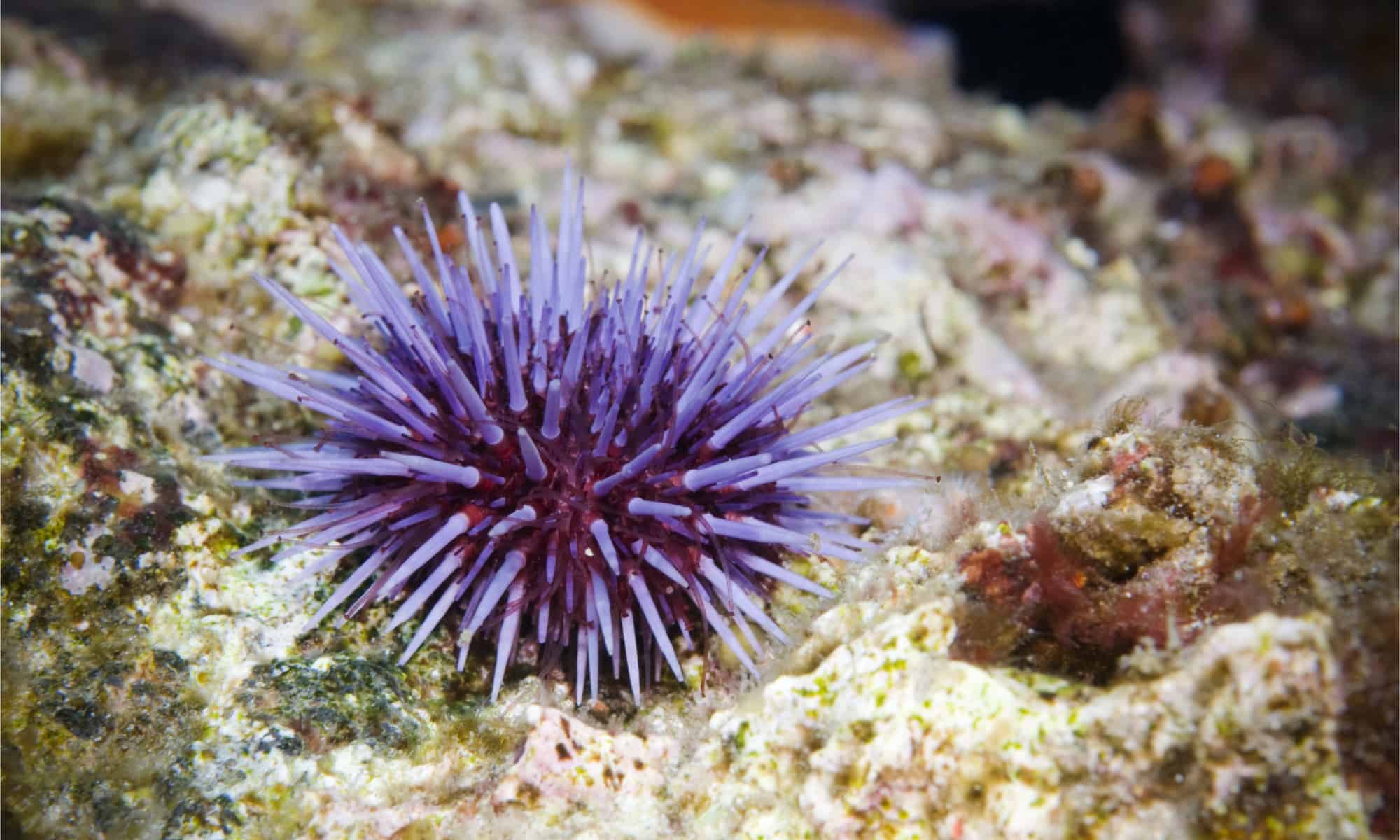 Some of the more interesting types of the 950 species include:
Strongylocentrotus purpuratus, the Pacific purple sea urchin, is a key ingredient in uni sushi.
The inky black Diadema sea urchin helps keep Caribbean coral reefs healthy by keeping plant growth down.
Toxopneustes pileolus, whose common name is flower urchin, is among the most toxic. It inhabits the warm oceans of the Western Indo-Pacific region.
The giant red sea urchin, or Mesocentrotus franciscanus, is the largest species, with their test averaging about 18 centimeters (seven inches) across and spines eight centimeters (three inches) in length. It inhabits the coastal Pacific waters of North America.
Heterocentrotus mamillatus, the slate pencil urchin, lives in tropical Indo-Pacific oceans. It has stubby spines with rounded, striped ends that can bore into rock.
Echinarachnius parma, known by the common names of sand dollar, sea cookie, or pansy shell, is a flat sea urchin that has short spines called cilia for burrowing into the sand. It lives in seas throughout the Northern Hemisphere.
The green sea urchin, Strongylocentrotus droebachiensis, is one of the 18 edible species. Processors harvest the gonads, glands within the shell, primarily for use in Japanese uni sushi. Green sea urchins live in Northern Atlantic waters.
Appearance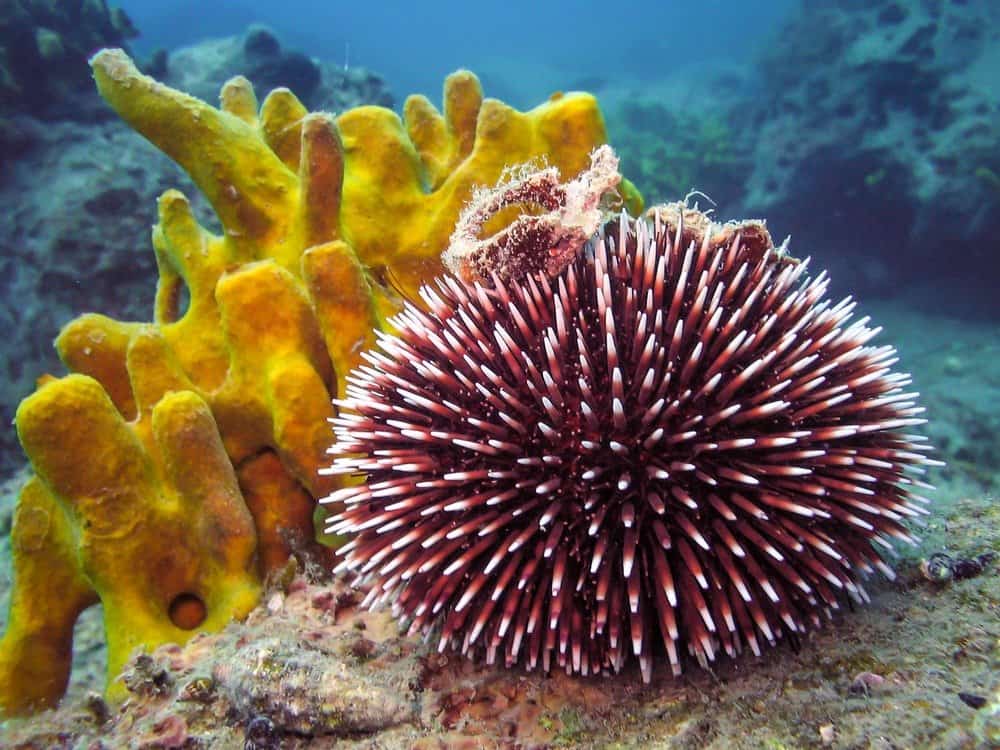 Sea urchins are small sea animals that have spherical shells called tests that are typically covered in spines similar to those of a porcupine. Very small tube-shaped feet among the spines help them move slowly along the ocean floor. They come in just about every color, from black to white, red, orange, green, brown, purple, pink, yellow, blue, and gray. They range in size from about an inch in diameter up to 14 inches. On average, they weigh about one pound.
Because there are nearly one thousand types of sea urchins, these animals can vary significantly in appearance. You can easily identify most of them by their spiny exteriors, but some, like sand dollars, have only short hairs all over their bodies. Others, like pencil sea urchins, have rounded-off spines that are not sharp like typical urchin spines.
Distribution, Population, and Habitat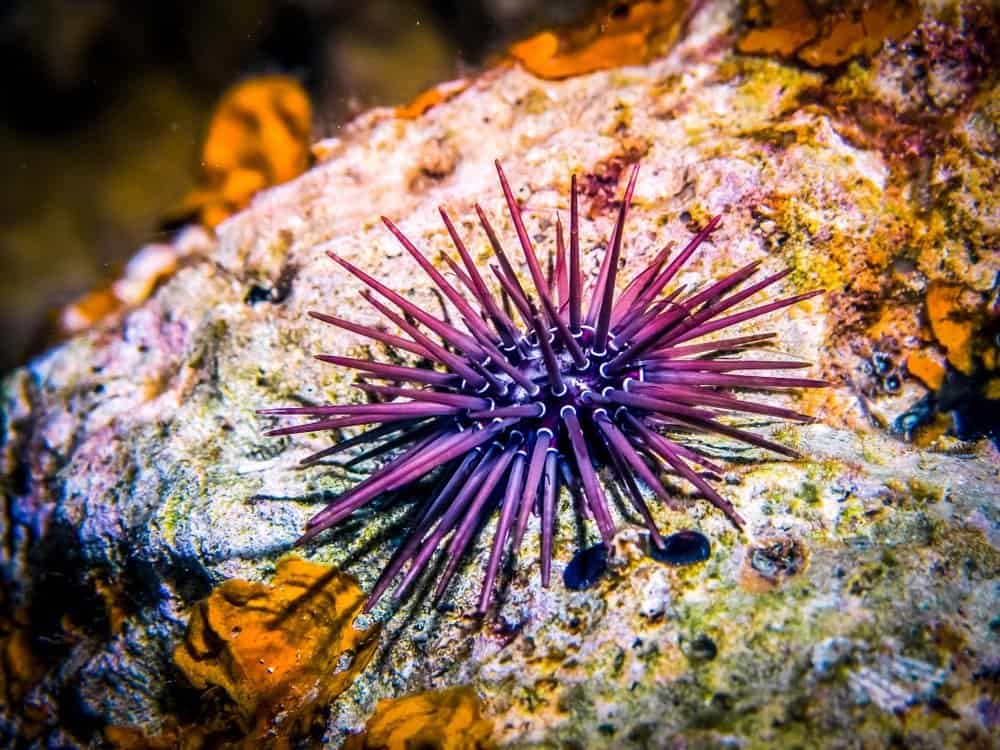 Sea urchins live in oceans throughout the world. Arctic or tropic, shoreline or deepest sea trenches, you can find them there. Because they cannot swim, the ocean floor is their home. Some, like the shingle urchin, live in the shallows near beaches where the sun shines. Others, like the ones in the Pourtaleslidae family, live so deep below the surface they are in total darkness.
Barren underwater areas have dense populations of these creatures, and populations nearer to the shore are the densest by far. While they live throughout the world, the greatest numbers live in temperate and tropical ocean habitats in the shallows up to ten meters down, where the plants they eat are plentiful.
With so many types and such a wide-ranging habitat, it is impossible to know for sure. However, a recent marine study in Oregon estimated that the purple species population on just one coastal reef numbered around 350 million, a figure that represented a 10,000-fold increase in just a few years, putting them in the least concern conservation category. Researchers attributed the exponential expansion of this Pacific coast class of urchins to a marine ecosystem that is out of balance.
Meanwhile, in the Mediterranean, the purple sea urchin population is currently in a near-threatened state. Factors that have decimated the species include warming sea temperatures and invasive fish that eat algae, depriving the urchins of a diet staple. Again, the underlying cause is an imbalance in the ecosystem.
However, scarcity of food does not necessarily mean the species is headed for extinction. Purple urchins can go dormant and survive with no food for years at a time. With such extraordinary persistence, these populations may ebb, but they also flow.
Predators and Prey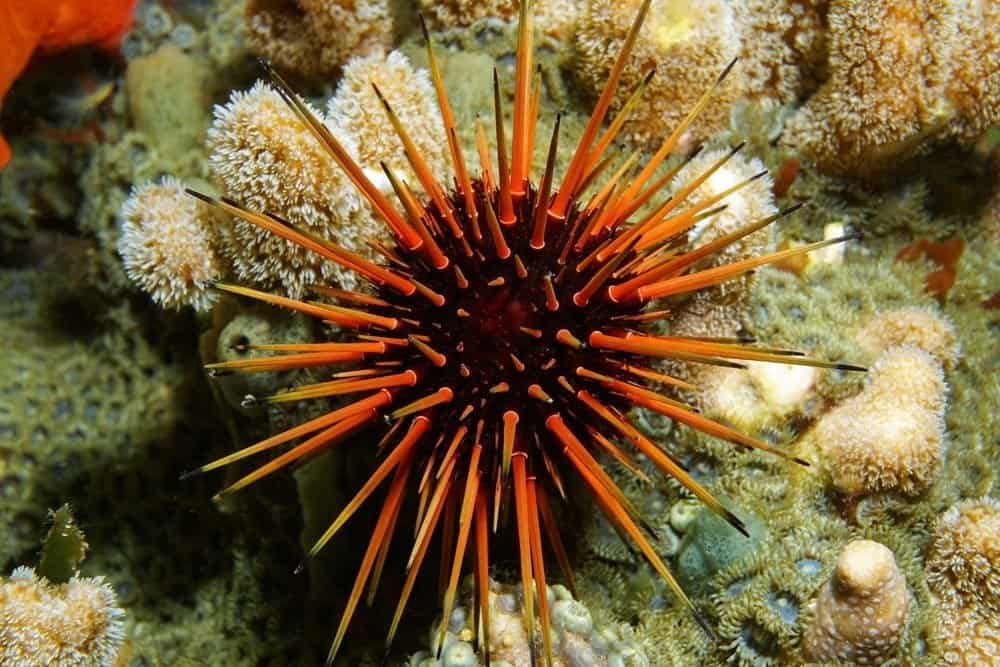 Despite their inborn resiliency, sea urchins are subject to threats from disease as well as predators. A 1981 bacterial disease nearly wiped out the Hemicentrotus pulcherimus and Pseudocentrotus depressus species in Japan. Bald sea urchin disease, another bacterial illness, threatens some sea urchin populations, causing the animals' spines to fall out and leaving them defenseless against predators.
What Eats Sea Urchin?
Shellfish like crabs and lobsters are among these creatures' natural predators. Triggerfish and wrasse are two fish that prey on them. The wolf eel is specially equipped to hunt and eat those in the Northern Hemisphere. Sea otters in regions like British Columbia help maintain ecological balance by keeping urchins from overpopulating.
Although they are slow-moving, sea urchins do have some means of protecting themselves. Their sharp spines are often enough to discourage some predators. A few urchin species are venomous too.
What Do Sea Urchin Eat?
Sea urchin mainly eat marine vegetation like algae and kelp. They also prey on sessile, or immobile, sea creatures such as coral and sea sponges.
Reproduction and Lifespan
Females of the species produce eggs. Most release these eggs into the sea for fertilization by the sperm that males have released. The females of a few species hold their eggs among their spines rather than let them float freely.
Once fertilization occurs, it takes only about 12 hours for the egg to become an embryo. Soon thereafter, the embryo becomes a larva with cilia that can collect microscopic food to nurture its growth. It takes several months for the larva to transform into a fully developed sea urchin. It will grow for a few more years to reach adulthood. Depending on the species, they live a number of years. For example, the purple species has a life expectancy of around 20 years.
Fishing and Cooking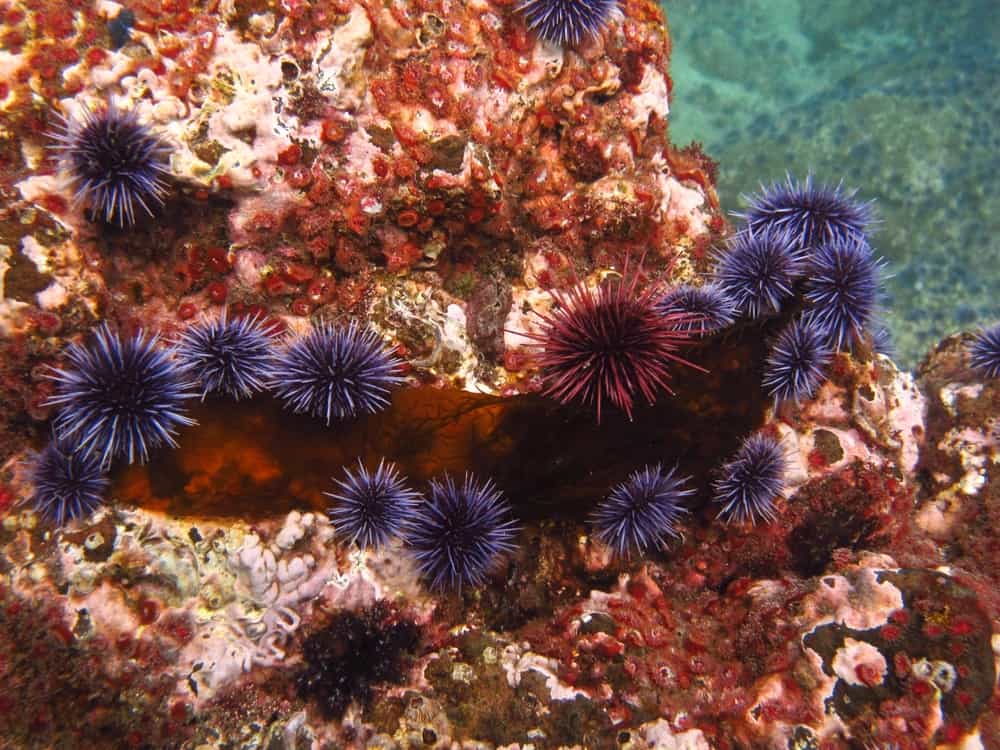 In many international cuisines, from Alaska to New Zealand, the gonads, or roe, are a delicacy. Typically, people eat them raw with lemon juice or olive oil. In other regions, chefs incorporate the roe in gourmet sauces, omelets, and soups.
The Japanese enjoy the roe in uni sushi. They consume about 50,000 tons of urchin roes per year, which amounts to approximately 80 percent of the world's commercially processed supply.
950 Types of Sea Urchins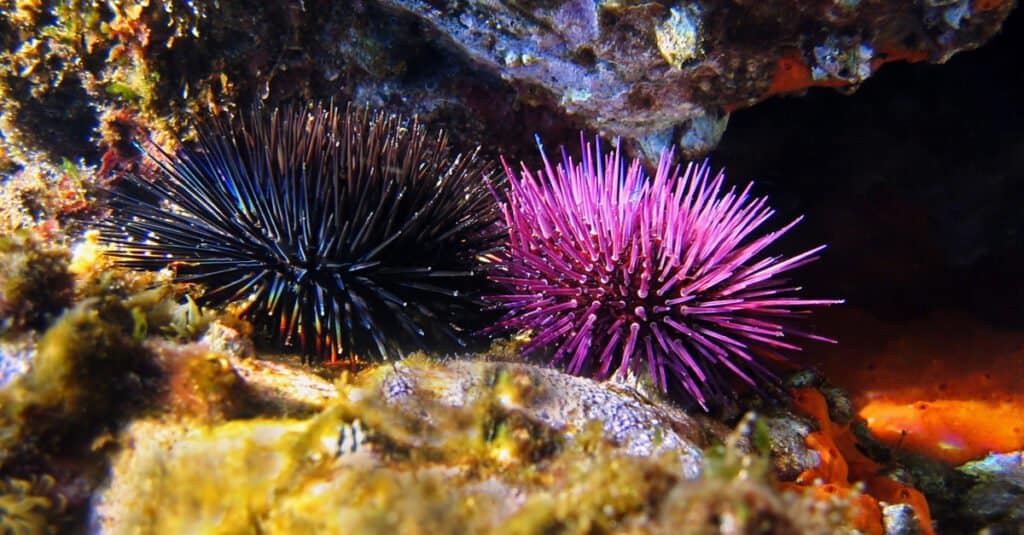 Sea Urchin Scientific Name
Aarchaeocidaris
Aarchaeocidaris strawberryensis
Abatus (Pseudabatus)
Abatus (Pseudabatus) nimrodi
Abatus agassizii
Abatus australis
Abatus beatriceae
Abatus bidens
Abatus cavernosus
Abatus cavernosus bidens
Abatus cavernosus cavernosus
Abatus cavernosus var. bidens
Abatus cordatus
Abatus curvidens
Abatus elongatus
Abatus gallegosensis
Abatus ingens
Abatus kieri
Abatus koehleri
Abatus nimrodi
Abatus philippi
Abatus philippii
Abatus shackletoni
Abelleicidaris
Abelleicidaris borjnadorensis
Abertella
Abertella aberti
Abertella cazonensis
Abertella cazonesensis
Abertella complanata
Abertella dengleri
Abertella floridana
Abertella gualichensis
Abertella habanensis
Abertella kewi
Abertella miskellyi
Abertella palmeri
Abertella pirabensis
Abertellidae
Absurdaster
Absurdaster hungaricus
Absurdaster meriani
Absurdaster puezensis
Acanthechinopsis
Acanthechinus
Acanthechinus dixiei
Acanthocidaris
Acanthocidaris curvatispinis
Acanthocidaris hastigera
Acanthocidaris hastingeria
Acanthocidaris maculicollis
Acanthotrema
Acanthotrema siculum
Aceste
Aceste annandalei
Aceste bellidifera
Aceste ovata
Aceste purpurea
Aceste sibogae
Aceste weberi
Acestina
Acestina annandalei
Acestina weberi
Acriaster
Acriaster sergipensis
Acrocidaris
Acrocidaris arginensis
Acrocidaris borissiaki
Acrocidaris cazioti
Acrocidaris crenulata
Acrocidaris marocense
Acrocidaris nicolleaui
Acrocircus
Acrocladia
Acrocladia blainvillei
Acrocladia blainvillii
Acrocladia cuspidata
Acrocladia hastifera
Acrocladia mamillata
Acrocladia mammillata
Acrocladia planispina
Acrocladia planissima
Acrocladia serialis
Acrocladia trigonaria
Acrocladia violacea
Acroechinoidea
Acrolusia
Acrolusiidae
Acromazus
Acropeltidae
Acropeltis
Acropeltis atlantica
Acrosalenia
Acrosalenia (Acrosalenia)
Acrosalenia (Milnia)
Acrosalenia angularis
Acrosalenia arabica
Acrosalenia basseae
Acrosalenia bowersi
Acrosalenia dhrumaensis
Acrosalenia gananensis
Acrosalenia gauthieri
Acrosalenia hemicidaroides
Acrosalenia jauberti
Acrosalenia koenigi
Acrosalenia Koenigii
Acrosalenia lamarckii
Acrosalenia lycetti
Acrosalenia marratensis
Acrosalenia mathildae
Acrosalenia microstoma
Acrosalenia mideltensis
Acrosalenia miliaria
Acrosalenia minuta
Acrosalenia pentagona
Acrosalenia smelliei
Acrosalenia somaliensis
Acrosalenia spinosa
Acrosalenia termieri
Acrosalenia wylliei
Acrosalenia zararensis
Acrosaleniidae
Acrosaster
Acrotiaris
Actapericulum
Actapericulum bicarinatum
Actinocidaris
Actinocidaris thomasi
Actinophyma
Actinopsis
Adelcidaris
Adelopneustes
Adelopneustes ernsti
Adelopneustes montainvillensis
Adelostellata
Adetaster
Aeolopneustes
Aerope
Aërope
Aerope fulva
Aerope rostrata
Aërope rostrata
Aeropsidae
Aeropsis
Aeropsis fulva
Aeropsis rostrata
Aeropsis sibogae
Aeropsis weberi
Agarites
Agassisia
Agassizia
Agassizia (Agassizia)
Agassizia (Agassizia) powersi
Agassizia (Anisaster)
Agassizia (Anisaster) arabica
Agassizia (Anisaster) mossomi
Agassizia (Anisaster) wilmingtonica
Agassizia (Anisaster) wilmingtonica inflata
Agassizia æquipeta
Agassizia aequipetala
Agassizia algarbiensis
Agassizia alveari
Agassizia avilensis
Agassizia camagueyana
Agassizia caobaensis
Agassizia caribbeana
Agassizia cyrenaica
Agassizia cyrenaica pseudoclevei
Agassizia cyrenaica pseudoinflala
Agassizia cyrenaica var. pseudoclevei
Agassizia cyrenaica var. pseudoinflala
Agassizia eugeniae
Agassizia excavata
Agassizia excentrica
Agassizia flexuosa
Agassizia guanensis
Agassizia lamberti
Agassizia lamberti oligocenicus
Agassizia lamberti var. oligocenicus
Agassizia ovulum
Agassizia pinarensis
Agassizia regia
Agassizia scrobiculata
Agassizia scrobiculata persica
Agassizia scrobiculata var. persica
Agassizia subrotunda
Aguayoaster
Aguayoaster aguayoi
Aguayoaster schickleri
Airaghia
Albertechinus
Albertechinus devonicus
Albertechinus montanus
Alexandraspis
Alexandria
Aliaster
Allaster
Allaster rotundatus
Allobrissus
Allocentrotus
Allocentrotus fragilis
Allocentrotus japonicus
Allomma
Allomma kalon
Allomma wrighti
Allotoxaster
Almucidaris
Almucidaris durhami
Alomma
Alpicidaris
Alternechinus
Alternocidaris
Ambipleurus
Ambipleurus quaylei
Ambipleurus rotundatus
Ambipleurus viladensis
Amblypneustes
Amblypneustes corrali
Amblypneustes elevatus
Amblypneustes elevatus elevatus
Amblypneustes elevatus ruber
Amblypneustes formosus
Amblypneustes grandis
Amblypneustes griseus
Amblypneustes griseus pachistus
Amblypneustes griseus ruber
Amblypneustes griseus var. rubra
Amblypneustes grossularia
Amblypneustes inflatus
Amblypneustes leucoglobus
Amblypneustes ovum
Amblypneustes ovum grandis
Amblypneustes ovum pachista
Amblypneustes ovum pachistus
Amblypneustes pachistus
Amblypneustes pachistus ruber
Amblypneustes pallidus
Amblypneustes pallidus subglobosus
Amblypneustes pallidus var. subglobosus
Amblypneustes pentagonus
Amblypneustes pulchellus
Amblypneustes purpurascens
Amblypneustes scalaris
Amblypneustes serialis
Amblypneustes textilis
Amblypneustes triseriatus
Amblypygus
Amblypygus (Amblypygus)
Amblypygus (Paramblypygus)
Amblypygus (Paramblypygus) houphoueti
Amblypygus checchiai
Amblypygus depressus
Amblypygus douvillei
Amblypygus moriensi
Amblypygus moriensis
Amblypygus ratiparensis
Ambuloasteroidea
Ammotrophinae
Ammotrophus
Ammotrophus arachnoides
Ammotrophus crassus
Ammotrophus cyclius
Ammotrophus platyterus
Amoraster
Amoraster paucituberculata
Amoraster tuberculata
Amphidetus
Amphidetus ampliflorus
Amphidetus capensis
Amphidetus cordatus
Amphidetus flavescens
Amphidetus gibbosus
Amphidetus kurtzii
Amphidetus kürtzii
Amphidetus laevigaster
Amphidetus lymani
Amphidetus mediterraneus
Amphidetus mortenseni
Amphidetus novae zealandiae
Amphidetus novæ zelandiæ
Amphidetus novaezelandiae
Amphidetus ovatus
Amphidetus pennatifidus
Amphidetus roseus
Amphidetus zealandicus
Amphidotus
Amphidotus cordatus
Amphidotus roseus
Amphiope
Amphiope (Tetrodiscus)
Amphiope (Tetrodiscus) auritus
Amphiope arcuata
Amphiope bioculata
Amphiope bioculata bentivegnae
Amphiope bioculata pelatensis
Amphiope bioculata var. bentivegnae
Amphiope bioculata var. pelatensis
Amphiope caupianensis
Amphiope dallonii
Amphiope doderleini
Amphiope döderleini
Amphiope doederleini
Amphiope fuchsi
Amphiope labriei
Amphiope miocenica
Amphiope nuragica
Amphiope pedemontana
Amphiope truncata
Amphipneustes
Amphipneustes bifidus
Amphipneustes brevisternalis
Amphipneustes davidi
Amphipneustes koehleri
Amphipneustes lorioli
Amphipneustes marsupialis
Amphipneustes mironovi
Amphipneustes mortenseni
Amphipneustes rostratus
Amphipneustes similis
Amphipneustes tumescens
Amphisalenia
Amphisternata
Amplaster
Amplaster alatus
Amplaster coloniensis
Amplaster ellipticus
Anabrissus
Anabrissus damesi
Anametalia
Anametalia grandis
Anametalia regularis
Anametalia sternaloides
Ananchites
Ananchites argentinus
Ananchites austriaca
Ananchitis
Ananchothuria
Ananchytes
Ananchytes tuberculatus
Anapesus
Anapesus blainvillei
Anapesus carolinus
Anapesus semituberculatus
Anaster
Anaulocidaris
Anaulocidaris tuberculata
Anaulocidaris vinassai
Ancyclocidaris
Ancylocidaris
Ancylocidaris spenceri
Angusticlypeus
Animalia
Anisaster
Anisaster arabica
Anisocidaridae
Anisocidaris
Anisocidaris leberti
Anisopetalus
Anisopetalus brodermanni
Anisopetalus caobaense
Anisopetalus cookei
Anisopetalus ellipticus
Anisopetalus oliveirai
Anochanus
Anochanus sinensis
Anomalanthus
Anomalanthus elevatus
Anomalanthus gigas
Anomalanthus guadalupense
Anomalanthus oligocenicus
Anomalanthus rojasi
Anomalanthus tumidus
Anomalanthus zanoletti
Anomocidaris
Anomocidaris japonica
Anomocidaris tenuispina
Anorthopygidae
Anorthopygus
Anorthopygus arabicus
Anorthopygus orbicularis
Anorthopygus paradoxus
Anorthopygus riveroi
Anorthopygus texanus
Anorthoscutum
Anorthoscutum oregonense
Anorthoscutum oregonense quaylei
Anothopygus
Anthechinus
Anthechinus roseus
Anthobrissus
Anthocidaris
Anthocidaris crassispina
Anthocidaris delalandi
Anthocidaris homalostoma
Anthocidaris purpurea
Antillaster
Antillaster albeari
Antillaster arnoldi
Antillaster bagmanovi
Antillaster bonairensis
Antillaster brachypetalus
Antillaster cartagensis
Antillaster depressus
Antillaster estenozi
Antillaster expansus
Antillaster giganteus
Antillaster guevarai
Antillaster herrerae
Antillaster jaumei
Antillaster lamberti
Antillaster mortenseni
Antillaster rojasi
Antillasteridae
Antipneustes
Antipneustes brevisternalis
Antipneustes marsupialis
Antipneustes rostratus
Antipneustes tumescens
Antiqubrissus
Antiquobrissus
Antiquobrissus suemegensis
Antiquobrissus sümegensis
Antrechinus
Antrechinus drygalskii
Antrechinus drygalskii drygalskii
Antrechinus drygalskii perfidus
Antrechinus mortenseni
Antrechinus nordenskjoldi
Antropygus
Apatopygidae
Apatopygus
Apatopygus gaudensis
Apatopygus mannumensis
Apatopygus occidentalis
Apatopygus recens
Apatopygus vincentinus
Apatoypgus
Aphanophora
Aphanophora bassoris
Aphanopora
Aphanopora echinobrissoides
Aphelaster
Aphelaster serotinus
Aplocidaris
Aplodiadema
Aplolampas
Aplospatangus
Aporocidaris
Aporocidaris antarctica
Aporocidaris eltaniana
Aporocidaris fragilis
Aporocidaris incerta
Aporocidaris milleri
Aporocidaris usarpi
Apoxypetalum
Apoxypetalum chenjafra
Aptilechinus
Aptilechinus caledonensis
Arachniopleurus
Arachniopleurus istrianus
Arachnoides
Arachnoides placenta
Arachnoides tenuis
Arachnoides zelandiae
Arachnoides zeylandiae
Arachnoididae
Arachnoidinae
Araeolampas
Araeolampas atlantica
Araeolampas fulva
Araeolampas glauca
Araeolampas hastata
Araeolampas rostrata
Araeosoma
Araeosoma alternatum
Araeosoma anatirostrum
Araeosoma bakeri
Araeosoma belli
Araeosoma bidentatum
Araeosoma brunnichi
Araeosoma coriacea
Araeosoma coriaceum
Araeosoma coriaceum coriaceum
Araeosoma coriaceum indicum
Araeosoma coriaceum var. indicum
Araeosoma eurypatum
Araeosoma fenestratum
Araeosoma gracile
Araeosoma hystrix
Araeosoma leppienae
Araeosoma leptaleum
Araeosoma migratum
Araeosoma mortenseni
Araeosoma owsteni
Araeosoma owstoni
Araeosoma owstoni bicolor
Araeosoma owstoni nudum
Araeosoma owstoni owstoni
Araeosoma owstoni var. nudum
Araeosoma parviungulatum
Araeosoma paucispinum
Araeosoma pellucidum
Araeosoma pyrochloa
Araeosoma splendens
Araeosoma tertii
Araeosoma tessellatum
Araeosoma tessellatum carinatum
Araeosoma tessellatum tessellatum
Araeosoma tessellatum var. carinatum
Araeosoma thetidis
Araeosoma violaceum
Arbacea
Arbacea punctulata
Arbacia
Arbacia (Echinocidaris)
Arbacia (Echinocidaris) nigra
Arbacia (Echinocidaris) spatuligera
Arbacia (Tetrapygus)
Arbacia (Tetrapygus) nigra
Arbacia abiquaensis
Arbacia aequituberculata
Arbacia alternans
Arbacia australis
Arbacia crassispina
Arbacia crenulata
Arbacia dufresnii
Arbacia Forbesii
Arbacia grandinosa
Arbacia incisa
Arbacia lixula
Arbacia lixula africana
Arbacia lixula lixula
Arbacia nigra
Arbacia punctulata
Arbacia pustulosa
Arbacia rivuli
Arbacia schythei
Arbacia spatuligera
Arbacia stellata
Arbacia waccamaw
Arbaciella
Arbaciella elegans
Arbaciidae
Arbaciidae incertae sedis
Arbaciidae incertae sedis bipatellis
Arbaciidae incertae sedis rotularis
Arbaciidae incertae sedis sphaeroides
Arbacina
Arbacina blancheti
Arbacina emmae
Arbacina forbesiana
Arbacina hugueti
Arbacina nitida
Arbacina pallaryi
Arbacina pareyni
Arbacina ruba
Arbacina variabilis
Arbacioida
Arbia
Arcaechinus
Arcaechinus auraduensis
Archaechinus
Archaechinus auraduensis
Archaeocidaridae
Archaeocidaris
Archaeocidaris aliquantula
Archaeocidaris apheles
Archaeocidaris barroisi
Archaeocidaris brownwoodensis
Archaeocidaris cowleyi
Archaeocidaris diadematoides
Archaeocidaris faassi
Archaeocidaris fraxinensis
Archaeocidaris hamata
Archaeocidaris harteiana
Archaeocidaris hemispinifera
Archaeocidaris immanis
Archaeocidaris manhattanensis
Archaeocidaris meurevillensis
Archaeocidaris mosquensis
Archaeocidaris propinqua
Archaeocidaris schreteri
Archaeocidaris schréteri
Archaeocidaris setosa
Archaeocidaris subwortheni
Archaeocidaris triserialis
Archaeocidaris whatleyensis
Archaeodiadema
Archaeopneustes
Archaeopneustes hemingi
Archaeopneustes hystrix
Archaeopneustes moorefieldi
Archaeopneustes niasicus
Archeopneustes
Archeopneustes hystrix
Archiacia
Archiacia hungarica
Archiacia lorioli
Archiacia magna
Archiaciidae
Argopatagus
Argopatagus aculeata
Argopatagus multispinus
Argopatagus planus
Argopatagus vitreus
Arialopsis
Arnaudaster
Arnaudaster colombianus
Arnaudaster cylindriformis
Asaphechinus
Asaphechinus murrayensis
Asaphechinus princeps
Asaphechinus singletoni
Asaphechinus tasmanensis
Aspidocidaris
Aspidodiadema
Aspidodiadema (Plesiodiadema)
Aspidodiadema (Plesiodiadema) microtuberculatum
Aspidodiadema africanum
Aspidodiadema annulatum
Aspidodiadema antillarum
Aspidodiadema arcitum
Aspidodiadema hawaiiense
Aspidodiadema intermedium
Aspidodiadema jacobyi
Aspidodiadema meijerei
Aspidodiadema meijerei keiense
Aspidodiadema meijerei var. keiense
Aspidodiadema microtuberculatum
Aspidodiadema montanum
Aspidodiadema nicobaricum
Aspidodiadema nicobaricum meijerei
Aspidodiadema nicobaricum var. meijerei
Aspidodiadema sinuosum
Aspidodiadema tonsum
Aspidodiadematidae
Aspidodiadematoida
Asterechinus
Asterechinus elegans
Asterinidae
Asterobrissus
Asterocidaris
Asterocidaris besairiei
Asterocidaris granulosa
Asterocidaris nodoti
Asterocidaris ragoti
Asterodaspis
Asteroidea
Asteropsis
Asteropyga
Asteropyga denudata
Asteropyga radiata
Asterostoma
Asterostoma dickersoni
Asterostoma irregularis
Asterostoma jimenoi
Asterostoma pawsoni
Asterostoma subcircularis
Asterostomatidae
Asterozoa
Asthenosoma
Asthenosoma belli
Asthenosoma bicolor
Asthenosoma coriacea
Asthenosoma coriaceum
Asthenosoma dilatatum
Asthenosoma gracile
Asthenosoma grubei
Asthenosoma heteractis
Asthenosoma hystrix
Asthenosoma ijimai
Asthenosoma intermedium
Asthenosoma marisrubis
Asthenosoma marisrubri
Asthenosoma owstoni
Asthenosoma pellucidum
Asthenosoma periculosum
Asthenosoma pyrochloa
Asthenosoma reynoldsi
Asthenosoma reynoldsii
Asthenosoma striatissimum
Asthenosoma tessellata
Asthenosoma tessellatum
Asthenosoma thetidis
Asthenosoma urens
Asthenosoma varium
Asthenosoma varium album
Asthenosoma varium varium
Astriclypeidae
Astriclypeus
Astriclypeus elegans
Astriclypeus manni
Astriclypeus manni ambigenus
Astriclypeus manni minoensis
Astriclypeus mannii
Astriclypeus mannii ambigenus
Astriclypeus mannii minoensis
Astriclypeus miaoliensis
Astriclypeus pitouensis
Astriclypeus waiwulunemsis
Astriclypeus yeliuensis
Astrodapsis
Astrodapsis altus
Astrodapsis altus antiquus
Astrodapsis altus var. antiquus
Astrodapsis antiselli
Astrodapsis armstrongi
Astrodapsis arnoldi
Astrodapsis auguri
Astrodapsis bajasurensis
Astrodapsis blakei
Astrodapsis brewerianus
Astrodapsis brewerianus bitterensis
Astrodapsis brewerianus emergens
Astrodapsis brewerianus junior
Astrodapsis brewerianus var. bitterensis
Astrodapsis brewerianus var. emergens
Astrodapsis brewerianus var. junior
Astrodapsis cierboensis
Astrodapsis cierboensis branchensis
Astrodapsis clarki
Astrodapsis cutleri
Astrodapsis davisi
Astrodapsis desaixi
Astrodapsis diabloensis
Astrodapsis diabloensis superior
Astrodapsis diabloensis var. superior
Astrodapsis elevatum
Astrodapsis englishi
Astrodapsis galei
Astrodapsis goudkoffi
Astrodapsis gregerseni
Astrodapsis gregerseni fragilis
Astrodapsis gregerseni var. fragilis
Astrodapsis gregerseni var. varians
Astrodapsis gregerseni varians
Astrodapsis hertleini
Astrodapsis hootsi
Astrodapsis isabellae
Astrodapsis israelskyi
Astrodapsis johnsoni
Astrodapsis johnsoni simile
Astrodapsis kewi
Astrodapsis major
Astrodapsis major parens
Astrodapsis major var. parens
Astrodapsis nipponicus
Astrodapsis ovalis
Astrodapsis perrini
Astrodapsis quaylei
Astrodapsis reedi
Astrodapsis salinasensis
Astrodapsis schencki
Astrodapsis schencki mirandaensis
Astrodapsis schencki var. mirandaensis
Astrodapsis schucherti
Astrodapsis schucherti affinis
Astrodapsis schucherti var. affinis
Astrodapsis woodringi
Astrodaspis
Astrodaspis ilyinensis
Astrolampas
Astropyga
Astropyga calamaria
Astropyga depressa
Astropyga desorii
Astropyga dubia
Astropyga elastica
Astropyga freudenbergi
Astropyga japonica
Astropyga magnifica
Astropyga major
Astropyga mossambica
Astropyga nuptialis
Astropyga pulvinata
Astropyga pulvinata var. venusta
Astropyga radiata
Astropyga spinosissima
Astropyga subularis
Astropyga venusta
Astropygaulus
Astropygaulus trigonopygus
Atactus
Atelospatangus
Atelospatangus (Semipetalion)
Atelospatangus (Semipetalion) anomon
Atelospatangus magnus
Atelostomata
Atlasaster
Atlasaster jeanneti
Atlasaster termieri
Atopechinidae
Atopechinus
Atopechinus cellensis
Atrapus
Aulacocidaris
Aulacopygus
Aulechinus
Aulechinus grayae
Auloclypeus
Aulodonta
Aurelianaster
Australanthus
Australidiadema
Australidiadema alexanderi
Austrocidaris
Austrocidaris canaliculata
Austrocidaris canaliculata var. lorioli
Austrocidaris gigantea
Austrocidaris lorioli
Austrocidaris mortenseni
Austrocidaris nutrix
Austrocidaris operta
Austrocidaris pawsoni
Austrocidaris platyacantha
Austrocidaris seymourensis
Austrocidaris spinulosa
Authoeidaris
Authoeidaris Erassispina
Bahariya
Bahariya teetotumensis
Balanocidaris
Balanocidaris besairiei
Balanocidaris clubis
Balanocidaris darderi
Balanocidaris fusiformis
Balanocidaris japonica
Balanocidaris migliorinii
Balanocidaris subdorsata
Balanocidaris tingitana
Bandelicyphus
Bandelicyphus qenaensis
Barnumia
Barnumia browni
Baronechinus
Baronechinus baroni
Basseaster
Basseaster rostratus
Batheritiaris
Bathyovulaster
Bathyovulaster disjunctus
Bathysalenia
Bathysalenia cincta
Bathysalenia gaezana
Bathysalenia goesiana
Bathysalenia phoinissa
Bathysalenia scrippsae
Bathysalenia sculpta
Bathysalenia skylari
Bathysalenia unicolor
Baudhuinipygus
Baueria
Baueria angelae
Baueria tessieri
Besairiecidaris
Besairiecidaris ankarensis
Biarritzella
Bichordites
Bichordites monastiriensis
Blaviaster
Bolbaster
Bolbaster argentinensis
Bolbaster compressus
Boletechinus
Boletechinus delawaricus
Boletechinus mcglameryae
Boletechinus rowei
Boletechinus rowei anglicus
Boletia
Boletia granulata
Boletia heteropora
Boletia maculata
Boletia picta
Boletia pileolus
Boletia polyzonalis
Boletia radiata
Boletia roseus
Boletia viridis
Bonaireaster
Bonaireaster rutteni
Bothriocidaridae
Bothriocidaris
Bothriocidaris eichwaldi
Bothriocidaris kolatai
Bothriocidaris maquoketensis
Bothriocidaris parvus
Bothriocidaris solemi
Bothriocidaris vulcani
Bothriocidaroida
Bothriolampas
Bothriopygus
Bothryopneustes
Bothryopneustes arabica
Bothryopneustes besairiei
Bothryopneustes dhrumaensis
Bothryopneustes galhauseni
Bothryopneustes inflate
Bothryopneustes kauffmani
Botriopygus
Botriopygus baconicus
Botriopygus jesusmariae
Botriopygus lamberti
Botriopygus latipetalus
Botriopygus millosevichi
Botriopygus neoataxensis
Botriopygus ovalis
Botriopygus pappi
Botriopygus pappi elongatus
Botriopygus pappi kutassyi
Botriopygus petalodes
Botriopygus petalodes planus
Botriopygus royoi
Botriopygus subquadratus
Botriopygus suemegensis
Botriopygus sümegensis
Botriopygus variabilis
Botriopygus vinassai
Botula
Brachybrissus
Brachysternaster
Brachysternaster chesheri
Bramus
Brangema
Brangema brangeri
Braunechinus
Breynella
Breynella baixadoleitensis
Breynia
Breynia australasiae
Breynia australasiae aroensis
Breynia australasiae var. aroensis
Breynia birmanica
Breynia cordata
Breynia crux andreae
Breynia crux-andreae
Breynia cruxandreae
Breynia desori
Breynia desorii
Breynia elegans
Breynia neanika
Breynia sirtica
Breynia testudinaria
Breynia vredenburgi
Breyninæ
Brightonia
Brightonia macfadyeni
Brisaster
Brisaster (Schizaster)
Brisaster (Schizaster) fragilis
Brisaster antarcticus
View all 293
animals that start with S
---
Sea Urchin FAQs (Frequently Asked Questions) 
What do sea urchins eat?
Mainly, they eat the plants around them, including kelp, algae and phytoplankton, which is made up of microscopic plant matter. Sea urchins also eat zooplankton, made of tiny animal life, and small, non-mobile animals like sea sponges and periwinkles that they can easily catch.
What is a sea urchin?
A sea urchin is a small marine animal in the Echinodermata phylum that is spherical in shape and covered in spines or cilia. There are 950 species of sea urchins. Some are irregular, meaning their appearance or anatomy varies from the majority of the species.
Where do sea urchins live?
Sea urchins live in oceans throughout the world. They live on ocean floors from zero depth to the deepest trenches.
Are sea urchins poisonous?
A few of the 950 species of sea urchins are poisonous. Some carry poison in their spines while others have venom in their tubular feet. Urchins in tropical environments are more likely to be poisonous. When you step on a poisonous sea urchins and the venom enters a puncture in the skin, you feel an immediate burning sensation. This can last for many hours. Other symptoms that may develop from a sea urchin sting include nausea, vomiting, difficulty breathing and muscle weakness. However, even the venom of the most poisonous species, the flower sea urchin, is rarely fatal.
What Kingdom do Sea Urchins belong to?
Sea Urchins belong to the Kingdom Animalia.
What phylum do Sea Urchins belong to?
Sea Urchins belong to the phylum Echinodermata.
What class do Sea Urchins belong to?
Sea Urchins belong to the class Echinoidea.
What order do Sea Urchins belong to?
Sea Urchins belong to the order Echinoida.
What type of covering do Sea Urchins have?
Sea Urchins are covered in Plates.
What are some predators of Sea Urchins?
Predators of Sea Urchins include fish, birds, crabs, and sea otters.
What is the average clutch size of a Sea Urchin?
Sea Urchins typically lay 2,000,000 eggs.
What is an interesting fact about Sea Urchins?
One of the incredible facts about sea urchins is that they can live for up to 200 years!
What is the scientific name for the Sea Urchin?
The scientific name for the Sea Urchin is Echinoidea.
What is the lifespan of a Sea Urchin?
Sea Urchins can live for 15 to 200 years.
What is the optimal pH for a Sea Urchin?
The optimal pH for a Sea Urchin is between 6.0 and 9.0.
How do Sea Urchins have babies?
Sea Urchins lay eggs.
Sources

, Available here: http://catalinaop.com/Wholesale/sea-urchin-live-2/#.X7bp3i05ST8
Wikipedia, Available here: https://en.wikipedia.org/wiki/Sea_urchin
, Available here: https://www.whoi.edu/science/B/people/kamaral/SeaUrchins.html
The Guardian, Available here: https://www.theguardian.com/environment/2019/oct/24/sea-urchins-california-oregon-population
Britannica, Available here: https://www.britannica.com/animal/sea-urchin#:~:text=Sea%20urchin%2C%20any%20of%20about,the%20test%20(internal%20skeleton)
, Available here: https://sicb.burkclients.com/rer/PoppeJAP.pdf
National Geographic, Available here: https://www.nationalgeographic.com/search?q=sea+urchin
, Available here: http://biology.fullerton.edu/biol317/murray/fall97/sea_urchin.html
, Available here: https://oceana.org/marine-life/corals-and-other-invertebrates/pacific-purple-sea-urchin
, Available here: https://www.scubadiving.com/why-sea-urchins-are-important-in-caribbean
, Available here: https://www.ncbi.nlm.nih.gov/books/NBK536934/