When most people think of bamboo in the landscape, they seem to imagine dense, uncontrollable groves of towering plants that engulf their surroundings. While many species may do just that, numerous varieties of bamboo don't spread and grow slowly into tight, dense clusters. The key to using bamboo in the landscape is understanding which species will behave in ways conducive to your goals.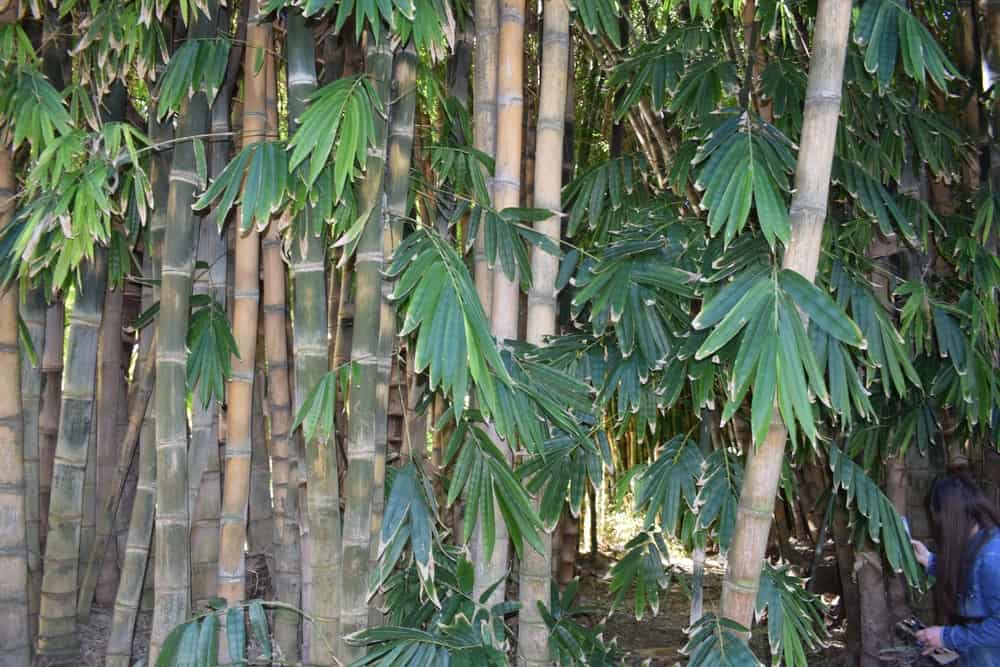 What is Bamboo?
While their behaviors and growth habits can differ, all bamboos are grasses that grow from structures called rhizomes. A rhizome is a modified stem that grows horizontally, at or below ground level, that a plant uses to store nutrients and produce new growth. Each tall cane, or culm, of a bamboo plant, begins as a small, conical shoot that emerges from a node on its parent rhizome. It increases in size for a short period and then quickly grows to its full height over weeks. Once the culm has reached its maximum height and thickness, it will stay this size until it breaks or dies back.
Although bamboo culms stay the same size as long as they stand, their rhizomes continue to increase in size and length. They produce ever more culms as they grow. However, not all bamboo species expand aggressively, and many will stop spreading after reaching a specific size. Over 1,400 distinct species of bamboo span over 100 genera. Each one of them can be categorized as either "running" bamboo or "clumping" based on their growth habits.
Running vs. Clumping Bamboo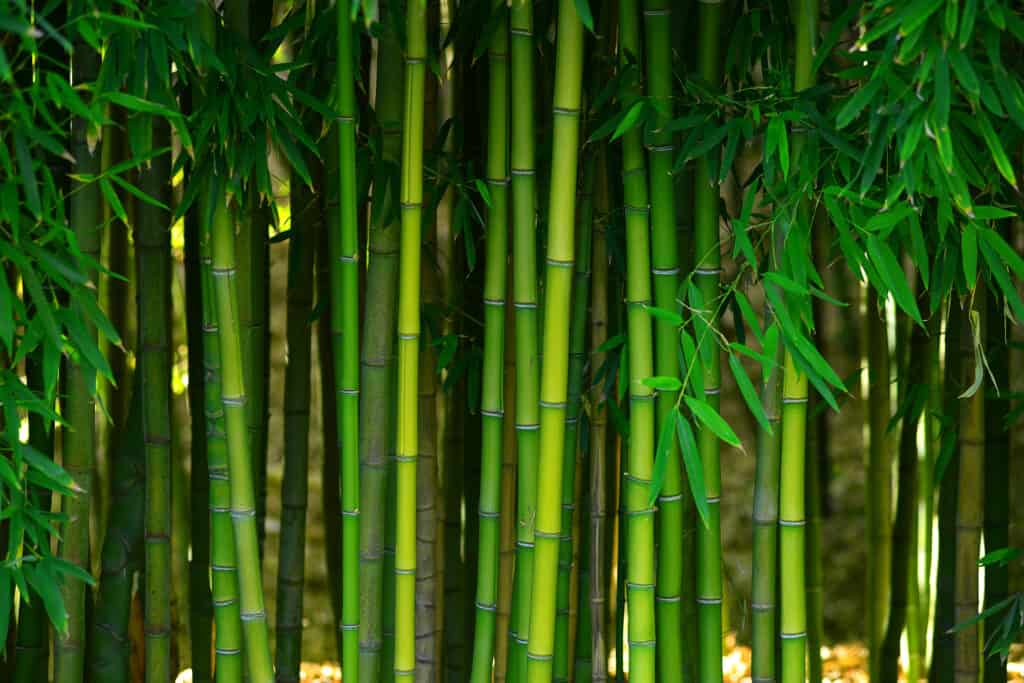 Running bamboo species grow from what are called "leptomorphic" rhizomes. This means that their rhizomes are lengthy, spread out quickly, and produce their culms in a more scattered fashion. They can meander indefinitely in any direction unless their rhizome's growth point becomes damaged or they are physically obstructed.
Clumping bamboos, on the other hand, are less adventurous. Their rhizomes spread significantly more slowly, preferring to turn upwards and produce new buds rather than create vast networks. While they can still cover some distance over time, their culms are densely grouped in neat clusters that will only extend so far from their origin. This more compact growth habit makes clumping bamboo much easier to contain. The diameter of the clump that each rhizome will form depends upon the species of bamboo chosen.
Most bamboo species that belong to the clumping category hail from moist tropical and subtropical environments. Thus, they are not very tolerant of freezing temperatures. These clumping species tend to fare so poorly in areas that experience cold winters. Many gardeners in higher elevations and cooler regions of North America have difficulty cultivating them. Instead, they plant more temperate but more challenging to contain, running bamboo varieties.
Though most clumping species require warm weather, many can survive a more comprehensive range of temperatures, and there are even some highly cold-hardy exceptions. Proper species selection and attention to detail make it easy to grow landscape bamboo that doesn't spread far from its starting point.
5 Species of Clumping Bamboo
Clumping bamboo species are excellent for use in landscaping. They can be far more versatile than their running relatives in terms of use and placement. Because they stay relatively compact and spread outward in a predictable fashion, they can be placed just about anywhere without worry that they will invade your yard — or your neighbor's yard.
If you'd like to grow bamboo as a privacy screen, showcase it in a garden, or create shade, there will surely be a clumping bamboo species that suits your needs and growing zone. Below is a list of five exciting and varied species of clumping bamboo to help you search.
Giant Timber Bamboo (Bambusa oldhamii)
If you live in a warmer, more southern climate zone and are interested in an impressively tall bamboo variety, this giant timber bamboo is a good choice. Towering at 20-50 feet, this clumping bamboo species produces thick-walled culms traditionally used in construction. They can be used to build fences, house frames, scaffolding, and more. When cooked, shoots of this species are an edible and popular food in Taiwan.
For best growth, provide this bamboo species with full sun and fertile soil that is well-draining and rich in organic material. Although it does not require much water to sustain its vast culms, its soil must be kept from completely drying out. This becomes easier as clumps expand outward, as each new culm provides a broader berth of shade for the plant's root zone. Timber bamboo of this variety is cold hardy down to temperatures of 15-20 degrees Fahrenheit.
Himalayan Blue Bamboo (Himalayacalamus hookerianus)
This bamboo species is native to the lower elevations of the Himalayan mountain range in Tibet, Nepal, and northern India. True to its name, primarily when young, its culms begin their growth covered in a light blue to purple powder that is deposited onto them as they exit their culm sheath. They lose this powdery coating as they age and develop toward a deep, golden-yellow color.
Culms of the Himalayan blue species are narrow, growing only to about an inch in diameter at their thickest point. They tend to rise to heights of 10-20 feet and thrive in partial shade. Their leaves will likely curl up if they receive too much direct sunlight. If you're looking for bamboo that doesn't spread much, this species is a great candidate. Mature clumps will only reach about 10 feet in diameter.
Umbrella Bamboo (Fargesia murielae)
The umbrella bamboo is a prevalent, shorter variety of clumping bamboo around 12 feet in height. Its rhizome spreads very slowly, producing narrow, woody culms that are a beautiful blue when young but turn dark green and yellow as they age. Because their rhizomes grow so slowly and their culms cap out at about 1/2 inch in thickness, clumps of umbrella bamboo tend to be very dense. Foliage is produced most heavily in the top part of each culm. This is owing to their arching growth habit and thus their namesake.
This bamboo species and its shorter cousin, Fargesia nitida, are incredibly cold and hardy for a clumping bamboo. Culms of this species tend to stay evergreen year-round. Rhizomes can withstand winter temperatures as low as -20 degrees Fahrenheit! They grow best in partial sun and partial shade. Too much bright sun can cause their leaves to furl up, turn yellow, or both.
Chinese Dwarf Bamboo (Bambusa multiplex' Tiny Fern')
With a maximum height of around 3 feet, this particular cultivar of Chinese dwarf bamboo is an excellent candidate for porch gardens, hedges, or indoor potting. Its culms are not only short but also very narrow. Each one produces a dense multitude of tiny leaves, less than 1 inch long, per branch, giving this grass a particularly bushy appearance. Because this dwarf bamboo doesn't spread very wide, several rhizomes may be required to fill a bed or create a hedge.
This cultivar requires moist, well-draining soil. However, care must be taken to avoid over-watering, mainly when plants are grown in containers. Older, brittle culms or those that have turned brown should be pruned back to help keep your plant healthy. Chinese dwarf bamboo can survive winter temperatures down to 15 degrees Fahrenheit. It does best during summer when temperatures range from 65-80 degrees Fahrenheit.
Weaver's Bamboo (Bambusa textilis)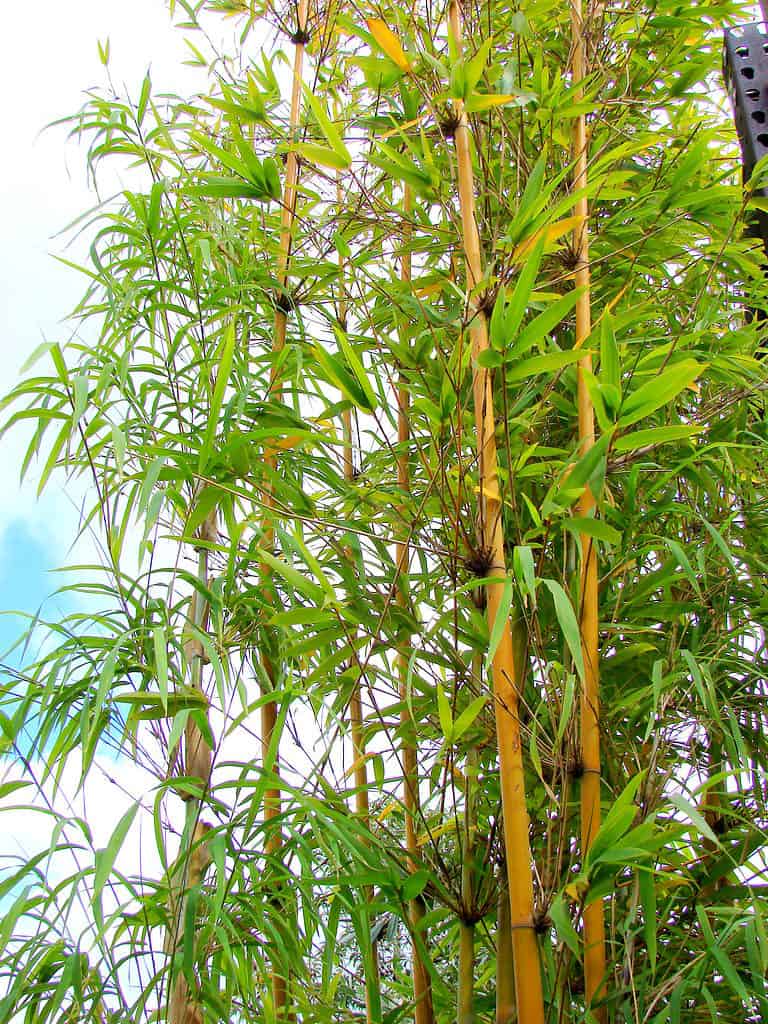 Dubbed the weaver's bamboo due to its strong and flexible culm fibers. This Chinese species makes for excellent, tall privacy screens and dividing walls. Due to the strength and thickness of its culms, weaver's bamboo does not require shelter from wind. It works very well as a windbreak. Its culms can grow to around 30-40 feet in the right conditions and produce clump diameters of nearly 6 feet. Established rhizomes will produce culms measuring up to 2 inches in diameter. They are covered in a fine, blue powder when they first emerge.
A subtropical species, this clumping bamboo thrives in full to partial sun and tolerates moderately low winter temperatures, down to about 15 degrees Fahrenheit. Weaver's bamboo thrives in nutritionally rich, well-draining soil and requires regular watering during hot weather. Once established, however, these plants are relatively tolerant to drought.
The photo featured at the top of this post is © Eric Patterson/Shutterstock.com
---