The tallest mountain in Washington State is Mount Rainer. This mountain is also home to many different kinds of plants and animals, which all live in different habitats and life zones. According to the National Park Service, there are more than 890 vascular plant species and over 260 non-vascular species in the park. There are more than 100 exotic plant species, too, especially along the transportation corridors and near trails. Some of the most common plants in the park include wildflowers, trees, lichens, and mushrooms.
You'll also find many different animals. For instance, there are 65 mammal species, 14 species of amphibians, five species of reptiles, 182 species of birds, and 14 species of native fish. The park is home to many rare animals, such as the Pacific fisher, ice worm, Cascade red fox, and wolverine.
The most diverse and abundant animals in the park, however, are the invertebrates — the insects, worms, crustaceans, and spiders, to name a few — that occupy all environments to the top of Columbia Crest itself.
Because the elevation changes so differently in the park, exactly what you can expect to find depends on where you are. In this article, we'll go through some of the animals and plants you can find in the alpine zone, which occurs over the treeline at 14,410 feet elevation.
1. Cushion Plants
Cushion plants are small, compact plants that grow very low to the ground. They often form dense mats or cushions, hence the name. These plants have thick, hairy leaves that retain moisture and prevent freezing.
Pollinators are rare at this altitude. Therefore, these species have to have bright and showy flowers to attract pollinators.
Some examples of cushion plants are mountain buckwheat, pussy paws, moss campion, and willow grass.
2. Sedges
These plants look like grasses, but they technically aren't grasses. They have triangular stems and very narrow leaves. Often, they grow in wet and boggy areas, forming large clumps.
Their small, inconspicuous flowers use wind for pollinating instead of insects, so they aren't particularly showy.
3. Grasses
There are many types of grasses in the area, including Festuca spp., Poa spp., and Agrostis spp. These herbaceous plants have round stems and long leaves. It's their stem shape that sets them apart from sedges. They often prefer dry, rocky areas, while sedges like wetter areas. Their flowers also rely solely on wind pollinating, so you often won't see them at first glance.
4. Mosses
These non-vascular plants do not have roots, stems, or leaves. Mosses grow on rocks, soil, and other surfaces, absorbing water and nutrients through their cells.
These species often grow in places other plants simply cannot, as they don't need room for their roots. They have small reproductive structures that produce spores. Cold-loving species are often closest to the highest point, including Bryum spp., Polytrichum spp., and Racomitrium spp.
5. Lichens
While they may not look like it, Lichens are very interesting organisms. They're actually symbiotic organisms consisting of a fungus and an alga. They grow on rocks, soil, and other surfaces, producing their food through photosynthesis. They can go dormant for a long time, making them very good at surviving harsher conditions.
Lichens come in all sorts of different shapes, sizes, and colors. They are often very slow-growing; most only grow about an inch a year.
6. Algae
These are simple aquatic organisms with no roots, stems, or leaves. They grow in water or on moist surfaces and produce their own food through photosynthesis.
Algae have various shapes and colors and often form filaments, colonies, or mats. Many species grow around Mount Rainer, including Nostoc spp., Zygnema spp., and Chlamydomonas spp.
7. Mountain Goats
While many animals often find it hard to live at higher elevations, mountain goats thrive on mountains. They're quite larger (larger than most people think) and very agile. Most people have seen pictures of mountain goats practically standing on cliffs. This adaption is how they survive in the mountains.
They usually have white fur and black horns. This fur provides some camouflage when they're clinging to the side of a cliff. It also helps them stay warm, as it is quite thick.
Like other goats, mountain goats will eat practically anything. They primarily feed on grasses, sedges, and lichens in mountainous meadows.
8. Pika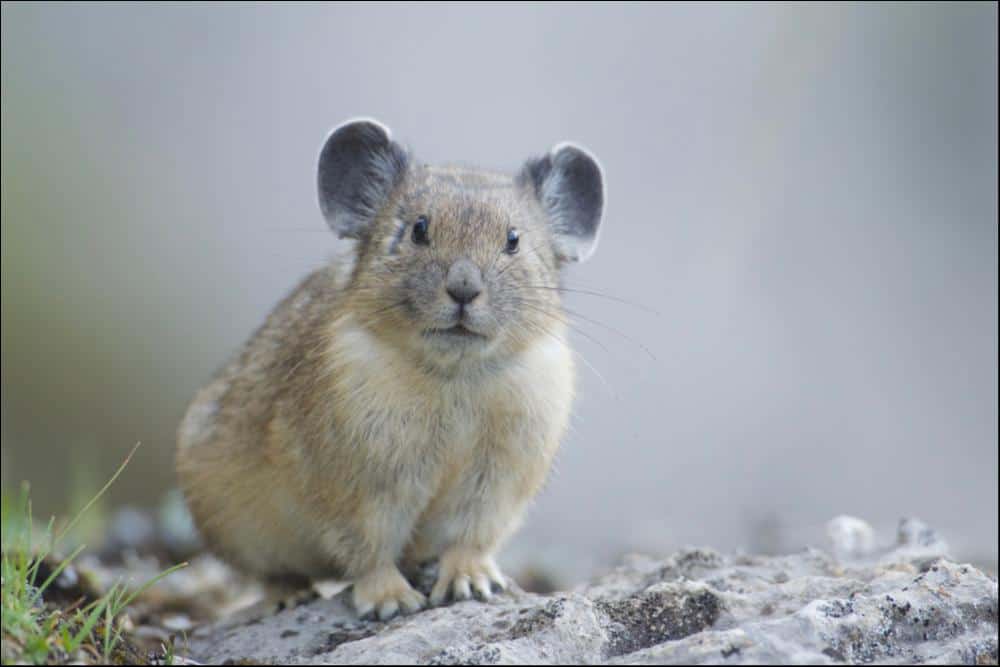 Pikas are very strange-looking rodents. They're small and furry with rounded ears and no tail. Their smaller size allows them to live in rocky, mountainous conditions, and their fur helps them stay warm.
They feed on grasses, sedges, and other vegetation. These rodents often aren't very picky. They prefer to live on slopes or in rock piles. Unlike many rodent species, they are mostly active during the day.
9. Marmot
These chubby rodents have brown fur and bushy tails. In many ways, marmots are the opposite of the Pika, especially regarding size. They consume much of the same foods, though. You can't be very picky when you live in the alpine zone.
These rodents can get quite large and are often pretty easy to see. They live in meadows and make their own burrows (or use long-forgotten burrows made by another animal). They are active during the day, just like the Pika.
10. Ptarmigan
This medium-sized bird is best known for its very feathered feet and short bill. While you'd expect to find many birds in the alpine zone, this species is actually one of the very few you'll find on Mount Rainer. It is challenging for birds to live at higher elevations, as the air is thinner and food is harder to find.
Ptarmigan eat your typical bid fare: buds, seeds, berries, and insects. They prefer to live in open areas and snowfields.
11. Ice Worms
These very tiny worms are darkly colored and have no eyes. They feed on algae and bacteria in icefields. That's right; these worms live in the ice and snow. For those used to worms living in soil, this is usually a bit of a shock.
You'll mostly find these worms active during the night. However, most people see them after accidentally uncovering them. Because they stay underground, you don't typically see them moving around.
Summary of 11 Plants and Animals Atop Washington State's Tallest Mountain
Here's a recap of the 11 plant and animal species we took a look at that live on Mount Rainer.
| Number | Species | Adaptation for Alpine Habitat |
| --- | --- | --- |
| 1 | Cushion Plants | Thick, hairy leaves retain moisture and prevent freezing |
| 2 | Sedges | Can grow in wet, boggy areas |
| 3 | Grasses | Prefer dry, rocky areas |
| 4 | Mosses | Grow in places other plants can't as they don't have roots |
| 5 | Lichens | Can be dormant for a long time, making them very good at surviving harsher conditions |
| 6 | Algae | Grow in water or on moist surfaces and produce their own food through photosynthesis |
| 7 | Mountain Goats | Very agile; thick fur provides warmth and camouflage |
| 8 | Pika | Smaller size; fur provides warmth |
| 9 | Marmot | Feed on grasses and sedges found in habitat |
| 10 | Ptarmigan | Prefer to live in open areas and snowfields |
| 11 | Ice Worms | Feed on algae and bacteria in icefields |
---