The ocean is an open environment with plenty of pockets to explore. However, it's not always the safest way of getting to know the many underwater creatures dwelling below. Aquariums provide you with an opportunity to meet sea life in a safe way. You can learn more about species you've heard of (and some you may not even know exist)! Some exhibits are interactive, while others are immersive, and all are awe-inspiring. Below, we highlight five incredible aquariums with sharks. Each has exceptional attractions and luckily, they're spread throughout the United States, making access easier than ever.  
1. Georgia Aquarium
Location: Atlanta, Georgia
The Georgia Aquarium boasts the biggest and most lively shark exhibit you can find throughout all of North America. With 1.2 million gallons of water, a depth of 20 feet, and multiple species, their shark exhibit is fantastic! Predators of the Deep® houses the apex predators you know and love. It demystifies sharks and demonstrates the critical role they play in the ocean's ecosystem. This is an immersive experience, allowing visitors to enjoy an educational visit in an up close and personal way. In this gallery, guests can see the great hammerhead shark, sand tiger shark, silky shark, silvertip shark, and tiger shark. There's also a shark and ray interaction guests can check out, where they'll encounter zebra sharks and whale sharks.
2. Newport Aquarium
Location: Newport, Kentucky
The Newport Aquarium invites guests into a mesmerizing underwater world where they can encounter a variety of unusual aquatic creatures. Visitors can explore exhibits with white alligators, penguins, and stingrays. And if you're there to see sharks, the Shark Bridge is a must. Here, you cross a suspended rope bridge only inches from a tank brimming with sharks. This aquarium is known as the "Shark Capital of the Midwest." The Surrounded by Sharks exhibit gives you an intimate experience. It even allows you to touch Japanese bull head sharks. Additionally, you can meet three of the newest additions to the aquarium, two females and one male sand tiger shark. As part of the same exhibit, you can also meet some blacktip reef sharks and shark rays.  
3. Aquarium of the Pacific
Location: Long Beach, California
The Aquarium of the Pacific is the biggest aquarium in the southern region of California. Their main objective is to invite visitors to experience the awe of the Pacific Ocean's inhabitants. They strive for visitors to develop a sense of reverence for these otherwise unseen creatures. Here, about 12,000 animals reside and there are over 100 exhibits for you to explore.
To take in the beauty of sharks, you have to head over to the Shark Lagoon where several species live. The experience includes interactive displays and pools with sharks you can touch. Additionally, you'll find an outdoor café for when your tummy starts rumbling. Some of the sharks here include zebra sharks, grey reef sharks, bamboo sharks, epaulette sharks, and blacktip reef sharks. The interactive displays teach you about everything shark-related and children can enjoy a squid playground sculpture that squirts water. The Shark Lagoon is a whopping 10,000 square feet, ensuring you have a fun-filled day.  
4. Adventure Aquarium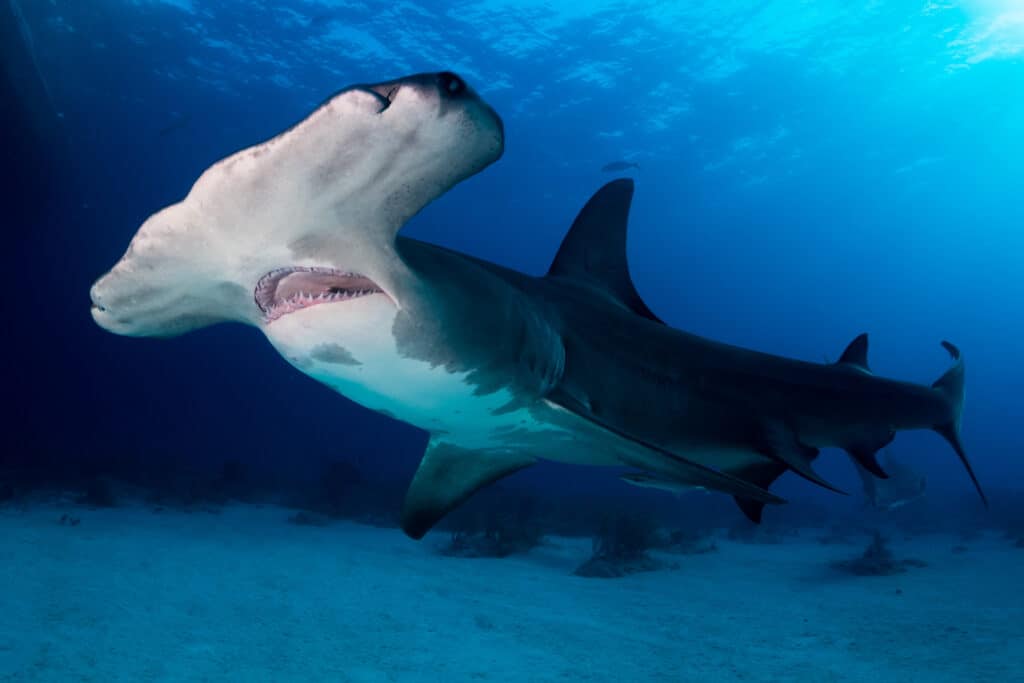 Location: Camden, New Jersey
The Adventure Aquarium was voted the "Best Aquarium in the Northeast" by USA Today! Here, you can explore the lives of a variety of captivating animals as well as the biggest assortment of sharks. Head over to the Shark Bridge to enjoy a unique attraction. It allows you to cross over a V-shaped rope bridge just inches above the Shark Realm exhibit below. You can look down to spot sand tiger sharks, sandbar sharks, and nurse sharks inside a 550,000-gallon tank. After the overhead experience, you can head over to the Shark Tunnel. Here's you'll get an immersive perspective of those same sharks, except this time, you're eye-to-eye with them! Other sharks in this exhibit include bamboo sharks, great hammerhead sharks, pacific blacktip reef sharks, and silky sharks.  
5. National Aquarium
Location: Baltimore, Maryland
The National Aquarium is home to several award-winning exhibits. Check out the Australia: Wild Extremes exhibit, meet jellyfish at the Jellies Invasion, or go straight to Shark Alley. This 225,000-gallon exhibit allows you to get close to several extraordinary shark species, including nurse sharks and sand tiger sharks. For a more comprehensive experience, book a 45-minute Shark Behind-the-Scenes Tour. You'll walk above Shark Alley and participate in fish feeding at the Blacktip Reef exhibit. For a one-of-a-kind experience, check out the Aquarium Sleepover. This includes a visit to the catwalk, where sharks swim below you. Other sharks you can encounter at this aquarium include blacktip reef sharks, horn sharks, sandbar sharks, and zebra sharks.  
Summary of 5 Incredible Aquariums and Zoos with Sharks
| Rank | Aquarium | Location |
| --- | --- | --- |
| 1 | Georgia Aquarium | Atlanta, Georgia |
| 2 | Newport Aquarium | Newport, Kentucky |
| 3 | Aquarium of the Pacific | Long Beach, California |
| 4 | Adventure Aquarium | Camden, New Jersey |
| 5 | National Aquarium | Baltimore, Maryland |
---
The Featured Image
---