Northern Michigan is home to some of the largest and most beautiful lakes in the United States. From Lake Houghton to Higgins Lake, these bodies of water offer value to the lifestyles of many along the shores. This article looks at the 11 biggest lakes in Northern Michigan.
1. Houghton Lake
Houghton Lake is Northern Michigan's largest lake, with a surface area of just over 22,000 acres. The average depth of the lake measures 7.5 feet, with a maximum depth of 20 feet. This lake is roughly 10 miles long and 5.5 miles wide.
Houghton Lake is in Roscommon County, Northern Lower Peninsula of Michigan. It lies approximately 30 miles southwest of Gaylord and 20 miles northwest of West Branch.
Houghton Lake gets its name from Douglass Houghton, Michigan's first state geologist. Douglass Houghton was born in New York in 1809 and moved to Detroit in 1827 to study medicine. In 1839, he was appointed as the state geologist and led the first geological survey of Michigan. Unfortunately, Houghton passed away in 1845 before he could complete the survey.
Houghton Lake has a reputation for being a sought-after recreation spot for tourists and fun seekers. Part of the attraction is that the lake is full of multiple fish species, including bass, pike, perch, and walleye. There are also several public beaches and numerous boat launches.
2. Torch Lake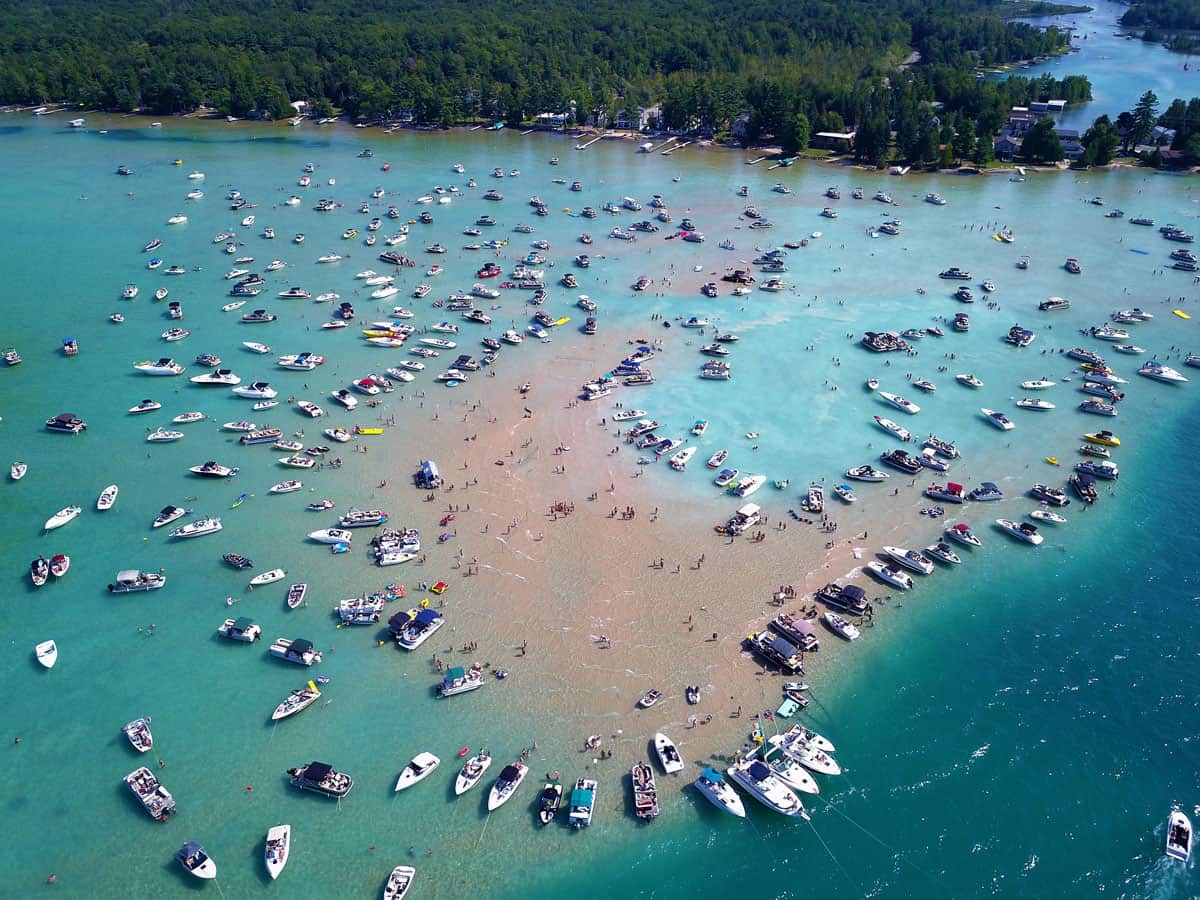 Torch Lake spans 18,770 acres and is the deepest of Northern Michigan's inland lakes at 285 feet. The lake's clear, turquoise waters are a sight to behold. A 2018 article by Forbes explains the beauty of the lake with the title 'Michigan's Torch Lake Looks Exactly Like The Caribbean Sea.'
The name of the lake is not due to its shape; rather, it is derived from a translation from the Ojibwa name waaswaaganing meaning "Place of Torches" or "Place of Flames," referring to the practice of the local Native American population who once used torches at night to attract fish for harvesting with spears and nets (Lac du Flambeau in Wisconsin is named after the same Ojibwa term). For a time, it was referred to by local European settlers as "Torch Light Lake," which eventually was shortened to its current name.
More than 3,000 people call Torch Lake their home, with many locals and visitors thronging the lake for fun and relaxation.
3. Lake Charlevoix
Michigan's third largest inland lake is Lake Charlevoix. It is in the Northern Lower Peninsula, spans 17,260 acres, and has a maximum depth of about 122 feet.
Several rivers and streams feed Lake Charlevoix, including the Jordan River, which flows into the lake from the south. Because of this river flow, the lake has become critical in providing hydroelectric power for the region, but it is also a favorite recreational spot.
The lake takes its name from Pierre Charlevoix, a French explorer and writer who visited the area in the 18th century.
In addition to its innate beauty, the lake is home to several historical and cultural attractions. The Charlevoix Historical Society Museum is one of the most visited tourist destinations in the area.
4. Burt Lake
Fourth on the list of the biggest lakes in Northern Michigan is Burt Lake. It has a surface area of ​​ 17,120 acres and is approximately 10 miles long and 5 miles wide(maximum). The depth averages 15 feet, with a maximum of 73 feet.
Burt Lake's primary purpose is recreation, including swimming, fishing, boating, and camping. Also, it is a popular bird-watching destination, as it is home to diverse waterfowl.
Additionally, this lake has a long history dating back to the early 1800s when the government surveyed the area. The lake was named after Colonel Burt, who was instrumental in developing the site. In the late 1800s, this lake became a popular resort destination for wealthy families from Detroit and other parts of Michigan.
Today, Burt Lake is still a popular recreation destination for locals and visitors. Multiple features like the marinas, campgrounds, restaurants and shops prove attractive drawcards.
5. Mullett Lake
Mullett Lake lies in Cheboygan County, sprawling across 16,630 acres, 4 miles wide, and has a maximum depth of 148 feet. Locals and visitors visit the lake for fishing, swimming, boating, and other water activities.
Glaciers are responsible for forming this lake, once covering Michigan in the icy depths. The glaciers carved out a depression in the land that eventually filled with water from melting ice and rain. The Chippewa Indians were the first people to settle in the area, naming the lake "Mullet," which means "big water."
The first European settlers to reach the area were French fur trappers. They built a trading post on the shores in the early 1800s. The fur trade was booming then, so the lake was essential to that business.
Mullett Lake is also one of the most famous lakes in Michigan for fishing as it contains bass, pike, trout, and perch. You may also spot the many waterfowl around the lake, such as ducks and geese.
In recent years, the lake has become famous for scuba diving. Its clear water and depths make it an ideal space to explore. In addition, the lake has several shipwrecks that the cold water has preserved. Divers can also enjoy sightings of the many fish species and other aquatic life.
6. Lake Gogebic
Measuring over 13,000 acres, Lake Gogebic is Northern Michigan's sixth largest lake. This freshwater lake has a maximum depth of 38 feet and is nearly three miles wide.
Multiple fish species live in this lake, including bass, walleye, pike, and perch. The lake is well known as a prime fishing spot. Therefore, it is regularly surveyed to ensure the longevity of its fish species.
Native Americans inhabited the area around the lake for centuries before European settlers arrived in the 1800s. Settlers created the first permanent white settlement on the lake in 1836. The site has been a popular vacation destination ever since.
Today, Lake Gogebic is a favorite relaxation space for residents and tourists due to its clear waters and scenic shoreline.
7. Manistique Lake
Lying in the Upper Peninsula and part of the Manistique River watershed is Manistique Lake. It is the seventh-biggest lake in Northern Michigan. Also, the surface area of this water body is 10,130 acres, reaching a maximum depth of 20 feet. It is approximately 6.5 miles long and 4 miles wide.
Manistique Lake was formed by glaciers and is now a popular fishing, swimming, boating, and camping destination. In addition, the Manistique River flows into Lake Michigan and is a significant source of hydroelectric power for the region.
Different fish live in these waters, including walleye, muskie, northern pike, trout, and perch. Unfortunately, the lake has become increasingly polluted due to agricultural runoff and sewage discharge.
Despite its pollution problems, Manistique Lake is still a popular destination for outdoor enthusiasts. With its abundance of fish and scenic beauty, the lake provides an excellent opportunity to enjoy the outdoors in Michigan.
8. Black Lake
Black Lake is Northern Michigan's eighth-largest lake, with a surface area of 10,130 acres. It is in the northeastern portion of the Lower Peninsula, bordered by Cheboygan, Presque Isle, and Alpena counties. The lake has a 50 feet maximum depth and an average depth of 30 feet.
The lake is popular for fishing, boating, and swimming, with several entry points for the public, including state parks and boat launches. Black Lake is home to mixed fish species, including walleye, pike, bass, and perch. The lake is also a favorite location for ice fishing in the winter. People use the lake primarily for recreation.
9. Crystal Lake
Crystal Lake has a surface area of 9,854 acres. It measures about 8.1 miles wide and 2.5 miles long, featuring diverse wildlife, including bald eagles, ospreys, and herons.
The lake attracts visitors from all over the Midwest. As a result, numerous campgrounds, hotels, and resorts are located near the lake.
10. Portage Lake
Portage Lake is in Houghton County and covers approximately 2,110 acres, has a maximum depth of 60 feet, is 3 miles long, and is 1.5 miles wide. It was formed during the last glacial period and is relatively young.
Portage Lake contains many fish species such as bass, walleye, pike, and trout.
In addition to being a popular recreational destination, the lake is an essential part of the local ecosystem. The lake is home to various plant and animal life, including several endangered species.
Portage Lake is a beautiful and vital part of Michigan's natural landscape. The lake supplies recreational possibilities for residents and visitors while supporting a diverse ecosystem.
11. Higgins Lake
This lake comes in at number 11 of the biggest lakes in Northern Michigan. It is in Roscommon County, in the Northern Lower Peninsula. The lake is approximately 9,600 acres, 9 miles long and 5 miles wide. It has a maximum depth of 135 feet and an average depth of 44 feet.
This water body is a natural freshwater lake fed by several small streams and one large, the Muskegon River.
Many bird species live in the area, including eagles, ospreys, and loons. Because of its supportive environment, this lake is a premium bird-watching location. Visitors also frequent the lake because it holds excellent fishing opportunities as it is full of bass, trout, and pike.
Higgins Lake takes its name from William A. Higgins, the first white settler in the area. William Higgins settled near the lake in 1855, originally known as Big Muskegon Lake. Locals later renamed it Higgins Lake in 1879 and built the first dam on the lake in 1881. Authorities rebuilt the dam in 1925. Now, the Michigan Department of Natural Resources owns the dam.
Up Next:
More from A-Z Animals
---
The Featured Image
---