There's an abundance of wildlife in our National Parks, but did you know that there is a significant number of grizzly bears in Yellowstone National Park? Where do these bears typically spend their time, and what time of year should you expect to see both baby and adult grizzly bears?
In this article, we will tell you everything you need to know about grizzly bears in Yellowstone, including just how many estimated bears there are. In addition, we will talk about their typical hibernation and mating seasons as well as when and where these bears are most active in the park itself. Let's get started and talk all about the infamous Yellowstone grizzly now!
Key Information About Grizzly Bears in Yellowstone National Park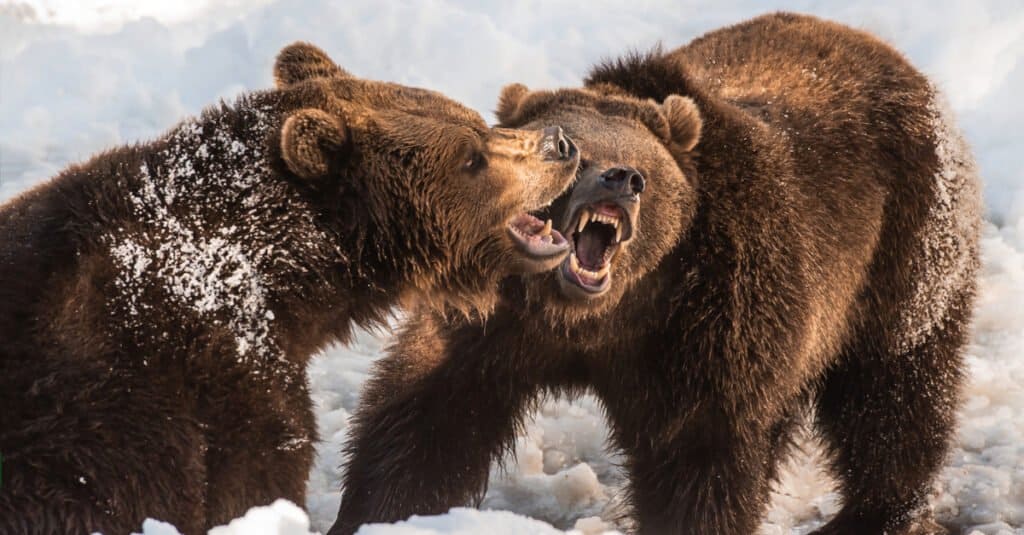 | Yellowstone National Park | Grizzly Bear Facts |
| --- | --- |
| Number in the Park | 750 |
| Average Size | 200-700 pounds |
| Mating Season | Spring, with cubs born in winter |
| Hibernation Season | November-February |
| Active Times | Dawn and dusk |
| Best Viewing Locations | Lamar Valley, Hayden Valley, Mt. Washburn, Fishing Bridge |
How Many Grizzly Bears Live in Yellowstone National Park?
The number of grizzly bears in Yellowstone National Park depends on what you consider Yellowstone National Park to be, as the numbers in the greater Yellowstone area differ from the numbers of bears that live in the innermost region of the park itself. However, the number of grizzly bears that live in the greater Yellowstone National Park ecosystem averages around 700-750 at any given time.
Yellowstone researchers estimate that roughly 100 to 200 grizzly bears live in territory that stretches into Yellowstone National Park itself, but this region is vast and many grizzly bears do not remain in Yellowstone National Park for the entirety of their lives. Depending on gender, the range for the average grizzly bear's territory is anywhere from 200 to 2,000 miles, with female bears roaming far less compared to male bears.
How Large are Grizzly Bears in Yellowstone National Park?
It's easy to tell the difference between a grizzly bear and a black bear, based on size alone. However, both of these types of bears live within Yellowstone National Park, so it is important to pay attention to what bear you are looking at. No matter what, Yellowstone National Park Rangers recommend maintaining a distance of at least 100 yards from any type of bear that you see in the park. 
Most grizzly bears reach nearly four feet tall at the shoulder, and stand over six feet tall on their hind legs. In addition, the weight of the average grizzly bear ranges anywhere from 200 to 700 pounds, depending on gender. You can also pick out a grizzly bear compared to a black bear because grizzly bears have much longer and more curved claws compared to the average black bear. 
When are Grizzly Bears Most Active in Yellowstone National Park?
If you are hoping to view grizzly bears in Yellowstone National Park, there are particular times of day when they are more active. For example, the majority of grizzly bears are most active during the times of dusk and dawn, given the fact that most deer and other potential prey are also the most active during this time. 
Besides these two times of day, grizzly bears are most active at night, which means you should take special precautions if you plan on camping overnight in the park. There should be bear boxes for you to keep your food in, and be sure to wear unscented lotions and other products. Bears are highly sensitive to smells, and the last thing you need is to be surprised by a grizzly bear in the dead of night!
Something to note is the fact that grizzly bears hibernate during specific times of the year. You will likely not see any grizzly bears within Yellowstone National Park during the months of November through February, if not all the way through May depending on the weather. If you are able to delay your trip until spring, you may see mothers and cubs emerging from their dens, which is a beautiful sight to behold! 
Where Can I View Grizzly Bears in Yellowstone National Park?
There are a number of different locations for you to view grizzly bears in Yellowstone National Park. While there's no guarantee these animals will be in these locations, especially depending on the time of year, many Park Rangers note the presence of grizzly bears in the following locations: 
Lamar Valley
Hayden Valley
Mt. Washburn
Fishing Bridge
Most grizzly bears prefer to live solitary lives and tend to be more secretive compared to other animals found in Yellowstone. However, bears are extremely territorial and there is a specific hierarchy that grizzly bears follow within a certain region or area. For example, adult male grizzly bears occupy the most (and best) territory compared to other ages of grizzly bears. 
After adult male grizzly bears come mothers with cubs, as they also get special treatment in terms of territory and den preferences. Finally, young male grizzly bears get the least preferred territory, which often means they are found along roads and in areas where you may not expect them.
This is why it is always important to pay attention while within the confines of Yellowstone National Park, whether or not you are in a vehicle. Grizzly bears can be aggressive, especially emerging from their dens. Mothers and cubs are very suspicious of humans, and it is important to always be respectful and patient should you happen to see one of these beautiful creatures in the wild!
The photo featured at the top of this post is © Falade Adewale/Shutterstock.com
---