Nocturnal and known for their large eyes and distinctive hoot, owls are beautiful birds. But how long do owls live, and what is life like for them, from egg to adulthood? These intelligent creatures are a part of roughly 250 different species– but do they all have the same lifespan?
In this article, we will discuss the various lifespans of owls, what their life cycle is like, and how their ages can vary depending on species. There's a lot to learn about these special birds of prey, so let's get started.
How Long Do Owls Live?
Owls live an average of 5-12 years in the wild, and even longer in captivity. The lifespan of owls varies greatly depending on species, but more on that later. There are obvious differences in life spans between captive and wild owls as well. 
Owls require a protected area to sleep during the day and build nests for their young. This can be difficult to accomplish in some areas, especially in locations where an owl's natural environment is being threatened.
The size of the owl also affects its overall lifespan. Smaller owls tend to live shorter lives than larger owls, both in the wild and in captivity. This can be a significant difference between species, but captive owls of any size live longer than wild ones of any size.
Owls also range in size- great horned owls can be nearly 30 inches long and weigh almost five pounds, while burrowing owls never reach over 10 inches in length and weigh less than 10 ounces! Given the massive size difference, it's safe to say that burrowing owls live shorter lives based on their petite size. It makes them an easier target for many predators.
The Average Owl Life Cycle
To fully understand what an owl goes through in its life, we need to learn about the owl life cycle from start to finish. Let's get started.
Egg and Newly Hatched Owls
Owls are unique in that they lay their eggs once per day, even though many female owls can lay nearly 15 eggs per mating season. The number of eggs is largely affected by her food intake and access to adequate protein.
Hatchlings, or newly hatched baby owls, are born with pink skin and soft white feathers, no matter the species. These downy plumes remain on their bodies for the first couple months of their lives, leaving them mostly exposed.
Baby owls are completely reliant on their mother to feed and protect them during this time. They are also born blind and won't gain their eyesight until almost a month of life. They are easily affected by cold temperatures without feathers to keep them warm.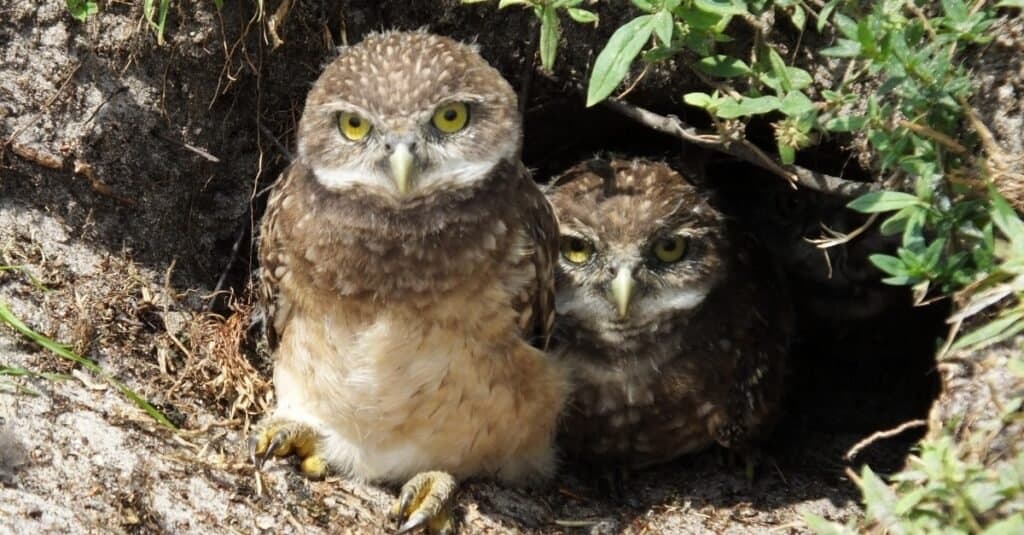 Young Owls
Most owl species fledge, or gain the ability to fly, after 2 months of being born. However, many young owls still remain with their mother until closer to the end of their first year. Once owls have grown and aged, they are more likely to survive.
Juvenile owls look exactly like adult owls once they gain all of their necessary feathers and plumage. They may gain a bit more length and mass before reaching one year of age, but most young owls are indistinguishable from adult owls.
Young owls are talkative, playful, and stay close to home for a good portion of their childhood. They learn to hunt and fly early on, but they still tend to enjoy the company of their parents and other siblings, should more than one owl baby be born.
Adult Owls
After 9-12 months have passed, most species of owls are considered adults. Many owls are sexually mature after one full year, though some species choose not to breed until they are at least two or even three years old.
Owls are considered a generally monogamous species of bird, choosing to mate for life in their adulthood. They are a carnivorous breed of bird as well, catching their prey and swallowing it whole. Adult owls can catch diseases amongst each other, but their most common threat is humankind, particularly cars and encroaching development into forested areas.
Different Species of Owls and Their Lifespans
The lifespan of owls is greatly affected by their species, as well as their captive or wild status. Here's a list of some of the most popular owl species and their overall lifespan, both in captivity and in their natural environments:
Barn Owl: 4-9 years in the wild, up to 15 years in captivity
Great Horned Owl: 10-13 years in the wild, over 25 years in captivity
Snowy Owl: 7-10 years in the wild, over 30 years in captivity
Barred Owl: 8-10 years in the wild, over 20 years in captivity
Screech Owl: 2-8 years in the wild, 15-20 years in captivity
Great Gray Owl: 7-12 years in the wild (so long as food is regularly accessible), up to 40 years in captivity
Burrowing Owl: 3-6 years in the wild, up to 12 years in captivity
Tawny Owl: 3-7 years in the wild, over 15 years in captivity
As you can see, both the size of the owl and the location of the owl matter in terms of their expected lifespan. All owls live longer and happier lives in captivity, given that they will receive regular food, medical treatment, and they won't be threatened by cars or predators.
For example, a barn owl in Ohio named Barnaby reached the ripe old age of 26 back in 2014. Given the average age that wild barn owls usually reach, this is an impressive number! King Richard, a great horned owl at the San Francisco Zoo, reached the age of 50 years old while in captivity.
It just goes to show you that most captive birds have longer and happier lives in captivity, especially when compared to the dangers of the wild.
---