The Yellowstone River is one of the major tributaries of the Missouri River and the longest undammed river in the lower 48 states. Its lack of development makes it one of the most pristine rivers in North America.
Visitors marvel at the incredible biodiversity along the river's shores and within its waters. Along with fish, birds, mammals, and amphibians, the river also supports several reptile species, including snakes. You can often find snakes along its banks or even swimming across the surface of the river. Keep reading to discover five snakes of the Yellowstone River and how to identify them. 
1. Northern Rubber Boa
Also known as the coastal rubber boa or simply rubber boa, the northern rubber boa (Charina bottae) belongs to the boa family Boidae. This snake dwells further north than any other boa species in the world. A native of North America, the northern rubber boa ranges throughout the western United States and parts of Canada. You can find them along the Yellowstone River in Yellowstone National Park and western Montana. They thrive in colder weather and shun especially hot or dry habitats. 
Northern rubber boas look relatively small when compared to other boa species. On average, adults range between 1.25 and 2.76 feet long and weigh around 3 ounces. Their scales appear quite loose, smooth, and shiny, lending them a rubber-like texture, hence their name. In terms of color, they vary from light to dark brown as well as tan. However, some specimens look more yellow or orange. The head and tail look similar, both appearing short and blunt and measuring no wider than the rest of the body.
The diet of northern rubber boas primarily consists of small mammals like voles, shrews, and mice. When available, they will also prey on frogs, salamanders, eggs, and small birds. They frequently target juveniles and may ignore any nearby adult prey. As a result, many northern boas have scars on their tails, which they have used to fend off adult prey while they feed on the more vulnerable young. In addition to being excellent climbers and burrowers, northern rubber boas are good swimmers. They are also one of the most docile of all boa species. Instead of biting or striking a person, a northern rubber boa will emit a defensive musk when it feels threatened.
2. Bullsnake
The bullsnake (Pituophis catenifer sayi) is a subspecies of the gopher snake. It lives throughout the central and western United States, Canada, and Mexico. It inhabits a wide range of regions, including open grasslands, forests, and pine barrens. Although bullsnakes can tolerate dry conditions, you can also find them along the banks of Yellowstone River.
The bullsnake ranks as one of the largest snakes in North America in terms of length. Adult bullsnakes typically measure between 4 and 6 feet long. That said, exceptionally large specimens can grow up to 8 feet. On average, they weigh between 2 and 3 pounds but can weigh up to 10 pounds. They look primarily yellow and feature colored blotches that range from red to black to brown to white.
Bullsnakes suffocate their prey by constriction. They consume a wide variety of prey animals, including moles, mice, squirrels, and birds. They are excellent climbers and frequently scale trees to raid bird nests. Unlike the docile northern boa, bullssnakes have a reputation for acting quite defensively. When threatened, they will either try to hide or escape. However, since they move quite slowly, their second line of defense is to rear up and make themselves look larger. They may lunge forward to try to ward off threats and often assume a similar posture to rattlesnakes. As a result, many people often mistake them for rattlesnakes.
3. Common Garter Snake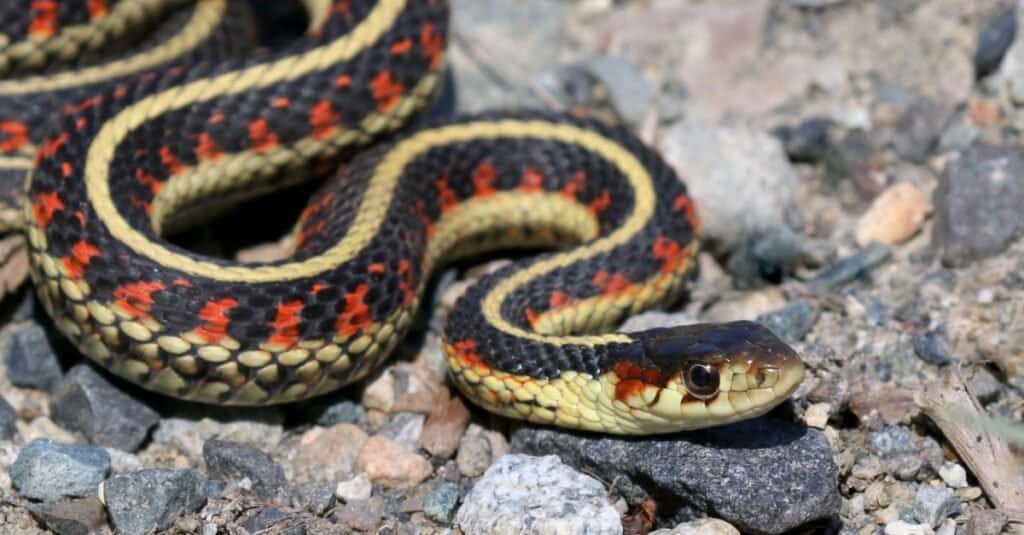 The common garter snake (Thamnophis sirtalis) is one of the most common snakes found in North America. It ranges throughout the continent and thrives in a wide variety of habitats. You can find common garter snakes in forests, prairies, fields, and wetlands, and they are most often found in close proximity to water.
Common garter snakes appear quite long and thin. On average, they measure about 22 inches long but can grow up to 54 inches. That said, they are quite light, with the majority of common garter snakes weighing around 5 ounces. Most of these snakes sport a pair of colored stripes running the length of the back from the head to the tail. These stripes range in color from yellow to green to red to blue.
Contrary to popular belief, common garter snakes are venomous. However, their venom poses no danger to humans. That said, their venom is sometimes toxic to frogs or other small animals. They primarily feed on invertebrates, fish, birds, rodents, and frogs. Common garter snakes rely on speed and quick reflexes to catch their prey. When threatened, they will typically try to flee but may bite when backed into a corner.
4. Western Terrestrial Garter Snake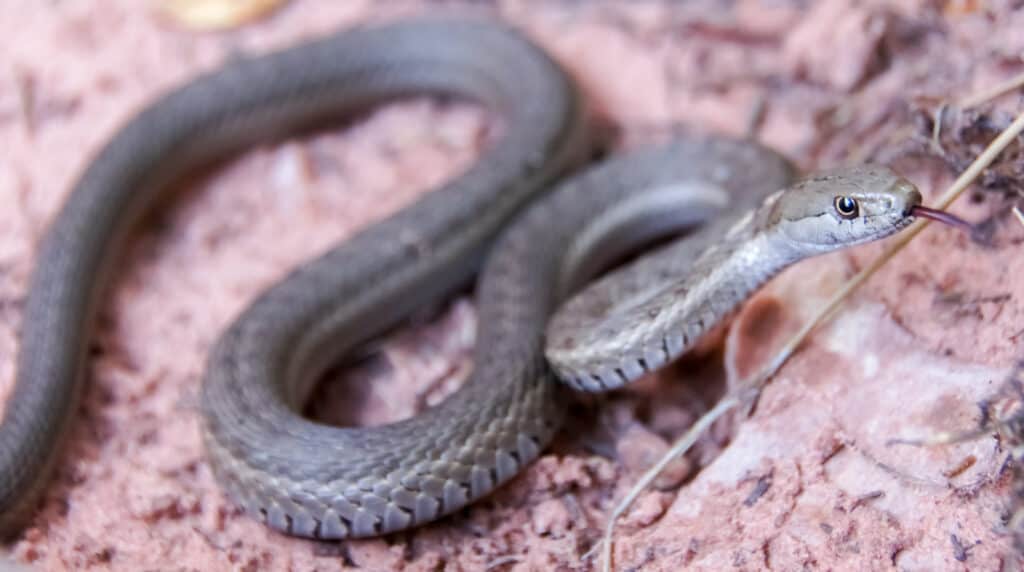 The western terrestrial garter snake (Thamnophis elegans) is a close relative of the common garter snake. It ranges throughout western Canada and the United States, as well as some parts of Mexico. As its name implies, the western terrestrial garter snake primarily lives in grasslands, woodlands, and forests. While mostly terrestrial, populations in the Rocky Mountains and Great Basin are more likely to live around rivers, lakes, and ponds.
A typical western terrestrial garter snake features a light-colored stripe on its back and a stripe on each side of the same color. These stripes range in color from white to yellow to light orange. Some specimens sport black or red spots in between these stripes but not all display these markings. They can also vary greatly in size, with smaller snakes measuring 18 inches and larger snakes measuring up to 41 inches.
Like other garter snakes, the western terrestrial garter snake possesses saliva toxic to frogs and rodents but non-threatening to humans. However, unlike most other garter snakes, which tend to immobilize their prey by biting, western terrestrial garter snakes often constrict their prey. Their diet varies depending on their location. When near water, they often feed on frogs, fish, tadpoles, and leeches.
5. Eastern Racer
The eastern racer (Coluber constrictor) ranges throughout North and Central America. In the United States and Canada, you'll typically find it east of the Rocky Mountains, hence its name. Eastern racers primarily live near water but can also be found further inland. Although they are semi-aquatic, they are also excellent climbers that will readily scale trees to raid bird nests.
Eastern racers come in a wide range of sizes. Small specimens may measure just 20 inches, while larger specimens may reach up to 60 inches. In fact, the largest eastern racer ever recorded measured an incredible 73 inches! The average adult weighs just over a pound, with males and females weighing about the same. Like many snakes, they vary considerably in terms of appearance. Although they can feature patterns, most eastern racers are solid-colored. They range in color from black to brown to blue to green.
As their name implies, eastern racers are extremely active. They come out during the day to prey on animals, including frogs, rodents, lizards, and other snakes. Eastern racers do not use constriction to subdue their prey but rather pin down their victim or simply swallow it whole. When threatened, they will typically try to escape but may emit a foul-smelling musk if caught.
Summary of 5 Snakes of the Yellowstone River
Here's a recap of the five snake species we looked at that call the Yellowstone River home.
Rank
Species
Length
Weight
Range
1
Northern rubber boa
(Charina bottae)
1.25-2.76 feet
3 ounces
Western United States and parts of Canada
2
Bullsnake (Pituophis catenifer sayi)
4-6 feet
2-3 pounds
Central and western United States, Canada, and Mexico
3
Common garter snake (Thamnophis sirtalis)
22 inches
5 ounces
Throughout North America
4
Western terrestrial garter snake (Thamnophis elegans)
18 inches
5.29 ounces
Western Canada and the United States, and parts of Mexico
5
Eastern racer (Coluber constrictor)
20 inches
1.2 pounds
Canada, North and Central America
Table Showing 5 Snakes of the Yellowstone River
The photo featured at the top of this post is © Matt Jeppson/Shutterstock.com
---