Oklahoma has a new state fishing record for redear sunfish. Cord Smith caught a 2-pound, 5.6-ounce fish on April 10 to set a new record in the Sooner State. The fish measured 13.5 inches long with a 13-inch girth. This catch broke the old 2-pound, 1.25-ounce record for redear sunfish set in 1973. The record was made official on April 25.
Smith is just 16 years old. He came home from school on what seemed to be a normal Monday. Smith and his friend, Jacob Suarez, grabbed their fishing rods and went to a private pond in Roger Mills County, where they reside. 
The young men were fishing from a paddleboat, casting soft plastic jigs. That's when the lunker redear nailed Smith's lure about five feet from the boat.
A Record Catch
After admiring the catch, Smith was set to release it when Suarez convinced him that it could be a record-setting fish. Smith called his father, Brian Smith, who is the local sheriff. The senior Smith contacted the game warden. Then, the young anglers placed the fish in a bucket of water and left the farm pond en route to Cheyenne, the nearest town where the fish could be weighed on a certified scale. The fish was weighed at a supermarket with the game warden on hand to certify the weight. Suarez was right to convince his friend to hang onto the fish. It was, indeed, a new record for the state of Oklahoma.
The Oklahoma Department of Wildlife Conservation (ODWC) congratulated Smith on their Facebook page after the record was made official on April 25. The story was also shared by local news stations in Oklahoma City. A picture of Smith and Suarez with the record-setting fish is featured on ODWC's website and will remain there until such a day as the record is broken.
World Record
Smith's catch was enough to topple the old Oklahoma state record, but the world record is still intact. The world record redear sunfish weighed a whopping 6 pounds, 4 ounces. Thomas M. Farchione caught this monster in Arizona on May 4, 2021. 
Redear Sunfish
Redear sunfish (Lepomis microlophus) are commonly known as shellcrackers. Snails are a major food source for the fish, hence the colloquial name. The fish are also known as stump knockers and yellow bream.
Range
The original range for redear sunfish was limited to the southeastern United States from Texas to the Atlantic Ocean. The northern boundary of its native range was extreme southern Illinois. 
However, the fish has been introduced in new waters. The range of the redear now extends west into California and north into Ohio, Pennsylvania, Michigan, and even New England.
Redears and Bluegills
Redear sunfish are often confused with bluegill, and understandably so since the two panfish species look quite similar. Some differences can help anglers tell the two apart, though.
Redear sunfish have a more gold and green coloration, while bluegills have more yellow-orangish hues. The most significant difference between the two is the color of the operculum on each fish. The operculum is the bony flap that protects the gills from harm. The bluegill features a deep blue or black color, while the redear sunfish has red or orange tips near its head. These tips give the redear sunfish its name.
Redears also have thick pharyngeal teeth (hard, movable plates in their throat), which allow them to crush snail shells. Bluegills have no such teeth.
An average redear sunfish weighs around one pound and measures eight to nine inches in length.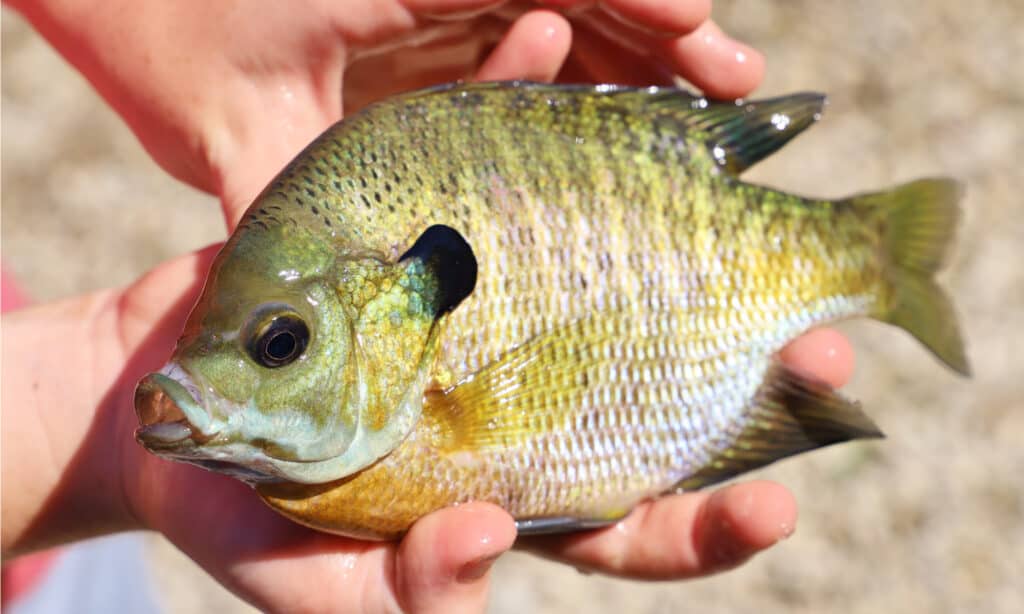 Fishing for Redear Sunfish
Smith's catch of his record-setting fish is rather unique. He was fishing with a soft plastic lure. Redears typically do not chase artificial lures. They are most often caught with live bait such as nightcrawlers, crickets, and, of course, snails.
In lakes and ponds where redears proliferate, the fishing can be fast and furious. With enough live bait, anglers can often catch redears for hours on end.
Importance of Redear Sunfish
Because the redear sunfish predates snails, it is an important part of the aquatic ecosystems where it lives. Other popular panfish, such as bluegills, are not equipped to eat aquatic snails. Aquatic snails can be intermediate hosts for a variety of organisms that parasitize largemouth bass, bluegill, catfish, and other species. These snail-borne fish parasites are reduced in waters where there are thriving numbers of redears. Pond owners should strongly consider stocking redear sunfish to limit the number of aquatic snails.
---