There are approximately 9,700 lakes and rivers in Florida. Together with these are multiple streams, springs, man-made canals, and wetlands. The role of such water bodies in the ecosystem is easy to see, with the most important is the support of different species of fauna and flora. Outside of that is the functionality the water bodies provide to human beings. These include drinking water, flood control, irrigation, navigation, recreation, and more.
As a water lover, you may always be on the search for that perfect environment to commune with nature. Indeed, the more remote, the better because you get a chance to discover and explore new places. Also, there's the peace of some seclusion in less patronized water bodies so you can spend hours swimming or enjoying a spot of fishing without disturbance.
Stumbling on this article is timely as it'll expose you to some remote lakes in Florida that'll give you that perfect environment to do what you love. And that's to commune with nature without dealing with crowds upon crowds.
What's important to note is that not all Florida lakes are good for swimming or fishing. A good example would be Lake Okeechobee, also known as Florida's inland sea. It has the reputation of being the most polluted Florida lake. This is primarily due to agricultural and stormwater runoff. Massive algal blooms produce a level of toxicity but can be harmful to both humans and animals.
Are Florida Waters Safe for Swimming?
Before we dive into the list of remote lakes in Florida to fish and swim, it's important that we answer one question: Are Florida waters safe for swimming? The answer really depends on what type of water body you're thinking about. Florida is a scenic place that has plenty of lakes and beaches. That makes it a popular destination for visitors looking for that perfect summer vacation location.
When it comes to lakes, it's important to understand that most of them host a wide range of animal species. Top of the list are predators such as alligators and venomous snakes. Alligators would rather avoid human beings. However, they can attack if they feel that you're threatening their space. There have been 26 fatal alligator attacks in Florida since 1948.
Also, as we hinted above, some of the lakes have high toxicity levels due to algal blooms. Swimming in such waters could expose you to health issues you'd rather avoid.
So, before taking a dip in any of the lakes, you should do your research. There're also plenty of signposts within most lakes that'll let you know whether it's safe to swim or not. Please don't, for any reason, disregard warnings about swimming bans. Some of the lakes have designated swimming areas that are roped off. You may want to stick to these spots to stay safe.
Let's dive into remote lakes in Florida worth visiting.
1. Lake George
Lake George is stunning. This natural gem sits in Florida's Northeastern part, right between the Ocala National Forest and Ocala Wildlife Management in Volusia and Putnam counties.
Plan for a weekend getaway because there's so much to see and experience at Lake George. There are plenty of campgrounds and RV parking areas around the lake that you can utilize. Or simply anchor your boat on one of the secluded spots on the shoreline for a night.
Lake George is the second-largest Florida lake, covering over 43,471 acres. In the first position is Lake Okeechobee. Lake George is pretty shallow at a depth of approximately 10 feet, making it perfect for swimming.
There's wildlife in abundance and tons of recreational activities. Indeed, one of the main attractions is fishing. The fishing conditions are idyllic, making Lake George an ideal angler destination. It won't matter whether you're an expert or a beginner angler. The chances of not landing a bite are pretty remote. The range of fish species consists of crappies, largemouth bass, striped bass, and catfish, to name a few. The fish have excellent habitation in the form of submerged vegetation, marshy areas, and numerous creeks.
When you tire of fishing, try out the water and boating sports. The wide expanse of open water is excellent for recreational activities such as jet skiing, wakeboarding, waterskiing, and kayaking.
Also, there's the opportunity to explore the inlets, channels, and coves on board a boat. If you'd rather enjoy nature's tranquility, swimming, relaxing, or just taking in the lovely scenery, you'll discover some pretty secluded areas. The crystal waters make Lake George one of the best Florida lakes for swimming. 
The explosion of color from plant life and the chance to spot wildlife species including bald eagles, deer, and alligators further add to the thrill. Please check with the local management bodies or guides on safe areas to visit. Also, remember to respect the wildlife and give them a wide berth always.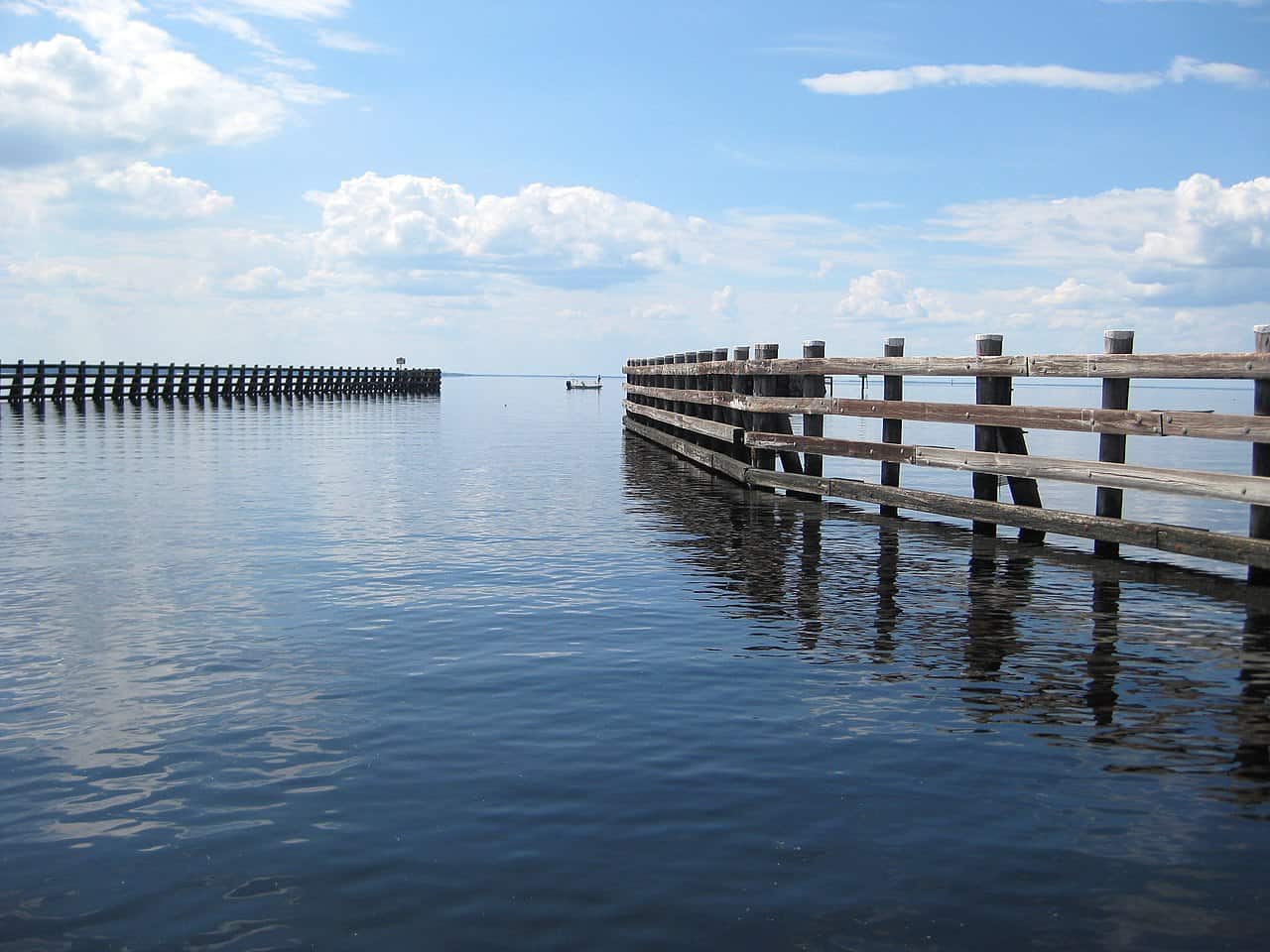 2. Lake Istokpoga
The freshwater Lake Istokpoga comes in at number six in Florida lake sizes. It covers almost 28,000 acres and falls in the shallow-water lake category. Some areas are only 4 feet deep, while others extend to 10 feet. Sitting in Florida's Highland County, the lake attracts visitors for the tons of recreational activities within and around it.
Anglers come to the lake in troves to try their luck at catching the largemouth bass. This fish species is plentiful in the area, including bluegill, catfish, crappie, and speckled perch.
Boating is another popular pastime on Lake Istokpoga. Access to the lake is easy due to the multiple marinas and boat ramps. Despite the shallow depth, you can use a powerboat to explore the open waters.
Alternatively, use your kayak or pontoon boat if you prefer a more relaxed time. There are many channels and coves if you'd rather have a quiet moment away from other people. Swimming spots are plentiful along the shorelines. Take time to discover some of the best and safest sites if you fancy a dip.
Nature enthusiasts and bird watchers also flock to the lake to see some of the animal species. Lake Istokpoga is home to bald eagles, ospreys, egrets, herons, and other waterfowl. Other animals include alligators, turtles, otters, and more. The surrounding swamplands and pine forests provide ideal habitats for wildlife.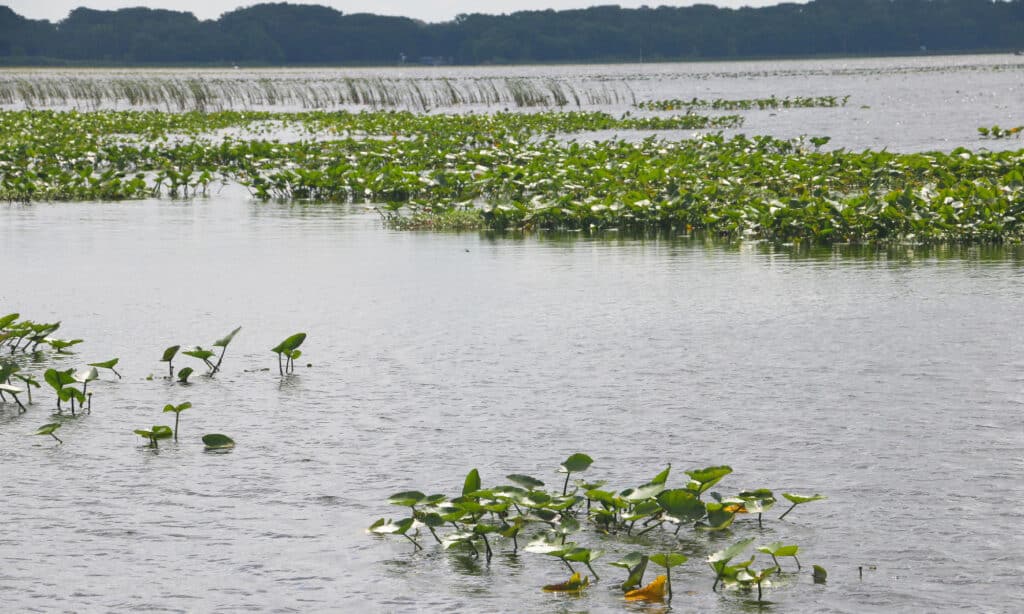 3. Lake Kissimmee
Lake Kissimmee in central Florida is another freshwater lake whose main body lies in Osceola County. Parts of the Lake are in Polk County. The surface area covers about 34,946 acres, and the lake depth ranges from 5 feet to about 12 feet.
Lake Kissimmee attracts visitors looking for serene and immersive experiences. One of the biggest attractions is the fishing opportunities. The largemouth trophy-sized bass is plentiful, making it a popular destination for anglers. Outside of these are other fish species including shell crackers, crappies, bluegill, and catfish. You can hook your line from one of the fishing piers or go deeper into the lake on a boat.
The boating experience is also one that you should have on your itinerary. Interconnected canals and open water give you plenty of places to explore. Bring along powerful binoculars for a chance to spot some birds and animals. Bald eagles, herons, sandhill cranes, otters, and turtles, as well as alligators, call Lake Kissimmee home.
Outside of water activities, visitors can enjoy camping, picnicking, and hiking. You can also check out the Kissimmee Prairie Preserve State Park for stargazing and a chance to experience the unique Prairie ecosystem.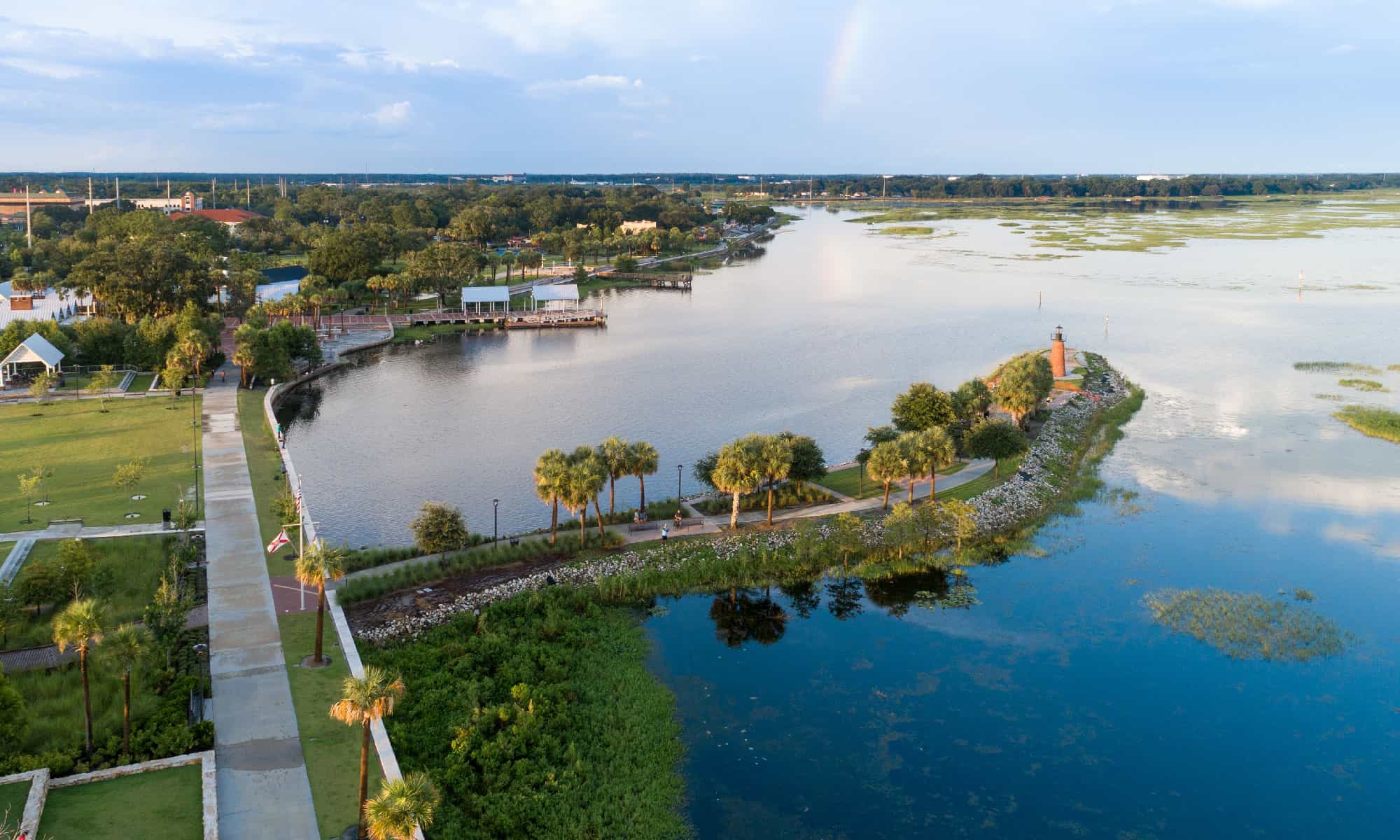 4. Lake Tarpon
The freshwater Lake Tarpon, known as the "Jewel of Pinellas County," sits approximately 10 miles west of Tampa, just outside Tarpon Springs. It has the distinction of being the largest Pinellas County lake, covering approximately 2,500 acres. The depth ranges from 8 to 14 feet.
Lake Tarpon enjoys a fantastic reputation for largemouth bass fishing. Anglers from near and wide congregate here, all hoping to catch one of the trophy-sized fish. Indeed, the area is famous for competitive fishing, with many anglers participating in bass-fishing tournaments. Other fish species in the lake include bluegill, catfish, bullheads, longnose gar, channel catfish, and crappies. Both novice and expert anglers can be seen by the shoreline or in boats.
The Lake Tarpon environment is scenic and awe-inspiring. The lush vegetation, cypress trees, and abundant wildlife make it feel like a paradise location brochure coming to life. One of the best ways to explore is on a boat. Feel the tension drain out of your body on a leisurely cruise. Alternatively, get an adrenaline rush on your powerboat.
You can access the lake from one of the numerous launch facilities or marinas. You'll likely spot one or more animal and bird species around Lake Tarpon. These include ospreys, herons, turtles, egrets, and more. Other popular water activities are wakeboarding, water skiing, and tubing.
There's also an interesting story about the Tarpie, which is kind of like Bigfoot. Local folklore says that the giant lake monster is an almost 20-foot reptile that has been the reason for the demise of local wildlife. All we can say is, take this story with the same faith you'd have in Bigfoot.
Swimming isn't a huge pastime at Lake Tarpon. Alligators in the lake have made it nearly impossible to enjoy a relaxing dip.
Bring your family and friends along on a visit. Don't forget to pack some lunch for a chance to enjoy a good meal outdoors. There're plenty of designated spots that are ideal for such purposes.
Also, make time to visit the John Chestnut State Park. Sitting on 255 acres, the park offers plenty of recreational activities such as biking, fishing, nature trails, and picnic facilities. Another must-visit location is the 128-acre Anderson Park, which offers the same activities. There are two landlocked canoeing routes within, leading to a small inland lake. You'll get to see wildlife, such as hawks, waterfowl, alligators, raccoons, turtles, and snakes.
5. Lake Apopka
Lake Apopka in Central Florida has gained fame for its ecological restoration efforts and rich wildlife. For a long time, the fifth-largest lake in Florida suffered from water quality degradation leading to declining game fish populations.
Restoration efforts started more than 40 years ago by the Saint Johns River Water Management District have put the lake on a path of recovery. The major source of pollution was large amounts of nutrients from the surrounding land areas flowing into the lake. This resulted in algal bloom, thus impacting the water quality.
Lake Apopka is about 15 miles northwest of Orlando, mostly in Orange County. However, some of the Western parts are in Lake County. It covers about 30,909 acres with an average depth of slightly over 7 feet.
Today, thanks to the restoration efforts, Lake Apopka is once again thriving. It's taking back its fame of being a first-class angler destination. There's a large population of largemouth bass, crappies, bluegill, and catfish. You can fish from the shoreline or go deeper into the lake by boat. With the latter, it gives a chance to also explore fishing hotspots in the numerous coves.
The wildlife within and the surrounding areas is back to almost normal levels. It's common to spot alligators, otters, turtles, bobcats, and bears. There are also more than 372 bird species, making it a haven for bird watchers. Wading birds including egrets, herons, ibises, and wood storks are among them. The lake also hosts migratory bird species such as waterfowl.
Unfortunately, Lake Apopka isn't safe for swimming. The large alligator and snake population makes it dangerous. Venomous snakes include rattlesnakes and water moccasins. Even non-venomous species such as the aggressive banded water snake can deliver a rather painful bite.
Please keep a watchful eye even when walking on the sandy beaches. Alligators are a common sight as they leave the water to bask in the sun. It's also worth noting that despite the restoration efforts, the water quality is still not very good.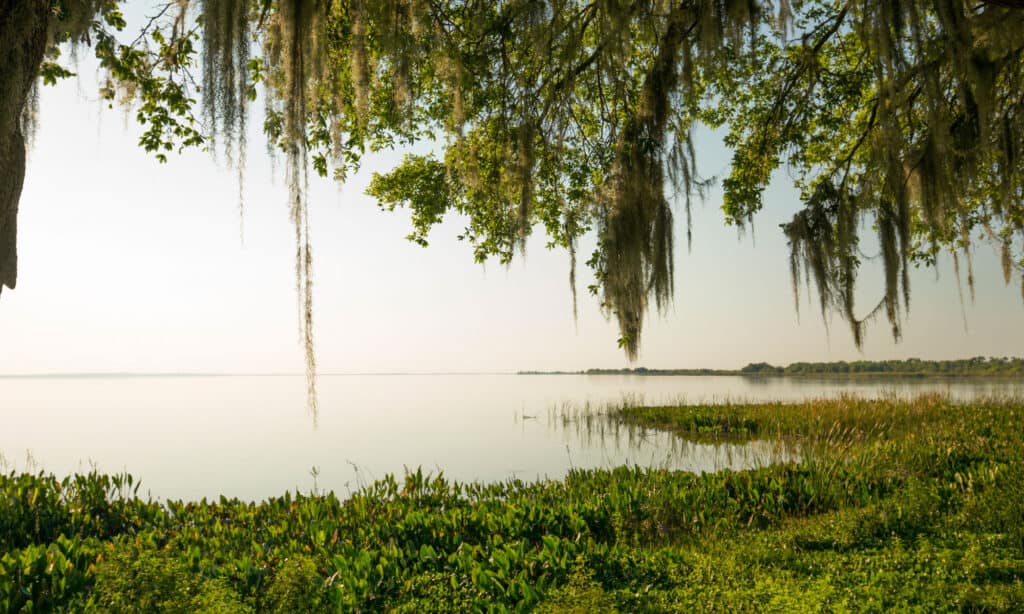 6. Lake Talquin
Lake Talquin is on the western side of Tallahassee on the Ochlockonee River between Gadsden and Leon counties. It has a surface area of 10,000 acres and is quite deep, reaching a depth of 15-40 feet.
Fishing is a favored pastime at Lake Talquin. There are excellent fishing spots right on the shoreline, from fishing piers or even by boat. The lake is famous for its black crappie. Other fish species include largemouth bass, redear, striped bass, white bass, and bluegill.
The landscape around the lake is quite interesting. It's characterized by deep ravines and rolling hills. There is a bit of vegetation with little development on the public shoreline. Despite this, different animals and plant species thrive around the lake. These include wild turkeys, squirrels, ospreys, white-tailed deer, and alligators. Plant species are typically hardwood species like sweet gum, various oaks, and pines.
You can also explore the lake on boats via the multiple marina and boat ramps. There are plenty of quiet inlets and coves if you want to relax. Alternatively, you can participate in water activities such as tubing, water skiing, and more.
However, Lake Talquin may not be the best area for swimming activities. The shorelines are quite muddy. Additionally, snakes and alligators are also present in the water. But don't worry; there're plenty of other lakes to swim in, like Lake Kissimmee and Lake Seminole.
Take a minute to explore some of the trails, such as Fort Braden or Lake Talquin State Forest. The sheer beauty of the wilderness will take your breath away. Alternatively, pack a sumptuous meal and enjoy a picnic at one of the designated places. Plan for a weekend getaway, as plenty of campgrounds and RV parking places are available.
Summary of 6 Remote Lakes in Florida to Fish and Swim
Here's a recap of the six fantastic Florida lakes we took a look at.
Number
Lake
County
Size
Fish Species
1
Lake George
Volusia, Putnam
Surface area: over 43,471 acres;
depth: 10 feet
Crappie, largemouth bass, striped bass, catfish
2
Lake Istokpoga
Highland
Surface area: almost 28,000 acres; depth 4-10 feet deep
Largemouth bass, bluegill, catfish, crappie, speckled perch
3
Lake Kissimmee
Osceola, Polk
Surface area: 34,946 acres; depth: 5-12 feet
Trophy-sized largemouth bass, shell crackers, crappies, bluegill, catfish
4
Lake Tarpon
Pinellas
Surface area: 2,500 acres; depth: 8-14 feet
Trophy-sized largemouth bass, bluegill, catfish, bullheads, longnose gar, channel catfish, crappies
5
Lake Apopka
Orange, Lake
Surface area: 30,909 acres: average depth: slightly over 7 feet
Largemouth bass, crappies, bluegill, catfish
6
Lake Talquin
Gadsden, Leon
Surface area: 10,000 acres; depth: 15-40 feet
Black crappie, largemouth bass, redear, striped bass, white bass, bluegill
Your search for remote lakes in Florida for swimming and fishing will expose you to plenty of options. We've highlighted some of the major ones in the article above. The state has an abundance of water bodies, making it a popular destination for visitors.
There are plenty of beaches and lakes for fishing, swimming, and other water sports. What should also be clear from the article is that the water bodies host a wide range of wildlife species. Some, like venomous snakes and alligators, can make the water dangerous for activities like swimming.
Please do your research before taking a dip in the waters. Also, pay heed to any warnings that ban swimming in the area. But, even if you can't swim, there are plenty of fishing, water-related activities, wildlife and bird watching, hiking, and more.
The photo featured at the top of this post is © iStock.com/John Twynam
---