We all have favorite fishing memories. There's nothing like fighting a brown trout into submission or feeling the line pull against the weight of catfish for some. Few fishing experiences, however, can get your heart pumping quite like witnessing a big fish engulf a weedless frog on the surface of the water.
Throughout the summer, many individuals go on river banks or lakes casting a line, hoping to catch a large fish. Some capture a decent-sized fish to pose with, while others simply tell stories of fish that got away. Whether you want trout, largemouth bass, or catfish, Pennsylvania's plethora of lakes, reservoirs, rivers, and streams rewards millions of anglers yearly with enormous catches.
Luckily, the Keystone State's largest fish have grown in size in recent years. Hence, what are the state's biggest trophy fish? This article uncovers 10 of the biggest trophy fish caught in Pennsylvania and other fascinating facts.
1. American Shad — 9 lbs 9 oz
The American shad is the biggest member of the Herring family thriving in or visiting Pennsylvania waters. They are anadromous, which means they live in the ocean as adults, entering brackish estuaries and swimming further upstream to breed in freshwater rivers. Shad can grow to be 30 inches long and weigh up to three to eight pounds. In Pennsylvania, the state record shad was caught by Anthony Mecca in the Delaware River in 1986, and it weighed nine pounds, nine ounces.
2. Atlantic Salmon — 17 lbs 2 oz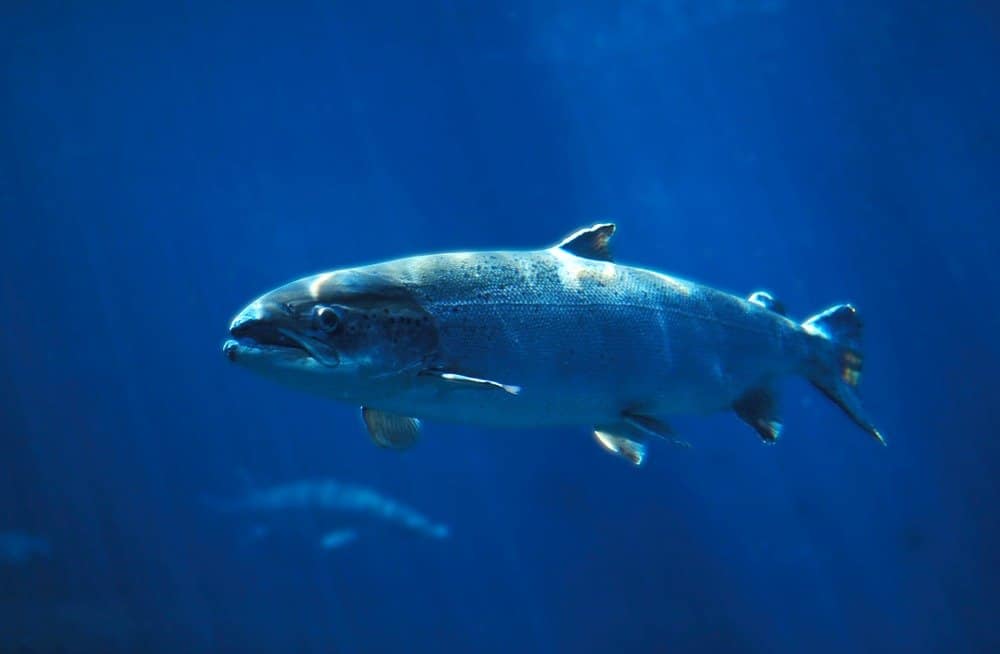 The North Atlantic Ocean and its tributaries are home to the Atlantic salmon. The Atlantic salmon is also anadromous, spending its adult life in saltwater before going to freshwater streams to breed. Adult salmon can reach a length of 28 to 30 inches and a weight of eight to 12 pounds after two years of being at sea. The state record for this species is held by Brian Keller, and it boasts a weight of 17 pounds, two ounces, caught in 2001 in Raystown Lake, Huntingdon County.
3. Brown Trout — 20 lbs 9 oz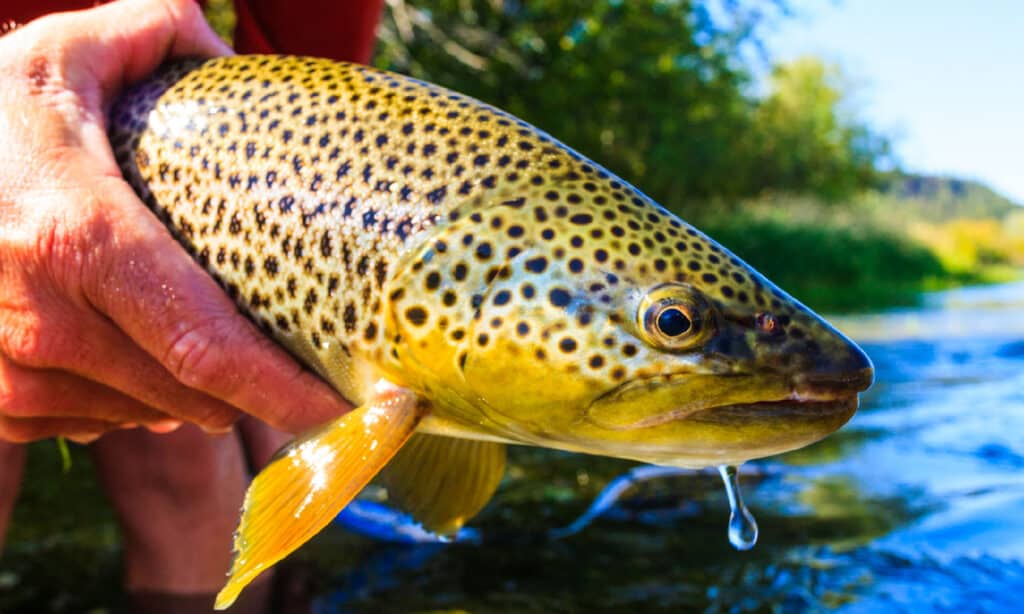 The brown trout is not native to Pennsylvania, but it has become naturalized and abundant in the wild, even replacing the brook trout as the dominant trout species in previously dominated streams. In barren streams, wild brown trout may grow slightly larger than brook trout. Brown trout weighing a pound are typical in more rich streams, and a brown trout weighing more than 10 pounds is considered a trophy.
After more than two decades, a new state record brown trout catch was made in Pennsylvania. According to officials, the monster trout was caught on Lake Erie on August 8, 2020, by angler Robert Ferraro. The fish was 33.57 inches long, 21.125 inches wide, and weighed 20 pounds and nine ounces.
4. Common Carp — 52 lbs
Carp are comparable to feral goldfish, but carp grow considerably larger and have two pairs of soft, fleshy barbels around their mouths. Carp withstand various habitats, including highly silted or polluted water, which most other fish cannot. Carp typically reach 30 inches in length and weigh 10 to 15 pounds; the Pennsylvania state record is more than 50 pounds! George Brown set the current all-tackle Pennsylvania common carp record, weighing 52 pounds. The giant fish was caught in the Juniata River in 1962.
5. Flathead Catfish — 56 lbs 3 oz
Flathead catfish are larger and heavier than other types of Pennsylvania catfish. In fact, they are one of the largest fish in the state. Flathead catfish are native to the Mississippi River basin and the lower Great Lakes, ranging from western Pennsylvania to southern Louisiana. They can weigh more than 100 pounds, although 20 to 30 pounds in Pennsylvania are more common. The Pennsylvania state record is 56 pounds, three ounces, held by Jonathan Pierce. He was fishing from the Schuylkill River bank near East Falls on May 24, 2020, when the state record catch occurred around 8:30 p.m.
Pierce speculated the catfish could be a candidate for the state record, which was achieved in April 2019 when an angler captured a 50-pound, seven-ounce flathead catfish in Lancaster County's Susquehanna River. Pierce took the fish to Blue Marsh Outdoors in Berks County on May 25, where it officially weighed 56 pounds, three ounces, breaking the state record.
6. Largemouth Bass — 11 lbs 3 oz
Largemouth bass can be found in various types of water, including freshwater and brackish water. The largemouth bass is the biggest member of the sunfish family, weighing between two and four pounds as an adult. In Pennsylvania, the state record belongs to Donald Shade, with his catch weighing 11 pounds, three ounces. The state record was set in 1983 when Shade hooked the largemouth bass from Birch Run Reservoir.
7. Muskellunge — 54 lbs 3 oz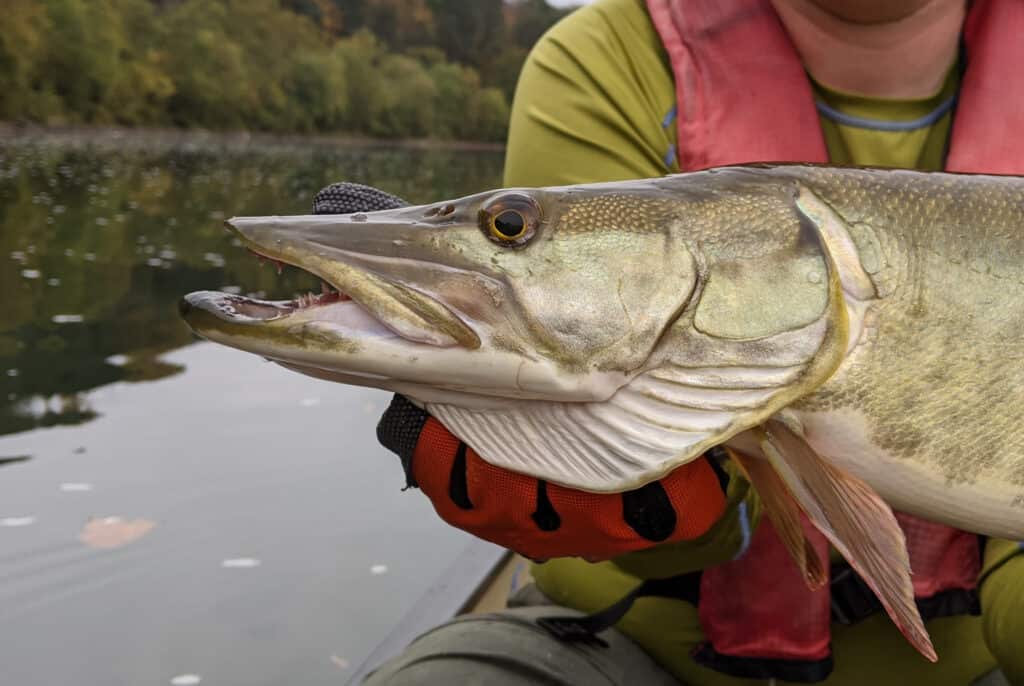 Muskellunge typically reach lengths of 30 to 36 inches and weigh five to 10 pounds. The musky state record for Pennsylvania was set a stunning 98 years ago, making it the oldest state record on this list. The Pennsylvania state record for muskellunge is an impressive 54 pounds, three ounces, captured by Lewis Walker Jr. on Conneaut Lake in 1924.
8. Northern Pike — 35 lbs
In Pennsylvania, the Northern pike is only found in the Ohio and Allegheny River watersheds and in Lake Erie's weedy Presque Isle Bay. With enough forage, Northern pike can easily reach 20 pounds and 40 inches long. Carl Stoltz has held the state record since 2003, with his 35-pound catch captured in Allegheny Reservoir.
9. Striped Bass — 53 lbs 13 oz
From Maine to Florida, Atlantic striped bass thrive in the Atlantic Ocean and coastal rivers. Striped bass can reach a length of five feet and weigh 77 pounds. Donald J. Clark owns the state record for this species, with his Atlantic striped bass weighing 53 pounds, 13 ounces. The giant fish was caught in the Delaware River in 1989.
10. Walleye – 18 lbs 1 oz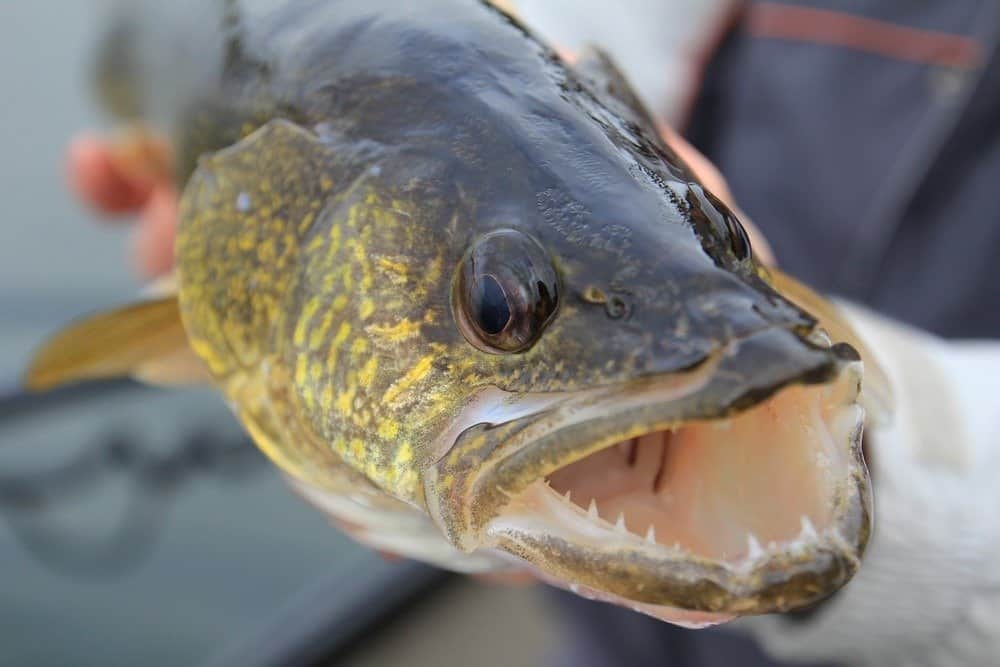 On October 28, 2021, Richard Nicholson was fishing with his son, Richard Nicholson, Jr., from the bank of the Youghiogheny River. They caught a massive walleye, 34 inches long and 21.5 inches wide, making it the state record. Nicholson's fish weighed 18 pounds, one ounce, beating the 41-year-old record held by angler Mike Holly.
Summary of 10 Biggest Trophy Fish Ever Caught in Pennsylvania
Here's a recap of the largest record-setting fish of 10 species caught in the state of Pennsylvania.
| Number | Fish Species | Weight | Caught By |
| --- | --- | --- | --- |
| 1 | American Shad | 9 lbs 9 oz | Anthony Mecca in the Delaware River in 1986 |
| 2 | Atlantic Salmon | 17 lbs 2 oz | Brian Keller in Raystown Lake in 2001 |
| 3 | Brown Trout | 20 lbs 9 oz | Robert Ferraro in Lake Erie in 2020 |
| 4 | Common Carp | 52 lbs | George Brown in the Juniata River in 1962 |
| 5 | Flathead Catfish | 56 lbs 3 oz | Jonathan Pierce in the Schuylkill River in 2020 |
| 6 | Largemouth Bass | 11 lbs 3 oz | Donald Shade in Birch Run Reservoir in 1983 |
| 7 | Muskellunge | 54 lbs 3 oz | Lewis Walker Jr. in Conneaut Lake in 1924 |
| 8 | Northern Pike | 35 lbs | Carl Stoltz in Allegheny Reservoir in 2003 |
| 9 | Striped Bass | 53 lbs 13 oz | Donald J. Clark in the Delaware River in 1989 |
| 10 | Walleye | 18 lbs 1 oz | Richard Nicholson in Youghiogheny River in 2021 |
The photo featured at the top of this post is © iStock.com/KevinCass
---
Sources

Pennsylvania Fish and Boat Commission, Available here: https://www.fishandboat.com/Fish/PennsylvaniaFishes/StateRecordFish/Pages/default.aspx
Pennsylvania Pressroom, Available here: https://www.media.pa.gov/pages/fish-and-boat-commission-details.aspx?newsid=416&fbclid=IwAR2RNcaGveM5hSEfFD1PUeI4qyh-0aZEV6ukIK1iJVpyq2bTokP-hn5maLw