It's been more than 150 years since Indiana decided to be known as "The Hoosier State," and most people who live in Indiana are proud to call themselves Hoosiers. Indiana touches on Lake Michigan and has 19 lakes of its own that are all more than 500 acres in size.
There's only one real aquarium in the state of Indiana, and it makes its home at the Indianapolis Zoo in Indiana. Since there's only one aquarium, we're also going to explore two aquariums in neighboring states.
The aquariums are:
Indianapolis Zoo
Shedd Aquarium
Sea Life Michigan Aquarium
Water is still the life's blood of the world, even all the way in Indiana. So let's get cracking and check out what their aquarium offers.
Indianapolis Zoo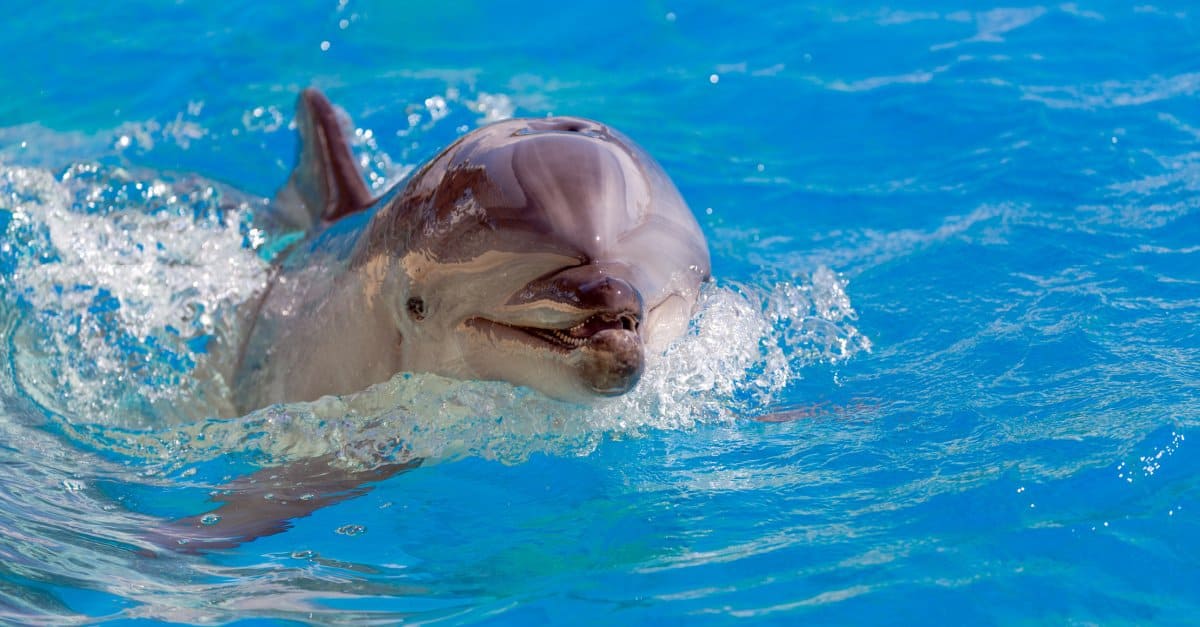 | Indianapolis Zoo | |
| --- | --- |
| Location | 1200 W Washington St, Indianapolis, IN 46222 |
| Animal to See | Bottlenose Dolphins |
| Known For | First Dolphin Viewing Dome |
The Indianapolis Zoo has what is known as its Oceans building, which holds its aquarium. The Oceans section is meant to be seen as its own biome, and you can explore the rich educational opportunities they offer. 
There are all sorts of animals available to be seen in this aquarium. Animals and sea life you can see with your very own eyes include:
Long-Tailed Macaque
Pacific Walrus
Pot-bellied Sea Horse
Rays
Sea Star
Smooth Dogfish Shark
Don't forget to check out the walrus exhibit and see if his tusks are longer than your arm.
In addition to the Oceans exhibits, there is also the St. Vincent Dolphin Pavilion. This holds a viewing dome. Stand in awe and watch as the dolphins swim above and around you in the water, their lithe bodies skilled and playful.
A viewing dome is like encasing yourself in a huge bubble, giving you the chance to see what it is like living underwater without any of that pesky equipment. Bring your whole family and give in to the experience fully.
There are also daily dolphin presentations where you can watch trainers feed the dolphins and see them perform their spectacular tricks. Just be sure to stay out of the splash zone!
Shedd Aquarium
| Shedd Aquarium | |
| --- | --- |
| Location | 1200 S DuSable Lake Shore Dr, Chicago, IL 60605 |
| Animal to See | Beluga Whales |
| Known For | Historical Building |
The Shedd Aquarium is across the state's border in Illinois and has a rich history of servicing its community. The aquarium is a full house, with animals ranging from polar bears to frogs.
Their galleries include:
Abbott Oceanarium- The newest addition to the aquarium, this holds marine mammals such as dolphins, beluga whales, and sea otters, to name a few. There are also various types of penguins.
Wild Reef– 525,000 gallons of water make up this gallery and is a recreation of a coral reef from the Philippines.
Caribbean Reef- A diver swims among the aquarium's animals while talking and educating visitors on the fish surrounding him.
Polar Play Zone- This sinks below the ground and lets you view the tanks of animals who often spend time above, such as polar bears or Magellanic penguins.
Amazon Rising- This gallery is built to resemble the Amazon rainforest.
Amazon River- There are many animals to view, including green anacondas, caiman lizards, and electric eels.
Islands and Lakes- This area creates the enclosed ecosystems of various islands and lakes.
Oceans- Explore the creatures of the deep and what keeps them thriving in the ocean.
Rivers- Meet animals that make their homes in rivers and learn about their ecosystem.
At Home on the Great Lakes- Local fish and their habitats take the stage here in this exhibit dedicated to the Great Lakes.
Gardens- Outside, gardens are made to flourish in Illinois' environment.
Terraces- The terraces attached to the aquarium lead outside and lend a lovely place to sit and consider.
Stingray Touch- Caress a stingray in one of the aquarium's touch tanks.
There is plenty to enjoy at the Shedd Aquarium if you take the time to go and see for yourself.
Sea Life Michigan Aquarium
| Sea Life Michigan Aquarium | |
| --- | --- |
| Location | 4316 Baldwin Rd, Auburn Hills, MI 48326 |
| Animal to See | Green Sea Turtle |
| Known For | The largest aquarium in Michigan |
More than 2,000 sea creatures find their home at Sea Life Michigan Aquarium. This aquarium is the largest one in Michigan and constantly creates new and exciting events to entertain its visitors. They know how to take care of their animals and keep them happy.
Conservation
Sea Life Michigan is more than just an aquarium. They are also huge pushers of conservation efforts, participating completely in local efforts to save animals.
They raise lake sturgeon, a prominent local fish, and release them out into the wild to help the populations. Sea Life Michigan also breeds seahorses to help specific species keep up their populations.
Michigan's only ocean tunnel is a beautiful sight as you cross through the middle of the aquarium and spot the marine life that makes up our oceans.
Exhibits to see are:
Michigan's Only Underwater Tunnel
360 Degree Shoaling Ring
Interactive Touch Pool
Stingray Beach
Shipwreck
Doodle Reef
There are sharks at Sea Life Michigan Aquarium that can't be viewed anywhere else in the state, so look in on the sharks as well.
There are more than 150,000 gallons of water within this aquarium and thousands of animals to get to know. Take a day trip and find out why this is one of Michigan's top places to visit.
Another Zoo to Consider
Brookfield Zoo- Check out the Bottlenose dolphins in the Seven Seas exhibit at the Brookfield Zoo in Chicago, Illinois. It's possible to view them in their natural underwater habitat and see them grinning back.
Where is the Indianapolis Zoo Located on a Map?
The Indianapolis Zoo is actually a nonprofit zoo, public aquarium, and botanical garden located in Indianapolis, Indiana. Its size is 64 acres and it sits within White River State Park. It is one of many attractions Indianapolis has to offer, which is the state capital and most populous city with more than 880,000 residents.
The photo featured at the top of this post is © Arunee Rodloy/Shutterstock.com
---