South Carolina has a distinctly southern spirit that comprises history, relaxation, and beauty. People visit this state for a lot of reasons, and vacationing is certainly one of them. When you're not admiring the architecture, hiking through the mountains, or eating delicious barbeque, fishing is a popular pastime. Today, we're going to show you some of the best fish to catch in South Carolina during the summertime.
Discover why novice anglers and experts alike enjoy coming to South Carolina's bountiful waters!
What Are The Best Fish To Catch In South Carolina?
As we developed this list of the best fish to catch in South Carolina, we wanted to focus on giving everyone a fish to love. That's why we're going to include many types of fish. Some are freshwater, some are saltwater, and others are saltwater but far off the coast. With that in mind, let's see what kinds of great fish thrive in this state.
1. King Mackerel
Also called the kingfish, the king mackerel is a great fish to catch for people that want to experience marine fishing without going into deep waters. This is one of the best fish to catch in South Carolina because they are so numerous and large in these particular waters.
Several areas in South Carolina are great for catching these fish. For example, the Charleston Harbor area, Winyah Bay, and Helena Sound are a few of the most popular areas. These fish like to stay close to structures when they're close to shore. So, look for them by jetties, piers, reefs, and some docks along the coast.
These fish are rewarding because they regularly measure over 30 inches long and weigh 10 pounds. Yet, there are monster fish in these waters, too. The largest king mackerel ever caught in these waters weighed 62 pounds! Live baits like herring and menhaden are helpful when catching these fish.
2. Muskellunge (Musky or Muskie)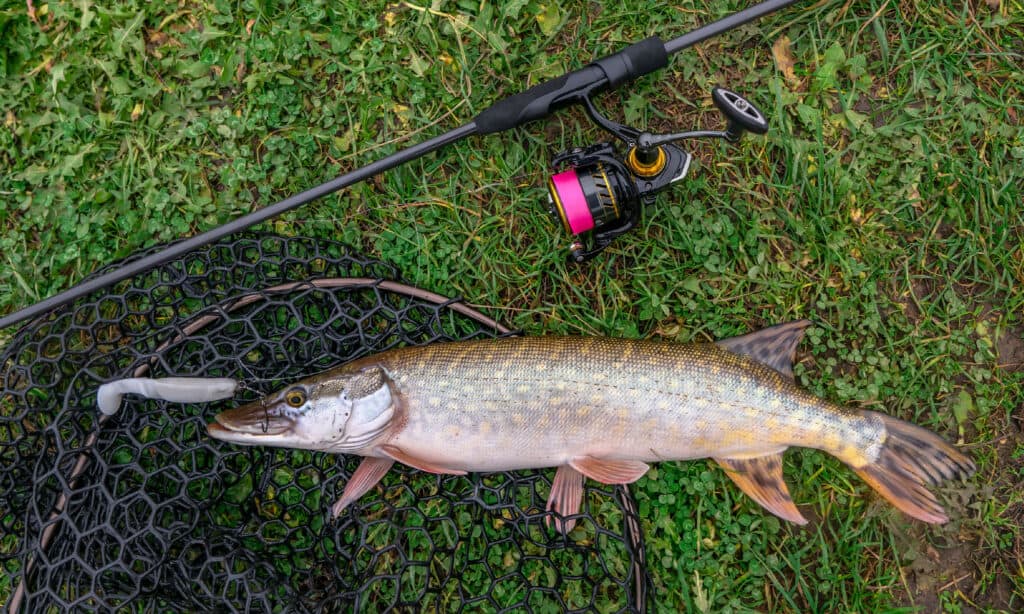 The musky, muskie, or muskellunge is a popular fish to catch in rivers and lakes throughout South Carolina. Although this fish isn't native to the area, it's still a popular one to catch. Muskies can measure anywhere between 2 and 4 feet long on average and weigh 20 pounds.
However, the exciting thing about these fish is that they can get much larger. The state record musky in South Carolina weighed 41 pounds! Another cool reason to catch these fish is their rarity. These fish are not found in many places, but you can see them in the Broad River.
Anglers tend to use spinnerbaits, bucks, and jigs along with live bait to catch these fish. Although techniques for catching them vary, performing a "figure 8" motion in the water when one is close to the bait is a popular method of getting them to strike.
3. Blue Catfish
Blue catfish are a very popular fish to catch. They're large and accessible, and some people even like to eat them. Although they're widespread, anglers have found large ones in Cooper River, Lake Wateree, Lake Moultrie, and a few others throughout the state.
Blue catfish grow between 2 and 4 feet on average, and they can weigh anywhere from a few pounds to 35 pounds. The largest blue catfish ever caught in the state weighed 113 pounds, and it was caught in Lake Moultrie!
Although you could argue that channel catfish are even better to catch in summer than blue catfish, they are still plentiful in this season. Your best bet is to catch them from a boat, but they can be caught on the shoreline as well.
They're often found in 15 to 20 feet of water during this time of year, so choosing a good spot is imperative. Also, consider using chicken livers and menhaden as bait or any one of the lures made for catfish to catch them.
4. Bluegill Sunfish   
Sometimes, you want to catch a sure thing. That's the bluegill sunfish, a creature that is fun to catch and doesn't have enough mass to put up a fight. These are the perfect fish for beginners and fishers looking to relax and catch some easy ones.
That's why they're on our list of the best fish to catch in South Carolina. Bluegill sunfish are only about 10 inches long on average!
Bluegill sunfish are often found in slow-flowing waters like lakes, creeks, and ponds. You'll find them in swamps and manmade lakes as well. These fish are often found from mid-spring through the summer. They tend to stay near sparse vegetation and around places with rocky bottoms.
You can get away with using worms, nightcrawlers, and even something as simple as bread when catching these fish.
5. Blue Marlin
If you're looking for a real challenge in terms of size and accessibility, then blue marlin is the best fish to catch in South Carolina for you. These fish are perfect to catch in the summer. Also, they're some of the largest that you can catch in the waters off the coast, regularly measuring between 6 and 7 feet and weighing hundreds of pounds.
Of course, you probably won't want to get into a boat by yourself and head out to catch them. Your best bet is to buy your way onto a charter ship. They will bring all the bait and equipment you need to catch a marlin. Also, they'll take you out to the waters where they are most common.
Blue marlin are common a fair bit off the coast of Charleston. Catching these fish is difficult and requires a certain level of expertise. However, the experience is worth learning how to catch them safely.
We've examined a variety of the best fish to catch in South Carolina. Now that we have gone over them it's important to remind you to always learn about and follow the local rules for fishing. You'll need to get the right licenses and permissions to catch and keep certain fish in these waters. You don't want to run afoul of the law!
Summary Of The 5 Best Fish To Catch In South Carolina This Summer
| Rank | Fish | Found In |
| --- | --- | --- |
| 1 | King Mackeral | Charleston Harbor area, Winyah Bay, and Helena Sound are a few of the most popular areas |
| 2 | Muskellunge (Musky or Muskie) | Broad River |
| 3 | Blue Catfish | Cooper River, Lake Wateree, Lake Moultrie, and a few others throughout the state |
| 4 | Bluegill Sunfish | Slow-flowing waters like lakes, creeks, and ponds. You'll find them in swamps and manmade lakes as well |
| 5 | Blue Marlin | Off the coast of Charleston |
Up Next:
More from A-Z Animals
---
The Featured Image
---
Sources

South Carolina Department of Natural Resources (1970) dnr.sc.gov/marine/species/kingmackerel.html(opens in a new tab) dnr.sc.gov/marine/species/kingmackerel.html
South Carolina Department of Natural Resources, Available here: https://www.dnr.sc.gov/fish/species/bluecatfish.html#:~:text=Blue%20catfish%20are%20native%20to,lakes%20Wateree%2C%20Marion%20and%20Moultrie