If you are planning a winter vacation to any one of our beautiful National Parks, you may be wondering what Yellowstone in January is like. Located primarily in Wyoming, Yellowstone National Park is a winter wonderland just as much as it is a summer oasis. But what might there be to do in Yellowstone during the month of January, and how can you best prepare for your upcoming trip?
In this article, we will address everything you need to know about Yellowstone during the frigid month of January, including some of the top activities for you to try. We will also go over the wildlife viewing opportunities you might have during this time of year, as well as where you can stay during January. Let's get started and learn all about Yellowstone in January now!
| Yellowstone National Park | Visiting in January |
| --- | --- |
| Top Activities | Geyser viewing, wildlife viewing, snow activities such as skiing and snowshoeing |
| Average Weather | 1 degree Fahrenheit-25 degrees Fahrenheit, with up to 35 inches of snowfall and 9 hours of sunshine per day |
| Popular Wildlife | Bison, elk, wolves, deer, foxes, bighorn sheep, weasels |
| Places to Stay | Old Faithful Snow Lodge, Mammoth Hot Springs Hotel & Cabins, camping, lodging outside Yellowstone |
| Things to Know | Pack layers and expect the unexpected in terms of weather! |
Things to Do in Yellowstone in January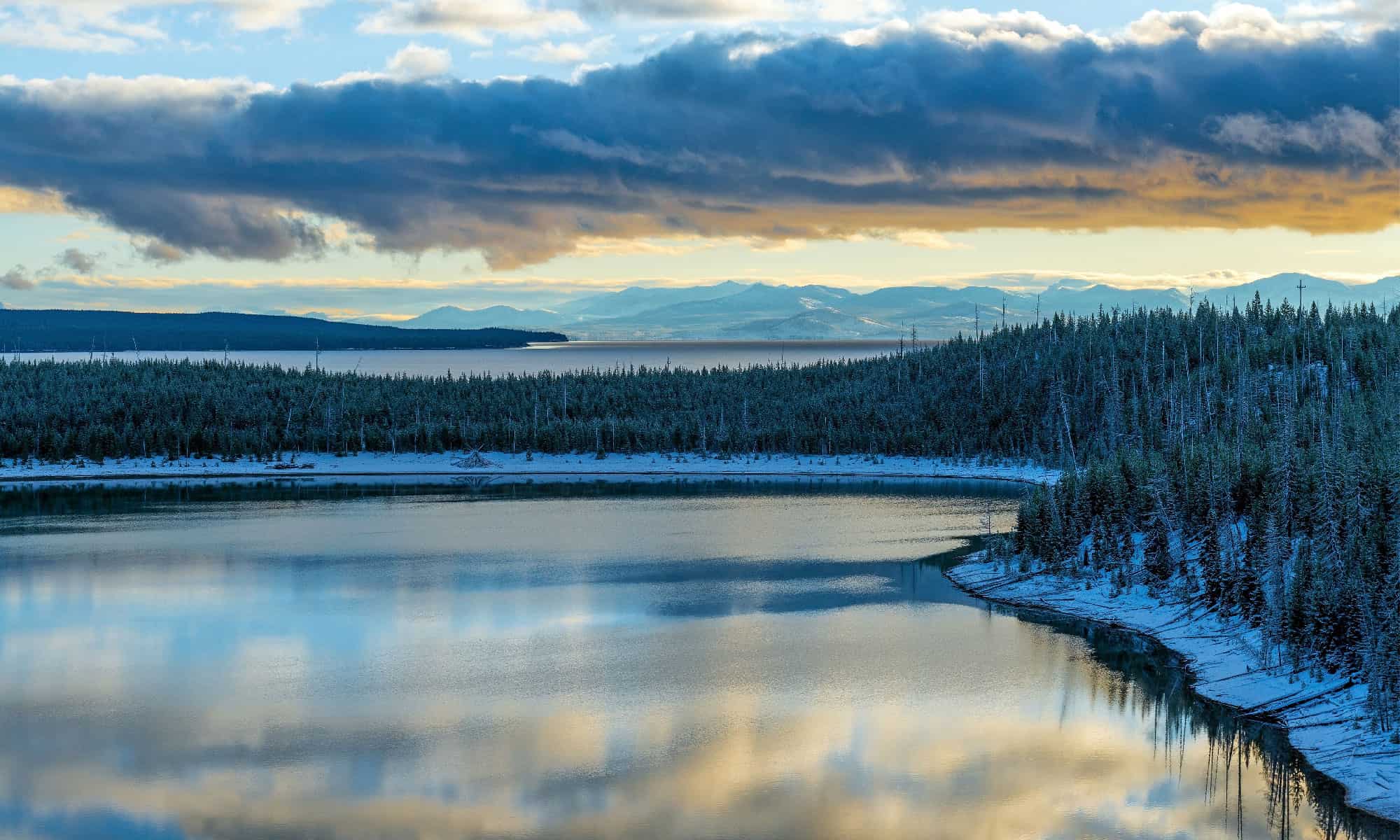 There are a number of things to do in Yellowstone National Park during the month of January, along with all other winter months of the year. For example, you can still enjoy the natural beauty of this park through hikes and other outdoor activities, though the weather may not be ideal for extended recreational activities. 
However, so long as you bring a reliable winter coat and a number of other layers, there is plenty to see and do throughout Yellowstone during the month of January. You can view wildlife as well as geysers, something that Yellowstone is well-known for. Additionally, the National Park Service offers a number of different types of tours and activities during this time of year that support the winter weather. 
While it will be an additional fee, you can rent snowshoes, skis, or snowmobiles to enjoy the park. You can also register for guided snowcoach tours, which means you don't have to worry about driving in inclement weather. Otherwise, you can drive your own vehicle on select roads of the park during this time of year, viewing wildlife and natural beauty at your own pace! 
Weather in Yellowstone in January
If you haven't already guessed, the weather in Yellowstone throughout the month of January is particularly cold. In fact, many people consider January to be the second coldest month of the year in Yellowstone, after the previous month of December. With an average high of only 25 degrees Fahrenheit and a low of a single degree, you can expect freezing days and even colder nights. 
Additionally, January has some of the highest snowfall levels compared to any other month of the year. The average snowfall typically reaches 35 in or greater, with very little rainfall compared to snowfall. However, there is an average of 9 hours of sunlight per day, giving you plenty of time to enjoy the park, no matter how cold! 
Wildlife in Yellowstone in January
While the answer may surprise you, there are a number of different wildlife species that you can view during the month of January. While most birds and bears will be hibernating or otherwise staying warm in their nests, you can expect to see the following animals from the comfort and safety of your vehicle: 
There are a number of different locations throughout the park that are better for viewing certain animals compared to others. For example, the Northern Ridge of the park is extremely popular for a variety of carnivorous species, while the grasslands and valleys are ideal for bison viewing. 
Getting to Yellowstone in January 
Traveling to and throughout the interior of Yellowstone during the month of January can be tricky. The only road that is open during this month is the northern entrance to the park, down to the northeast entrance of the park. However, all other roads are open and accessible via oversnow travel, including snowmobiles and snowcoach tours hosted by Yellowstone National Park. 
It is extremely important to note that you will be unable to drive your residential vehicle throughout much of the park, besides the northern roads. However, you are free to enjoy a number of activities and locations along this main road, including the Albright Visitor Center, the Mammoth Hot Springs, and Roosevelt Lodge.
Lodging in Yellowstone in January
Speaking of the Roosevelt Lodge, there are a few different lodging options in Yellowstone during the month of January, despite the snow. You can stay inside of the park during this time of year, at either the Old Faithful Snow Lodge or  the Mammoth Hot Springs Hotel & Cabins. Additionally, you are more than welcome to camp in designated campgrounds inside the park, so long as you aren't afraid of a bit of snow!
There are a number of hotels and lodging options outside of the park as well, in the nearby towns of Gardiner and Livingston, Montana. You can also stay in other nearby locales, though these two towns will be most convenient for accessing the northernmost entrances to the park.
Tips and Tricks for Yellowstone in January
Besides bringing your long johns, there aren't very many tips and tricks for visiting Yellowstone in January. You can expect road closures and some level of oversnow travel if you want to see a number of sights while in the park, but this all comes with a built-in perk: fewer crowds. Very few people choose to brave Yellowstone during the month of January, which means you may feel as if you have the park all to yourself!