Sundays dog food makes providing your dog with human-grade dog food a breeze—ensuring freshness even without the fridge! These dog food recipes are created by a vet and are gently air-dried to deliver a product unlike any other. Dogs go crazy for these recipes because they taste like real food their ancestors enjoyed (not the mass-produced crunchy kibble food that dogs have had to get used to in modern-day). You've probably opted for kibble at some point, and we can't blame you—there's nothing quite like the convenience these ready-made foods offer. But you know your dog deserves better.
Short of meal prepping your own homemade dog food recipes, what options do you have? Luckily, Sundays is taking the guesswork out of feeding your dog healthy, nutrient-packed meals. They start with simple, all-natural ingredients like USDA beef, beef heart, and beef liver and create well-rounded nutrition with ingredients like pumpkin, kale, flaxseed, broccoli, and strawberries. Their unique approach to air-drying dog food is what allows for ultimate nutrient and flavor preservation, which not only tastes amazing but delivers the health benefits your pup needs too!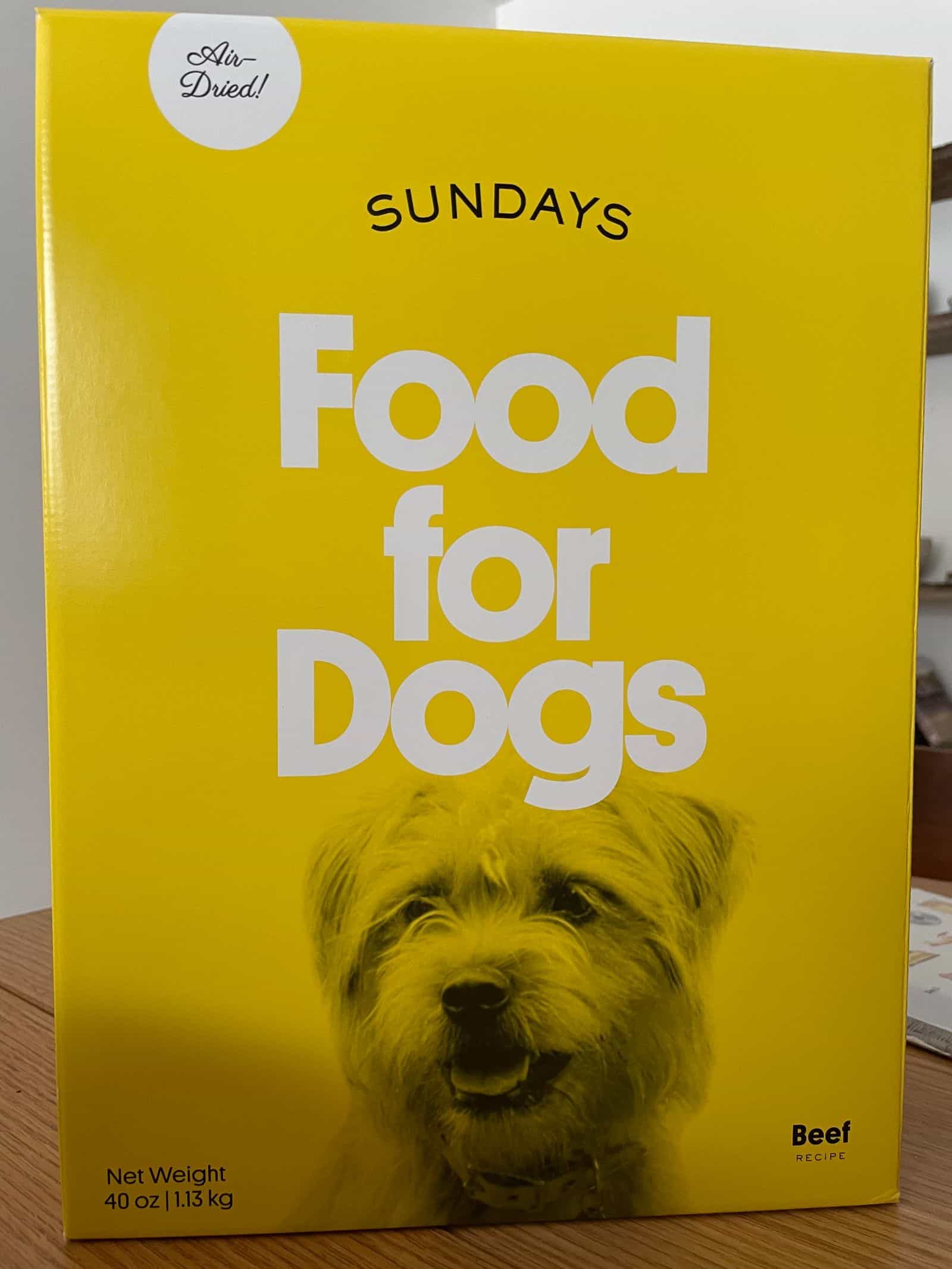 Sunday's Dog Food
Fresh without refrigeration
One of our top picks for healthy dog food
Shockingly affordable compared to big name brands
Quality ingredients
Buy Sundays
The Sundays Dog Food Story
Sundays was started when an engineer and a veterinarian realized there wasn't a dog food product that was healthier than kibble but easier than home-cooked meals. Perhaps they wouldn't have thought too much about it, but their dog got sick. That's ultimately when their obsession to find healthy dog food began. Since they couldn't find it, they decided to go ahead and make it. Tory Waxman is the co-founder of Sundays. She's also a chief veterinary officer who received a Bachelor of Science in Animal Sciences with Distinction and Research from Cornell University. She received her veterinary degree from the University of Pennsylvania. She's always been an animal lover, and now she keeps her mixed-breed terrier named Mabel at her side at all times.
Michael Waxman is the co-founder and CEO of Sundays dog food. As a child, his first word was "dog." Pretty apt, right? Michael became a software engineer and product designer after graduating from Yale University and like Tory, keeps his lab named Schuyler at his side. It was a pit mix named Stevie that directed Michael toward his obsession with the perfect dog food—Stevie was his first love. Today, Mabel and Schuyler serve as Chief Tasting Officer and Assistant Lab Manager to keep the Sundays mission alive and thriving (and dog-approved, of course).
The Waxman's keep Sundays values simple. First, they start with the best. Just like you, they only want the best for their own best friends. So, they look at the best science and the best ingredients to create the best customer experience both for you and your canine. They also strive to make it easy (yes, easy like Sunday mornings) to feed your pup. It's all about making smarter choices so you can rest, relax, and rejuvenate with your dog. They recognize that the love dogs have for humans is not something that can be matched. But we can try. After all, dogs are family, and they deserve all our best efforts.
Sundays Dog Food Key Features
Loved by even the pickiest eaters
Ready-to-eat upon arrival
No refrigeration or prep required
Created by a veterinarian
Nothing synthetic or artificial
Free from common allergens
Free shipping
100% satisfaction guaranteed
Sundays gently air dries their dog food recipes because they want to kill germs and preserve all the best nutrients. The result is a jerky-like texture and taste that makes dogs feel like they're getting treats for breakfast and dinner. Your dog will feel so spoiled (like the good boy he is!). When you think of human-grade foods for dogs, you might think of prep, refrigeration, and clean-up. But that's not the case with Sundays. Instead, just pour the recipe into a bowl and let your dog enjoy his meal. It's designed to be easy.
Developed by a practicing small animal veterinarian and supported by a team of experts including food scientists and boarded veterinarian nutritionists, the Sundays vision came to life. Every recipe is made in a USDA-monitored kitchen and all ingredients are 100% human-grade. Maybe you've heard that term and you're not entirely sure what it means. To clarify, human-grade means that all ingredients and processing methods meet the high FDA safety standards for foods made for human consumption.
On average, the kibble you find on store shelves has a minimum of 29 synthetic additives included in the recipe. Currently, Sundays is only one of two foods available in the United States that offers your dog complete and balanced nutrition with zero synthetics. All the nutrients included in Sundays' recipes come from natural sources. This is a great option for picky pets and for pets with sensitive tummies. These formulas are packed with antioxidants, omega fatty acids, and prebiotics. Plus, these recipes include glucosamine and chondroitin, which are perfect for supporting your dog's joint health (allowing for plenty of playtime well into his adult and senior years).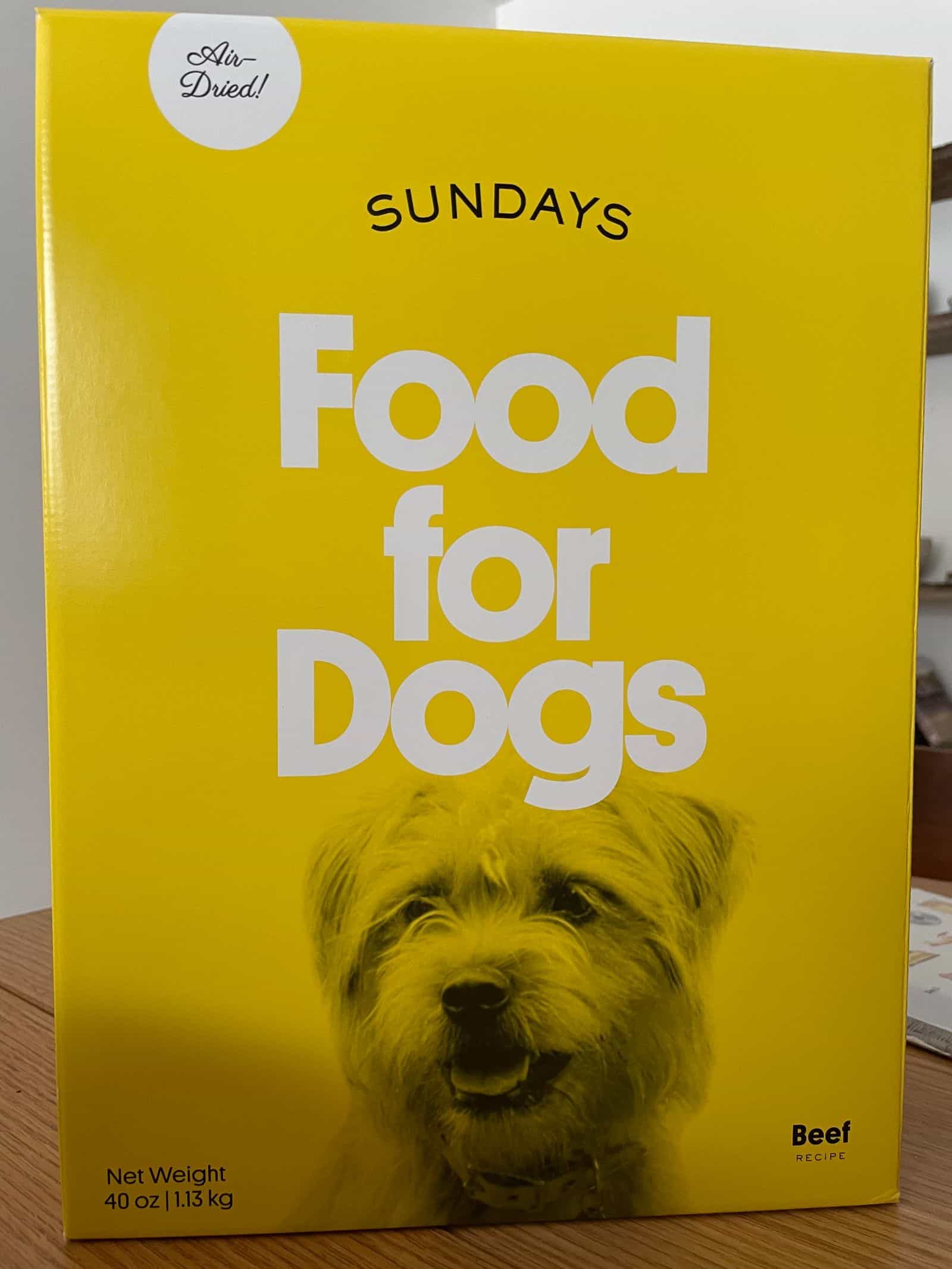 Sunday's Dog Food
Fresh without refrigeration
One of our top picks for healthy dog food
Shockingly affordable compared to big name brands
Quality ingredients
Buy Sundays
What Types of Animals/Breeds is Sundays Dog Food Best Suited For?
Sundays dog food is appropriate for dogs of all breeds and all life stages, including large breed puppies (that grow over 70 lbs. as an adult). The recipe is formulated to meet the nutritional levels established by the AAFCO dog food nutrient profiles.
Below, we list all the ingredients included in Sundays' beef and chicken recipes:
Beef Recipe Ingredients
USDA Beef, Beef Heart, Beef Liver, Beef Bone, Quinoa, Pumpkin, Wild Salmon Oil, Sunflower Oil, Zucchini, Kale, Flaxseed, Sea Salt, Parsley, Kelp, Chicory Root, Turmeric, Mixed Tocopherols, Ginger, Selenium Yeast, Blueberries, Carrots, Apples, Tomatoes, Shiitake Mushrooms, Broccoli, Oranges, Cranberries, Spinach, Beets, Tart Cherries, Strawberries.
Chicken Recipe Ingredients
Chicken, Chicken Liver, Eggs, Millet, Oat, Pumpkin, Kale, Ground Bone, Fish Oil, Sea Salt, Flaxseed, Parsley, Turmeric, Chicory Root, Kelp, Mixed Tocopherols, Ginger, Blueberries, Carrots, Apples, Tomatoes, Shiitake Mushrooms, Broccoli, Oranges, Cranberries, Spinach, Beets, Tart Cherries, Strawberries.
Sundays Dog Food Recalls and Controversies
As of the date this article is written, there have been no recalls for Sundays dog food on the U.S. Food and Drug Administration website, where recalls and withdrawals are listed. There are also no controversies regarding Sundays dog food—in fact, there is growing interest from dog owners looking to switch their dogs over to this reliable brand.
Products For This Review
Sundays Dog Food Verified Review: User Experience
We were very pleasantly surprised by the quality of this dog food by Sundays. It looks and feels like real beef jerky compared to off the shelf kibble which can be dry and crumbly. Transitioning a dog over to a new type of dog food, even if they take to it right away, can be difficult on their tummies. To circumvent any issues, Sundays provides a handy "phasing-in guide" so that your dog can transition comfortably. This gives you and your dog enough time to phase out the old and bring in the new.
The guide has stickers and a calendar you can use to work through how much you should give each day to transition your pup. This is such a helpful addition to the package we received and goes to show how much thoughtfulness and care goes into the production of this dog food. Our dog is fully transitioned, there were no issues during the transition process, and we love that we have to use less food for greater nutrition. Our dog is satiated daily and always happy when we reach for the bag.
The box also included all sort of extras for owners like 'the Sunday paper' and a fun crossword puzzle. After reviewing Jinx, Just Right, and Sundays, Sundays went far beyond the other premium direct to consumer dog food brands with their packaging and extras.
Bottom Line
Whether you have a small breed, medium breed, or large breed, these recipes by Sundays have the nutrition your pup needs. With 90% of the contents being meat including organs and liver, your dog receives excellent nutrition in an air-dried state, which provides a unique texture your dog is sure to love.
The guaranteed analysis is a minimum of 38% crude protein, a minimum of 15% crude fat, a maximum of 2% fiber, and a maximum of 15% moisture. With Sunday's dog food, you're serving a super dense, nutrient-packed meal. That means that you need less of it at a time and your dog gets full more quickly. You'll find that you end up feeding about half as much as you used to with traditional kibble. To ensure you feed adequately, Sundays provides you with feeding instructions.
Overall, this air-dried dog food provides you with an option that's unlike anything else on the market. It's different when a product is formulated by people who know the pain of losing a beloved canine companion. Their efforts to provide their dog with sustainable nutrition weren't in vain.
Today, they get to share these recipes with other dog owners who are health-conscious and who want to provide their dogs with premium dog food. They know it's not easy to create homemade meals, so they did the work for you. Now, you can feed your pup the best of the best without having to think twice about it.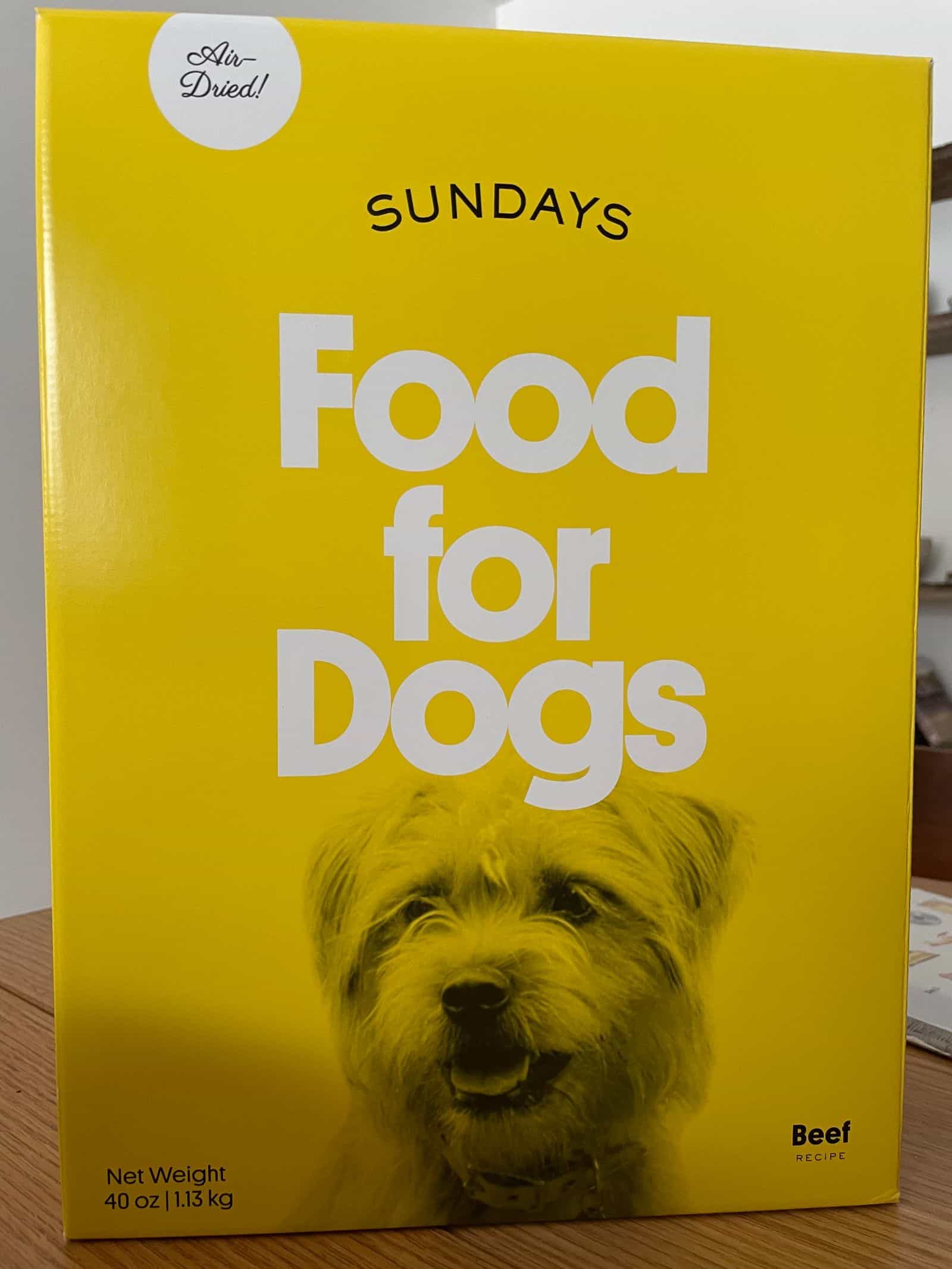 Sunday's Dog Food
Fresh without refrigeration
One of our top picks for healthy dog food
Shockingly affordable compared to big name brands
Quality ingredients
Buy Sundays
Sundays Dog Food: Complete Review with Pros, Cons, and Our Experience FAQs (Frequently Asked Questions) 
Is Sundays Dog food good for dogs?
Yes, and it's why we don't hesitate to recommend it. Overly processed kibble you find in pet stores or grocery store aisles can do more harm than good over the long term. Sundays developed this air-dried, human-grade dog food that resembles and has a texture much like jerky. It's chock-full of healthy ingredients that are good for your dog's health. They operate with transparency and use an innovative method to preserve the nutrients and create food dogs love.
Has Sundays dog food ever had a recall?
No, we checked the U.S. Food and Drug Administration website, and there is no information indicating that Sundays has never had a recall or controversy related to its dog food.
How much does Sundays dog food cost?
Sundays offers two options for purchasing their dog food. For a single purchase of a 40-ounce bag, you can expect to pay around $75. However, you can sign up for a subscription and that brings your cost per bag down to $59. There are also larger size dog food bags available. Ultimately, because they customize the meal plan for your dog, your total cost may vary. Typically, you can find a coupon code on their website to be gifted anywhere between 30 and 50% off.
Where is Sundays dog food manufactured?
Sunday's dog food is manufactured in a USDA monitored kitchen located in the state of Ohio. This is where they focus on creating all-natural beef and chicken recipes that emphasize nutrient preservation and maximum flavor.
Is Sundays dog food for puppies?
Yes, Sundays dog food is of excellent quality for puppies and adult dogs alike.
How do you air dry a dog's food?
For this process, raw ingredients are combined and slowly heated to about a temperature between 140 degrees Fahrenheit and 180 degrees Fahrenheit. The air-drying process is quite similar to the process of dehydration. What makes air-drying food so beneficial is that you are able to preserve the nutrients of a raw diet without any of the risks usually associated with feeding raw food. It lasts longer and you don't need a refrigerator to keep it fresh.
Do you add water to air-dried dog food?
No, adding water is not a necessary part of serving air-dried dog food. With Sundays dog food, all you have to do is open the bag, pour it into your dog's food bowl, and let him dig in!
Does Sundays contain potatoes or legumes?
No, in response to the FDA's recent investigation into dog foods potentially causing a heart condition called DCM, Sundays has confirmed they do not include potatoes or legumes in their recipes. They do, however, include quinoa.
How to store Sundays dog food?
In keeping with their mission to keep it easy-peasy, Sundays dog food doesn't require any special handling or refrigeration. Just store the food bag in your cupboard or on your counter.
Are any ingredients in Sundays dog food from China?
No, there's nothing questionable in these recipes. No meat meals, no vague ingredients, no added colors, and never any ingredients from China.
More from A-Z Animals