Key Points
The best overall Blue Buffalo kitten food is the Blue Buffalo Wilderness high protein food.
All the recipes are free from artificial preservatives, unnecessary fillers, corn, soy, and wheat.
Blue Buffalo makes both dry and wet kitten food to appeal to all kittens and their needs.
Blue Buffalo does not invasively test their products on animals. Any tested feeding is done with the animal's health and comfort in mind.
We all want our kittens to be fed a healthy, balanced diet, so they have the right nutrients until adulthood. That's why Blue Buffalo is a good brand of kitten food that is worth looking into. A healthy diet plays a major role in a kitten's overall health and growth. With that, looking for food that not only meets their nutritional requirements but exceeds them is important.
Blue Buffalo is a brand of pet food that has been around since 2003, based in the United States. It was founded by Bill Bishop and his sons. The aim of the brand was to create pet foods that are more natural than typical store-bought pet foods.
This is why they incorporate high-quality ingredients and no unnecessary ingredients. Blue Buffalo creates formulas for both cats and dogs of various life stages. The brand was originally founded, though, after the Bishop family dog, Blue, was diagnosed with cancer. Now, Blue Buffalo is known for their higher-quality cat and dog foods, with ingredients you can trust.
There are many different kitten recipes from Blue Buffalo. We've made it easier for you to make an informed choice by reviewing the best kitten foods that they have created.
Top Picks: The Best Blue Buffalo Kitten Foods Today
#1 Best Overall: Blue Buffalo Wilderness High Protein Kitten Food
Best Overall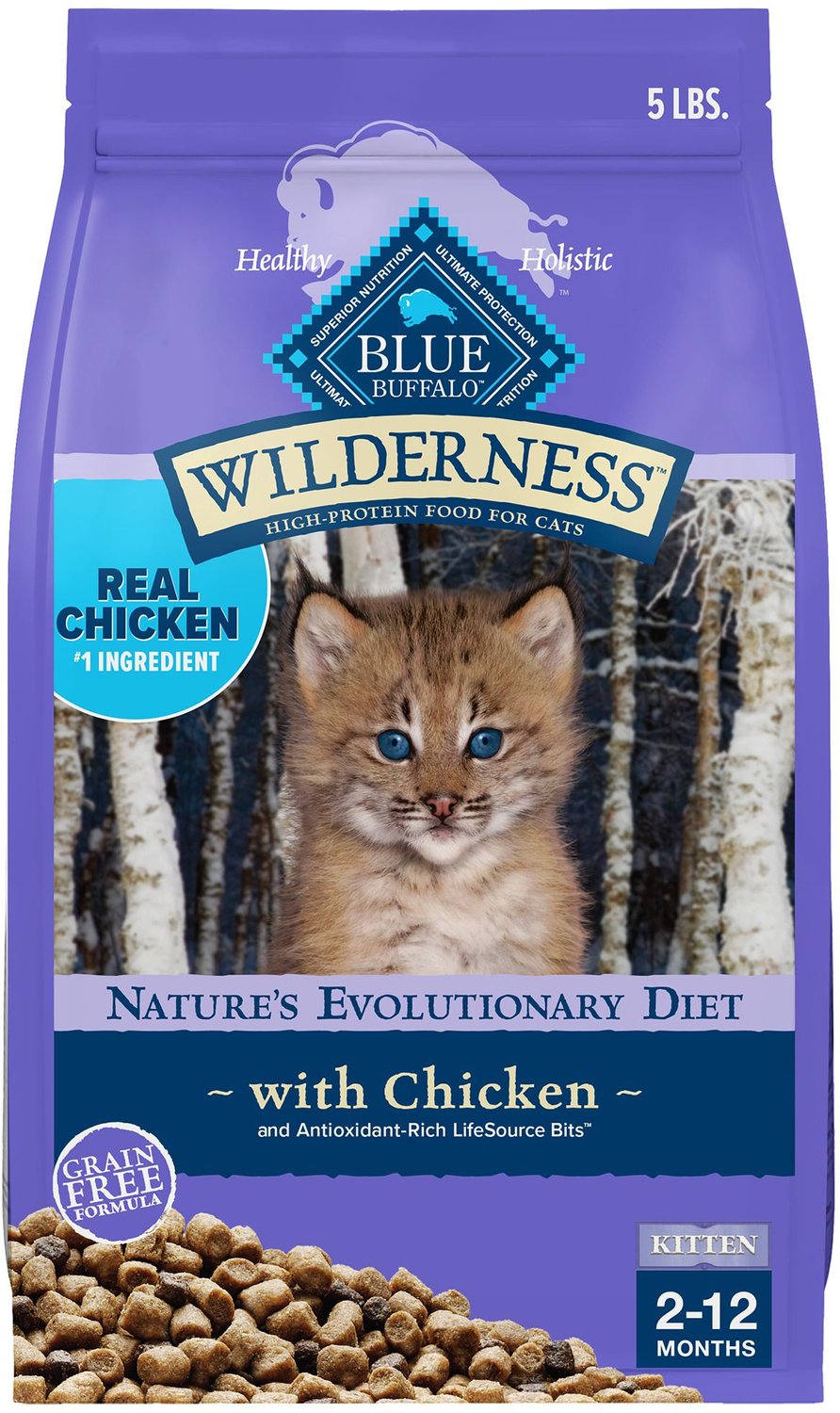 The best overall product in this review is the Blue Buffalo wilderness high-protein kitten food. This is a meaty and grain-free food that is specifically formulated with the nutritional requirements of kittens in mind. This food includes real chicken as the main ingredient to offer a protein-rich diet. It can be fed to your kitten up to 12 months of age.
This kitten food is available in a dry formula, with small pieces of kibble that have an enticing aroma to encourage kittens to eat. This food does not include any unnecessary fillers, and it completely lacks artificial preservatives, which is a win. The recipe is also free from corn, wheat, soy, grains, and glutens.
Instead, Blue Buffalo has added quality ingredients such as sweet potato, and real deboned chicken, along with fruits like blueberries which are rich in antioxidants. The recipe is gentle on kittens with sensitive stomachs, while incorporating a good mix of vegetables, meats, and fruits that your kitten needs during their most important development stage.
| Pros | Cons |
| --- | --- |
| The recipe includes real chicken as the main ingredient. | Not ideal for cats who are sensitive to poultry as it is the main ingredient. |
| This dry kibble is easy to store to retain freshness. |   |
| The antioxidants are sourced from fresh fruit. |   |
2. Best Value: Blue Buffalo Wilderness Pate Food
Best Value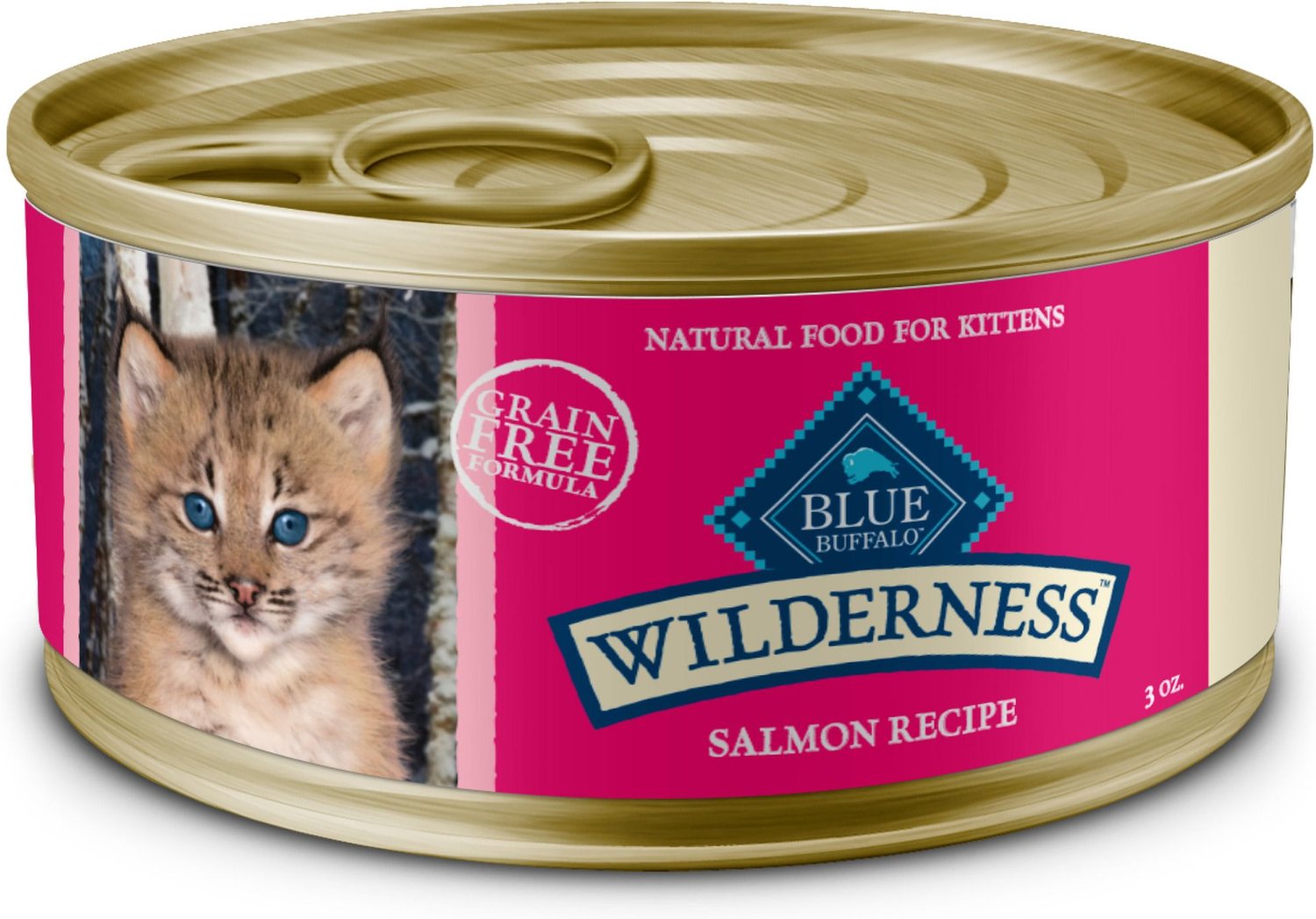 If you are looking for the best value-for-money wet kitten food, then this is food worth checking out. Blue Buffalo has created a tasty pate that is enriched with vitamins and minerals your kitten needs to grow and stay healthy until they can be moved to the adult formula. Salmon is the first ingredient.
This food is formulated without wheat, chicken by-product meals, corn, soy, or wheat. That makes it an excellent choice for kittens with sensitive stomachs and an intolerance to the excluded ingredients. Furthermore, Blue Buffalo has made sure to keep this food free from artificial flavors and preservatives, which are not necessary for a kitten's diet.
The smooth texture of this food makes it a good alternative to dry food, and it is high in protein with added DHA for cognitive development, along with salmon to help support and maintain healthy muscles in a growing kitty. It should be noted that these cans seem to be quite big for a kitten, so feeding the right portions and storing the opened tin correctly can help prolong the food's freshness.
| Pros | Cons |
| --- | --- |
| This recipe is high in protein with salmon as the main ingredient. | Large tins can make it difficult to get the kitten's portions correct. |
| Ideal for cats with food sensitivities since it excludes many triggering ingredients. | Difficult to store in comparison to dry food since it needs to be sealed and refrigerated. |
| Salmon and fatty acids support healthy muscle development in kittens. |   |
3. Best for Affordability: Blue Baby Blue Healthy Growth Formula
Best for Affordability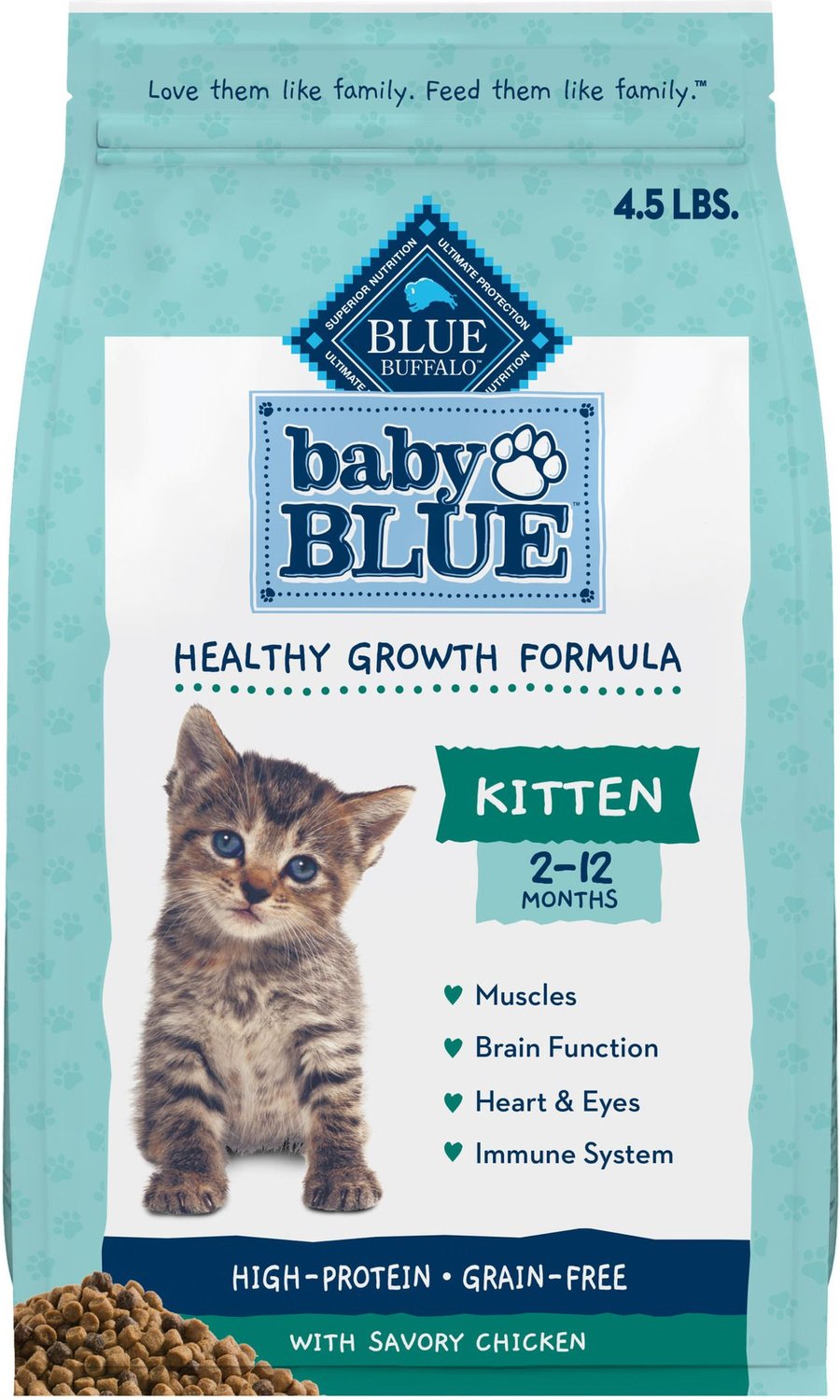 This is a more affordable dry food option for the amount of food and the quality. The Baby Blue range from Blue Buffalo is specifically formulated for kittens and puppies to support them until they are around 12 months of age.
It is made with real, high-quality chicken as the main ingredient to supply your growing kitten with a single source of protein. Fresh garden veggies and fruit has also been added to the recipe, along with fatty acids such as ARA and DHA which occur in a mother cat's milk to support a kitten's cognitive development. We really like that Blue Buffalo has incorporated this into the food, as it is beneficial to young kittens.
This is the chicken and pea recipe, which means that the protein is coming from both the real chicken and pea protein, giving the food a total amount of protein at 40%. Like all Blue Buffalos' recipes, it is free from unnecessary fillers, colors, or preservatives, and it does not contain any soy, corn, wheat, poultry by-product meal, and artificial flavors.
The kibble is small enough to easily be eaten by a kitten, even when they are still very small.
| Pros | Cons |
| --- | --- |
|  High in single-source protein with chicken as the main ingredient. | Some kittens do not like the aroma as the chicken can be bland. |
| No artificial preservatives, colors, or flavors are included in the recipe. | Contains high amounts of protein from peas. |
| Contains natural fatty acids found in a mother cat's milk. |   |
4. Best Grain-Free Recipe: Blue Buffalo Freedom Grain-Free Dry Kitten Food
Best Grain-Free Recipe
Blue Buffalo Freedom grain-free kitten food is a dry kibble. It serves as the perfect example of a healthy and balanced grain-free cat food. So, if your kitten has any food sensitivities toward grains that contain gluten, then this specific Blue Buffalo recipe is worth checking out.
This recipe contains kibble formulated for kittens with real deboned chicken as the main ingredient. The food contains a single source of animal-based proteins, along with essential fatty acids, antioxidants, vitamins, and minerals to support a growing kitty. Blue LifeSource bits are included, adding to the food a blend of vitamins, minerals, and antioxidants chosen by vets and nutritionists.
Aside from not containing any grains like most Blue Buffalos foods, this kitten food does not contain any poultry by-product meal, soy, corn, wheat, or artificial flavors and preservatives. Instead, Blue buffalo has made sure to include more beneficial ingredients like deboned chicken, carrots, blueberries, and carrots instead.
| Pros | Cons |
| --- | --- |
|  Deboned chicken is the main source of protein and the first ingredient. | Contains a high amount of protein from peas. |
| This recipe does not contain any gluten-containing grains. |   |
| Rich in antioxidants from fresh fruit and Blue LifeSource bits. |   |
Criteria: How To Choose The Best Blue Buffalo Kitten Food
There are three main factors when considering the right Blue Buffalo food for your kitten:
Guaranteed Analysis
Price
Ingredient Quality
Let's take a look at these factors:
Guaranteed Analysis
The guaranteed analysis is important to look at before buying food for your kitten. The guaranteed analysis on the label will detail the amount of crude protein, fat, fiber, and other important components of the food. This will help you determine whether the guaranteed analysis is balanced and complete enough to feed your kitten.
Since kittens require a high-protein diet unless otherwise discouraged by a veterinarian, you want to ensure the food has over 30% protein. Fortunately, all Blue Buffalos kitten foods surpass this percentage.
If your kitten is fed food low in protein, it will not receive the necessary nutrients to grow and sustain healthy muscles.
Price
We understand that certain kitten foods can be pricey, and not all of Blue Buffalos' recipes are budget-friendly. Ensure that the food you are buying for your kitten is meeting your budget, while also providing your kitten with high-quality ingredients.
The price is important because you will need to continuously buy it for your kitten if you do decide that your kitten likes it and they are doing well on it. It can be challenging to switch your kitten from food to food, not to mention that it can upset your kitten's stomach.
Ingredient Quality
A growing and developing kitten needs high-quality ingredients that are beneficial to them. Not only should the ingredients be beneficial to their healthy by providing them with the right amount of vitamins and minerals, but it also needs to be free from unnecessary and even potentially harmful ingredients.
Blue Buffalo seems to exclude a variety of grains, fillers, artificial preservatives, and flavors, along with soy, gluten, corn, and even wheat in most of their kitten recipes. This makes the recipes better suited for cats who have food sensitivities towards those ingredients.
The 2 Different Types of Blue Buffalo Kitten Foods
There are two main types of kitten foods created by Blue Buffalo, and each type of food comes with its own set of pros and cons.
This includes:
Dry foods — A kibble formulation of a food that is crunchy and can help with a kitten's dental hygiene.
Wet foods — A wet formulation of kitten food. It contains a high moisture content and animal protein as the main ingredients.
Up Next…
The 4 Best Blue Buffalo Kitten Foods FAQs (Frequently Asked Questions) 
Where is Blue Buffalo kitten food made?
Blue Buffalo recipes are created in the United States, and the majority of the ingredients are sourced locally, but some are outsourced. Blue Buffalo has several manufacturing facilities and office headquarters located in Wilton, Chicago, Los Angeles, Phoenix, and Bakersfield.
When was Blue Buffalo founded?
Blue Buffalo was founded by Bill Bishop and his sons in 2003 after their family dog was diagnosed with cancer.
At what age can a kitten start and stop eating kitten food?
The age should be determined by your kittens veterinarian, but most kittens can be fed kitten food from 4 weeks of age till 12 months. Make sure to consult your kitten's veterinarian before making dietary changes to your kitten.