Welsh Black Cattle
Bos taurus taurus
Last updated: November 1, 2022
Verified by: AZ Animals Staff
© iStock.com/HildaWeges
Welsh Black Cattle were once used as currency in Wales and referred to as "black gold".
---
Advertisement
---
Welsh Black Cattle Locations
---
Welsh Black Cattle Facts
Calf or calves
Welsh Black Cattle were once used as currency in Wales and referred to as "black gold".
Meat production, Johne's Disease, and Malignant Catarrhal Fever
Dense coat
white horns with black tips
279 — 287 days
Welsh Black Cattle are tough, dependable, adaptable, and caring.
1 — 2

Pastures, farms, countryside, or mountainous regions
Herbivore
1 — 2
Grass and hay
Tough hooves, thick and long coat, and white horns
Wales
The United Kingdom, The United States, Canada, New Zealand, Australia, Germany, Spain, Saudi Arabia, Jamaica, and Uganda
Welsh Black Cattle Physical Characteristics
Fur
Welsh Black Cattle live between 10 and 20 years.
Welsh Black cows weigh between 1,100 and 1,400 pounds, while Welsh Black bulls weigh between 1,900 and 2,500 pounds.
15 – 20 months
Low
This post may contain affiliate links to our partners like Chewy, Amazon, and others. Purchasing through these helps us further the A-Z Animals mission to educate about the world's species.
View all of the Welsh Black Cattle images!
---
---
Welsh black cattle were once used as currency in Wales and referred to as black gold.
Summary
The Welsh black cattle is one of the oldest breeds in the United Kingdom and existed in pre-Roman Britain. For approximately 1,000 years, Welsh black cattle have been bred in Britain and Wales for dairy and beef production. There were two main types of this breed: the Northern, known for their beef, and Southern, known for dairy. Welsh black cattle, as they are known today, are a combination of the Northern and Southern breeds and are best suited for beef production.
Welsh Black Cattle Facts
Welsh black cattle are an ancient, majestic breed that have been around for thousands of years.
Although it is common for Welsh black cattle to have black coats, they can have red coats, too.
Welsh black cattle are unbothered by rain, snow, or harsh winds, making them tough in the face of a storm.
Welsh black bulls can be as heavy as a compact car, weighing in at 2,500 pounds!
Welsh black cattle are considered endangered in many countries.
Scientific Name
The scientific name for Welsh black cattle is Bos taurus taurus, a subspecies of the Bos taurus–the general cow or bull–that belongs to the bovidae family and the mammalia class. It was determined through genetic testing that Welsh black cattle are related to an extinct breed, aurochs, which were vividly described by medieval writers as almost as large as an elephant!
Welsh Black Cattle Appearance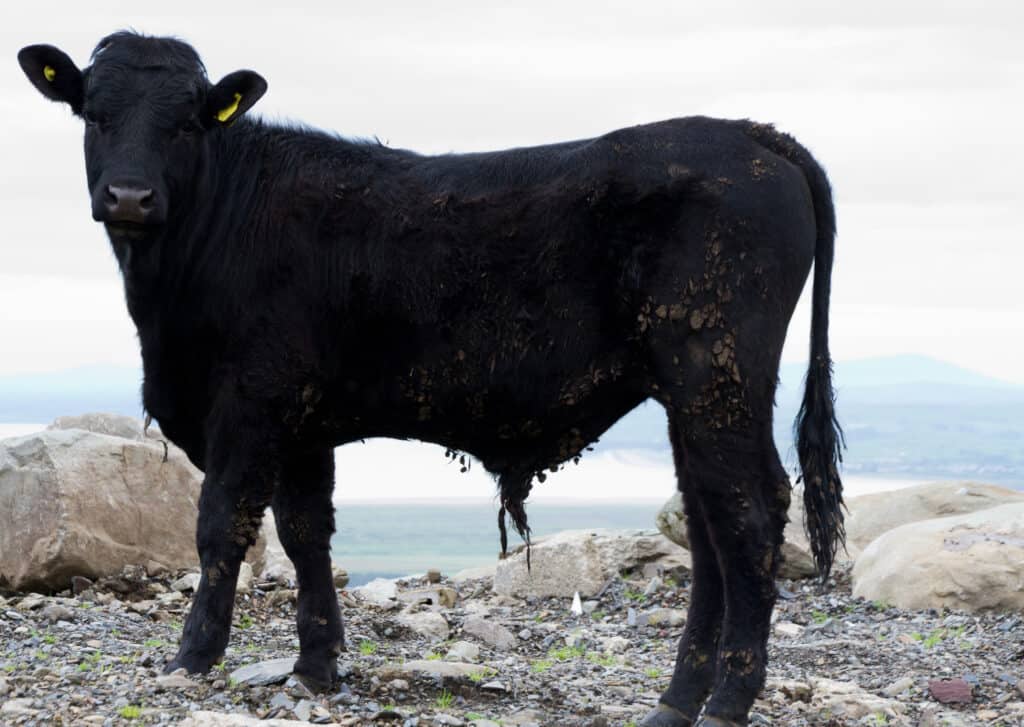 The majority of Welsh black cattle have black coats, which is to be expected from their name, but some others have a recessive gene that makes their coats red. Their long, dense coats mitigate the effects of snow, rain, and wind while also protecting them from sunburn and insects. In the spring, Welsh black cattle shed their coats, which helps them cool off as temperatures increase. They also have tough hooves that protect them from rocky terrain. Welsh black cattle may or may not have horns, while the horned variety have white horns with black tips. Welsh black cows weigh between 1,100 and 1,400 pounds, while Welsh black bulls weigh between 1,900 and 2,500 pounds. While Welsh black cattle aren't the heaviest breed, you might be surprised that they weigh more than a polar bear!
Welsh Black Cattle Behavior
Welsh black cattle are known to be tough and dependable. From pastures to the rolling hills of the countryside, they thrive in a variety of environments. Welsh black cattle don't mind harsh weather either: in rain and snow they graze peacefully and happily. Welsh black cattle are known for their distinct mothering style. Mothers, or dams, prioritize their calves over everything else, providing their offspring with the sustenance and care they need to thrive.
---
---
Habitat
Welsh black cattle are strong and flexible, making them uniquely suited to harsh terrain. Their tough hooves allow them to traverse the mountainous regions of Wales, while their adaptable coats, which they shed in warmer temperatures, protect them from the harshest of elements. Although other breeds of cattle would search for shelter in inclement weather, Welsh black cattle pay no mind to the storms or snow that their habitats present.
Welsh Black Cattle Diet
Welsh black cattle feed on grass and hay from pastures and farms. Their diet distinguishes them from other cattle because they can feed on rough grasses, while other breeds dislike this diet and cannot maintain their weight when presented with such rough fodder. Black welsh cattle also have an exemplary digestive system, creating lean muscle with little fat.
Welsh Black Cattle Threats
Among the biggest threats to Welsh black cattle is the meat production industry. In fact, Welsh black cattle are considered endangered in their native country of Wales and in Australia. Other threats include Malignant Catarrhal Fever, an asymptomatic virus, and Johne's Disease, which is caused by bacteria in the small intestine, both of which negatively affect the health of Welsh black cattle. Johne's Disease is contagious and often fatal to Welsh black cattle. Annual testing of Welsh black cattle for Johne's Disease helps identify its presence, which can then mitigate its effects on the rest of the herd.
Welsh Black Cattle Reproduction and Life Cycle
The mothering instincts of Welsh black cattle are notable and praiseworthy. Females initially birth their first calves at between 15 and 20 months of age, and their calves are generally born without complication, in excellent condition. Mothers, or dams, provide all of the necessary resources for their calves to grow with vigor. Welsh black cattle grow rapidly and can live up to 20 years if they maintain their health and do not succumb to any of the aforementioned ailments.
Welsh Black Cattle Population
Welsh black cattle are an endangered species, as they only live on farms and pastures in small herds in Australia, Canada, Germany, New Zealand, and Wales. In Australia, only 184 cows existed as of 2022. Although Welsh black cattle population figures are difficult to estimate, there is evidence that their numbers continue to dwindle, even though breeders and veterinary surgeons have tried in increase their numbers though reproduction and disease prevention.
Animals Similar to Welsh Black Cattle
Related Animals:
https://rarebreedstrustofaustralia.tidyhq.com/public/pages/sc-welsh-black https://www.stuff.co.nz/nelson-mail/lifestyle-entertainment/4848516/Welsh-blacks-a-tough-sell#:~:text=While%20other%20cattle%20would%20%22blast,careful%20around%20people%2C%20she%20says
View all 108
animals that start with W
---
Welsh Black Cattle FAQs (Frequently Asked Questions) 
What are Welsh black cattle used for?
Welsh black cattle are used for meat and dairy production.
What are some Welsh black cattle characteristics?
Welsh black Ccttle are adaptable and tough, meaning they can live in a variety of landscapes or weather conditions. They are very fertile and successful in calving. They are typically black with horns and a dense coat, but some can have red coats or have no horns at all.
Are Welsh black cattle dangerous?
Welsh black cattle are not known for being dangerous. In fact, they are handled by breeders and farmers with ease.
Sources

ITIS, Available here: https://www.itis.gov/servlet/SingleRpt/SingleRpt?search_topic=TSN&search_value=898717#null
Welsh Black Cattle Society, Available here: https://www.welshblackcattlesociety.com/online-database.html
The Cattle Site, Available here: https://www.thecattlesite.com/breeds/beef/30/welsh-black/
Gaggenau, The Magazine, Available here: https://www.gaggenau-themagazine.com/culture/the-welsh-black-cow-beauty-from-darkness
Cattle International Series, Weebly, Available here: https://cattleinternationalseries.weebly.com/welsh-black.html
Petkeen, Available here: https://petkeen.com/welsh-black-cattle/
Welch Black Cattle Society, Available here: https://www.welshblackcattlesociety.com/calf-colostrum-2013.html
IA State, Available here: https://www.cfsph.iastate.edu/Factsheets/pdfs/malignant_catarrhal_fever.pdf