Below you can find a complete list of types of animals found in Central America. We currently track 571 animals in Central America and are adding more every day!
The term Central America refers to Belize, Costa Rica, El Salvador, Guatemala, Honduras, Nicaragua, and Panama. This region connects North America to South America. It is bordered by the Pacific Ocean to the west and the Caribbean Sea to the east. With its many miles of coastline, acres of tropical forest, and centuries of unspoiled growth, Central America is an important biodiversity hotspot containing more than 7% of the earth's biodiversity.
What Are the National Animals of Central American Countries?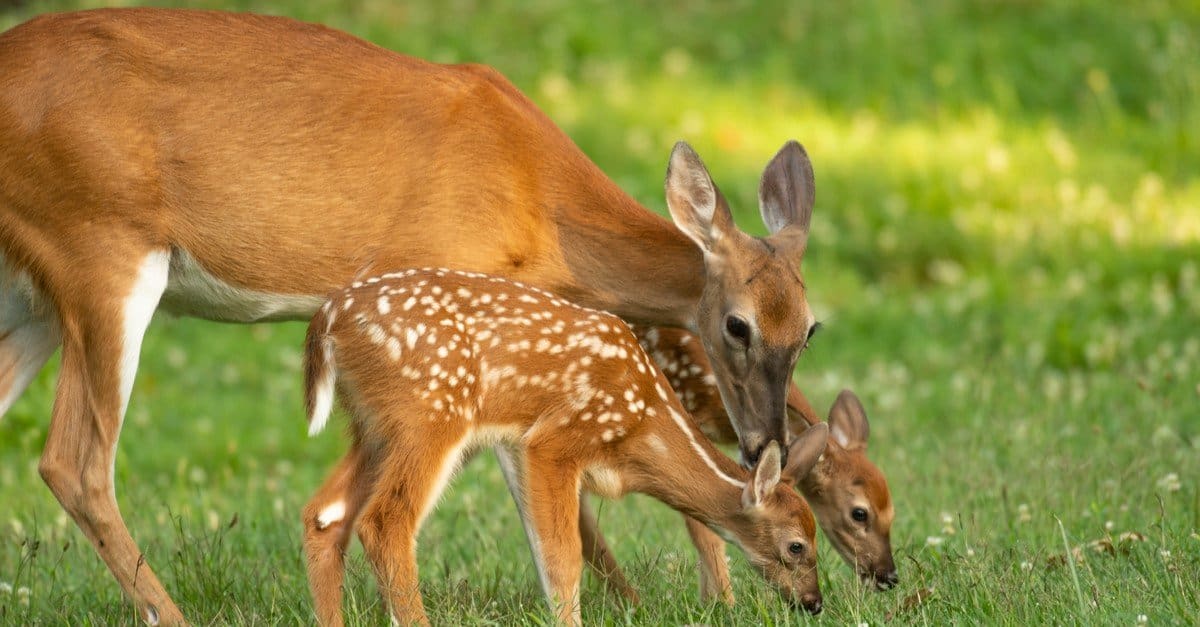 Many countries select a national animal as a symbol to represent their nation. This is often done in order to honor the unique biodiversity of the country and its culture. The choice of an animal can be significant, with some animals being seen as symbols of strength, courage, or even luck.
National animals are usually featured prominently on flags or other national emblems. In addition, many countries have laws that protect their national animal from harm or hunting in order to preserve them for future generations.
By selecting a national animal, each country is able to recognize and celebrate the special wildlife within its borders and promote environmental conservation efforts. While many of the countries share similar types of animals, they all have differing national animals. Here are a few:
Where To Find the Top Wild Animals in Central America
Central America is home to a variety of wildlife, including endangered species such as jaguars, sea turtles, and monkeys. As such, many countries have established national parks, marine reserves, and wildlife sanctuaries in order to protect these animals from poaching and other threats. This has allowed visitors the opportunity to experience the beauty of Central American nature firsthand while also helping to preserve it for future generations.
Eco-tourism is becoming increasingly popular in Central America due to its ability both economically benefit local communities by providing jobs related to tourism as well as preserving their unique natural resources. Many of the eco-tours available take visitors on guided hikes through pristine rainforests or boat rides along mangrove estuaries, where they can observe some of the region's most iconic animals up close. Tourists are educated about how their presence helps support conservation efforts before being taken back into town with newfound knowledge and appreciation for what makes Central America so special.
Here are some well-known places to visit animals in Central America.
Native Birds
Various habitats make up the region of Central America, as it is a string of several countries bridging South America to North America. As a result of the differing environments, Central America has a vast variety of wildlife, making it one of the most biodiverse zones in the world.
From the American Cordillera mountain range to Pacific lowlands to volcanoes, extraordinary avifauna is especially prevalent in this part of the world, seen flying the open skies and enjoying the vegetation. Below is a list of Central American countries and some of the most unique bird species found there.
Guatemala
750 bird species
National bird: resplendent quetzal
Unique species: Guatemalan pygmy owl, pink-headed warbler, keel-billed toucan, ocellated turkey, wine-throated hummingbird
Costa Rica
850 bird species
National bird: clay-colored thrush
Unique species: violaceous trogon, blue-crowned motmot, scarlet macaw, great green macaw, golden-hooded tanager
Belize
580 bird species
National bird: Keel-billed toucan
Unique species: Harpy eagle, red-footed booby, great egret, magnificent frigate bird, jabiru stork
Honduras
770 bird species
National bird: Scarlet macaw (guaras)
Unique species: Honduran emerald, green-breasted mountain gem, highland guan, ocellated quail
Panama
1,000 bird species
National bird: Harpy eagle
Unique species: golden-green woodpecker, rufous-winged ant wren, bare-crowned antbird, spectacled owl, today motmot
Nicaragua
783 bird species
National bird: Guardabarranco (torogoz)
Unique species: Lineated woodpecker, Lesson's motmot, bushy-crested jay, white-collared manakin, crowned woodnymph
Traveling Central America is a dream for birders worldwide, experiencing the multitudes of avifauna, as well as their breathtaking habitats. Unfortunately, deforestation has diminished the natural homes of many birds, limiting their existence to conserved and protected areas.
Native Fish
Almost every country within the region of Central America is bordered by both the Caribbean and the Pacific Oceans, warm waters home to multitudes of fish species. Avid sports fishermen come from around the world to catch sailfish, marlin, tuna, dorado, and wahoo. The most popular offshore fishing sites are found on the Pacific side, resulting from Californian Current meeting the southern, Peru Current.
Other types of fishing are highly popular in the region, as well, thanks to the various environments. The saltwater flats of Belize are especially alluring to fly fishermen looking for bonefish, tarpon, and permit. Fly fishing can also be done from the coastlines for billfish of huge sizes.
The Pacific Shoreline of Central America is also called the "Ring of Fire" as a tribute to its volcanic nature that gives rise to reefs, rocky outcroppings, pinnacles, and islands. These differing territories make the perfect inshore fishing spot, particularly in Costa Rica, Belize, and Panama. Game fish found here include jacks, roosterfish, mackerel, and snappers.
Freshwater fishing can prove the most enjoyable, with views surpassing that of the oceans surrounding Central America. Freshwater sources are found running through jungles, at the bases of volcanoes, and surrounded by other magnificent wildlife. Many species of bass, gar, snook, and mojarra are often caught in these environments.
Overall, Central America is the ideal destination for fishing with a view, whether it be in the oceans or rivers of the surrounding countries. Unlike other places, fishing is productive year round, weather permitting. Some of the most exciting catches include:
Native Snakes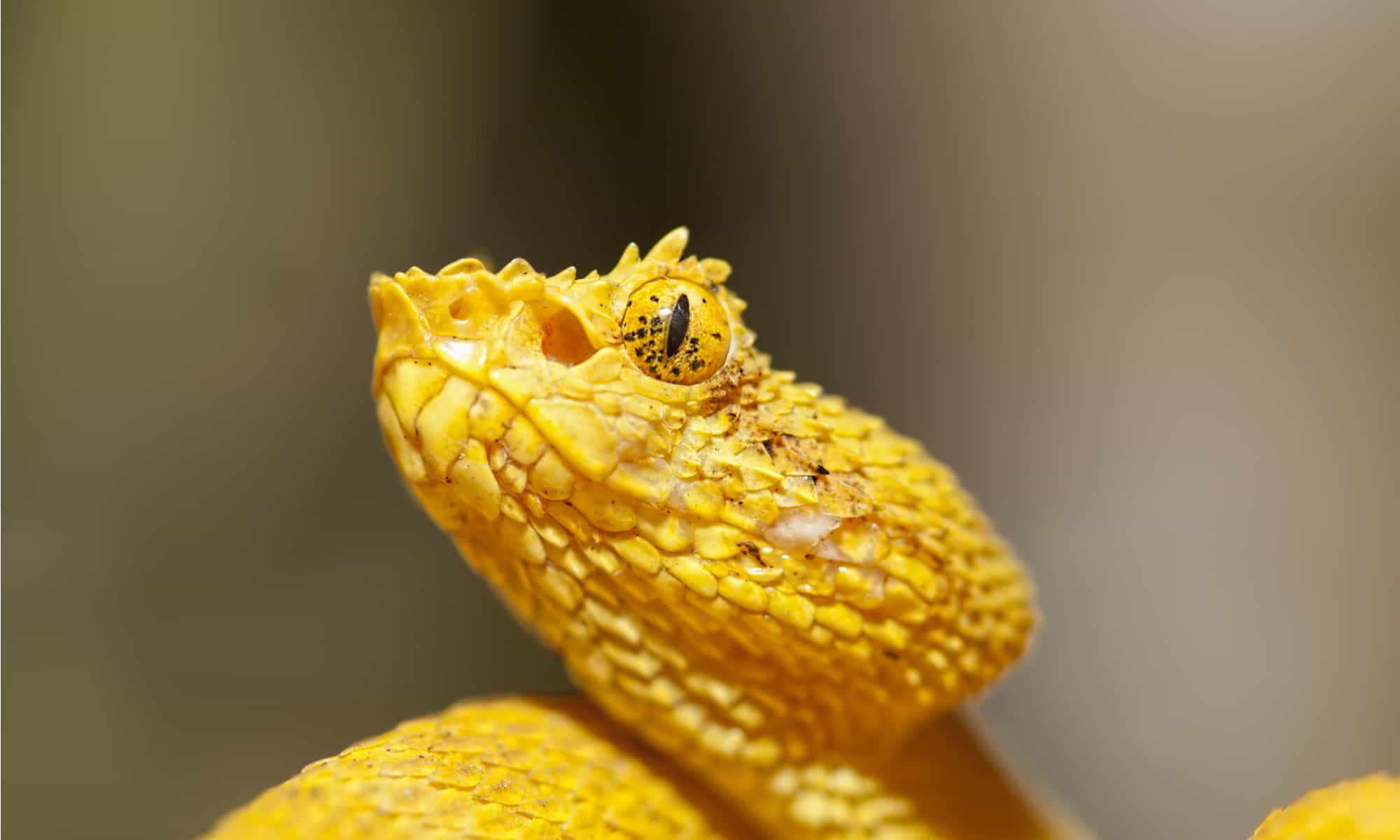 Snakes play an important role in the Central American ecosystems, both as predators and prey. Non-venomous snakes can be found throughout the region, including species like boa constrictors, king snakes, rat snakes, and gopher snakes.
Venomous species are also common in Central America, including several pit vipers such as bushmasters and fer-de-lances, various coral snake species, and sea snakes that make their home in coastal waters.
All of these reptilian creatures have adapted to life among humans both on land and at sea. However, some populations may be threatened by habitat destruction or overhunting for food or traditional medicine ingredients.
Some of the most notable snake species are:
Bushmaster — largest snake in Central America
Fer-de-lance — most dangerous snake in Central and South America
Eyelash viper — various coloration such as yellow, teal, or green with eyelash-like protrusions above eyes
Snake bites are not common in Central America but do occur. If bitten, seek medical treatment immediately regardless of toxicity, as allergies or reactions may still arise.
3 Largest Animals in Central America
The three largest animals in Central America are Baird's tapir, jaguar, and harpy eagle. The Baird's tapir is the largest land mammal of Central America, weighing up to 550 pounds and reaching lengths of 6 feet. They make their homes in lowland forests near rivers or swamps for easy access to water sources. These tapirs have a unique mask-like pattern on their faces that helps identify individuals from one another.
The jaguar is the second biggest animal found in Central America and can weigh up to 250 pounds, with its body length reaching 4 feet long. This apex predator prefers habitats like a tropical rainforest but also ventures closer to human settlements as they expand into new areas looking for food sources such as deer or wild pigs. It has excellent night vision which allows it to hunt at night when most other animals have gone into hiding.
Finally, the harpy eagle is believed by many locals to be the king of birds due to its impressive size and strength. With wingspans between 5-7 feet long and weighing an average of 20 pounds, this eagle certainly lives up to its reputation! Unlike many other eagles, these birds prefer dense jungles where they build nests high up in tree tops, making them hard to see until you look closely at treetops while out on nature walks or hikes.
3 Rarest Animals in Central America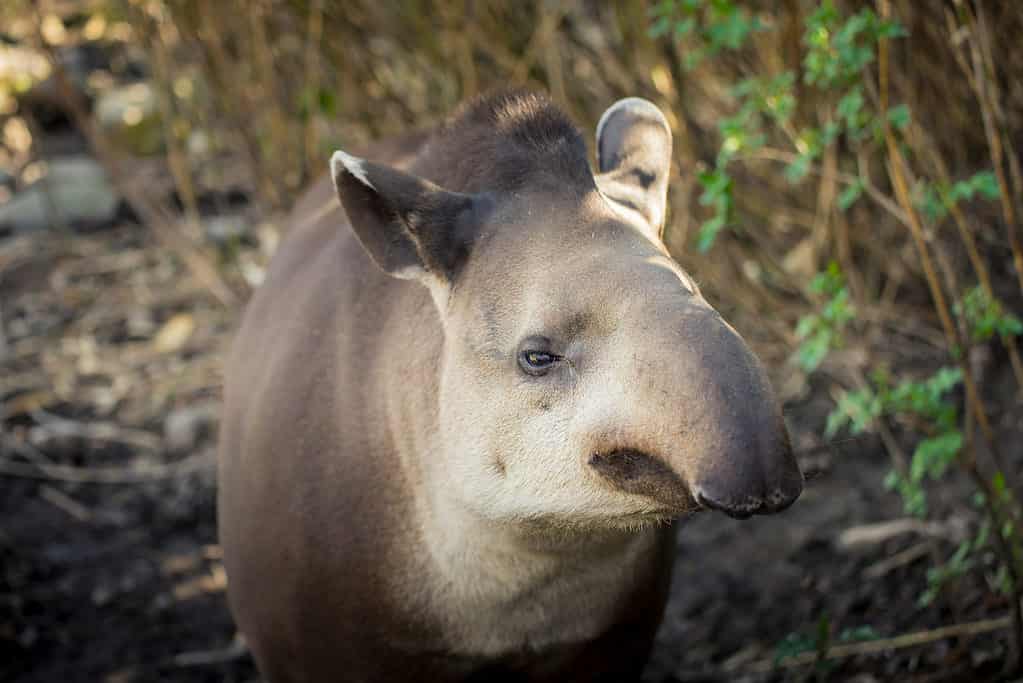 The rarest animals in Central America are the Mexican spider monkey, the horned guan, and Baird's tapir. The Mexican spider monkey is a critically endangered species of monkey native to Mexico and Central America. It has long arms for swinging from tree branches and a prehensile tail that it uses as an extra hand. Its habitat includes wet tropical lowland forests with abundant trees for climbing.
The horned guan is another critically endangered species found in central Mexico and Guatemala. Its distinguishing feature is its two large horns on its head which stand erect when displaying aggression or courtship behavior. This bird inhabits humid montane forests located at fairly high elevations, where it feeds mainly on fruits, nuts, leaves, and flowers.
Finally, the Baird's Tapir is an extremely rare mammal native to Central America whose population remains dangerously low due to hunting pressure as well as habitat destruction caused by deforestation. This tapir lives in dense jungle areas near rivers where they can find food such as grasses, aquatic vegetation, fruits, and insects while also having access to pools of water for swimming or wallowing during hot days. Although their numbers remain low today due to human activity, conservation efforts have seen some success recently thanks to wildlife reserves established across many parts of Central American countries like Nicaragua or Costa Rica.
The Most Dangerous Animals in Central America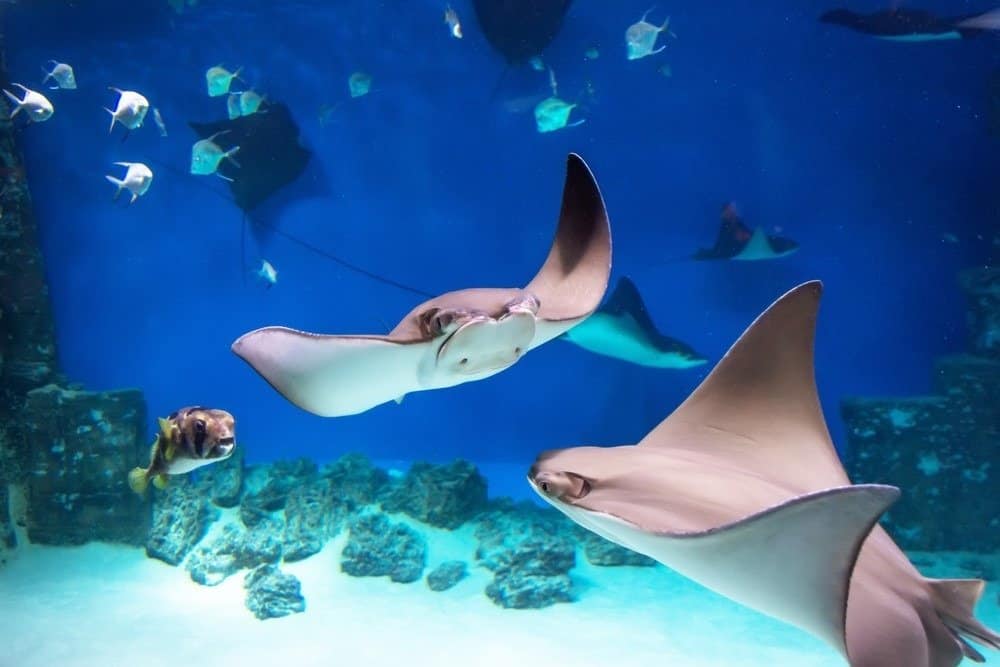 Central America is home to a wide variety of dangerous animals, including insects, reptiles, and fish. While some of these creatures may only pose a slight risk to humans, others can be deadly if encountered in the wild.
Insects such as scorpions and centipedes are common throughout Central America and can deliver painful stings or bites that could require medical attention. Venomous spiders like the brown recluse spider are also present in the region and should be avoided at all costs due to their potentially severe symptoms.
Reptiles like crocodiles, caimans, and sea turtles have inhabited Central American waters for centuries but can still pose serious risks when encountered by unsuspecting swimmers or fishermen. Some local rivers contain large numbers of these aquatic predators, which should always be treated with caution when near them in water or on land.
The Caribbean Sea off Central America's coast is known for its many species of venomous fish, such as stingrays, lionfish, stonefish, and moray eels. They can inflict incredibly painful injuries with their spines or teeth if stepped on or touched accidentally underwater. In order to avoid any potential conflicts with these animals, it's important to stay vigilant while swimming in open waters around this part of the world!
Here are some examples of harmful types of animals in Central America:
Endangered Animals in Central America
Central America is home to a wide variety of endangered species, including the jaguar, giant anteater, Baird's tapir, cougar, Central American river turtle, green sea turtle, hawksbill sea turtle, leatherback sea turtle, and Olive Ridley Sea Turtle.
All of these animals are threatened by the destruction of their habitats due to agricultural development or pollution. Additionally, poaching is also a major problem for many species in Central America due to a lack of enforcement against illegal hunting and trade.
As global temperatures continue to rise due to climate change, it will become increasingly difficult for these animals to survive in their natural habitats. Conservation efforts must be made now if we want future generations to enjoy the beauty and diversity of wildlife in Central America.
Other endangered species include howler monkeys, iguanas, and scarlet macaws, all animals native to Central America. The Bahama Swallow, Bang's mountain squirrel, big deer mouse, funnel-eared bat, and brown pelican are all animals that may become extinct if current trends continue.
For a complete list, see HERE.
Zoos in Central America
Central American countries are home to a wide variety of wildlife, but animals can also be seen in the many zoos located throughout the region. These zoos serve an important purpose by educating visitors on different species and providing sanctuary for those that are endangered or need special care due to injury or other circumstances.
Visiting these animal parks is a great way to get up close with some of Central America's unique creatures without having to venture into their natural habitats. Many of the zoos host daily events such as guided tours, educational seminars, and even hands-on experiences with certain animals like reptiles and mammals.
There is something for everyone at any one of Central America's leading zoological gardens, each offering its own unique experience! Whether it be admiring exotic birds in Panama or viewing rare amphibians in Costa Rica, there is no better place than a zoo if you want to explore Central American wildlife while staying safe and comfortable.
Read more about the top zoos within each country below.
Guatemala
La Aurora Zoo — Founded in 1924, the zoo heavily focuses on the education and immersion of visitors into the wildlife experience. The zoo covers 37 acres and displays animal species ranging from Humboldt penguins to Asian elephants.
Costa Rica
Zoo Ave — Animals are donated to this zoo for the purpose of rehabilitation and life-long care. The wildlife that comes in is usually injured, orphaned, or both and are nursed back to health in the zoo's facilities.
Arenal Eco Zoo — Renowned for having the largest reptile and amphibian collection in all of Costa Rica. The zoo's animals were originally part of wildlife enthusiast Victor Hugo Quesada's collection which he opened to the public.
Honduras
Joya Grande Zoo y Eco Parque — Incorporates wildlife sightseeing with family fun. Many large cat species are born and raised within the zoo, providing a large big cat attraction.
Nicaragua
Zoologico Nacional — A smaller zoo that has many exhibits of monkeys, big cats, and reptiles. Colorful birds fly around in tropical environments while the animals roam their habitats. The zoo also has a magnificent butterfly display.
Panama
El Nispero Zoo and Botanical Garden — Nestled into tropical forest, this zoo enables visitors to get a close-up view of some of Panama's most exquisite animals. Toucans, macaws, and monkeys dazzle visitors while they learn about the rescue and rehabilitation of species that are becoming increasingly endangered within the region.
While visiting the many amazing countries that make up Central America, be sure to support the local zoos and rehabilitation centers. A huge goal of the region is to promote the preservation of native species and many local zoos are involved in these endeavours.
Central American Countries Animals Lists
Click any of the countries below to see a detailed list of animals located in that country!
Central American Animals
Central American Animals List
Central America FAQs (Frequently Asked Questions)
What Kinds of Animals Live in Central America?
In Central America, you are likely to see many exotic rainforest animals like parrots, toucans, monkeys, sloths, iguanas, crocodiles, and jaguars. Unique birds include macaws, parrots, and toucans, but you will also find owls and hawks in the forests.
Central America is home to several species of big cats, including panthers, jaguars, margays, ocelots, and jaguarundi.
The waters of these countries support many important coral reef systems. For instance, the Belize Barrier Reef is the second largest barrier reef system in the world. These waters are important nesting grounds for sea turtles, manatees, water birds, and many endangered species. Central America contains many UNESCO World Heritage Sites that recognize the unique importance of their flora and fauna.
Each country in Central America has its own unique species. These countries have taken steps to protect their precious natural resources by establishing national parks and marine reserves.
What Exotic Animals Are in Central America?
Baird's tapir: The tapir, known locally as the mountain cow, looks like a cross between a cow and a wild pig.  This unusual animal almost became extinct, but it is now beloved for its gentle personality and amusing behavior. Tapirs now enjoy protected status in most of Central America.
White-faced capuchin monkey: This small, beautiful monkey is exceptionally smart. Central America has many unique monkey species, including howler monkeys, which are the loudest animal on earth.
Quetzal: This brilliantly colored bird is remarkable for its extremely long tail feathers. Although the quetzal is the national bird of Guatemala, it is critically endangered. Cloud forest preserves are important sanctuaries for quetzals and other tropical birds.
Jaguar: The largest wild cat of the Northern hemisphere, the mysterious, elusive jaguar is an important cultural symbol to Central Americans. Although jaguars are endangered, their populations are recovering.
Iguana: There are several types of iguanas, and you can find them all in Central America. You can find marine iguanas, green iguanas and blue iguanas. Although iguanas seem to be everywhere when you're in Central America, they are threatened by habitat loss and introduced species, including cats and dogs, that prey on them.
How Many Mammal Species Are Found in Central America?
Central America has more than 350 native mammal species.
What Animals Live in the Central American Rainforest?
Tropical birds: You will see many vivid, loud tropical birds in the rainforest, including scarlet macaws, keel-billed toucans, and orange-winged parrots. Hummingbirds are prevalent in the rainforests and surrounding areas.
Big cats: Jaguars, ocelots, panthers, and margays all live in the tropical rainforests and the mountain cloud forests.
Kinkajou: This small, nocturnal mammal spends its life in the rainforest trees. This adorable, big-eared creature has a long tongue and loves to forage for fruit.
Marsupials: Central America is home to much-loved marsupials like the sloth. Central America is home to pygmy sloths, Hoffman's two-toed sloths, and brown-throated sloths.
Marine life: Dolphins, manatees, and sea turtles all live in the warm waters around Central America.
Insects: The lanternfly, rhinoceros beetle, black butterfly, mosquito, and praying mantis are all native to the rainforest.