Below you can find a complete list of Oceanian animals. We currently track 471 animals in Oceania and are adding more every day!
Oceania is a geographic region consisting of many large and small islands. These include Australia, New Zealand, New Guinea, Melanesia, Micronesia, Polynesia, and other islands of the Pacific.
This region is known for its unique and sometimes bizarre wildlife, as well as its dangerous animals. Keep reading to discover some of the coolest animals in the world!
Oceania Wildlife Summary
Oceania is known for its unique wildlife. It has the world's highest concentration of marsupials, animals like the kangaroo, koala, and wombat that carry their young in a pouch. Monotremes also live in this area. They are the only mammals in the world that lay eggs instead of giving birth to live young.
Tropical weather makes Oceania suitable for many parrots and other colorful birds. Some of the islands are home to birds of paradise, the males of which have bright colors, long, usual feathers, and elaborate mating dances. Flightless birds include the large emu and cassowary and the small brown kiwi.
Oceania is also home to some of the most dangerous wildlife in the world. In the oceans are sharks, poisonous fish and octopi, and jellyfish. On land are venomous snakes and spiders. The toothy saltwater crocodile inhabits both realms.
The Official National Animals of Oceania
Oceania is made up of many countries, each of which has its own national animals. In Australia, the national animal is the red kangaroo, and the national bird is the emu. In Indonesia, the Komodo dragon is the national animal. Indonesia's national bird is the mythical garuda, which could be based on the kite or eagle. New Zealand's national animal is the kiwi, and Papua New Guinea's is the dugong.
Red kangaroos, the largest species of kangaroo, are commonly found in the open plains of inland Australia. These amazing creatures are known for their remarkable ability to survive on very little water. Males have a distinctive maroon coat with a white face and belly, while females have a bluish-gray coat and are smaller and faster than their male counterparts.
Red kangaroos are a fascinating species, and their impressive adaptations to their environment have made them an icon of Australian wildlife.
Largest Animals in the Oceania
The vast and diverse region of Oceania is home to an incredible array of animal species, from the smallest insects to the largest marine mammals.
Here are some of the largest animals found in the Oceania region:
Blue whale: The largest animal on earth is found in Oceania. Blue whales can reach lengths of up to 100 feet and weigh as much as 200 tons.
Saltwater crocodile: The world's largest living reptile is also found in Oceania. These crocodiles can grow up to 23 feet long and weigh over a ton.
Killer whale: Also known as orcas, these marine mammals are the largest members of the dolphin family and can reach lengths of up to 32 feet and weigh up to 6 tons.
Southern elephant seal: The largest seal in the world is found in Oceania, with males weighing up to 8,800 pounds and measuring up to 20 feet in length.
Giant squid: This elusive deep-sea creature is found in the waters around Oceania and can reach lengths of up to 43 feet.
Rarest Animals Found in Oceania
Oceania is a vast and fascinating region that is home to a diverse range of animal species. This vast area encompasses Australia, New Zealand, Papua New Guinea, and many other small island nations, each with its unique ecological systems.
With so much land and water to explore, Oceania is home to some of the rarest animals in the world:
Oceania is a vast region encompassing Australia, New Zealand, Papua New Guinea, and several small island nations, home to diverse animal species.
Some of the rarest animals found in Oceania include the flightless parrot Kakapo, the reptile Tuatara, the Tasmanian devil, and the Hawaiian honeycreeper bird Palila.
Other rare species include the giant clam, the Fiji crested iguana, the Kagu bird, and the New Caledonian giant gecko.
The critically endangered Lord Howe Island stick insect was rediscovered in 2001, and can only be found on Lord Howe Island.
Where to Find the Top Wild Animals in Oceania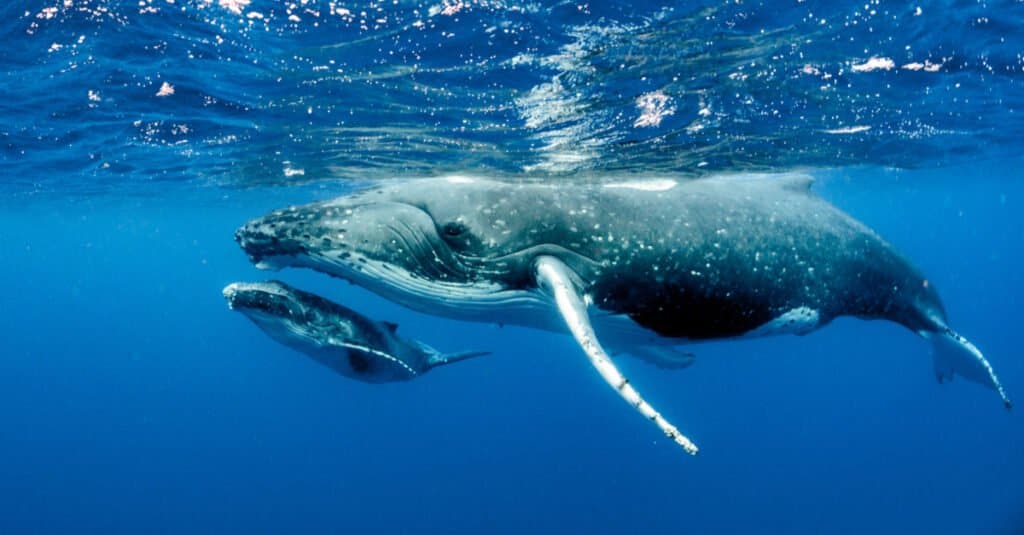 One of the best things about Oceania is that you can see wildlife everywhere. In Australia, for example, grey kangaroos and wallabies commonly wander into suburban backyards. Lorikeets, cockatoos, and butcher birds may perch overhead as you dine at an outdoor cafe. At certain times of the year, you can view humpback whales from the beach. A huge huntsman spider may even run across the window of your car! In Papua New Guinea, don't be surprised to find a gecko in your hotel room or a flock of flying foxes in the trees above.
You can also visit zoos or hiking trails to see specific animals. Australia Zoo is a popular attraction that allows you to view many species native to Australia, Oceania, and continents around the world. Oceanic species include fresh and saltwater crocodiles, wombats, dingoes, echidnas, and Tasmanian devils. You can even feed and pet grey kangaroos! Australia Zoo was famously founded by Steve Irwin, the Crocodile Hunter, and it is still operated by his wife and children.
Other fantastic zoos and wildlife parks are located throughout Oceania. In Port Moresby, Papua New Guinea, for example, there are two fine wildlife parks – the Port Moresby Nature Park and Adventure Park PNG. Wild flying fox bats roost overhead. Aviaries are filled with birds of paradise and giant Victoria-crowned pigeons. You can also view crocodiles feeding, cassowaries, and rare tree kangaroos.
The Most Dangerous Animals in Oceania Today
Oceania is famous for its host of dangerous animals. In the ocean, watch out for saltwater crocodiles, great white sharks, blue-ringed octopus, stonefish, lionfish, cone shells, box jellyfish, and man-o-wars.
On land, there are venomous animals that vary depending on the location. Some include the common brown snake, tiger snake, Sydney funnel-web spider, redback spider, and jack-jumper ants.
The cassowary has been called the "world's most dangerous bird," and the Komodo dragon has also been responsible for human fatalities.
While many dangerous animals call Oceania home, keep in mind that wildlife attacks are still rare. When people are educated about native wildlife and potential dangers, they are usually able to keep a safe distance and live in peace with the animals.
Endangered Animals In Oceania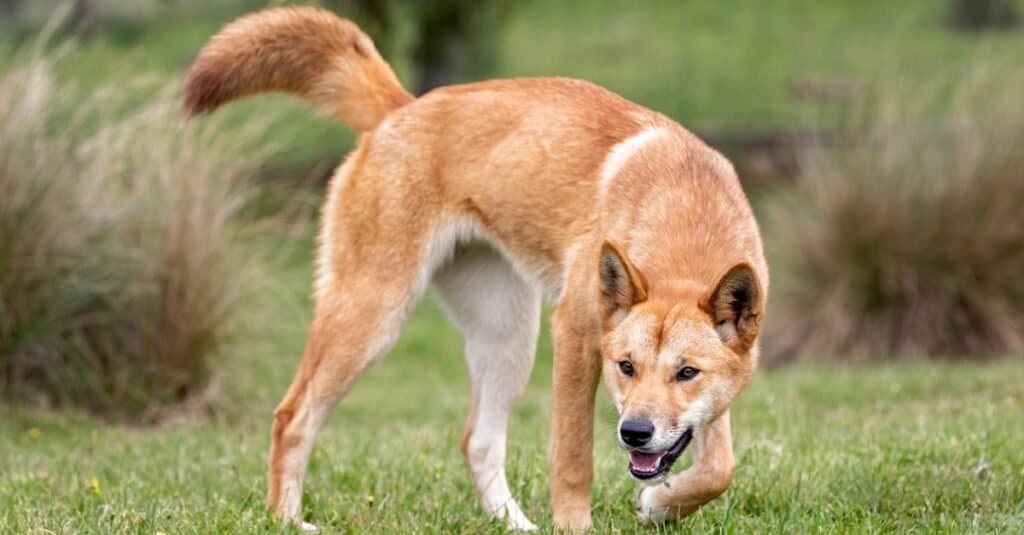 Many Oceania animal species are endemic or native to just one or a few small islands. With limited range and habitat, these animals can easily become endangered of becoming extinct.
Tasmania, for example, is a refuge for many endangered species that once roamed Australia. This southern, heart-shaped island avoided colonization by some invasive species, such as the dingo. Without competition from feral animals, endangered Tasmanian devils, wedge-tailed eagles, and others continue to survive.
The island of New Guinea is also home to many endangered species, including rare and beautiful birds. Endangered tree kangaroos, pademelons, and the Queen Alexandra birdwing butterfly – the largest butterfly in the world – also live there.
There are also a number of famous extinct animals from Oceania. The thylacine or Tasmanian tiger is perhaps the most famous.
Other well-known extinct animals from this region include the Moa, dwarf emu, dodo bird, and numerous reptiles, bats, birds, and mollusks.
Oceanian Countries Animals Lists
Click any of the countries below to see a detailed list of animals located in that country!
Oceanian Animals
Oceanian Animals List
Animals in Oceania FAQs (Frequently Asked Questions) 
What Animals Live in Oceania?
Oceania is home to all types of animals – mammals, birds, reptiles, amphibians, fish, invertebrates, and birds. Some of the animals are very unique – marsupials that carry their babies in pouches and monotremes (echidnas and the duck-billed platypus) that lay eggs.
Which Animals Can You See in Oceania, Specifically Australia?
Popular animals include kangaroos, wallabies, dingos, Tasmanian devils, wombats, crocodiles, large fruit bats, koalas, and dingos. Whale watching is also popular. Australia is one of the few countries in the world where you can swim with humpback whales.
How Many Species of Animals Live in Oceania?
Hundreds of thousands of animal species live in Oceania. In Australia alone, scientists estimate that there are 250 native mammal species, 550 species of birds, 680 different types of reptiles, 190 species of frogs, and more than 2,000 species of fish. Even more unique species live on Oceania's other islands.