There are many venomous and dangerous snakes out there, but just how dangerous is the cape cobra bite? Belonging to the cobra snake species, the cape cobra is also known as the yellow cobra due to its beautiful scales and yellow shades. However, how potent is the venom of this snake, and what do you do if you happen to be bit by one?
In this article, we will address everything you need to know about the cape cobra's potent and powerful bite, including its biting style and technique. We will also address how the cape cobra interacts with humans and what you should do if you happen to be bitten by a snake as dangerous as this. Let's get started and talk about the cape cobra now!
Why is the Cape Cobra Bite So Powerful?
The bite of the cape cobra is particularly powerful and dangerous because of its potent venom properties. Additionally, the cape cobra injects a high level of venom in just a single bite, often more than enough to kill 9 fully grown humans! This makes the cape cobra one of the most dangerous and highly venomous snakes in all of Africa, despite it only being found in the southernmost portion.
The venom composition of the cape cobra is particularly dangerous. It contains many neurotoxins that are capable of paralyzing the nervous system, the respiratory system, and the heart. Most mice perished with as little as 0.4 mg injected into their bodies. To put this into perspective, let's take a look at how much venom a single cape cobra bite has.
How Much Venom Does a Cape Cobra Bite Have?
The average cape cobra bites with as little as 100 mg of venom in a single bite. In fact, as much as 250 mg of venom has been reported in a single test, which means that there's more than enough venom to kill just about any person or prey that the cape cobra wants. However, in the grand scheme of cobra bites, the cape cobra has significantly less venom compared to the king cobra.
To put this into perspective, the king cobra has been recorded as biting with upwards of 1,000 mg of venom in a single bite. That is significantly more than the cape cobra, but the king cobra can kill roughly 11 people in one bite, while the cape cobra can kill 9. This means that their venom potency is similar, even though the king cobra still reigns supreme in terms of who is more dangerous.
Do Cape Cobras Bite Repeatedly?
Given the fact that the cape cobra is regarded as a fairly nonaggressive species of snake, it is unlikely that they bite repeatedly. However, if a cape cobra senses a threat and strikes, it will not hesitate to strike again should the threat remain. That's why it is important to always back away from any species of venomous snake, whether or not you want to!
What Animals Do Cape Cobras Hunt?
The cape cobra is highly opportunistic, and it is one of only a few snakes observed eating carrion, or dead animals. However, this is not its primary food source. The cape cobra frequently eats:
Cannibalism in this snake has been observed, though it isn't necessarily common. Like many other cobra species, it uses its potent venom to incapacitate its prey, slithering a short distance away while its prey perishes. This helps the cape cobra avoid any unnecessary injury to itself.
How Do Cape Cobras Interact with Humans?
Despite the cape cobra being a nonaggressive snake compared to many others, it still makes up the majority of all snakebites in Africa. Like all other cobra species, the cape cobra raises its body in the air and hisses loudly, fanning a hood on either side of its head should it feel threatened or surprised in any way.
Unfortunately, the cape cobra lives and hunts in a variety of populated areas in Southern Africa. It frequently comes into contact with humans whether either party wants it or not. Given that the cape cobra hunts a variety of animals in and around manmade structures, it's only a matter of time before a human is bitten. This is one of the many reasons why the cape cobra is so dangerous.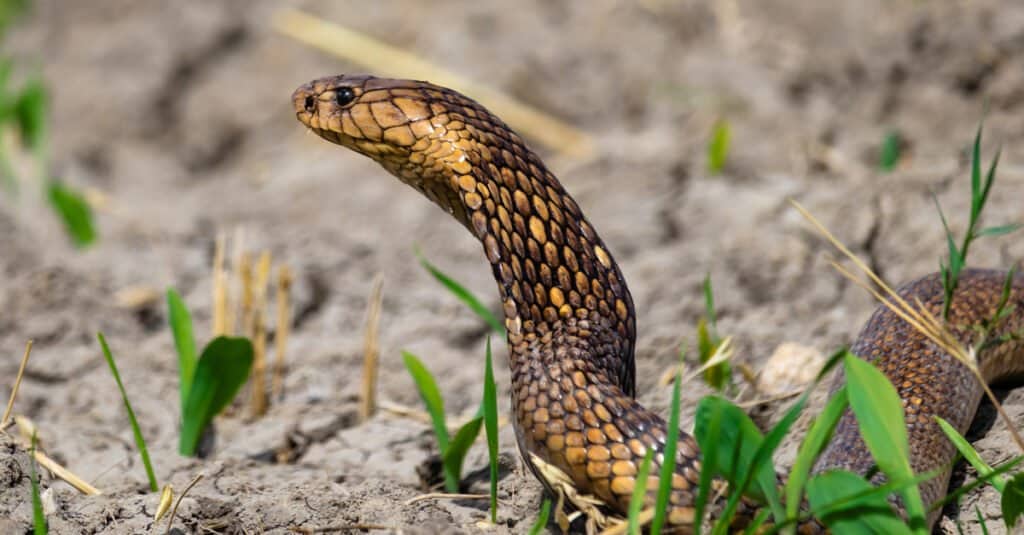 How Do You Treat a Cape Cobra Snake Bite?
If you happen to get bitten by a cape cobra, what can you do? Thankfully, the majority of cape cobra snake bites result in full recoveries– so long as the person seeks medical attention immediately. The bite is still dangerous and fatality is high in those that do not seek medical help following a bite. 
However, something important to point out about cape cobra victims is the fact that most make full recoveries without using antivenom. By treating the symptoms and utilizing medical ventilators, many cape cobra envenomations have a happy ending. However, antivenom and extensive treatment is still necessary in severe bites, as death can occur anywhere from one to ten hours after being bitten.
It just goes to show you that all venomous snakes need to be treated with respect and care. No matter how safe you think you are, always pay special attention if you are traveling in locations with venomous snakes. This definitely includes areas where the cape cobra exists!
Discover the "Monster" Snake 5X Bigger than an Anaconda
Every day A-Z Animals sends out some of the most incredible facts in the world from our free newsletter. Want to discover the 10 most beautiful snakes in the world, a "snake island" where you're never more than 3 feet from danger, or a "monster" snake 5X larger than an anaconda? Then sign up right now and you'll start receiving our daily newsletter absolutely free.
---