Key Points
Texas is the second largest state in the USA and it is well known for being one of the most drought-hit states as well.
There are many artificial and natural lakes, as well as mountains, rivers, and streams, in Texas.
Out of all the places to visit in the state, artificial lakes are popular with domestic and international tourists.
There are various opportunities for freshwater fishing and lakeside vacations in Texas due to the state's numerous natural and artificial lakes. Being the second-largest state in the country, it is not surprising that the state is home to numerous rivers, streams, mountains, and lowlands.
Texas has a wide range of temperatures while being generally quite hot and humid, especially in the summer. Although Texas is well known for its hot climate, which pairs nicely with its renowned barbecue, it also has a large number of freshwater lakes, which can be wonderfully refreshing, considering the heat.
Texas is also known for its beautiful towns, ranching regions, and abundant marine species, protected by the state's huge freshwater lakes. But did you know that the Lone Star State is also home to several crystal clear lakes? While Texas boasts numerous fishing sites, its clear swimming waters are gems the state prides itself on. Below, we list eight of the clearest lakes in Texas and where to find them.
The 8 Clearest Lakes in Texas
1. Lake Mackenzie
One of the finest and purest lakes in Texas, Lake Mackenzie is a hidden gem for a summer vacation in the little Panhandle town of Silverton, only a short drive from Lubbock. This spotless reservoir seems like it belongs in a fairytale and is tucked away where few would look for it.
The lake, managed by the Mackenzie Municipal Water Authority, was built to supply water to its affiliated cities of Silverton, Floydada, Lockney, and Tulia. Additionally, it offers a variety of recreational opportunities for nearby areas. Its clear waters are perfect for boating and fishing, and there are cottages, R.V. spaces, and rustic campsites accessible for overnight visitors. 
Lake Mackenzie has earned its place in the Texas Historic Places. With distinctive rock formations and a plethora of animals, the basin has a rich past and present that combine to create an exotic paradise. The canyon peaks are sparsely covered in vegetation, but the region is arid, making the lake a welcoming relief from the stifling heat.
2. Lake Amistad
Amistad National Recreation Area has one of Texas' most exquisite, crystal-clear lakes. In the desert of southwest Texas, it serves as an oasis. Lake Amistad, built in 1969, is a 101.4-square-mile body of water at the Mexican border where the Rio Grande and the Devils River converge.
The lake was built alongside the dam and is now well-known among U.S. citizens and foreign visitors for its breathtaking natural beauty. Fishing, boating, paddling, and scuba diving are leisure activities made possible by the clear water. Birding and rock art are also quite popular. Here, hiking is another well-liked pastime. The Diablo East region is home to several trails just waiting to be explored.
Even though it is located in the Lone Star State, it has a tropical paradise feel. Amistad translates from Spanish as "friendship," and we can't think of a greater way to connect with the people you care about than by making priceless memories in Texas' cleanest waters. Entering a cool, refreshing body of water is the best way to escape the sultry desert heat. From a much more bearable 86 degrees in the summer to a chilly 54 degrees in the winter, the area is also an ideal winter vacation spot.
Furthermore, Amistad's waters are some of the least contaminated in the country and clearest you've ever seen because it's in one of the state's least explored areas. Its secluded position will also make you feel as though you're in a far-off tropical paradise.
3. Canyon Lake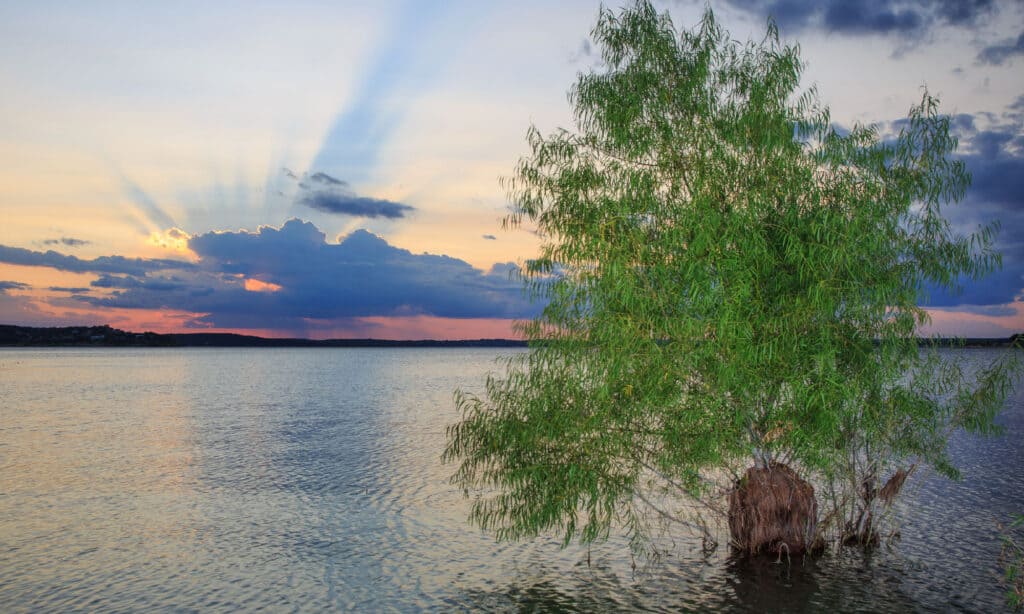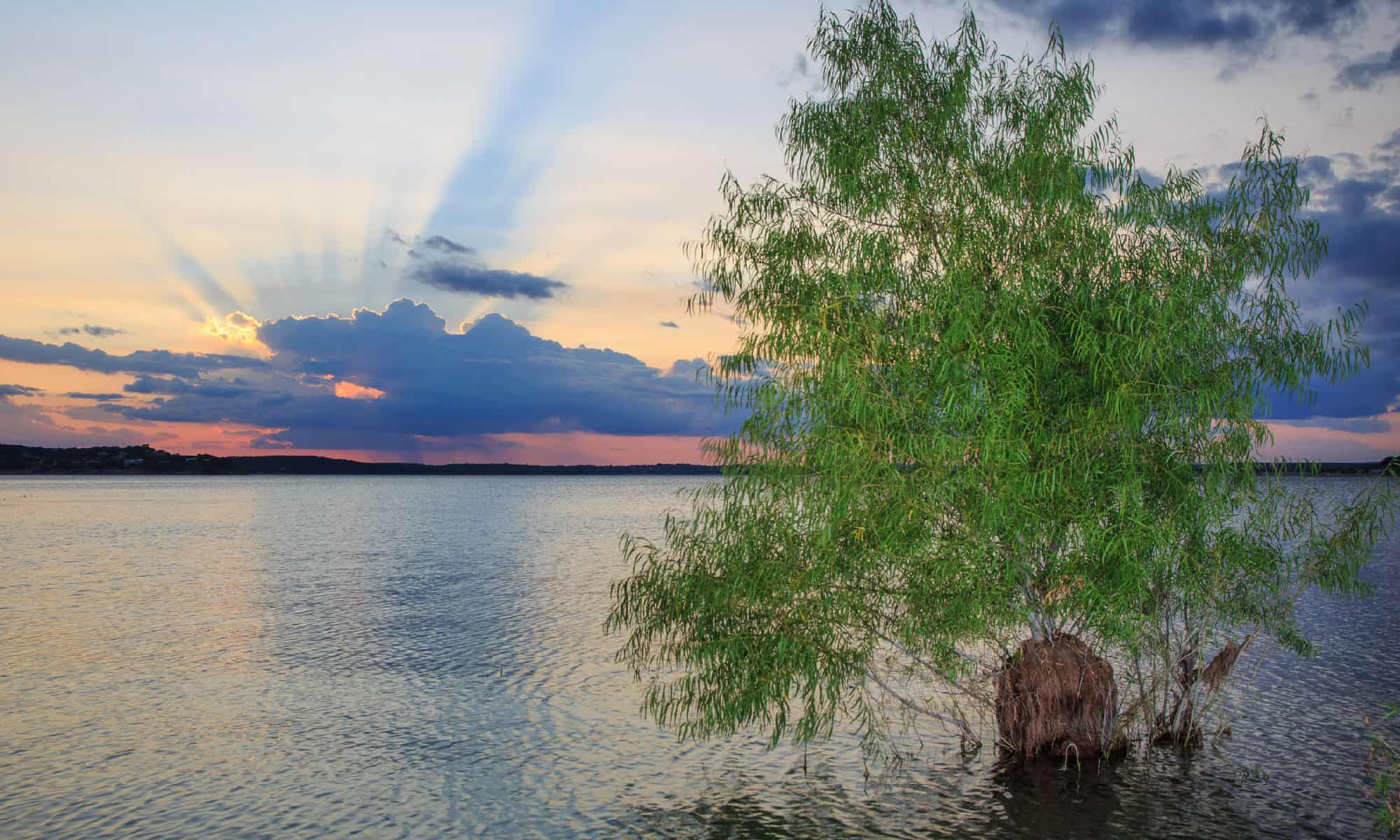 In the stunning Texas Hill Country, north of New Braunfels, Canyon Lake is a must-visit location. Canyon Lake, one of Texas' deepest lakes, boasts an incredible 80 miles of picturesque shoreline. It is a summertime favorite among families because of its sandy beaches and clean waters. Eight parks surround the lake, three of which have sandy shorelines perfect for lounging after a cool lake swim.
Visitors to this stunning location have a variety of other activities to choose from besides swimming. Additionally, they can go bicycling or hiking on the trails, ride horses to the lake, or go boating and fishing for the day. It isn't quite as congested as some of Texas' more well-known tourist attractions, like Lake Travis or Rayburn, yet the water is as clear as day. 
It has even gained worldwide attention from social media as a video of its stunningly crystal-clear water surfaced. Canyon Lake has clear waters, an abundance of fish, and sunsets that are unique to the Lone Star State. With an average depth of 43 feet, it is one of Texas' deepest lakes and a wonderful place for fishing. There are eight public parks along the waterfront that offer camping, picnic tables, and boat ramps. In addition, there are many catfish, largemouth, white, and striped bass in the lake.
4. Lake Alan Henry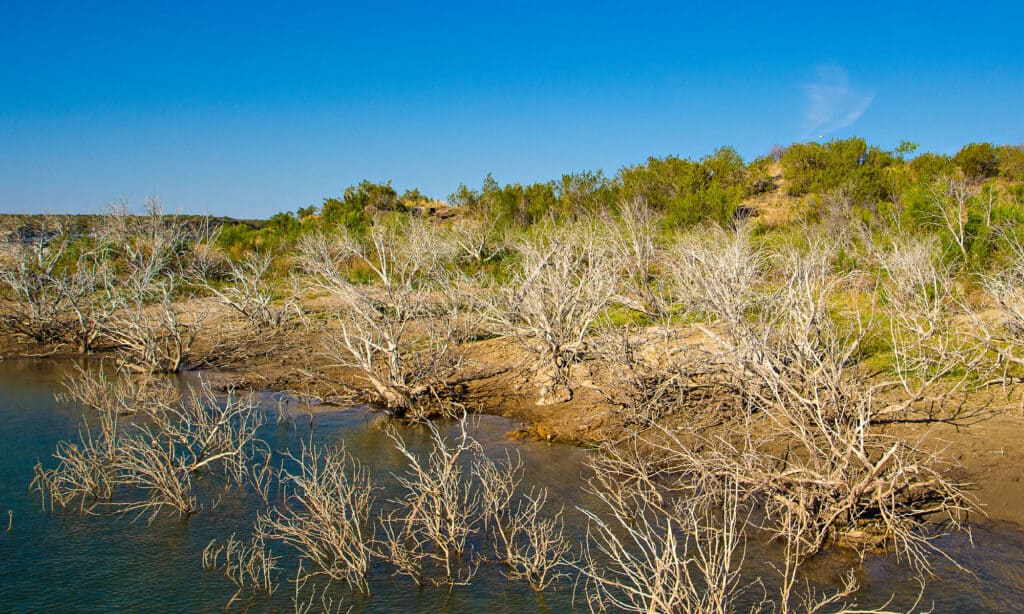 Lake Alan Henry, another hidden gem in North Texas, draws tourists from all over the state for a good reason. Located in the upper Brazos River Basin, Lake Alan Henry is one of Texas' cleanest and clearest lakes. Its crystal-clear waterways feature some of the state's premier fishing and a wide range of food and hotel options. The average depth of Lake Alan Henry is 40 feet, with its deepest point at 100 feet. The water has a visibility depth of one to four feet.
The City of Lubbock owns and runs the reservoir for irrigation, recreation, and water supply. To promote fishing and leisure activities, a variety of fish stocks have been supplied in Lake Alan Henry. The lake was first stocked with adult shads and gizzards in 1993. The lake is now mostly used by the neighborhood as a recreational facility. The primary appeal for tourists to the lake is outdoor recreation, including fishing, hunting, water skiing, and other sports.
5. Lake Travis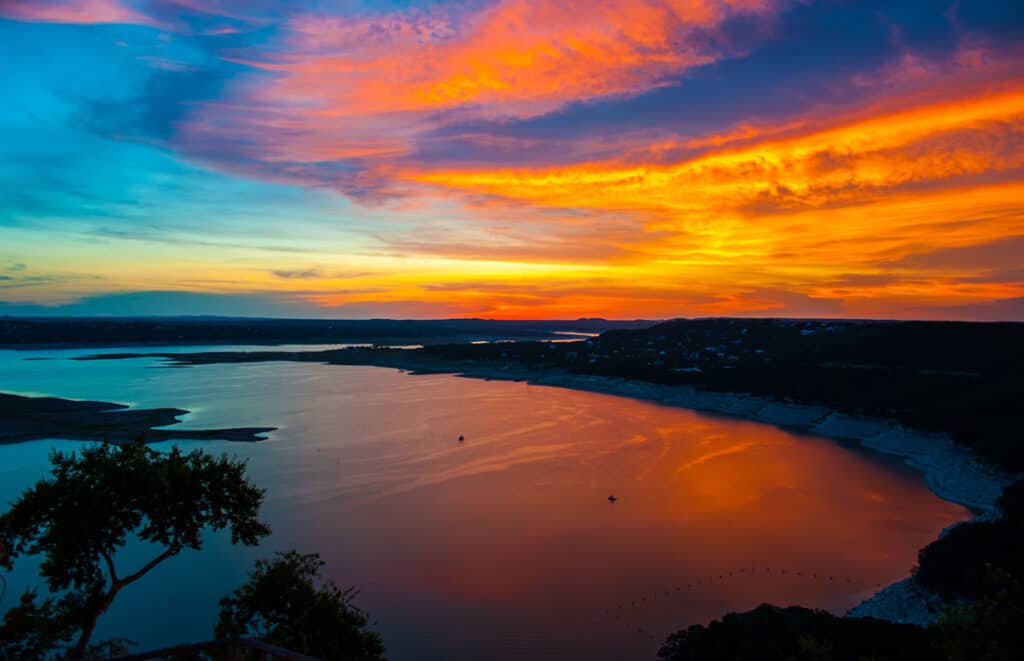 Lake Travis is a gorgeous Hill Country sanctuary and unquestionably one of the most well-known lakes in Texas. Located on the Colorado River, Lake Travis is a reservoir primarily constructed for flood control. It is one of the largest lakes in Texas, with a surface size of 18,900 acres or 29.58 square miles.
Additionally, the lake has a long shoreline stretching up to 270 kilometers (168 miles). Sunfish, bass, and catfish are among the many fish species that call Lake Travis, a man-made body of water, home. Additionally, it attracts tourists yearly for leisure pursuits like boating, swimming, and scuba diving.
One of the most popular freshwater recreational vacation spots in Texas, Lake Travis is dubbed the "Crown Jewel" of the Central Texas Highland Lakes. It is a freshwater paradise for water sports fans thanks to its limestone bottom, which produces distinctively pure, blue waters. There are many ways to have fun on the water, where you can almost see the bottom.
6. Lake Meredith
There is a secluded oasis where fauna and people can escape the dry grasses above within the windswept, arid plains of the Texas Panhandle. One of Texas' stunning clean lakes, Lake Meredith lies about 30 miles east of Amarillo. It's the spot to go if you enjoy spectacular beauty without the usual crowds. The lake is so distant and fed by the Canadian River that its waters maintain a beautiful blue-green hue throughout the year.
Lake Meredith has become popular for various recreational pursuits since it was named a National Recreation Area, including camping, fishing, and numerous water activities. Through the years, millions of visitors have used a public boat ramp to launch boats on Lake Meredith. 
7. Medina Lake
Medina Lake is an artificial lake on the Medina River in the Texas Hill Country that was created by the Medina Dam, a privately funded project. It was intended to provide irrigation water for nearby agricultural usage. The turquoise water of Medina Lake is among the most spectacular you would ever see. There are numerous amenities available to visitors, and the sunsets are breathtaking.
Limestone hills protect the clear water covering 6,060 acres of Medina Lake. Scuba divers frequently visit Medina Lake, and fish species have been added to the lake to improve the reservoir for recreational fishing. White bass, hybrid striped bass, largemouth bass, catfish, and carp are some fish found in the lake.
8. Brandy Branch Reservoir
Harrison County is home to Brandy Branch Reservoir, a 1,257-acre impoundment of Brandy Branch Creek. The reservoir is a freshwater dive site reachable from the shore and has received an overall rating of 3.00 out of 4 from divers. The reservoir's water is clear, with a visibility range of 11 to 15 feet.
The lake contains both native and non-native flora, covering 50 and 60 percent of the lake's surface. Brandy Branch Reservoir is home to various fish, including channel catfish, largemouth bass, bluegill, and redear sunfish.
How Many Lakes Are There in Texas?
Of the 7,000 lakes in Texas, possibly only three prominent ones can claim to be natural: Sabine Lake, Green Lake, and Caddo Lake. This last one is "natural" only because a lake formed after a log jam in the Cypress Bayou near Shreveport in East Texas; in the early 1900s a dam was built at that site.
Of the 7,000 that are 10 acre-feet or larger, most are quite small and may even be "playas" – those bodies of water formed by rain and irrigation runoff. Only 188 of the reservoirs are over 5,000 acres; that is, big enough for boating and tourism.
Why so many reservoirs? Texas was blessed with many streams and rivers, but erratic weather resulted in flood control problems that were devastating to lives and the economy. So, dams were built wherever there were problems, or where there was a growing demand for a water supply that could be provided by a reservoir. There are 200 reservoirs just in the Dallas area, but a big city needs a lot of reliable water resources.
What Types of Animals Are Found in Lakes?
Lakes can be home to a wide variety of aquatic and semi-aquatic animals, including:
Fish: Many different species of fish can be found in lakes, such as bass, trout, perch, pike, and catfish.
Amphibians: Lakes can provide suitable habitats for amphibians such as frogs, toads, and salamanders.
Invertebrates: Lakes are home to many species of invertebrates, such as water beetles, dragonflies, and water snails.
Birds: Many types of waterfowl, such as ducks and geese, can be found near lakes. Some species of birds like herons, egrets, and kingfishers also hunt in lakes for their food.
Mammals: Some mammal species, like a beaver, muskrat, and otter can live in or near lakes.
Reptiles: Some species of turtles and snakes are commonly found in or near lakes.
It's worth noting that the specific types of animals found in a lake can vary depending on the location, water chemistry, and size of the lake. Some lakes are also home to invasive species that can harm native animals.T
Summary of the 8 Clearest Lakes in Texas
Here is a list of the 8 clearest lakes in the state of Texas:
| Number | Lake | Location |
| --- | --- | --- |
| 1 | Lake Mackenzie | Silverton |
| 2 | Lake Amistad | Amistad National Recreation Area |
| 3 | Canyon Lake  | Texas Hill Country |
| 4 | Lake Alan Henry | Brazos River Basin |
| 5 | Lake Travis | Hill Country |
| 6 | Lake Meredith | 30 miles east of Amarillo |
| 7 | Medina Lake | Texas Hill Country |
| 8 | Brandy Branch Reservoir | Harrison County |
Up Next:
More from A-Z Animals
---
The Featured Image
---
Sources

Only in Your State, Available here: https://www.onlyinyourstate.com/texas/clearest-lakes-tx/
KSAT.com, Available here: https://www.ksat.com/news/local/2020/02/11/5-clearest-lakes-reservoirs-for-swimming-in-texas/
Travel+Leisure, Available here: https://www.travelandleisure.com/trip-ideas/texas-tiktok-famous-lake
FlavorVerse, Available here: https://flavorverse.com/lakes-in-texas/