North Dakota's deer season is open from early September until the end of the year. North Dakota contains approximately 38 Deer Gun Hunting Units. The North Dakota Game and Fish Department evaluates the deer population each winter and determines the number of deer permits available in each unit the following season.
The units have the same season dates statewide. In addition to the traditional bow, gun, and muzzleloader seasons, the state has a youth deer season for young hunters, as well.
Below, we'll explore the different seasons, license requirements, and vital regulations when hunting deer in North Dakota. If you're new to deer hunting, then this article will help you get started.
Hunting License Requirements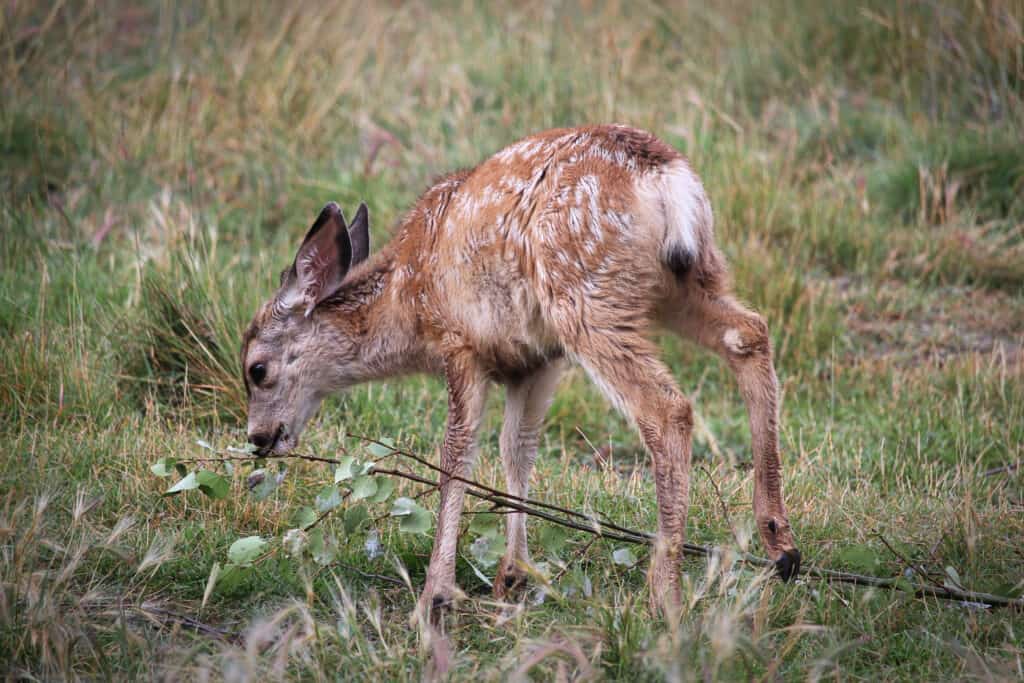 Anyone that would like to hunt deer in the state must purchase a North Dakota hunting license. There are slightly different license requirements depending on if the hunter is a resident or lives outside of the state.
Residents and non-residents must buy a Fishing, Hunting, and Furbearer Certificate. Residents must also purchase either a General Game and Habitat License or a Combination License which includes a fishing, general game and habitat, and a small game and furbearer license. Non-residents must purchase a General Game and Habitat License; combination licenses are unavailable for non-residents.
In addition to the base hunting licenses, everyone must purchase a deer license for the season type they wish to hunt. Each license includes a tag for tagging the harvested deer. Some licenses are sold in limited quantities with a lottery process.
Types of Licenses
For bow season, Deer Bow licenses are available to residents in unlimited quantities. They are valid for any deer.
A discounted Deer Bow license is available for residents under the age of 16. There is no minimum age to purchase a Deer Bow license. The Deer Bow license for non-residents is limited to about 15% of the total mule deer gun season licenses available the previous year. This license is valid for any white-tailed deer statewide and is not limited.
For gun season, the Deer Gun license is available in limited quantities and is issued by a weighted lottery. These licenses are restricted to a type of deer and a particular unit. Non-resident Deer Gun licenses are also limited in quantity and are one percent of the total deer gun and muzzleloader licenses available in any unit. Muzzleloader licenses are also available in limited quantities and are issued by a weighted lottery.
State law allows two percent of deer gun licenses to be issued as muzzleloader licenses. Half are valid for antlered whitetail deer, and one-half are valid for antlerless whitetail deer. The muzzleloader licenses are valid statewide and are not limited to a particular unit.
An antlerless whitetail deer license is available for resident youth hunters ages 11-13. This license is only valid for antlerless whitetail deer statewide during youth deer season. A Youth Deer license is available for resident youth hunters ages 14 and 15. This license has restrictions on the type of deer and unit. If a youth hunter is unsuccessful during the youth deer season, the license is also valid during the regular deer gun season.
Resident Gratis and nonresident landowner licenses are available to residents and non-residents who own or lease at least 150 acres of land used for agricultural purposes in an open hunting area. These are available via an application and bypass the lottery process.
Lottery Regulations and Applications
To apply for licenses that are limited in quantity and selected by a lottery, hunters must submit applications online in the spring before the seasons begin. The Nonresident Deer Bow license application is available between March 15 and April 15 each year. The applications from the gun seasons are usually available in early May.
Landowners can apply beginning April 1st, with the deadline to apply on June 8th. After the initial lotteries, hunters can purchase additional concurrent deer licenses available beginning August 17th. A concurrent license can be used during the archery season with a bow, during the gun season with a bow, rifle, or muzzleloader, or during the muzzleloader season with a muzzleloader. Youth hunters under 14 can only be issued a concurrent license for the archery season. Concurrent licenses are restricted to the type of deer and the unit the license is assigned to.
Hunter Education Requirements
Hunters born after December 31st, 1961, must have completed a certified state or provincial hunter education course to be able to purchase a North Dakota deer hunting license. Landowners who only hunt on land they own are exempt from this requirement.
Anyone 12 years or older who has not taken a hunter safety course can receive an apprentice hunter validation. This validation is only available for one license year in a lifetime. When an apprentice hunter is deer hunting, they must be accompanied by an adult at least 18 years of age who is licensed to hunt in the state. The licensed adult must stay within uninterrupted visual contact and unaided verbal communication with the apprentice hunter. An adult must also accompany all youth hunters under 12.
In North Dakota, the hunter education course is available in two different formats. A 14-hour in-person course is available for anyone 11 years or older. A home study course is available that is split between classroom and online. This option is available for hunters 12 years old and older.
Deer Season Types
Deer seasons in North Dakota are split into four basic types: bow, gun, muzzleloader, and youth. Bow season opens on the first Friday in September and closes on January 1st. Gun season opens on the first Friday in November and closes the Sunday before Thanksgiving.
Muzzleloader season opens the day after Thanksgiving and closes three Sundays later. Youth season opens on the third Friday in September and closes two Sundays later. Note that the season does not open until noon central on opening day.
Weapon Regulations During Specific Seasons
Specific weapons are allowed during the Bow, Gun, and Muzzleloader seasons. The Youth season is only open to hunters of a certain age. The rules of each season type are discussed below:
Bow Season
Archery equipment may be used during this season, such as recurve bows, longbows, and compound bows. Compound bows must have at least 35 pounds of draw weight at 28 inches or less draw length. Recurve and longbows must have at least 35 pounds of draw weight at 28 inches.
Bows must be pulled, held, and released by hand. A release aid may be used if it is hand-operated and the hunter supports the bow's draw weight. Arrows must be at least 24 inches long and tipped with a metal broadhead with at least two sharp cutting edges and a cutting diameter of at least ¾ of an inch.
Barbed-type broadheads are not allowed. However, mechanical or retractable blades are allowed. Telescopic, battery-powered, or electronically lighted sights or electronic devices such as range finders attached to the bow or the arrow are not permitted (except for recording devices).
Separate handheld range-finding devices are legal. Crossbows are not permitted during bow season except with a permit from the Game and Fish director, typically reserved for disabled hunters. Crossbows must have a minimum draw weight of 75 pounds, have a working safety, and use bolts or arrows at least 14 inches long. A telescopic, battery-powered, or electronic lighted reticle with a maximum power of eight can be attached to the crossbow.
No firearms, except handguns, are allowed to be in the hunter's possession while hunting during bow season but may not be used in any way to assist with harvesting a deer.
Gun Season
Rifles, handguns, shotguns, muzzleloaders, bows, and crossbows may be used during gun season. Modern centerfire rifles that are .22 to .49 caliber with an unlimited magazine capacity are legal. Centerfire rifles that are .50 caliber or larger, use smokeless powder, and have a case length of 3.5 inches or more are not allowed.
Shotguns must be 20 gauge or larger and have a barrel at least 18 inches long. Shotguns must use slug ammunition; buckshot is not allowed. Handguns must be .35 caliber or larger and have a barrel at least 4 inches long. Full metal jackets, non-expanding, and altered projectiles are prohibited for any firearm.
Air guns are allowed that are at least .35 caliber and fire 150-grain projectiles or larger with a minimum muzzle velocity of 600 feet per second. Air guns must be charged from an external high-compression source. Note that some areas do not allow hunting with centerfire rifles.
Muzzleloader Season
During muzzleloader season, you can use muzzleloading rifles, shotguns, and handguns. Muzzleloaders are single-shot firearms that you can only load from the muzzle end of the barrel, have flint or percussion ignition, and use black powder or black powder substitutes. Smokeless powder is not allowed.
Muzzleloading rifles must be .45 caliber, or larger and muzzleloading handguns must be .50 caliber or larger. Muzzleloading shotguns must be 20 gauge or larger and fire a single patched ball. Telescopic sights are not allowed. Modern firearms are prohibited during this season. Be sure your weapon fits the muzzleloader definition before hunting.
Youth Hunt
This season is only open to Youth hunters ages 11 to 15. Any legal weapon may be used as described above. Youths can only harvest deer that their license is valid for. Youth hunters must be accompanied by and under an adult's direct supervision. The accompanying adult is prohibited from carrying a firearm or bow during the youth season.
Other Regulations
When hunting deer in North Dakota, be sure to understand all of the rules associated with the season.
Hunting hours are from 30 minutes before sunrise to 30 minutes after sunset. Hunters must stop hunting and be in the process of leaving the field when hunting hours end.
All hunters, including bow hunters, must wear orange clothing when the regular gun season, Youth deer season, and muzzleloader season are in progress. At least 400 square inches of daylight fluorescent orange must be worn on the head and the upper part of the body above the waistline.
Using bait to assist with hunting and taking deer is not allowed in units and subunits 1-4 and any Wildlife management or CWD surveillance area. Bait can include grain, seed, fruit, vegetable nut, hay, mineral, salt, or any natural or manufactured food placed by an individual.
Firearms should not contain ammunition when in or on a motor vehicle within the boundaries of any national park.
Shooting a bow, arrow, or firearm while in or on a motor-driven vehicle is not allowed.
Pursuing deer or retrieving deer with a motor-driven vehicle is not allowed until the deer has been taken into the hunter's possession and tagged.
Using any aircraft to locate deer is illegal 72 hours before and during the hunting season.
Using artificial light to locate or observe deer between sunset and sunrise is not allowed.
Night vision equipment, electronically enhanced light-gathering optics, or thermal imaging equipment for locating or hunting deer are prohibited.
Hunting on posted land without permission from the landowner is not allowed.
It is illegal to hunt within 440 yards of any occupied building without permission from the occupant.
Road rights of way are under the control of the adjacent landowner and are closed to hunting if the property is posted closed to hunting.
Killing a deer, deliberately leaving it, and not making a reasonable attempt to retrieve it is illegal.
Using animals other than horses or mules as an aid to hunt and take deer is not allowed.
Using or constructing a permanent tree stand on state or federal land is not allowed.
A deer is considered antlered if it has at least one visible antler.
Chronic Wasting Disease in North Dakota
Chronic Wasting Disease (CWD) is a fatal disease that infects members of the cervid family, including elk, deer, and moose. It can lead to population declines over time if left unchecked. CWD is a neurological disease caused by a mutated protein that causes weight loss, confused and abnormal behavior, and eventually death.
An infected deer spreads the disease through their saliva, urine, and feces. The prions are shed through the deer's bodily fluids and can survive in the soil for years. There is no treatment or cure, and once it is in an area, there is no way to remove it.
CWD has been found in multiple states and Canadian provinces. It was first detected in North Dakota in 2009, and the Game and Fish Department has implemented a CWD management plan to slow the spread. Baiting deer is not legal in any unit within 25 miles of a positive CWD detection. Bait causes deer to congregate in one area and accelerates the spread within the herd. CWD can also be introduced into a new area by the movement and improper disposal of infected carcasses.
Hunters in the future will be allowed to transport harvested deer more freely. However, disposal of the carcass parts will be restricted to landfills only. Units with higher rates of CWD-positive deer will have more hunting pressure focused on them to take CWD-positive deer out of the population.
Transporting a deer carcass out of CWD carcass-restricted unit is prohibited unless the meat has been boned out. Quarters or other meat portions with no part of the spinal column or head attached are also allowed. Finished hides have no heads attached, skull plates with antlers have no tissue present, or taxidermy mounts can also be transported.
If you notice a deer with any CWD symptoms, report it to the Game and Fish department. It is recommended to have your harvested deer tested, especially if it is in a CWD surveillance zone. Samples can be dropped off at collection sites throughout the state, or sampling kits are available for hunters to send samples in for testing. Results are usually received within four weeks.
A human has never been reported to have chronic wasting disease. However, doctors still recommend undertaking special care when hunting deer. When field dressing a deer, hunters should wear rubber or latex gloves. Always wash your hands and sanitize your tools once field dressing is completed. If you harvested your deer from an area where CWD has been detected, have it tested and keep the meat separate until you have the results.
Dispose of unwanted carcass parts in a landfill. The brain, lymph nodes, and spinal column may have concentered prions in them. Therefore, handle them with caution. For CWD-positive deer, officials recommend discarding the meat. Do not consume it out of caution.
Tagging
Immediately after taking a deer, hunters must tag their deer. The kill tag is included with the license that is purchased. The hunter should indicate the date of the kill by notching or cutting the appropriate month and day on the tag.
The tag should be attached to the antler's base or in a slit in the ear of an antlerless deer. Once the kill tag is properly filled out and attached, the deer may be field dressed and transported. The kill tag must remain with the edible portion of the carcass during transport until the deer is processed for consumption.
Tags may not be reused or transferred to another hunter. If the deer head is mounted, the tag must be securely and permanently fastened to the back or bottom of the mount.
Potential Fines
Anyone that steals a deer in North Dakota can face fines, loss of their hunting license, and even jail time. Hunting on posted land without the landowner's permission can result in losing hunting privileges for one year. Failure to close any gates on private land upon entry or exit is a criminal violation and could result in loss of hunting privileges.
In 2021, four men were charged and convicted of stealing ten whitetail bucks. The first man was fined $7900, sentenced to 53 days in jail, and lost hunting privileges for ten years. The second man was fined $850 and lost hunting privileges for two years. The third was fined $4,750. The fourth was fined $2,625 and lost hunting privileges for two years.
In addition, multiple rifles were forfeited, and two were sentenced to community service. Furthermore, the individuals had to pay lawyers and court costs for their trials.
It should be apparent that stealing deer in North Dakota is a serious offense and trespassing on private property. Before hunting in the state, hunters should read and understand the regulations for hunting deer before each season.
Up Next
---
The Featured Image
---
Sources

, Available here: https://gf.nd.gov/enforcement/news/042021-poaching-resolution
, Available here: https://gf.nd.gov/gnf/regulations/docs/deer/deer-guide-2022.pdf
, Available here: https://gf.nd.gov/hunting/deer