The South Dakota Department of Game, Fish, and Parks Commission established hunting seasons in the 1900s to help protect the threatened deer population. Luckily, since then, the local population has made a comeback. Therefore, hunting in South Dakota occurs on a seasonal basis. In fact, in 2010, the state saw the harvest of nearly 95,000 deer.
This state has both white-tailed deer and mule deer. Both of these are hunted during the deer season. Without other large predators, hunting is the primary way their populations on controlled.
However, there are a lot of steps you have to take to hunt. For instance, South Dakota requires a hunting license, and you can only hunt on certain dates.
Let's look at some of the most important regulations, season dates, and other information regarding deer season in South Dakota.
Hunting License Requirements
To hunt deer successfully in South Dakota, you must have a big game hunting license. This hunting license covers all big game. Each license comes with a tag, which is attached to the license. You'll need to carry both the tag and the license when hunting big game.
You may only take the number of animals specified by the license and tag. You may also not transfer the license to someone else's possession while hunting.
After the tag is utilized, you may continue carrying the license to hunt other animals throughout the season. For instance, the big game license can also be used to hunt foxes, skunks, crows, and coyotes.
Applying online is the easiest way to get a license in South Dakota. You can purchase your license online easily, as the system walks you through it step-by-step. You'll need an account to do this, but accounts are completely free. You'll need to select the season you're applying for and the hunting unit you prefer.
Once you've completed the application, you'll be placed into the drawing for the unit you've selected. Any preference points you've gotten will be automatically added to the application.
(Preference points may be purchased each year that you are not successful. You can choose to purchase preference points or get a refund any year you do not win a drawing. Once you use preference points, they are gone.)
Landowners are given preference in some areas. Therefore, if you are a landowner, you may have a higher likelihood of getting a permit. Employment at a ranch does not qualify you for this preference; you must own the ranch. Land leased for hunting, fishing, or trapping also does not count.
How Drawings Work
When applying, resident hunters may apply for two of the six deer seasons. If there are any leftover licenses, hunters may apply for those after the initial drawing. You may not apply for the same season twice, though.
After the second round, hunters may apply again for any drawing they do not have a license for. After a series of drawings, nonresident licenses will be open for residents if not all are claimed.
Through this system, there is technically no limit on the number of licenses you can get. However, you do have to win all licenses via a drawing.
Deer Seasons in South Dakota
There are six main deer seasons in South Dakota state-wide. Each season has different application deadlines, unit choices, and regulations. Let's take a look at each season separately.
West River Deer
The West River Deer season is relatively short and occurs for a few weeks in November. This season only allows antlerless and antlered deer to be taken, depending on the exact license. Any hunter may apply unless you have a West River Special Buck license.
The drawings for this season start in June. However, drawings continue through August until there are no licenses left.
Black Hills Firearms Deer Season
This season occurs throughout November. However, the drawings start in June. Therefore, be prepared early to get your spot in the first drawing.
The bag limit depends on the exact area you hunt in. Some portions of the Black Hills area only allow antlerless deer to be taken. However, other areas allow for "any" deer to be taken. There are many licenses available in this area for residents.
Cluster State Park Deer Season
Cluster State Park has their own deer season to help control the deer population within its borders. Their season is actually broken up into multiple types, which may limit the weapons you're allowed to use. Their season takes place through November and December.
However, during the first weeks of November, you're only allowed to use archery equipment.
There are fewer licenses in this area. Therefore, there are generally fewer hunters in the park.
National Wildlife Refuge Deer Season
The licenses for this season work a bit differently. Each type of license is valid for about a week. Most of them are available for "any deer," meaning you can take any type of deer.
Muzzleloader Deer Season
Throughout the state, there is also a special muzzleloader season that takes place throughout December. These licenses are state-wide, meaning you can hunt just about anywhere. Despite being later than other seasons, the drawing for licenses takes place in June.
During this season, you may only use muzzleloaders. The rifle must shoot a .44 caliber or larger bullet. Muzzleloader handguns are allowed. However, they must shoot 0.50 caliber or larger bullets. Telescopic sights are not allowed.
You may have up to two muzzleloader licenses. There are an "unlimited" number of licenses for antlerless whitetail, though "any deer" licenses are restricted to a certain number. Obviously, anyone who enters for an antlerless deer license during this season receives it. However, the "any deer" licenses are provided via drawing.
East River Deer
This season runs through the later part of November and the first few days in December (usually). The exact bag limits depend on the county. However, two general types of licenses are available: any deer and antlerless.
In some areas, the antlerless deer license allows you to take two deer during this season. Some areas only have "any deer" licenses, while others only have "antlerless."
Resident Apprentice Deer Season
During nearly the whole deer season, apprentice deer hunters can take one antlerless deer. There are unlimited numbers of these licenses available, so everyone who applies gets one. However, there are age and previous hunting requirements.
Because there is an unlimited number of licenses, you do not have to wait for a drawing. However, licenses can take up to a week to be processed and mailed. Therefore, be sure to apply well in advance.
Youth Deer Season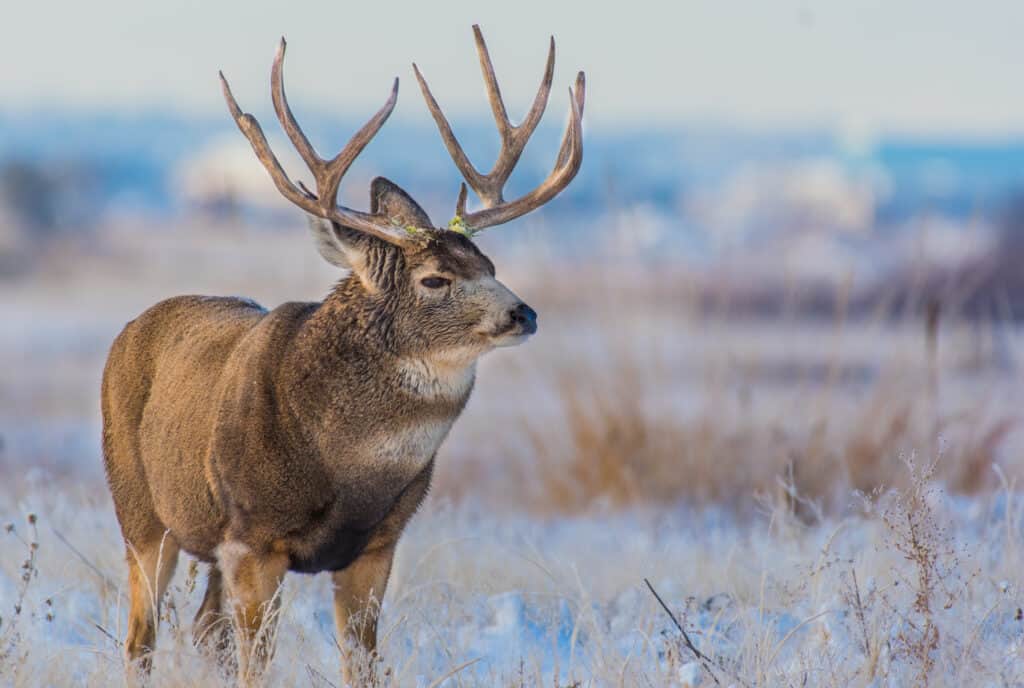 From September to January, youth hunters can take one antlerless deer. This license works similarly to the apprentice license. Of course, there are age requirements for this license. While this license does allow you to hunt in most areas, there are some refuges and parks where youth hunting is not allowed.
There is no drawing for this season, as an unlimited number of permits are available.
Resident Archery Deer Season
From September to January, you can apply for an archery-only license. This license allows you to hunt across the state. There are unlimited numbers of these licenses available, but each person is only allowed one. You will need a limited issue Access Permit to hunt in some areas, though, and these are limited. These permits are free.
There are also other restrictions. For instance, if you have a license for one of the firearm seasons, you may be unable to apply for this license. However, it depends on the area that you're hunting.
Some municipal deer hunts occur during this season. These hunts help limit car and deer collisions. Be sure to research the exact area you want to hunt, as hunting in city limits often has extra guidelines.
Special Buck Licenses
While not a "season" in itself, there are also special buck licenses available for many areas. These licenses are typically provided for private land hunts. Therefore, you must have private land to hunt on before you apply for these permits. All public lands are closed to these license holders.
Getting one of these licenses in an area typically makes you ineligible for another license in that area. These licenses are technically "any deer."
Legal Hunting Weapons
On top of following the regulations of the particular season you're hunting in, you must also use a valid hunting method. Most deer seasons in South Dakota allow for any legal weapon. However, there are archery-only and muzzleloader-only seasons.
Firearms
All firearms must require the hunter to reload the weapon. No self-loading firearms are allowed. Your weapon must not hold more than six cartridges, nor can it be automatic. Buckshot is prohibited for shotguns. Instead, it must shoot a single ball or rifled slug of at least one ounce.
For deer hunting, the weapon must produce at least 1,000 foot-pounds of energy. Only expanding bullets are allowed.
Archery
Archery weapons must not have toxic, explosive, or similar arrows. Crossbows are not allowed unless you have the proper permit. Drawlocks are also not allowed without the proper permit.
Electronic devices cannot be mounted to the bow that aid in taking deer. However, video cameras, cell phones, and illuminated arrow nocks can be used. Telescoping sights are not allowed.
The arrow must have a broadhead with two cutting points. You may possess other arrows for taking other game, however. The bow must have a draw weight of at least 30 pounds.
General Regulations
On top of season-related regulations, there are also regulations that apply to all seasons. These can affect when you can hunt (and how you can hunt). Therefore, they're vital to keep in mind.
Here are some of the biggest regulations, though this is not a complete list:
You may not hunt on interstate highways or similar facilities.
Discharging a weapon of any sort at big game (except turkeys) on any improved public highway is not allowed. However, you can take turkeys in some situations on highways.
You cannot establish or maintain a bait station from August to February and from March 15 to March 31 to attract any big game animal. A bait station is defined as a location where food is placed to attract big game animals. Of course, this doesn't apply to food placed for normal agricultural or forest management operations.
You may never establish a bait station on public or park lands.
You cannot use dogs or electronic calls when hunting big game. You may only use dogs to hunt mountain lions with a permit.
Between sunset and sunrise, you may not possess night-vision equipment or anything that can throw or cast a ray of light. You may only use a handheld light when on foot. Some animals can be hunted with lights, but deer do not fall into this category.
Possessing a firearm when under the influence of alcohol or drugs is prohibited.
Wasting game is prohibited. You may not destroy a big game animal that isn't in season or without claiming the animal.
You may not hunt on federal land unless it is specifically hunting season in that area.
Firearms are prohibited in the Fort Meade Recreation Area, South Unit, and portions of the North Unit.
You cannot use motor vehicles to help hunt deer. This includes scouting for animals with vehicles, pursuing deer in a vehicle, and shooting a weapon from a vehicle. For the most part, using a vehicle to hunt is not allowed in South Dakota.
Trespassing while hunting isn't allowed at all. Hunting privileges can be revoked for up to a year if you trespass.
There are some firearm restrictions in certain areas of the state. Be sure you know what these areas are when hunting, as you cannot use firearms to take deer in these areas. Furthermore, different areas may have additional restrictions on hunting times and travel methods.
For instance, some state land areas have restrictions on vehicles at certain times.
Chronic Wasting Disease
Chronic Wasting Disease is a very serious condition that is always fatal in deer and elk. It occurs in both farm and wild populations across many portions of the United States. To help prevent its spread, the state has implemented certain policies and restrictions:
You can transport a deer from any harvest unit to other areas of the state. Unlike other states, South Dakota does not restrict this transport.
You are recommended to leave much of the carcass at the place you shot the deer. In other words, the state recommends field dressing the animal and taking most usable parts. Leave everything else in a discrete location.
If you transport the carcass, you should dispose of it with a waste management provider. Do not leave it in a field or forest.
All deer carcasses from another state must be disposed of by a waste management provider.
You can submit your animal for CWD testing. It is not recommended to consume any animal that tests positive. While this disease doesn't yet affect humans, there is some evidence that it may affect other primates. Therefore, contact with the disease is not recommended. Take precautions when consuming venison and field-dressed animals.
Tagging Deer
After you take an animal, you must tag it correctly. Each license comes with a tag that is used to claim the animal. Once you take a deer, sign the tag and date it by cutting the month and day of the kill. You should then attach the tag to the base of the antler or around one hind leg between the hoof and ankle joint.
Once it is tagged, the animal can be transported and stored. Others may transport the animal once the hunter tags it.
If your license states "antlerless," you must transport some proof that the animal was antlerless with the meat and carcass. This can be the animal's head or naturally attached sex organs. If your license calls for "any deer," then you do not need proof of sex.
Once the meat is processed for human consumption, you no longer need to carry proof of sex.
---
The Featured Image
---
Sources

State of South Dakota, Available here: https://gfp.sd.gov/deer/
State of South Dakota, Available here: https://gfp.sd.gov/userdocs/docs/2022specialbuckantelope-app_final.pdf
State of South Dakota, Available here: https://gfp.sd.gov/userdocs/docs/2022deer_.pdf
eRegulations, Available here: https://www.eregulations.com/southdakota/hunting/deer-hunting-seasons
eRegulations, Available here: https://www.eregulations.com/southdakota/hunting/big-game-hunting-regulations