Florida is a popular state in the southeastern region of the United States. It has a warm, tropical climate and many diverse ecosystems – including its many barrier islands. There are many fascinating animals, both large and small, that make their home in the state. Snakes are some of the most common animals in Florida, and there are approximately 50 species, including six venomous ones. One of these is the cottonmouth which is the only semi-aquatic venomous snake in the US. So let's discover where they live and how often they bite.
How To Identify Cottonmouths in Florida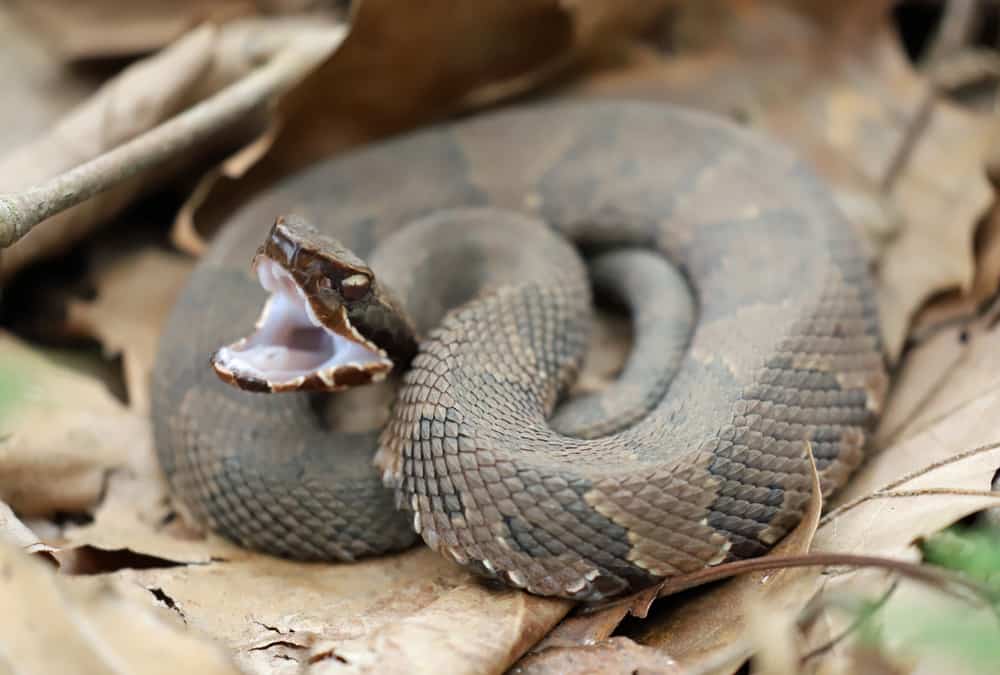 Although they were first described as a subspecies of the cottonmouth snake (Agkistrodon piscivorus), Florida cottonmouths (Agkistrodon conanti) were reclassified as their own species in 2015. These snakes are fairly large, ranging between 30 and 48 inches long, and have heavy bodies with strongly keeled (raised) dorsal scales. They have a similar appearance to A. piscivorus, with a dark-colored body (black or dark brown) and darker crossband markings. However, Florida cottonmouths also have distinctive black stripes on their cheeks, with white stripes both above and below them.
Florida cottonmouths darken with age, so older snakes can appear almost completely black with indistinct markings. Despite their dark appearance as adults, juvenile cottonmouths are much lighter and have reddish-brown markings on a lighter brown base color. They can also be further distinguished from the adults by their tail which is yellow on the tip.
Due to their dark appearance and semi-aquatic nature, there are some similarities between cottonmouths and several species of water snakes in Florida – particularly the Midland water snake (a subspecies of the northern water snake), the southern water snake, and the Florida green water snake. This often leads to many water snakes being killed due to misidentification.
Cottonmouths are pit vipers, meaning they also have heat-sensing pits near their eyes. These deep pits allow the snake to detect the heat from warm bodies up to around three feet away. This helps them to accurately detect the location of their prey, even in poor light.
However, the most important thing to mention about cottonmouths is the distinctive white lining of the inside of their mouth. This is described as resembling cotton and is where cottonmouths get their name from.
Where Can You Find Cottonmouths in Florida?
Florida cottonmouths are endemic to the southeastern region of the United States in Florida and Georgia. They are particularly abundant in Florida and live in every county in the state. They also live on several islands of the Upper and Middle Florida Keys.
Cottonmouths are semi-aquatic snakes and often live near a permanent source of water. In Florida, they occur in virtually every wetland habitat – including lakes, rivers, swamps, salt marshes, and even ditches. However, don't be fooled into thinking that they only live near water, as they can also be found up to around one mile away from it.
Do Cottonmouths in Florida Bite Often?
In the United States, venomous snakes are responsible for around 7,000 to 8,000 bites every year, and these lead to approximately five deaths per year. Overall, cottonmouths are responsible for a very small minority of these at around only 1%.
Although cottonmouths have a reputation for being aggressive snakes, Florida cottonmouths do not immediately strike. When they are threatened, their first reaction is to attempt to flee (unless they are stepped on). If they are further threatened, they usually adopt their defensive position with their mouth open, exposing the white lining. If this doesn't work, then they will bite as a last resort.
There are no reliable records regarding the number of cottonmouth bites in Florida. However, there are news reports detailing some of them. In June this year, a seven-year-old boy from Clay County was bitten on the leg by a cottonmouth. He spent four days in ICU and required seven bags of anti-venom. Another report from June involved a man from South Florida who was bitten on his hand while in his yard. He, too, needed a stay in ICU, and it took two days for the swelling to subside.
Cottonmouth Venom
Despite cottonmouths not being the most dangerous snake you can encounter in the United States, they still have potent venom. In fact, although they don't bite often, they do have a mortality rate of around 17%.
However, death isn't the only potential consequence of a cottonmouth bite. Cottonmouths have cytotoxic venom, and this is powerful enough to destroy tissue. The venom breaks down the tissue, and in extreme cases, the damage can be so severe that amputation of the affected limb is required. In many cases, even if amputation is avoided, there is still extensive scarring as a result of the bite. Additionally, cottonmouth venom prevents the blood from clotting, which can lead to major hemorrhaging.
What To Do if Bitten by a Cottonmouth Florida
As we've already mentioned, cottonmouths are more likely to strike if they are threatened or provoked. Therefore, should you see a cottonmouth, the most important thing is not to panic. Do not attempt to move or handle the snake. Instead, move away slowly without making any sudden movements. This should allow the snake the space to move away to safety without feeling the need to defend itself.
However, if you are unlucky enough to be bitten by a cottonmouth, then you should seek immediate medical help. If you are bitten, the first symptoms you are likely to experience are swelling of the affected limb and extreme pain. You should not apply a tourniquet or ice, and do not attempt to cut or suck the venom out. Instead, keep the affected area below the level of the heart. Cottonmouth bites become more serious the longer you leave them, but the quicker the anti-venom is administered, the better the chances of a quick recovery.
Other Dangerous Snakes in Florida
Out of all of the many other species of snakes in Florida, there are only another five that are venomous – although that's certainly plenty!
Timber Rattlesnake
These are large snakes that are 36 to 60 inches long and have dark brown bodies and black or dark brown crossbands. Timber rattlesnakes are found in twelve counties in northern Florida, where they inhabit fields, farms, pine flatwoods, and hardwood hammocks. Although highly venomous ambush hunters, they are not naturally aggressive and prefer to flee when threatened.
Dusky Pygmy Rattlesnake
Dusky pygmy rattlesnakes are a subspecies of the pygmy rattlesnake. They are not very big, ranging only between 14 and 30 inches long, and typically have light grey bodies with black blotches and a red stripe down their back. Dusky pygmy rattlesnakes are found in swamps, pine flatwoods, and prairies across every county in Florida. Due to their small size, they are generally only dangerous to small children and the elderly.
Eastern Diamondback Rattlesnake
The largest and most dangerous snake in Florida is the eastern diamondback rattlesnake. They are 33 to 72 inches long and have a brown body with dark brown to black diamond markings with lighter centers. They are found in every county in Florida (and some barrier islands) and live in pine flatwoods, forests, hammocks, sandhills, and swamps.
Eastern Copperhead
Copperheads live in various habitats, including swamps, forests, and rocky areas. However, in Florida, they mainly live in the Panhandle region along the Apalachicola River. They are 20 to 37 inches long and are a distinctive pinkish-tan base color with dark brown crossbands.
Eastern Coral Snake
Eastern coral snakes occur all over Florida, where they live in a wide range of habitats, especially in tropical hammocks, flatwoods, and swamps. They are 20 to 30 inches long and have a distinctive appearance with red, yellow, and black bands. However, they are often confused with harmless snakes such as kingsnakes and scarlet snakes.
Up Next
Discover the "Monster" Snake 5X Bigger than an Anaconda
Every day A-Z Animals sends out some of the most incredible facts in the world from our free newsletter. Want to discover the 10 most beautiful snakes in the world, a "snake island" where you're never more than 3 feet from danger, or a "monster" snake 5X larger than an anaconda? Then sign up right now and you'll start receiving our daily newsletter absolutely free.
More from A-Z Animals
---
The Featured Image
---
Sources

National Library of Medicine, Available here: https://www.ncbi.nlm.nih.gov/books/NBK546645/
Centers for Disease Control and Prevention, Available here: https://www.cdc.gov/niosh/topics/snakes/default.html#:~:text=Each%20year%2C%20an%20estimated%207%2C000,than%20to%20die%20from%20them
Live Science, Available here: https://www.livescience.com/43597-facts-about-water-moccasin-cottonmouth-snakes.html#:~:text=%22Like%20all%20pit%20vipers%2C%20%5B,which%20is%20often%20potential%20prey.
Florida Museum, Available here: https://www.floridamuseum.ufl.edu/florida-snake-id/snake/florida-cottonmouth/