Wyoming is home to a variety of different big game animals. From bison to sandhill cranes, you can find plenty of hunting opportunities in Wyoming. However, you must follow specific regulations and only hunt during the correct seasons. Otherwise, you may have to pay fines.
This state is home to both mule and white-tailed deer. However, mule deer are the most abundant. They are found throughout eastern Wyoming's western mountains and elevated creek beds. White-tailed deers are not as plentiful. However, you can find them in the northeastern part of the state and on many farms.
Hunting deer in Wyoming isn't tricky. However, all the regulations can be a bit difficult to understand. Therefore, we've written a complete guide to help you hunt deer legally in Wyoming.
Wyoming Deer Licenses
To hunt deer in Wyoming, you must purchase a deer license. There are two main types of licenses in Wyoming – limited quota and general. However, there are ten different licenses in all. The option you choose depends on the area you're hunting in, the weapon you want to use, and the type of deer you want to get.
General deer licenses are full-priced and allow you to harvest either "any" deer or an "antlered" deer. It depends on the area. These licenses can be purchased at many qualified dealers throughout the state and online.
Nonresidents must purchase a general license specific to a region. However, residents may harvest their deer from anywhere in the state. Nonresidents and residents must follow different rules in this regard.
Some license types are difficult to fulfill on public land. The hunter density may be very high, or the deer population may be very low. While you can still hunt in these areas, taking the deer on a license can be challenging. Therefore, hunters should try to hunt on private land in these areas where possible. The state denotes which license types each year so you can prepare.
Types of Licenses
There are many different types of licenses in Wyoming. Here is a breakdown of each license:
GEN: Full price and allows for a general bag limit
Type 1 & 2: Full price and allows for an "antlered" or "any" deer
Type 3: Full price and allows for any white-tailed deer
Type 4 & 5: Full price and allows for taking antlerless deer only
Type 6 & 7: Available at a reduced price and allows for a Doe only
Type 8: Reduced price and allows for a doe white-tailed deer
Type 9: Full price and for archery-only
Type 0: Available at full price and allows for specialty weapons only
Conservation Stamp
To hunt in Wyoming, every hunter must possess a conservation stamp. The stamp must be carried with you while hunting or fishing. Only veterans with disabilities are exempt from this requirement. Other disabled residents may also be exempt.
Hunter Safety Information
Anyone born after January 1, 1966, must take a hunter safety course when hunting on any land other than their own (or owned by their immediate family member). Most people will be required to take a hunter safety course approved by the state.
Active members of the military and those that were honorably discharged are exempt from this requirement. You must fill out an exemption application, however. It isn't automatic.
If you haven't taken the course, you can apply for authorization to take deer while under the supervision of a "mentor." The mentor must be at least 18 and have completed the hunter safety course (or be exempt from the course). The mentor may only supervise one person at a time other than immediate family members.
This authorization is valid for one year from the date of issue. You must carry it with you when in the field.
Different Deer Seasons in Wyoming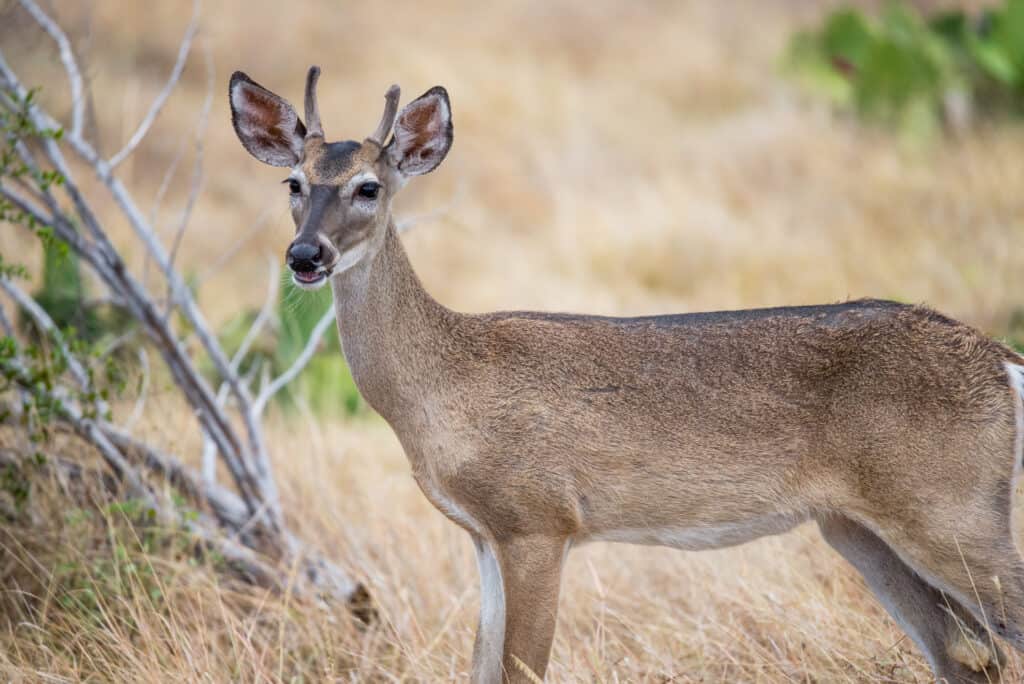 There are many different deer seasons in Wyoming. Each area has its own seasons. These seasons are listed as types 1 through 9. To hunt during a season, you must have the proper license that matches the season. Therefore, to hunt in a type 1 season, you must have a type 1 license.
The bag limit for each season varies. Many differentiate between public and private land. You may take one type of deer on private land but another on public land. Of course, you may only hunt on one type of land per season.
Special Archery Season
There are special archery seasons where only archery equipment is allowed. You must have a license for these seasons to hunt in them. However, when these seasons depend on the particular hunting area. You must possess an archery and a deer license to hunt during this season.
Those with a general license may only hunt in areas available to those with these licenses. However, regulations for the special archery season must be followed.
Those with a limited quota dee license can only hunt in areas where this license is valid.
Extension Permits
Some individuals may be qualified for an extension permit. Those who qualify for this permit may hunt deer for five days before the season starts. However, they must follow all other regulations, such as hunting in areas where their license is valid. You should carry this permit while hunting and present it for inspection if asked.
Youth Deer Hunts
There are specific hunts only open to youth. Those with a youth license may hunt any deer during the antlered hunting season. However, this youth must follow all other regulations. For instance, you may not take a mule deer when only white-tailed deer are allowed.
Weapon Regulations for Deer Hunting
When hunting deer, you are required to use specific weapons. These regulations ensure that the deer don't suffer needlessly. Some weapons can only be used during certain times, as well. For instance, during archery season, you may only use archery equipment.
Firearms
To take a deer with a firearm, you can use a center-fire firearm of at least .22 caliber. The bullet must weigh at least 60 grains and fire a cartridge of at least two inches. The bullet must be made to expand on impact.
You may also use any muzzle-loading rifle or handgun. These must be at least .40 caliber and fire an expanding bullet. You must use a charge of at least 50 grains of black powder (or an equivalent).
Shotguns may be used. However, they must fire a "00" or larger buckshot or slug.
Archery
When taking deer, you may use a longbow, recurve bow, or compound bow. The draw weight should be at least 40 pounds, and the arrow must have a fixed or expanding broadhead.
You may use trackable arrow technology to find your arrow or locate a legally harvested animal. However, the device should not be allowed to "transfer" to the big game animal and track it directly.
You may use magnifying sights, holographic sights, and range-finding sights.
Other Regulations
On top of weapon regulations, you must follow regulations that apply to all seasons. These regulations may change slightly between seasons or with special license types. However, usually, they stay the same.
Artificial light: You may not use artificial light for hunting or spotlighting deer.
License numbers: You may only purchase one deer license throughout one annual year. This goes from January to January.
Baiting: Baiting is not allowed unless you are a qualified disabled person. You must have the appropriate license, as well.
Sex Identification: In some areas, you may only take certain genders of deer. During these seasons, you must keep proof of gender with the carcass. This may be the animals' heads, antlers, or sex organs.
Hunter orange: You're required to wear hunter orange visibly when hunting. Archers hunting during the archery season are exempt.
Hunting hours: You may take big game animals from one-half hour before sunset to one-half hour after sunset.
Game retrieval: You must collect the edible meat of any game you take. You must make a reasonable effort to track and find any animal you injure. This includes going to where you found the deer and attempting to find the animal.
Tracking dogs: You may use one leashed, blood-trailing dog to track a wounded animal within 72 hours after attempting to take the animal. You must maintain control of the dog constantly and kill the deer with the weapon authorized for the season.
Carcass Coupons and Check Stations
After taking a deer, you must properly fill out and utilize your carcass coupon. This can be found on your license. Detach the coupon portion, then sign and date it. Attach it to the carcass somewhere easily visible, such as a leg or antler. All these steps must be completed before leaving the deer or transporting it.
When marking the date, remove the whole day and month from the coupon. The coupon should stay on the deer until it is processed or until it reaches your home. You may only remove it when transporting the deer, but you must keep it on you.
You must stop and be checked if you pass an open check station. This requirement applies even if you don't have any wildlife. Be sure to have your license and any other requirements ready for inspection. You must also provide them with your coupon and announce any deer or other wildlife you have.
Chronic Wasting Disease Information
CWD is a fatal disease that affects deer and similar animals. This disease is caused by infected prions (proteins) that cause damage to the animal's nervous system. Eventually, this kills the animal. These proteins can stay in the soil for a long time and are durable. Therefore, it is challenging to eliminate once the disease in an area.
To prevent this disease from spreading, Wyoming has implemented several policies. These affect different seasons.
Most animals with CWD don't show symptoms. It can take up to two years before symptoms begin to occur. Weight loss, motor control loss, lethargy, and increased drinking are all common. The animal may also act "weird," as this is a neurological disease.
Testing animals after harvesting is important. You should not consume any meat that tests positive. While the CDC reports that the disease doesn't affect humans, reducing exposure ensures that it continues to have no effect on humans. You can visit a game check station or a regional office to get your deer tested for free.
Transporting Deer within Wyoming
When transporting deer within Wyoming, there are a few guidelines to consider to ensure that CWD doesn't spread. You may transport deer to your residence or a third party for processing. The head and spinal column must be left at the sight of the kill or thrown away into an approved landfill or incinerator.
Beyond this, deer cannot be transported within the state. It is best to have the deer processed immediately to meet these regulations.
Transporting Deer from Outside the State
Moving deer into Wyoming is allowed if the deer is taken directly to the place of processing. All waste must be disposed of appropriately. Beyond this, the deer can be transported as usual. Just be sure to take the deer straight to whatever location it is being processed.
Mandatory Sampling
In some circumstances, the state may require that hunters submit samples for testing. These samples allow the state to make management decisions and determine the spread of this disease. Usually, the needs of the state are decided at the beginning of each hunting season, and sampling requirements are announced then.
If the state requires samplings to be posted in a specific area, you must submit them.
Up Next
---
The Featured Image
---