The largest forest in Illinois is beautiful and filled with sights to see. You won't get bored when visiting as there is an abundance of activities and hiking trails to walk. But what is the largest forest in Illinois? How large is the forest, and what unique animals live deep within the wooded forest? Follow along to discover the largest forest in Illinois and some of the animals that live within it.
What is the Largest State Forest in Illinois?
Located in northern Mason County is Sand Ridge State Forest, a conservation area with over 7,200 acres of land. The large forest is about 3,916 acres of dryland oak-hickory woodlands and 2,492 acres of pine woodlands. Another 792 acres of the forest are open fields and sand prairies. The large forest is on a sand ridge, which may have formed because of the glacial Kankakee Torrent. The Sand Ridge State Forest has diverse desert flora and fauna. In the forest, you can find the Clear Lake Site, an archeological site on the National Register of Historic Places.
Where is Sand Ridge Forest Located on a Map?
If you were to look at a map of Illinois, you would find Sand Ridge State Forest, located in the central part of the state. Specifically, it can be found in Mason County and covers an area of over 7,200 acres. The forest is situated near the Illinois River and is easily accessible from major highways such as I-74 and Route 29.
Things to Do and See in Sand Ridge State Forest
Sand Ridge State Forest is beautiful. Many sites and hiking trails lead to gorgeous scenic views. Apart from hiking, you can also fish, geocache, hunt, dog train, and ski. Listed below are some amazing things to see and do in Sand Ridge State Forest.
Hiking
One of the most popular activities in Sand Ridge State Forest is hiking. There are hundreds of miles of hiking trails, ranging in difficulty. The hiking trails are flat and relatively easy to walk through. However, some hiking trails are out in the open without shade like the Sand Ridge Orange Trail. You can also take the 2.3-mile-long Sand Ridge State Forest Green Trail. It takes a little less than an hour to complete and you can see unique fauna and flora while walking. It's a quiet trail, perfect for bird-watching.
Horseback Riding
If you love horseback riding, you will enjoy visiting Sand Ridge State Forest. There are countless safe and shady horseback riding trails in the state forest. Horseman's Park Campground also combines horseback riding and camping. In the campground, visitors can use hitching rails, picket-line posts, fire pads, and pit-vault toilets. If you only want to stay a day, you can use the Mockernut Meadow Day Use Area.
Hunting
Before going on a hunt, check the state's hunting laws and regulations. However, Sand Ridge State Forest offers some of the best hunting opportunities in the state. You can find deer, coyotes, squirrels, red and gray foxes, and doves.
Snowmobile Trails
Snow doesn't stop the activities at Sand Ridge State Forest. Here, you can go skiing and snowmobiling. There are over 26 miles of designated trails during winter when snow is at least 4 inches high. The trailhead begins at Oak Campground. You can access the trail, when open, 24 hours a day.
Clear Lake Site
One of the most interesting places in Sand Ridge State Park is the Clear Lake archeological site. This unique site is about 6.5 miles from Manito, Illinois. The region was settled and used from 500 B.C. to 1500 A.D. Some of the cultures that resided in the site are the Early Woodland, Havana Hopewell, and Mississippian. Clear Lake Site has two burial mounds and a village. The land was first excavated by the University of Chicago in 1932. Further excavations and teams found 24,000 pottery shards. The site is a very important archeological spot in Illinois. On November 28, 1978, Clear Lake Site was added to the National Register of Historic Places.
Animals in Sand Ridge State Forest
Sand Ridge State Forest is a very popular spot for bird watching. Although birds are common throughout the forest, other animals can be found. Follow along to learn about some of the most common animals that call Sand Ridge State Forest their home.
Bald Eagle
Bald eagles are beautiful birds and a symbol of the United States. During winter, there are about 3,100 bald eagles in the state. They are easiest to spot from October to April. Bald eagles live about 20 to 30 years in the wild. Their wingspans are between 5 feet and 11 inches and 7 feet and 7 inches. Most male bald eagles weigh 9 pounds, but some can surpass 12 pounds. Bald eagles live in North America, including Canada, the United States, and northern Mexico.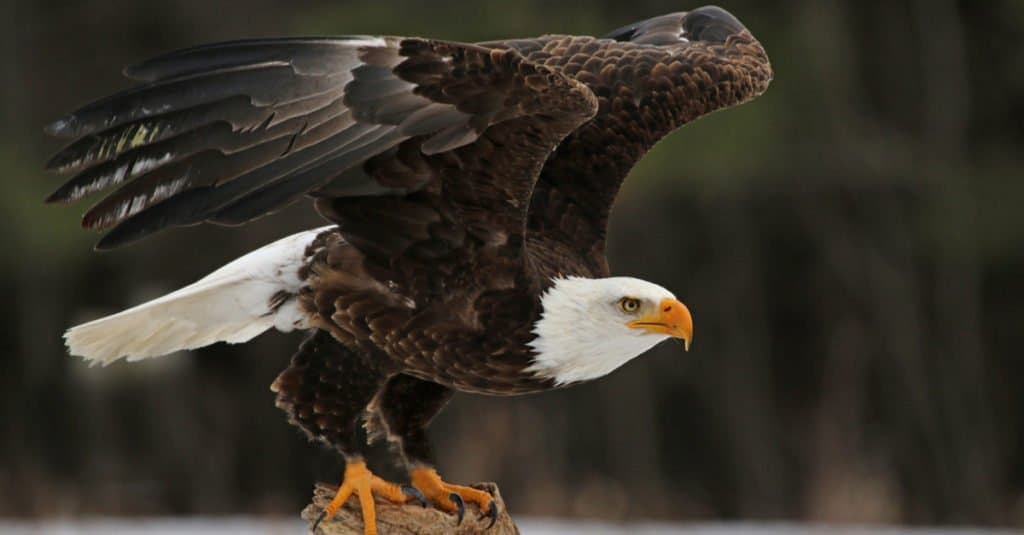 Striped Skunk
Striped skunks are some of the most common animals in Illinois, but you probably don't want to get too close to one. These skunks can spray their musk up to 10 feet away, which repels sneaky predators. These animals are about the size of a house cat. Most striped skunks weigh about 4 to 7 pounds. Male striped skunks are slightly larger than females. Generally, skunks live near a source of water and woodlands. However, you can also find them in urban environments.
Snow Goose
Snow geese, also known as blue geese, are migratory water birds found all across Illinois. They are about 25 to 38 inches long from tail tip to bill tip. They are so common in fact, that Illinois spring snow goose hunts are very popular. These geese have white feathers, with light black feathers underneath. They typically fly in flocks in an impressive "U" shape.
Blue Jay
Blue jays are common and permanent residents in Sand Ridge State Forest. However, these birds migrate to southern parts of Illinois during winter. They are easy to spot and a favorite for many bird watchers. Blue jays are intelligent birds and form complex and strong social bonds with other blue jays. You can commonly find them feasting on acorns, which helps spread oak trees.
Up Next:
More from A-Z Animals
---
The Featured Image
---