If you search "bird migration," you will be inundated by pictures of enormous flocks numbering the thousands making their way to warmer weather. But small flocking birds are not the only species that travel to wintering grounds. Big birds, like eagles, can also migrate. Do bald eagles migrate during the winter? And if so, where do they go? Discover the answer now!
Where Do Bald Eagles Go During Winter?
Bald eagles are partial migrants, with some populations living year-round in their environments and others traveling long distances during the winter. Bald eagles inhabit most of Canada and the United States, and those that live along the coasts (or near abundant food and water supplies) tend to stay where they are all year. But birds that live more inland are prone to migration. Much of the bald eagle population in Canada migrates to the United States during winter and will stop anywhere with enough food and water, typically along the coast or near open water. Northern residents begin their fall migration when lakes and rivers freeze. Their wintering grounds are dry, open hilly areas with plenty of water for fishing.
Do Bald Eagles Hibernate?
If only some of the northern bald eagles migrate south for winter, you may be wondering how the others who stay survive. Bald eagles are tough, hardy birds that can withstand freezing temperatures and feet of snow without blinking an eye. And they do it without hibernating. These birds have extra insulating feathers and can regulate heat by lifting their wings up and down. Bald eagle parents can even successfully incubate eggs in extreme temperatures while covered in half a foot of snow. Migration for these birds is not tied to temperatures but rather food availability. If their home is around a lake that freezes every winter, they move to warmer grounds until it thaws.
What Do Eagles Do in the Winter?
During winter, you can find bald eagles as far south as the Mexican coast, but most will stay within the United States and establish residence wherever they can find open water. During the warm summer months, bald eagles are fierce hunters. But come winter, they are scavengers who take what they can get, like roadkill or animals trapped in ice. While they can handle plunging temperatures, bald eagles, like most birds, reduce their activity and find a place to shelter during periods of extreme cold.
Where Do Bald Eagles Go During Summer?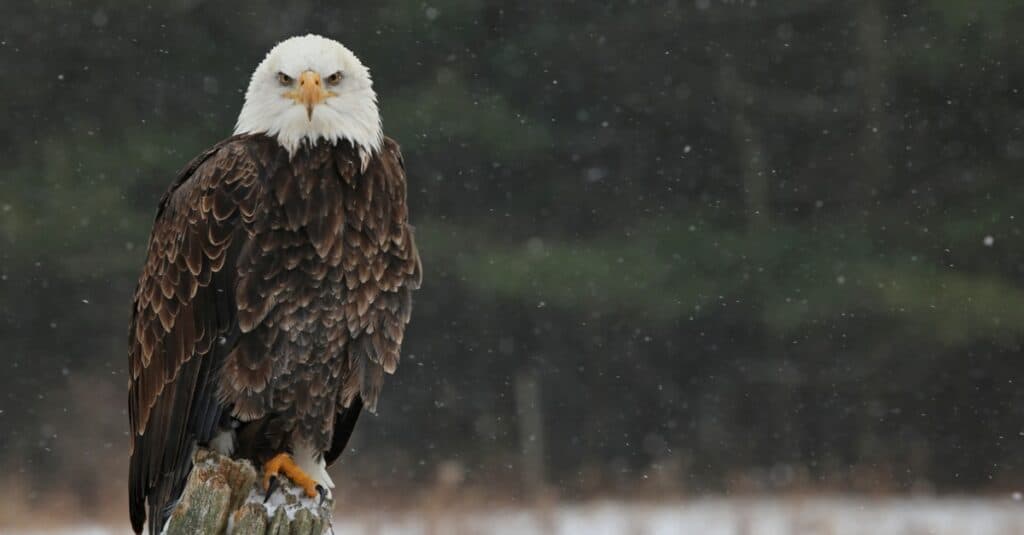 Bald eagles don't like to stay on their wintering grounds too long and will return to their regular breeding habitats as soon as they once again have a reliable food source. Spring migration takes place anywhere between January and March. Much of the bald eagle population returns to Canada, while those around the coastline stay where they are. Their nesting habitats reside away from human habitations, typically in a forested area near open water.
When Do Bald Eagles Migrate?
Bald eagles are almost reluctant migrants. They begin their fall migration in late autumn or early winter. And they return to their breeding grounds in late winter to early spring, typically only spending a few months, at the most, away from their preferred environment.
How Far Do Bald Eagles Migrate?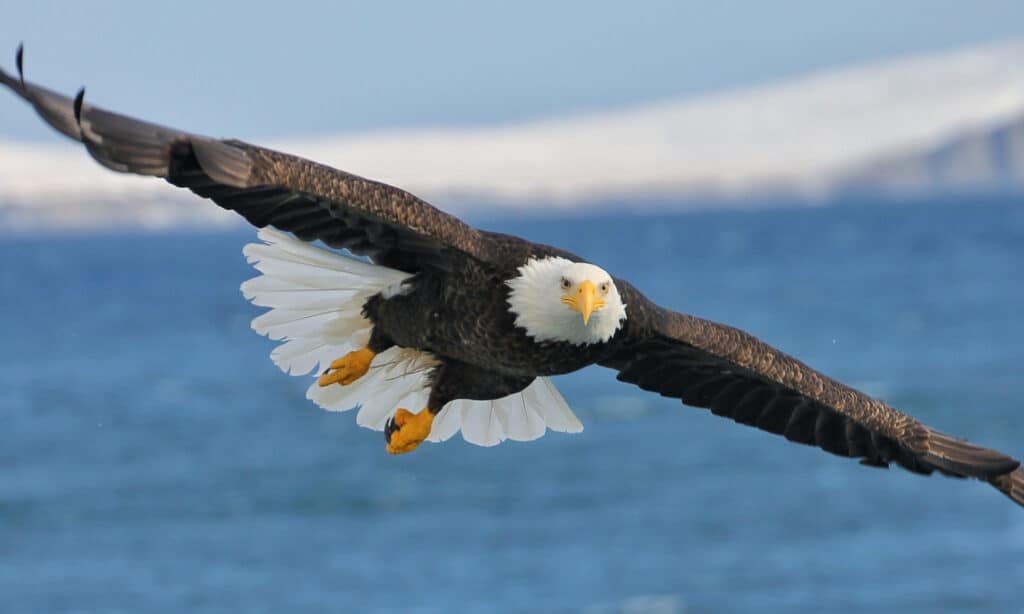 Their migratory patterns are complex, and their flight patterns change with the wind current. Bald eagles ride thermal air columns, reaching up to 30 mph during migration. And they don't fly if there is no wind as they need it to soar. They will only travel locally, if at all. But when the gusts are just right, these eagles can travel up to 225 miles in one day. However, they average around 100 miles a day.
Do Eagles Migrate Together?
While it may seem odd to see such big birds flying in flocks, bald eagles do, in fact, travel in groups. This species is most often seen alone, but it will join a group to fly to its wintering habitat. They fly in a stream-like pattern, which can reach up to 30 miles long. However, you may not see them in a group as each eagle is at least half a mile apart. Bald eagles migrate during the day, with most traveling occurring from late morning to early evening.
Do Bald Eagles Always Migrate?
No, bald eagles do not always migrate. Most researchers don't actually consider them migrants. Instead, they move seasonally in response to available food and water. Some populations do not move at all, living in their environments year-round.
Up Next:
The photo featured at the top of this post is © FloridaStock/Shutterstock.com
---
Sources

Springer Link, Available here: https://link.springer.com/article/10.1186/s40462-017-0102-4
BioOne Complete, Available here: https://bioone.org/journals/journal-of-raptor-research/volume-46/issue-3/JRR-10-77.1/Satellite-Tracking-of-Bald-Eagles-in-the-Upper-Midwest/10.3356/JRR-10-77.1.full