Although South Dakota is better known for Mount Rushmore and herds of buffalo, there are some great fishing spots in the state. The streams in the Black Hills have brown and brook trout fishing, the Missouri River has produced several record-breaking fish and Lake Oahe is also a popular fishing spot. Grab your gear and head out to one of the lucky fishing holes to try to break one of these records yourself. Here are the 10 biggest fish in South Dakota.
10. Northern Pike: 36 lbs 3 oz
"Northerns" or "pike" are a popular sportfish in the Midwest. They are a long, torpedo-shaped fish with sharp teeth. You may want to cast your line near weeded areas or downed branches where pike like to hang out and wait for their prey.
The biggest northern pike ever caught in South Dakota was pulled from the aforementioned Lake Oahe. This popular lake is on the Missouri River just north of Pierre, SD. The record-breaking pike weighed in at 36 lbs 3 oz, caught by Jeff Case. The record was set back on April 3, 1993.
9. Freshwater Drum: 36 lbs 8 oz
While pike are long and narrow, drum are taller in the front and then narrow out. They get their name from the drumming sound they make during spawning. Some refer to it more as a grunt, but it is definitely unique. In South Dakota they are common in the Missouri River system and the biggest one ever caught in the state was pulled from the Missouri. On September 25, 1971, Alvin D. Williams caught a 36 lbs 8 oz freshwater drum, making this a 50+ year-old record.  
8. Common Carp: 37 lbs
More full-bodied than drum are carp. The common carp is brownish to bronze with distinctive scales on its body and a scale less head. David Koslowski was fishing on Waubay Lake, known to have good fishing for pike, bass, crappie, yellow perch, and walleye, but apparently good sized carp as well. The Waubay Lake area is made up of four lakes that all have good fishing including North Waubay, South Waubay, Spring Lake, and Hillenbrand's Lake. On April 20, 2001, Koslowski reeled in a 37 lbs carp to break the record.
7. Tiger Muskie: 37 lbs 7 oz
Just a tad bigger than the carp was a tiger muskie caught by Jason Besmer on May 30, 2003. Tiger muskie are similar to regular muskie but have dark stripes. Both get to be about the same size. Besmer caught his 37 lbs 7 oz tiger muskie on Lake Sharpe in the Stilling Basin. Lake Sharpe is a man-made reservoir created by the Big Bend Dam on the Missouri River. The West Bend State Recreation Area is on the west shore of the lake and is popular for camping, boating, and fishing, with smallmouth bass and walleye being the most common catches.
6. Lake Sturgeon/Muskie (Tie): 40 lbs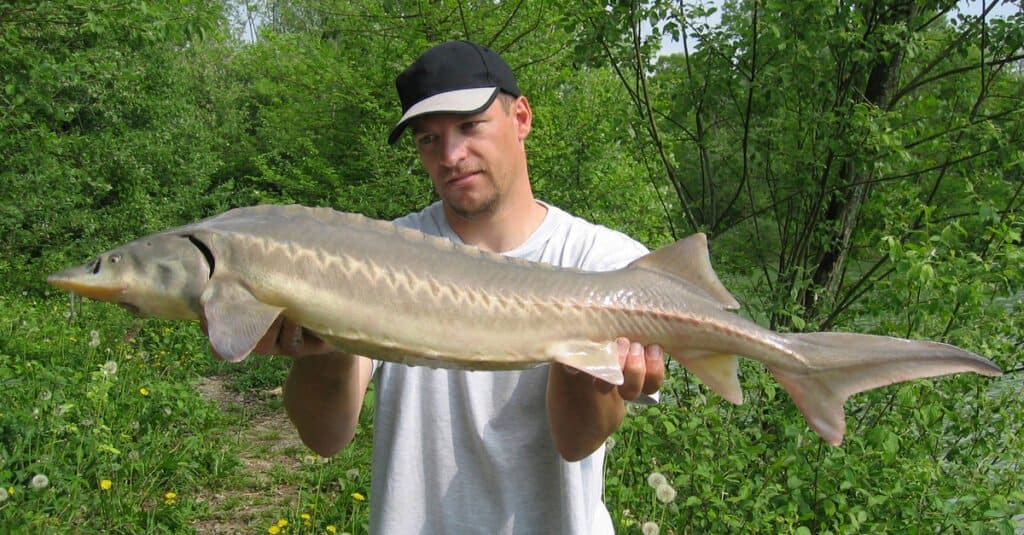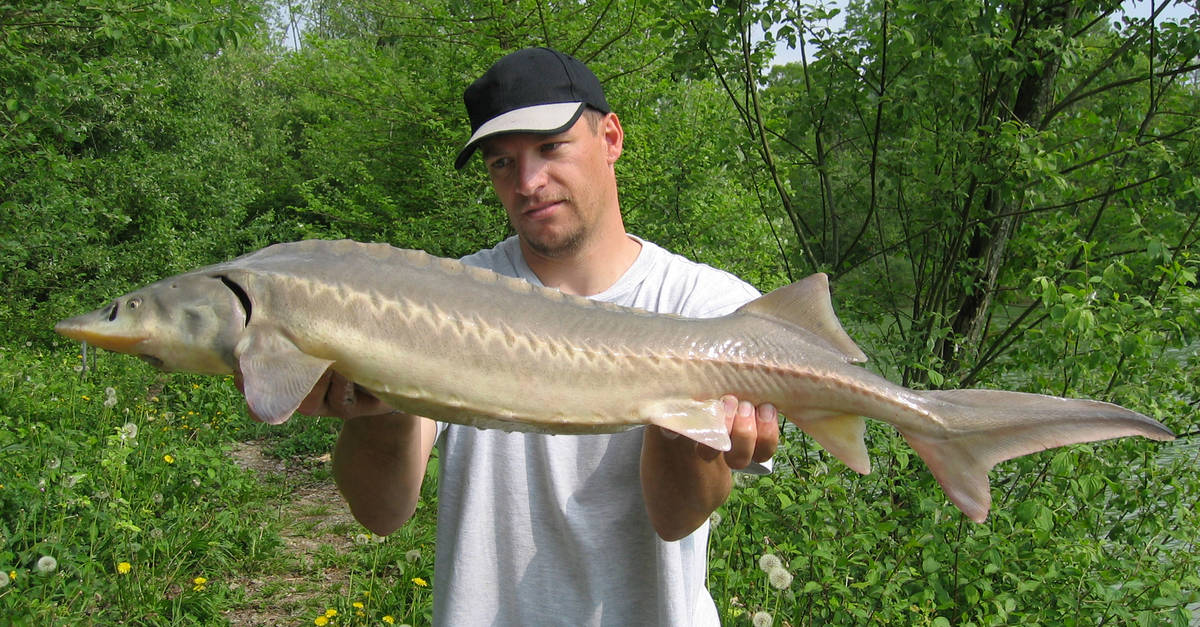 There were two fish that both weighed 40 lbs on our list. The tie for the 6th biggest trophy fish ever caught in South Dakota goes to two Daniels. Daniel Bouza caught a 40 lbs lake sturgeon on March 13, 1990 and a year later Daniel B. Krueger caught a 40 lbs muskie on April 16, 1991. The lake sturgeon was caught in the Missouri River and the muskie was caught by the Amsden Dam on Amsden Lake (a very small 30 acre lake in NE South Dakota). In general, lake sturgeon can get significantly bigger than muskie with the biggest lake sturgeon in the world weighing in at 168 lbs! That one was caught by Edward Paszkowski in the Georgian Bay, Ontario, Canada. Now that is a trophy fish!
5. Bigmouth Buffalo: 51 lbs 9 oz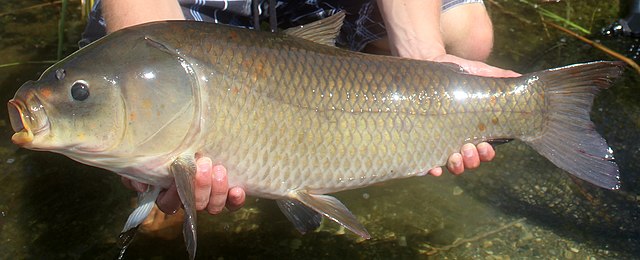 Two years later, the bigmouth buffalo record was broken by a 51 lbs 9 oz buffalo being caught on April 24, 1993. Reg Young was fishing on Lake Mitchell, which is just north of Mitchell, SD, home of the famous Mitchell Corn Palace (if you are not from the Midwest you may not have heard of it, but it is a popular tourist attraction, often a stop on the way to Mount Rushmore).
Buffalo fish, contrary to the buffalo (bison) that roam across much of western South Dakota in herds, are solitary fish that hunt on their own. Other types of buffalo fish in South Dakota include black and smallmouth buffalo.
4. Channel Catfish: 55 lbs
Now for a catfish sweep! The next three records are for catfish with a channel catfish, flathead, and blue catfish. Channel catfish are not just channel dwellers as they can be found in streams, rivers, and lakes. The biggest channel catfish and the biggest flathead catfish were both caught in the James River. The James is a tributary of the Missouri River up in the NE corner of South Dakota.
The biggest channel cat was caught by Roy Groves May 18, 1949, making this the longest standing fishing record in South Dakota. The record has stood for 73 consecutive years! Groves' record breaking catfish weighed in at 55 lbs. That's a lot of fried catfish fillets!
3. Flathead Catfish: 63 lbs 8 oz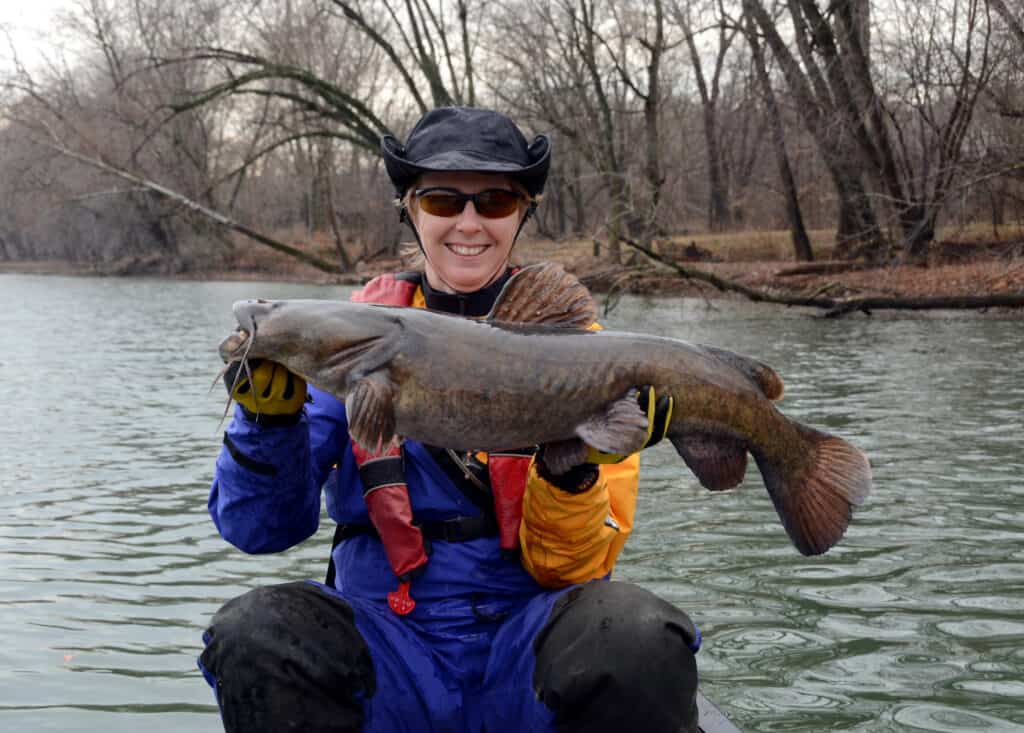 The other record breaking catfish caught on the James River was a 63 lbs 8 oz flathead, caught more recently on June 18, 2006, by Davin Holland. When Holland brought his monster catch in to be weighed they had to keep the fish in an aerated tank to keep it alive so they could find a bigger scale! The next morning they were able to weigh it and learned it was indeed 3 pounds heavier than the previous record.
2. Blue Catfish: 97 lbs
It is much more satisfying as an angler to say "I caught a hundred pounder!" than "I almost caught a hundred pounder!" But that is the case for Edward B. Elliott, who reeled in a 97 lbs blue catfish way back on September 16, 1959. Elliott was fishing on the Missouri River when he reeled in this big catch.
Other notable records from the Missouri River include the biggest smallmouth buffalo (30 lbs), aforementioned freshwater drum (36 lbs 8 oz), American eel (5 lbs 3 oz), longnose gar (16 lbs 12 oz), river herring (1 lbs 5 oz), and the aforementioned lake sturgeon (40 lbs). It sounds like a good place to start if you want to catch trophy-sized fish!
1. Paddlefish: 120 lbs 12 oz
The biggest trophy fish ever caught in South Dakota was a paddlefish. A 120 lbs 12 oz paddlefish was caught by Don Gregg on April 19, 1979. Paddlefish have a long paddle-like snout that accounts for up to a third of their length. They truly are some of the most unique looking fish you will find in the state. Gregg caught his at Ft. Randall where the Missouri River meets up with the border of Nebraska.
Fun Fact
Two of the presidents at Mount Rushmore were fishermen! George Washington was an avid fisherman from before he was even president and Teddy Roosevelt was one of the first American conservationists. While Roosevelt was more of a big game hunter he was also a fisherman.
George Washington: Washington was actually a commercial fisherman before becoming our first president. He would catch fish along the Potomac River (bass, herring, char and shad) and sell them both locally and to the British colonies in the Caribbean.  He started the successful Mount Vernon Fishery.
Theodore Roosevelt: He frequently visited the Dakotas for hunting bison. Theodore Roosevelt National Park is now located in North Dakota. These hunting trips are one of the things that spurred on his lifelong conservation efforts.
Summary of 10 Biggest Trophy Fish Ever Caught in South Dakota
Here's a recap of the 10 largest trophy fish recorded in South Dakota that we looked at.
| Number | Fish | Weight | Record Holder / Location / Date |
| --- | --- | --- | --- |
| 1 | Paddlefish | 120 lbs 12 oz | Don Gregg in Ft. Randall on April 19, 1979 |
| 2 | Blue Catfish | 97 lbs | Edward B. Elliott on the Missouri River on September 16, 1959 |
| 3 | Flathead Catfish | 63 lbs 8 oz | Davin Holland on James River on June 18, 2006 |
| 4 | Channel Catfish | 55 lbs | Roy Groves on James River on May 18, 1949 |
| 5 | Bigmouth Buffalo | 51 lbs 9 oz | Reg Young on Lake Mitchell on April 24, 1993 |
| 6 | Lake Sturgeon/Muskie (Tie) | 40 lbs | Daniel Bouza caught a 40 lbs lake sturgeon in the Missouri River on March 13, 1990; Daniel B. Krueger caught a 40 lbs muskie in Amsden Lake on April 16, 1991 |
| 7 | Tiger Muskie | 37 lbs 7 oz | Jason Besmer on Lake Sharpe on May 30, 2003 |
| 8 | Common Carp | 37 lbs | David Koslowski on Waubay Lake on April 20, 2001 |
| 9 | Freshwater Drum | 36 lbs 8 oz | Alvin D. Williams on the Missouri River on September 25, 1971 |
| 10 | Northern Pike | 36 lbs 3 oz | Jeff Case on Lake Oahe on April 3, 1993 |
---
The Featured Image
---
Sources

Southeastern Outdoors, Available here: http://www.southeasternoutdoors.com/outdoors/fishing/records/south-dakota-fishing-records.html
IGFA, Available here: https://igfa.org/igfa-world-records-search/?search_type=CommonNameSummary&search_term_1=Sturgeon%2C+lake
Fishing Booker, Available here: https://fishingbooker.com/blog/us-presidents-fishing/