Chesapeake, an independent city in the Commonwealth of Virginia, is located on the Atlantic Intracoastal Waterway. You may already know this if you live there, or maybe you're on your way to discovering Chesapeake during a road trip through the country. But we're sure you've landed on our website because you also have a furry friend, a dog, and you're willing to surprise it with a fun day in one of the best parks in the area! No worries, we've got this for you!
We've selected the 5 best dog parks in Chesapeake! Check the list and choose the one you and your puppy like best!
Things to know before visiting a dog park in Chesapeake
After you've chosen a park, make sure to check the official information regarding dog park guidelines and membership information. The most important thing is that your dog must be vaccinated against rabies and bordetella and have a tag number. An animal license is also required, but you can get it at the Administrative Office and Visitor Center if you don't have one. The license costs $10 for non-spayed or non-neutered pets and $4 for spayed or neutered pets.
There's also a $10 annual membership you can purchase. If you want a day pass, you'll have to pay $5. We advise you to check with the Administrative Office and Visitor Center to ensure you're all set for a visit.
Other rules include:
no more than three dogs per person,
dogs under four months of age, and
unattended or sick dogs are not permitted.
1. Deep Creek Park
| Deep Creek Park | |
| --- | --- |
| Location | 437 George Washington Hwy S, Chesapeake, VA 23323 |
| Hours | 6 AM – 6 PM |
We bet your pet will love Deep Creek Park, mainly because it can run around off-leash and enjoy the park's facilities! Here are some of them: a large area for all dogs, a mutt-mitt dispenser, and a seasonal drinking fountain for dogs. While your dog becomes familiar with the surroundings and is making new friends, you'll be able to take a rest on the benches for humans. Who knows? You might end up with a new friend too! 
Moreover, if you want to bring your kids along, you must understand that the dog park is next to the playground in Deep Creek Park. Deep Creek Park also features four baseball fields and three soccer fields. So if you're planning a one-day getaway with the whole family, including your dog/s, we're sure you will have a fantastic time!
2. Chesapeake City Dog Park
| Chesapeake City Dog Park | |
| --- | --- |
| Location | 900 City Park Dr, Chesapeake, VA 23320 |
| Hours | 7 AM – 8 PM |
The Chesapeake City Dog Park measures 1.5 acres, and it's where your furry friends can have the best time of their lives! It is located at the back of Chesapeake City Park, next to the skate park. If you have a smaller breed, you don't need to worry, as the park features two dog areas, depending on their size. One is for species weighing less than 25 pounds, and the other is for those weighing more.
There's a water fountain for dogs, but it only functions during the summer. We suggest bringing some toys or a frisbee ball to play with your puppy since the park doesn't have any dog structures. You'll also find mutt-mitt stations that will significantly help clean up after your beloved pet.
Moreover, if your pet gets bored, you can always take it to the workout area, the skate park, or for a walk along the trail. 
3. Western Branch Dog Park
| Western Branch Dog Park | |
| --- | --- |
| Location | 4437 Portsmouth Blvd, Chesapeake, VA 23321 |
| Hours | 7 AM – 8 PM |
The Western Branch Dog Park is located near the Western Branch Community Center and features two areas – for small breeds and large breeds. The park is well-shaded since there are lots of trees. Western Branch Dog Park could be a perfect choice if you're looking for a cool place to spend a hot afternoon with your pup. 
The area is fenced in, so you don't have to worry about your dog running away. Just make sure to bring along some of your pet's favorite toys so both of you have the greatest time!
4. Sawyer's Mill Dog Park
| Sawyer's Mill Dog Park | |
| --- | --- |
| Location | Chesapeake, VA 23323 |
| Hours | 6 AM – 8 PM |
Sawyer's Mill Park measures 14.4 acres and is considered one of the 20 largest parks in Chesapeake, Virginia. It is a unique, natural place to spend a day off from the city noise. Your kids will love it there because it has a nice playground next to the dog park. So you can take your kid/s and dog/s and enjoy an excellent evening in Sawyer's Mill Dog Park. 
Don't forget to bring some toys and snacks for you, your family, and your pup!
5. Elizabeth River Park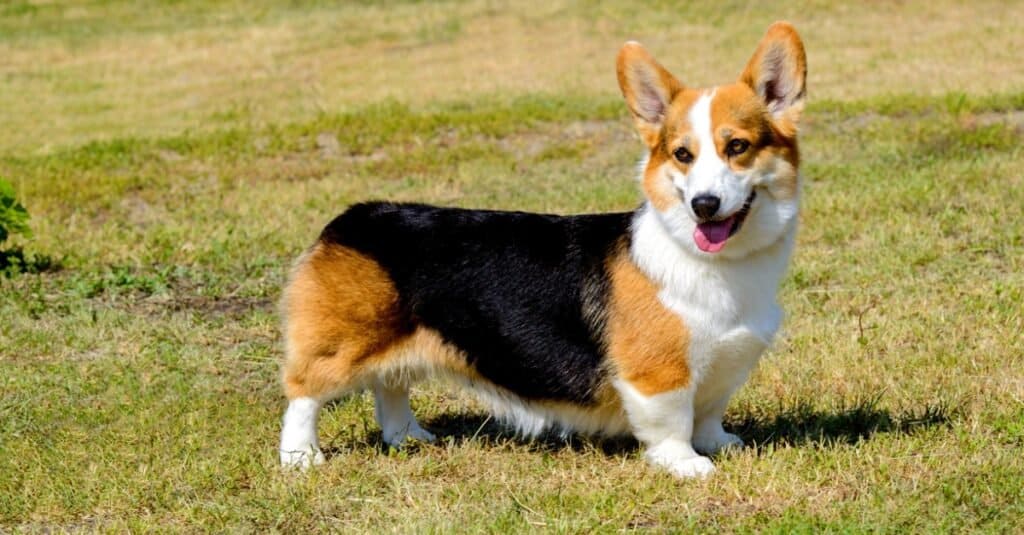 | Elizabeth River Park | |
| --- | --- |
| Location | 1400 Elizabeth River Way, Chesapeake, VA 23324 |
| Hours | Open 24 hours |
Are you looking for a beautiful place that offers stunning natural views? If so, Elizabeth River Park is the best in Chesapeake! It is located on the southern branch of the Elizabeth River, so you'll spot some fantastic sunsets over the water! The South Norfolk Jordan Bridge will make the experience even more enjoyable.
What matters most is that you can take your puppy with you, as Elizabeth River Park also features a dog park! There's an area for small dogs and one for medium-to-large dogs. Whether your pup is small or large, it will surely enjoy its time there! The park features many other recreational facilities, just in case you want to invite your family or friends.
Up Next:
More from A-Z Animals
---
The Featured Image
---