Key Points
Kingsnakes are nonvenomous constrictors, and their name derives from the fact that other snakes make up about one-fourth of their diet.
A resistance to venom and strong constriction enables this snake to hunt and eat rattlesnakes, cottonmouths, rat snakes, and copperheads. They kill their prey by wrapping their bodies around and squeezing them until the other animal suffocates or goes into cardiac arrest.
It is technically possible, though extremely unlikely for a rattlesnake to come out on top.
Snakes are one of the few animals that regularly eat their own kind. In fact, there is a particular snake that feasts on a variety of snake species, including the dangerous and powerful rattlesnake. But how could the kingsnake possibly accomplish this, and is this snake dangerous to creatures other than rattlesnakes?
In this article, we will discuss everything you need to know about the king of snakes: the kingsnake. We'll go over why exactly this snake is special, including why it is able to avoid death when hunting and eating rattlesnakes. We'll also discuss whether or not a rattlesnake can ever beat a kingsnake. Let's get started and learn all about the king of snakes now!
Meet the Snake Immune to Snake Venom
If you haven't heard of the kingsnake before now, you're in luck. This nonvenomous snake is unique from many other animals and even other snake species. Why? Because it is practically immune to snake venom. Plus, it uses its small but powerful body to constrict its prey- and this prey includes other types of snakes.
In fact, snakes make up nearly one fourth of the average kingsnake's diet. This is why we call it the kingsnake. It eats other snakes regularly, and this includes venomous snakes like rattlesnakes. Just like the king cobra is king for its ability to eat other snakes, the kingsnake reigns supreme. But how exactly does it accomplish these daring feats?
How Does the Kingsnake Hunt Rattlesnakes?
Given its natural resistance to snake venom, the kingsnake is able to hunt rattlesnakes by simply being defensible. Which is to say, rattlesnakes hunt using their potent and powerful venom. But how does a rattlesnake win in a fight against something totally resistant to its main weapon? 
The answer is, it doesn't. Kingsnakes kill and eat rattlesnakes often, and it isn't just rattlesnakes that perish at its deadly hands (or scales). Rat snakes and cottonmouths are just other examples of kingsnake victims. This is exceedingly interesting when you consider the fact that rat snakes are also non-venomous constrictors. 
Unless the king of snakes has chosen a victim that is exceedingly larger than it, it typically has no trouble constricting and consuming snakes head-first. In fact, they are such efficient constrictors that they cause cardiac arrest in other snakes, constricting their airways and blood flow until they perish. Let's talk about how they accomplish this in more detail now.
Impressive Constriction
A recent study performed on kingsnakes and rat snakes shows why kingsnakes are able to frequently kill and consume larger and more venomous snakes. Scientists placed pressure monitors on dead prey, and observed the pressure levels of the rat snake versus the kingsnake as they constricted the monitored rodents. The results of their studies may surprise you! 
While both rat snakes and kingsnakes have the same amount of muscles and constricting capabilities, the latter exerted more pressure than the rat snake again and again. But how is this possible, especially considering the relative thickness of a rat snake compared to the slender-bodied kingsnake? 
Scientists discovered that this king of snakes utilizes a precise constricting method that leads to even more pressure exertion than the average constrictor. Their bodies wrap around their prey in such a tight pattern that they are able to exert more pressure then other constrictors, as rat snakes wrap around their prey in a looser and more haphazard manner. 
When you consider how advanced the kingsnake is in its constrictor abilities and its natural resistance to venom, a rattlesnake has little to no chance of survival.
What Else Does this Constrictor Hunt?
While kingsnakes frequently hunt rattlesnakes, other snakes only make up a quarter of their regular diet. Kingsnakes consume rodents, birds, and other small mammals, as well as lizards, frogs and turtles, depending on where they are located. They can also swallow bird and turtle eggs whole.
Given that the snake is opportunistic and has a variety of species found throughout North America and the United States, they are adaptable in terms of their diet. Though these snakes typically stay on the ground, their ability to climb trees helps them catch lizards and birds. They tend to prefer eating cold-blooded animals like frogs, so they often hunt in wet habitats.
Can a Rattlesnake Kill a Kingsnake?
Despite rattlesnakes regularly threatening other animals and humankind, can a rattlesnake kill a kingsnake? The answer to this question depends on the ages and sizes of the snakes. An adult rattlesnake is likely able to kill a juvenile, without question. 
However, kingsnakes rarely go after prey that they cannot also consume. Despite this, the average kingsnake is smaller than the average rattlesnake, no matter the age- and kingsnakes still win the fight against rattlesnakes. 
This is because rattlesnakes are simply unequipped to fight against a constrictor this powerful. Rattlesnakes are used to using their venom to get their way, but kingsnakes are unaffected by any type of venom. While it would be possible for a rattlesnake to kill a kingsnake, it is extraordinarily unlikely.
Where do King Snakes and Rattlesnakes Live?
Given that king snakes prey on rattlesnakes, where are they likely to cross paths? Rattlesnakes can be found in almost every part of the United States, but are particularly populous in the Southwest. They also inhabit Mexico and Central and South America. Farther north in Canada, only one subspecies of the rattlesnake, western rattlesnakes, can be found in southern parts of British Columbia, Alberta, and Saskatchewan. Kingsnakes also live in the United States, with their reach extending up into southeastern Canada. King snakes are specific to the eastern, western, and southern parts of the United States. Some kingsnakes can also be found in Mexico.
Is the King of Snakes a Threat to Humans?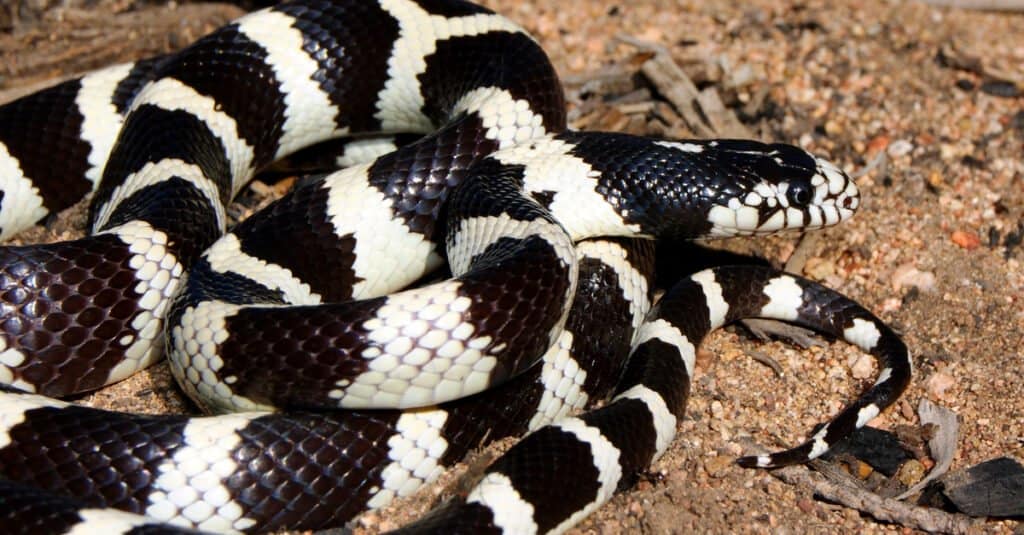 The good news is that kingsnakes are not a threat to humans. They are non-venomous, docile, and avoid confrontation at all costs. In fact, many kingsnakes make good pets, depending on the breed and species. However, I wouldn't blame you for wanting to avoid a snake that is capable of taking down such a threat as a rattlesnake! 
Discover the "Monster" Snake 5X Bigger than an Anaconda
Every day A-Z Animals sends out some of the most incredible facts in the world from our free newsletter. Want to discover the 10 most beautiful snakes in the world, a "snake island" where you're never more than 3 feet from danger, or a "monster" snake 5X larger than an anaconda? Then sign up right now and you'll start receiving our daily newsletter absolutely free.
---