↓
Continue Reading To See This Amazing Video
The bird's beak is one of the most essential tools it has. And each beak is unique to the species it adorns, ideally suited for its survival in its preferred environment. Birds use their beaks for many things, including eating, feeding their young, building their nests, pruning their feathers, and warding off predators. Discover the different types of bird beaks and learn about their uses and the species that possess them. 
Insect Catching
There is diversity within the insectivorous beak group. While insect-eating birds may have similarities, they differ greatly depending on their environment and behavior. Because there is more than one way to hunt insects, these beaks come in different shapes and sizes. Air hunters, like swallows, have short, broad mouths that they leave gaping while flying. Birds, like robins, stand still to hunt and feature straight, thin beaks. Hoopoes, native to Africa, Asia, and Europe, have thin, elongated beaks and hunt insects on the ground.
Grain and Seed Eating
Birds that primarily feed on seeds, nuts, and grains have conical-shaped bills, a broad triangular shape with sturdy mandibles. This shape allows them to easily break into shells of seeds and nuts. Finches, grosbeaks, and sparrows all have conical beaks. Darwin's finches have been the topic of much debate. How did birds from the same family come to have such different beaks? Darwin proposed that these birds evolved and adapted to the available food sources in their individual environments. The pointier the bill, the less the species relies on seeds, and the more it depends on insects.
Probing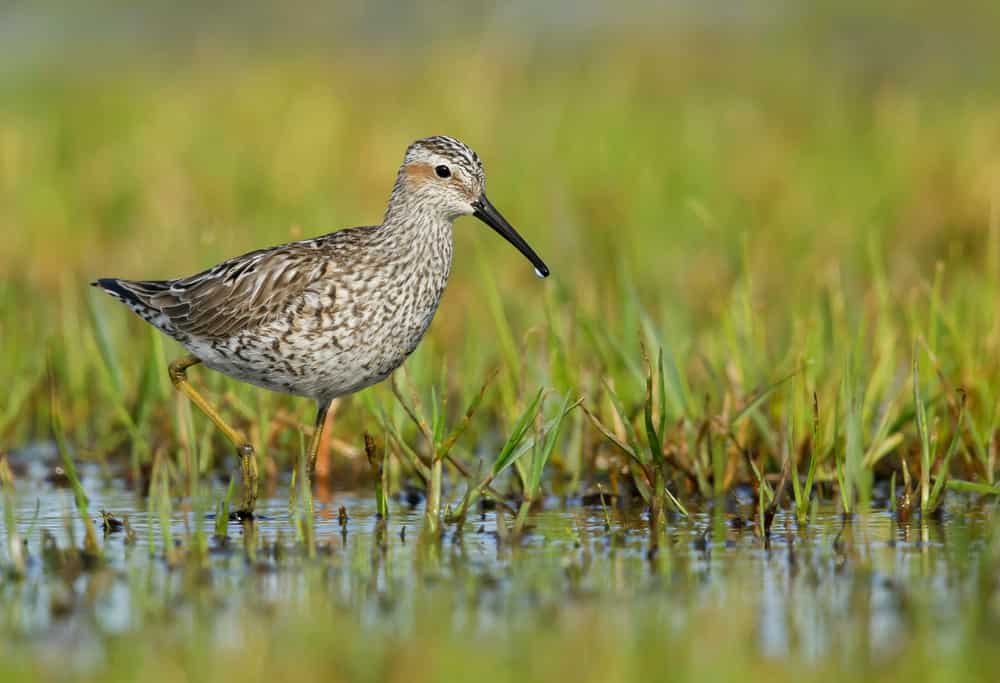 Most birds with probing beaks are wading species. Shorebirds, like ibises and sandpipers, have long, slender, and slightly curved bills that they use to probe shallow water, mud, and sand. The probing allows them to find food sources, such as crustaceans, worms, and insects. These birds adapted to looking for food in muddy water while keeping their heads above water and watching their surroundings.
Filtering
Swans, ducks, and flamingoes are excellent examples of filter-feeding birds. Their beaks are often wide and flat, except for the flamingo, which has a specialized bill for feeding in ponds and river beds. Filtering beaks have teeth-like combs around the edge of the inner bill that strains out algae, crustaceans, and insects from the water, which gets pushed back out.
Nectar Feeding
When you think of nectarivorous birds, think of hummingbirds. Their beaks are perfectly adapted to pulling nectar from deep inside flowers. These bills are very long and thin, often in a downward curve. However, the exact shape will vary based on the types of flowers they feed from. This type of beak is critical for the survival of some flower species that only some nectar-feeders can pollinate.
Fruit Eating
Frugivorous species are usually also seed-eaters. They use their short, thick, curved beaks for breaking open tough fruit to reach the pulp and for extracting seeds from hard shells. You will often see this beak type in tropical birds, like cockatoos, macaws, and parrots. Their lower bills are flat and sharp, and the upper bill is strongly curved, perfect for extraction.
Fish-Eating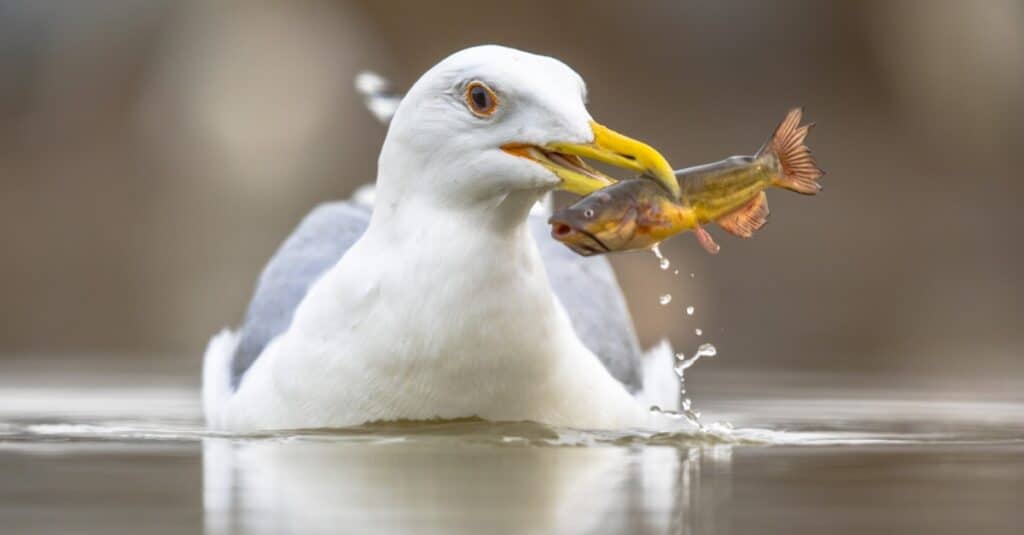 Fish-eaters, or piscivorous birds, have long, thick, and strong beaks with pointed tips or serrated edges. These birds hunt fish by diving into the water or skimming the surface. Examples of the fish-eating bill include seagulls, pelicans, and albatrosses. The pointed tips and sharp edges keep slippery prey from wiggling free.
Raptorial and Scavenging
Raptorial birds are typically carnivorous birds of prey, like eagles, falcons, and hawks. Raptors have short, thick, and strongly hooked bills, with the upper mandible curving over the lower. They are strong and powerful, allowing these birds to rip and tear flesh from mammals, birds, amphibians, and reptiles. Scavenging birds, like vultures, have slightly longer beaks but roughly the same shape.
Up Next:
More from A-Z Animals
---
The Featured Image
---