Let's be honest, no one likes mosquitoes. They're often considered nuisance insects due to their irritating bites and ability to carry many diseases. Despite this, they play an important role in many ecosystems.
They provide food for many animals, including birds, bats, and fish. They can also act as pollinators, which helps plants grow and reproduce.
Mosquitoes can hurt human health. However, their extinction could have negative effects on the environment. They've been around for millions of years and have become integral to how many ecosystems work. If they suddenly disappeared, it could have a ripple effect throughout the food chain, potentially leading to the extinction of other species.
In this article, we'll look at the impact of mosquito extinction on the environment and human population. While it would be nice for us if mosquitoes disappeared (in the short term), it might not be so nice for the surrounding world.
Role of Mosquitoes in the Ecosystem
Mosquitoes play a vital role in many ecosystems worldwide. They act as a food source for many different animals. Some species of birds and bats rely almost exclusively on mosquitoes as a food source. While we praise these animals for keeping the mosquito population in check, they would certainly meet their demise if mosquitoes suddenly disappeared.
Mosquitoes also work as pollinators. There are many well-known pollinators, such as bees and butterflies. While not all mosquitoes pollinate, several have been observed carrying pollen from flower to flower. Many adult mosquitoes primarily consume flower nectar.
However, the most significant impact mosquitoes have is on the aquatic ecosystem. Their larvae live in the water and feed mostly on organic material. As they grow, they can filter large amounts of water while they eat, removing pollutants and algae. While the adult mosquitoes can be a pain, the larvae help improve water quality and reduce algae bloom.
Plus, they also function as a food source for fish and other aquatic animals. Some small fish get many of their calories from consuming mosquito larvae. If this species were to disappear, it could significantly harm the fish used to consuming them.
Furthermore, we could see more algae blooms and decreased water quality without the larvae filtering the water.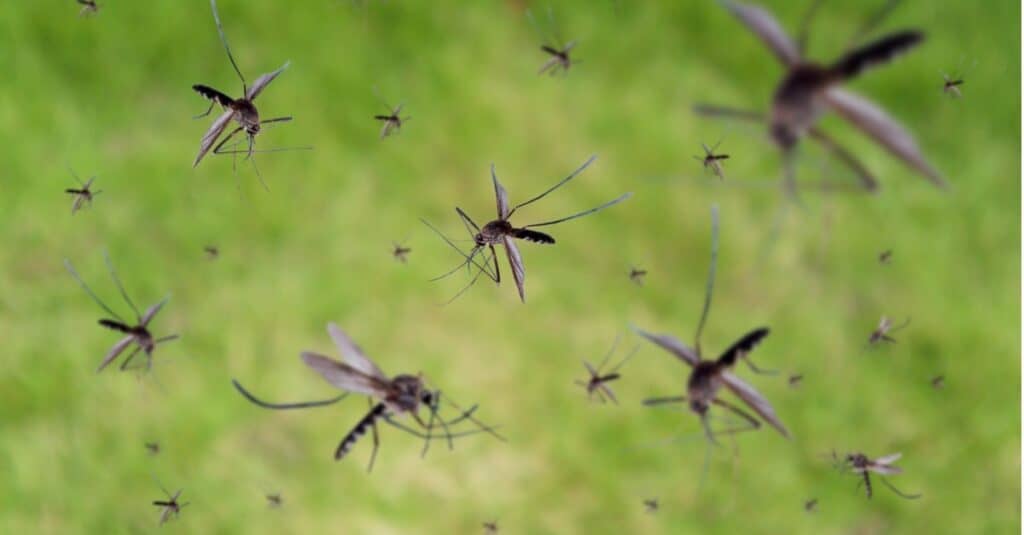 Diseases Transmitted by Mosquitoes
Most people know that mosquitoes transmit many diseases. While their bites can be irritating, their ability to transmit diseases allows them to significantly impact human health. They can transmit some of the deadliest diseases in human history.
Viruses, bacteria, and parasites can cause these diseases. They're passed between infected and uninfected people when a mosquito bites them, spreading the disease further than it would otherwise.
Malaria
Malaria is one of the deadliest mosquito-borne diseases. It's caused by a parasite transferred to humans through the bite of an infected Anopheles mosquito. This disease is found mostly in sub-Saharan Africa and affects millions of people. It may even be responsible for hundreds of thousands of deaths each year.
Symptoms often include chills, fever, and flu-like illness.
Dengue Fever
This viral disease is transmitted to humans by Aedes mosquitoes. It's mostly found in tropical and subtropical areas, where it can pose a significant health problem. There are about 390 million cases each year, but many may go unreported in lower-income areas.
Symptoms may include high fever, severe headache, joint and muscle pain, and rash.
Zika Virus
The Zika virus has been around for a long time and is transmitted by Aedes mosquitoes. It gained global attention in 2015-2016 due to a large outbreak in South America that spread to other parts of the world.
Most people with this disease don't display any symptoms, and it is considered almost completely harmless to most people. However, the virus can cause serious birth defects if the mother is infected during pregnancy.
West Nile Virus
The West Nile Virus is transmitted to humans by infected mosquitoes. Any species can technically carry it, but the Culex species primarily transmits it.
Most people with West Nile Virus don't have symptoms and recover without knowing they have it. However, it can cause severe neurological damage and death in some cases.
Yellow Fever
Yellow fever is a viral disease transmitted through the Aedes and Haemagogus mosquito species. It can be a serious health problem in the tropical regions of the world, where it is primarily transmitted.
Luckily, there is a vaccination for yellow fever.
On top of these diseases, several others can be transmitted via mosquitoes, such as chikungunya and Japanese encephalitis.
Alternatives to Mosquitoes
Mosquitoes play many roles in the environment, as we have already found. Indeed, some of these roles could potentially be replaced by insects, as has happened throughout much of history.
If mosquitoes were to go extinct, other insects would likely fill their role in the food chain. However, it is difficult to predict exactly how this would play out and the overall impact.
A slow extinction would give animals time to adapt and find a new food source. A quick extinction likely would lead to the extinction of other species, as they wouldn't have the time to adapt. Some species may even benefit from the extinction of mosquitoes, but this may also damage other species.
It'd be a giant ripple effect, which is hard to predict. For example, bats that rely heavily on mosquitoes as a food source may struggle to find enough food to survive. If the bats died off, this would affect other animals that depended on the bat for food, and other insect populations might increase as the bats disappeared as natural predators.
It is worth noting that the elimination of mosquitoes would not necessarily result in a complete loss of insect biomass. Many other insects play important roles in ecosystems, and these insects could potentially fill the niche left by mosquitoes. For instance, while mosquitoes are pollinators, there isn't any proof that other pollinating insects wouldn't move to pollinate the plants mosquitoes do.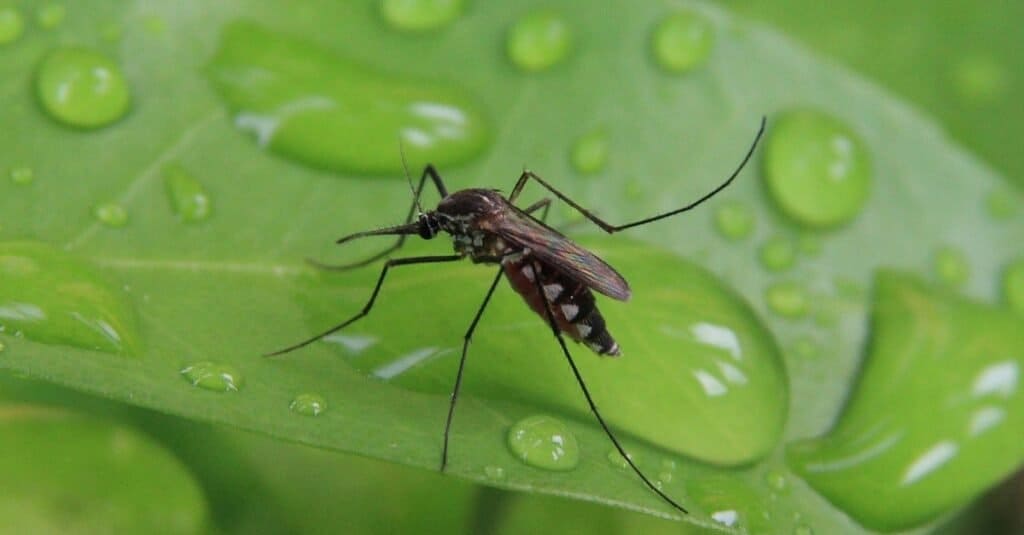 Environmental Impact of Mosquito Extinction
While eliminating mosquito-borne illnesses would be a boon for humanity, eliminating mosquitoes could cause other problems. There are several potential environmental impacts:
Disruption of Food Chains
Mosquitoes act as food for many different species, including birds, bats, and aquatic animals. Without the mosquitoes, many animals could decline due to a lack of food. Fish populations could be impacted, as many fish species rely on mosquito larvae as a food source.
Bats that rely largely on mosquitoes for food may also decline or even go extinct if mosquitoes did.
Ecosystem Changes
Because mosquitoes play so many roles in the ecosystem, their elimination could cause many changes – not all of them good. For example, mosquito larvae help to break down organic matter in aquatic environments, and their elimination could impact the nutrient cycles in these ecosystems.
Furthermore, mosquitoes pollinate several different plants. These plants may be pollinated less if they were extinct, impacting their reproductive success.
Impacts on Predator-Prey Relationships
Mosquitoes play a central role in the food chain. If they went extinct, it could lead to ripples throughout the whole chain, resulting in several changes. Some predators may find themselves with more or less food. Prey may find themselves contending with more predators – or without any predators at all.
All of these changes could result in varying populations for many animals.
Unknown Consequences
Nature is extremely complicated. We don't know exactly how certain things work or how things are related. If mosquitoes suddenly disappeared, there would probably be many effects we don't understand today.
There is a possibility that some of these changes would be good for mankind. However, many of them may be bad. Therefore, it is often best not to change nature unless necessary.
Conclusion: To Kill or Not to Kill?
So, there you have it, folks, the potential consequences of a world without mosquitoes. While the idea of a mosquito-free world may sound appealing, it's important to remember that every species plays a unique and important role in our ecosystem.
Eliminating mosquito-borne illnesses like malaria and Zika sounds promising and would be a major win for humanity. However, the potential environmental consequences of eliminating mosquitoes are far-reaching and poorly understood.
So, what's the verdict? To kill or not to kill? Well, the answer isn't black and white. It's up to each of us to weigh the potential benefits and consequences and decide what kind of world we want to live in.
I can't help but think about all the warm summer nights spent swatting at pesky mosquitoes and how they always seem to find that one spot you missed with the bug spray. But I also know that every species has a purpose, and our actions have far-reaching consequences.
---
The Featured Image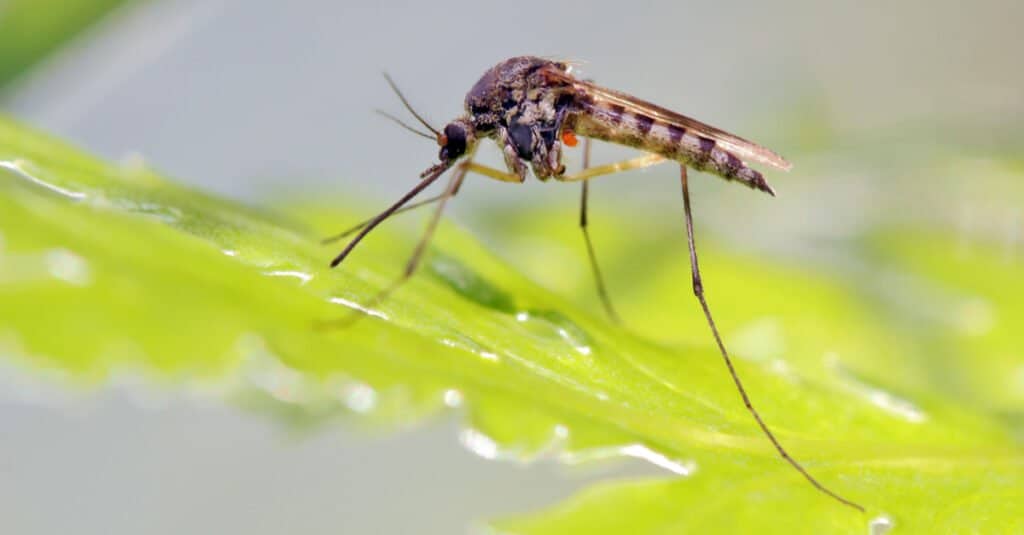 ---