A tusk is a long, pointed, and often curved ivory tooth that protrudes from the mouth of certain animals, such as elephants, walruses, narwhals, and wild boars. Tusks are typically used by animals for defense, foraging, digging, and sometimes even as weapons during battles. In some cultures, tusks are highly valued for their ornamental and practical uses, such as in the creation of jewelry, carvings, and tools.
What Animals Have Tusks?
Only animals that are classified as mammals have tusks. However, the variety of species (of mammals) with tusks and the differences among the tusks themselves is incredibly diverse. Animals that have tusks are:
More Anmals With Tusks
Narwhal (Monodon monoceros): Male narwhals have a single long tusk that grows from the left side of their upper jaw. The tusk is actually a modified incisor and can grow up to 10 feet (3 m) long. The function of this long incisor is not completely understood, but it is believed to play a role in mating rituals and in sensing the environment.
Walrus (Odobenus): Male walruses have larger elongated canine teeth than females. These elongated canine teeth can grow up to 3.25 feet (1 m) long and are used for fighting and climbing out of the water onto the ice.
Wild boar (Sus scrofa): Both male and female wild boars have tusks, which are elongated canine teeth. The tusks are used for defense and to establish dominance within the herd. In males, the tusks can grow to 10 inches (25 cm) long.
Still More Animals With Tusks
What are Tusks Made of?
In animals that have long, protruding teeth, such as elephants, walruses, and narwhals, the elongated teeth are composed of layers of dentin that are covered by a hard outer layer of enamel or cementum. The composition of these teeth is very similar to the composition of all mammalian teeth, including humans. The tusks of these animals, however, are referred to as ivory. Ivory is often prized for its beauty, durability, and workability, and has been used for centuries in the production of decorative objects, jewelry, and musical instruments.
The trade and sale of ivory are behind the poaching and illegal hunting of elephants and other animals, leading to significant declines in their populations and threatening their survival. As a result, many countries have banned or strictly regulated the trade of ivory in an effort to protect these species.
Do Tusks Grow Continusously?
Most tusks grow continuously throughout the life of the animal. The tusks of animals such as elephants, walruses, and narwhals, continue to grow throughout the animal's life. In these animals, the growth rate of the tusks may slow down as the animal ages, but they never stop growing entirely.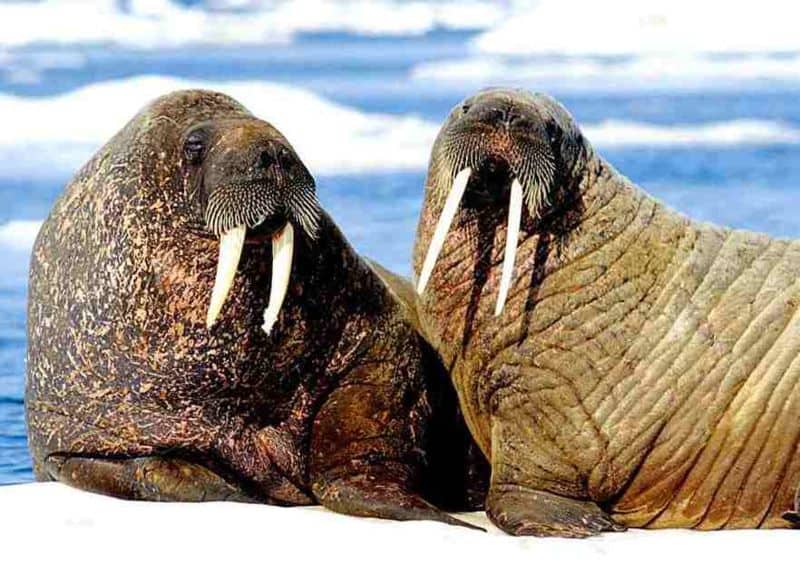 Superlatives
Longest: Narwhal
The animal with the longest tusk is the narwhal, which is a type of whale. The narwhal has a single long tusk that grows from the left side of its upper jaw. It can grow up to 10 feet (3 m) long. The tusk is actually a modified incisor that protrudes through the narwhal's upper lip.
Heaviest: African Elephant
The African elephant has the heaviest tusks of any animal. The weight of an African elephant's tusks can vary greatly depending on the size and age of the elephant. The heaviest elephant tusk ever recorded weighed 265 pounds (120 kg)!
Smallest: Shrew
The shrew has the smallest tusks of any animal. Although shrews are small, insect-eating mammals that are not often thought of as having tusks, they do have tiny modified incisor teeth that can protrude from their mouths and resemble miniature tusks. The tusk-like teeth of shrews are only a few millimeters in length and are used for rooting around in soil and leaf litter in search of insects and other prey.
Most Expensve: African Elephant
The most expensive tusks that have been sold are those of African elephants, which are highly valued for their size and quality. As of 2022, African elephant tusks were valued at $3,300.00 US/pound. Given that elephant tusks weigh in excess of 200 pounds, one tusk can sell for nearly 1 million dollars. Though the international trade of ivory is now banned under the Convention on International Trade in Endangered Species of Wild Fauna and Flora (CITES) to protect elephants and other species from poaching and illegal trafficking, ivory continues to be sold on the black market at illegal auctions, the profits from which have been linked to criminal activity and the funding of armed conflicts.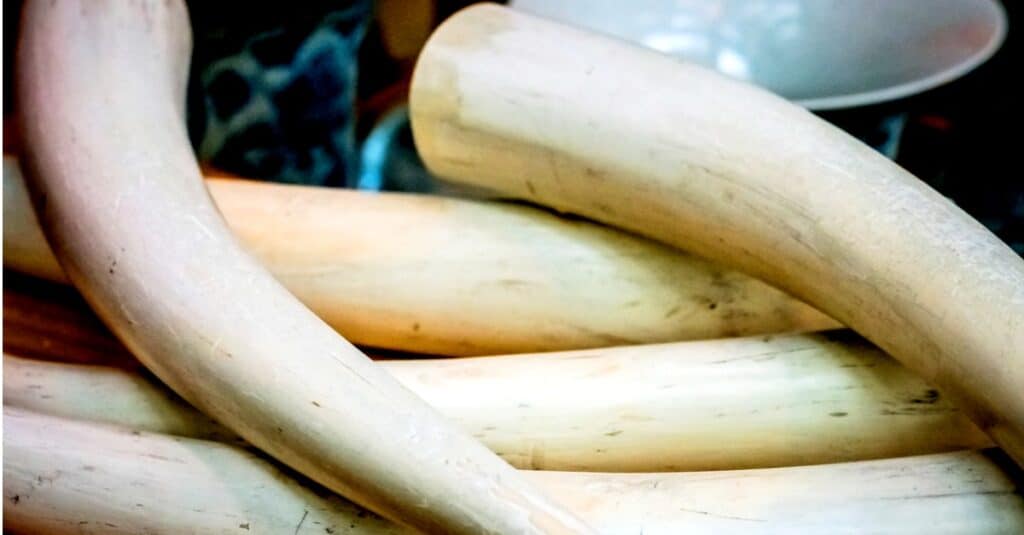 How is Ivory Used?
Ivory has been used throughout history due to its beauty, durability, and rarity. It has been used for centuries to create religious and ceremonial objects, such as statues, figurines, and icons. Ivory has been used to create intricate and decorative jewelry, like bracelets, necklaces, broaches, and earrings. Various components of musical instruments, including piano keys, guitar picks, and violin bows, all have elements of ivory.
Ivory has been used to create ornate carvings and sculptures, ranging from small figurines to large-scale works of art. Handles for knives, daggers, and swords have long been fashioned from ivory. Chess sets, backgammon pieces, and dominoes are often constructed from ivory. Ivory is often used as an ornament or embellishment on a variety of items, including canes, walking sticks, and umbrellas handles. While the wholesale trade of ivory is no longer legal, it is still legal to possess /sell/trade ivory in most U.S. states with exception to California, New Jersy, New York, and Washington which have laws restricting the sale, trade, and possession of ivory.
---