On March 21, 2023, Hayden Lake in northern Idaho produced a new state record northern pike (Esox lucius). This monster pike weighed 40.76 pounds, and measured 49 inches long with a 26.5-inch girth!
Hayden Lake
Hayden Lake is located in Kootenai County. The lake is five miles northeast of Coeur d'Alene and about 16 miles from the Idaho/Washington border. This picturesque lake is surrounded on three sides by mountains that rise to 6,000 feet. These peaks are part of the Bitterroot Mountain Range. Much of the land is part of the 726,362-acre Coeur d'Alene National Forest.
Fun fact: Hayden Lake is so lovely that Bing Crosby chose to build his summer home on the northwestern shore of the lake in 1955. The house was featured on the cover of The American Home in the mid-1950s. The Bing Crosby home is still on Hayden Lake today and is available for rental guests. Crosby loved fishing in Hayden Lake. With the monster fish swimming in these waters, it's no wonder!
The 3,800-acre lake has an irregular shape, which gives it around 40 miles of shoreline. There are sandy beaches for swimming, as well as three boat ramps to access the lake.
Hayden Lake has an average depth of 100 feet, with a maximum depth of 185 feet. The exceptionally clear waters of this lake are teeming with game fish, including bass (largemouth and smallmouth), bullhead catfish, kokanee salmon, yellow perch, rainbow trout, sunfish (such as bluegill and pumpkinseed), and white crappie. But the game fish that had all of Idaho talking in March 2023 was the northern pike.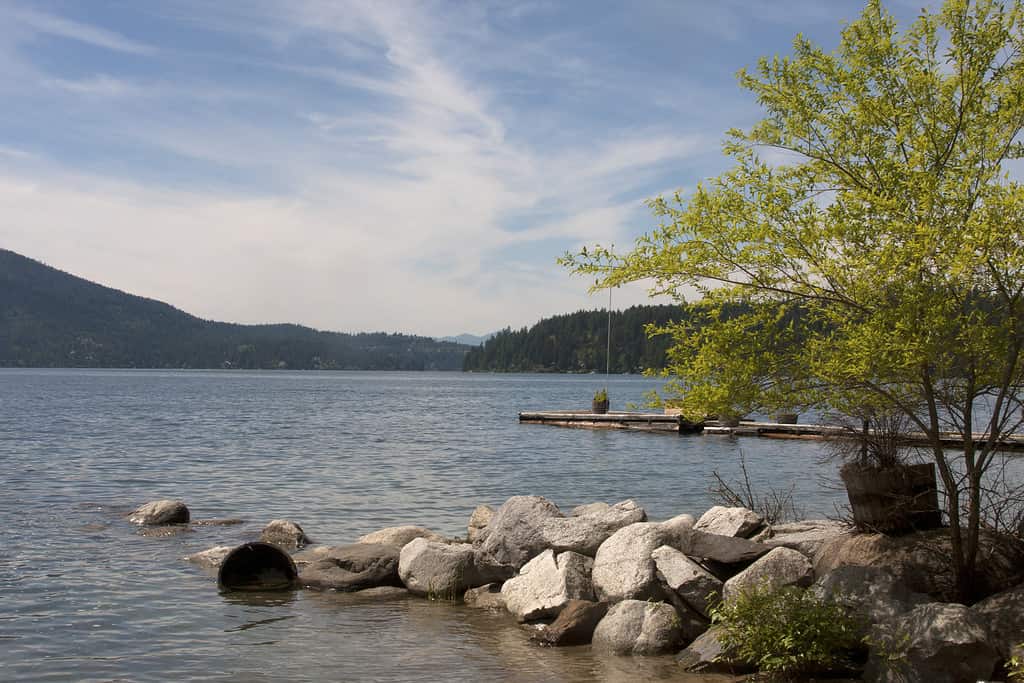 Where Is Hayden Lake Located on a Map?
Hayden Lake is located 23.3 miles north of Harrison Slough, a large lake to the south. You can reach it following a 34-minute drive on US 95 or a bicycle ride of 2 hours and 11 minutes.
A Record-Setting Catch
Thomas Francis was fishing for northern pike on that early spring day, just like he does virtually every day. When northern Idaho lakes thaw in the spring, Francis starts casting lines for pike, and he doesn't stop until the lakes refreeze in the winter. On this particular March day, he was targeting the northern pike of Hayden Lake.
The lake was not completely ice-free, so Francis could not cast all the way to the shore from his boat. Instead, he would drop his lure into the water right at the edge of the ice. On the cast that would end as a state record, Francis placed the lure at the ice's edge and let it sink to the bottom of the lake.
In his remarks reported by Idaho Fish and Game (IDFG), Francis said, "As soon as my lure hit the bottom, I felt her hit. I fish with 80 pound-test line, and she almost immediately started peeling drag, a lot of it."
The experienced northern pike angler knew immediately that he had hooked into a big fish. He said, "She pinned herself to the bottom and just kept going, peeling drag the whole time. I knew that wasn't normal, and I could tell it was something special."
This fish was special, indeed. After a protracted fight with the fish hugging the bottom, the northern pike suddenly rocketed toward the surface. Francis remarked, "Suddenly, I got a slack line, as she was coming straight up from the bottom. She came flying out of the water, and it was obvious she was a huge fish."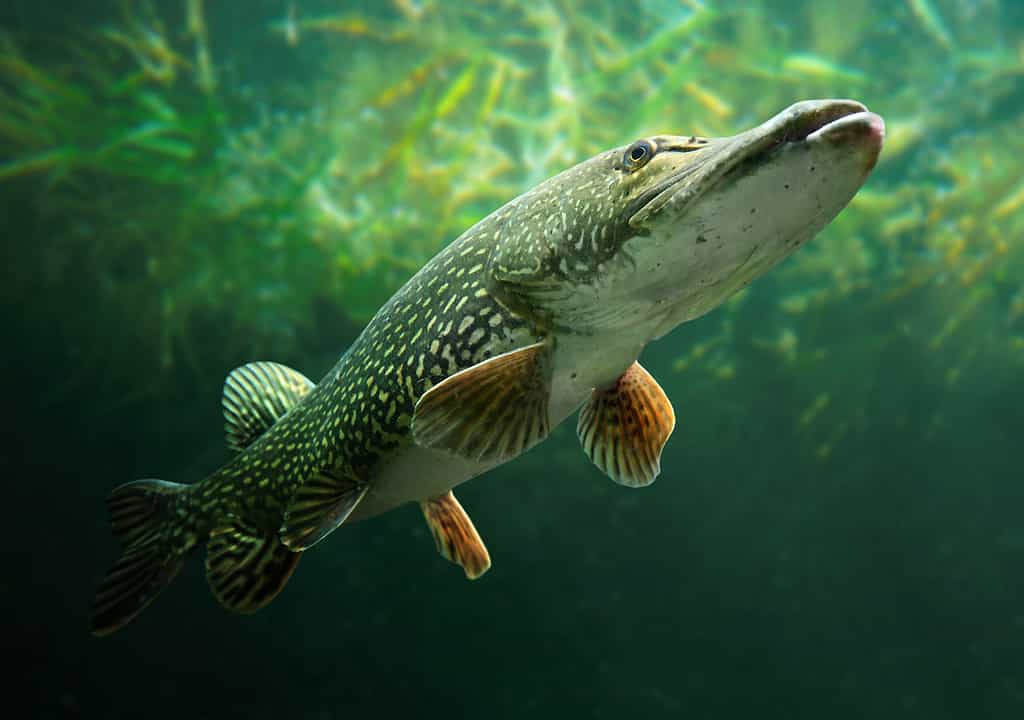 How to Weigh This Beast?
When Francis finally put this mammoth fish in the boat, he immediately fired up his outboard motor and headed for the shore. He needed to find a scale that could weigh this monster northern pike.
He found a boat with a scale that would register up to 30 pounds. This fish pegged that scale, so he had to find an even bigger scale.
It required a bit of a search to find a scale that could accurately weigh the fish. In the end, the weight was recorded and certified with IDFG. This northern pike weighed 40.76 pounds, landing Francis in the Idaho record book. The fish bested the previous northern pike record of 40.13 pounds. The former record pike also came from northern Idaho waters. It was caught on Lower Twin Lake in 2010.
Hayden Lake, which produced the new state record northern pike, is no stranger to huge fish. A previous northern pike record was tied by a fish caught in Hayden Lake in 2002. That pike weighed 38.56 pounds. There are certainly some monster pikes swimming in Hayden Lake!
Northern Pike
The northern pike is a fierce freshwater predatory fish. The yellowish-green fish features a long, slender body with spots and stripes. Like a fingerprint, the mottled pattern is unique to each individual fish.
The fish has a broad, flat mouth with a resemblance to a duck's bill. But unlike a duck, the pike's mouth is filled with sharp teeth This apex predator mostly preys on other fish, but it also eats frogs, waterfowl, and even small mammals. The northern pike is found throughout the northern hemisphere, with the highest populations in Canada and the United States.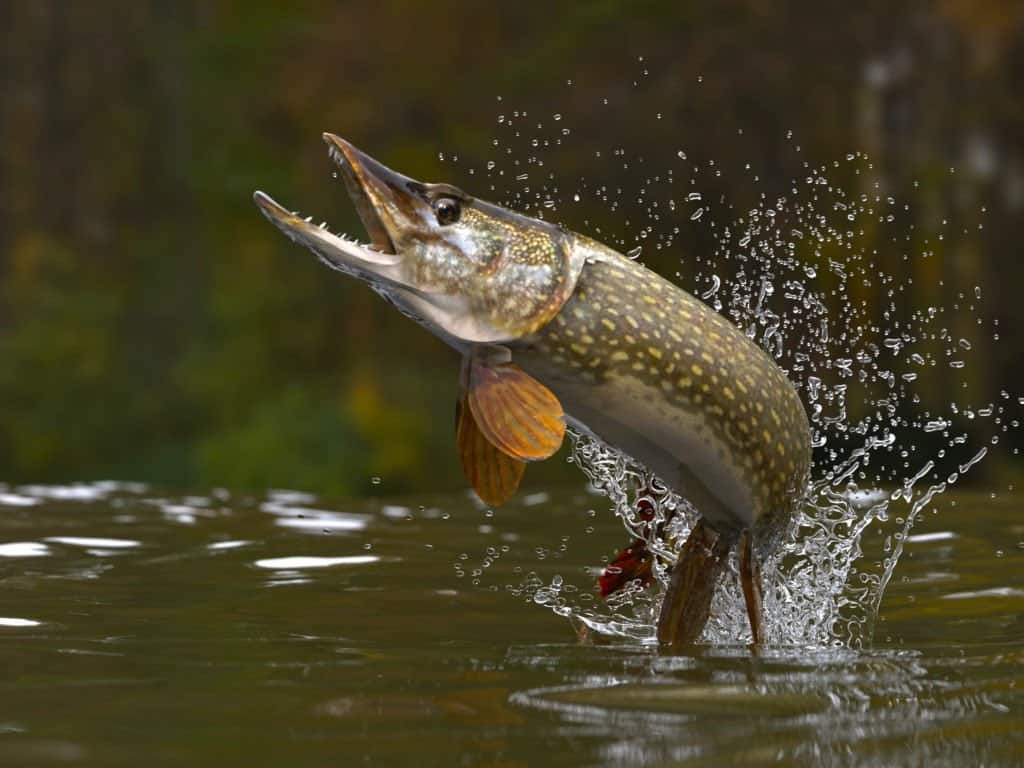 Northern Pike in Northern Idaho
Despite their wide range, northern pikes are not native to lakes in northern sections of Idaho. These fish were illegally released in Lake Coeur d'Alene in the 1970s. Since then, they have also been introduced to other fisheries in five northern Idaho counties.
As noted above, northern pike are predatory fish. When introduced into a non-native ecosystem, they can wreak havoc on native fish populations. Non-native pikes have done just that in Lake Coeur d'Alene, preying on native cutthroat trout. IDFG conducts gill netting operations to reduce the number of northern pike in north Idaho waters.
Other states have experienced similar issues with the illegal introduction of non-native northern pike, including Alaska, Arizona, Colorado, Montana, Washington, and Wyoming. The introduction of non-native northern pike is illegal and destructive to the ecology of the fishery. Never transport fish to new water without approval from your local fish and game department!
The Irony of This Illegal Idaho Fish
The northern pike is classified as a game fish in Idaho. The lakes where northern pikes have been illegally introduced have ironically become some of the state's most popular fisheries. In a seeming contradiction, this non-native fish that has created an ecological problem has also been an economic positive. Large numbers of anglers, such as Thomas Francis, purchase state fishing licenses to target this aggressive, hard-fighting fish.
In the state's efforts to suppress the number of northern pike in its northern lakes, fishing for the species is unregulated. IDFG wants anglers to remove as many northern pike as possible from the state's waters, so there are no limits on pike harvests. Catch-and-release pike tournaments are prohibited.
When anglers harvest northern pike from these waters, it's a win-win. It reduces the number of these non-native predators in northern Idaho waters, which benefits the ecosystem. In return, the angler gets the thrill of fighting this uber-aggressive fish. Afterward, the angler can enjoy delicious and nutritious pike fillets for dinner. The fish features flakey white fillets with a light, sweet flavor.
Idaho anglers, grab your fishing rods and head out to the state's northern waters. Every northern pike you catch helps the fishery, and you will have a blast in the process. And who knows? You might just hook one that will land you in the record books.
The photo featured at the top of this post is © iStock.com/FedBul
---