Key Facts
Pit Bulls were originally bred in England in the 19th Century.
The American Pit Bull Terrier is the only breed with the term pit bull in its name.
Many dogs who aren't even related to pit bulls are confused with pit bulls often.
Pitbulls are crossbreeds of dogs that mix the features of a bulldog and a terrier. Originally bred in England in the 19th century, they were called Bull and Terriers. They were meant to herd animals, manage livestock and protect the farm. Unfortunately, some pit bulls were used for fighting, which has thankfully been banned. 
In the 20th century, pit bulls became popular as family dogs; for a good reason, they are highly social and loyal animals. Today we also see them used as K9 police dogs, therapy dogs, and service dogs. 
Even though the American Pit Bull Terrier is the only breed with the term pit bull in its name, many other dogs are loosely described as pit bulls. Most dogs who look like pit bulls are mixed-breed dogs of varying ancestry. Many dogs who aren't even related to pit bulls are confused with pit bulls often. We will mention a few of them here as well. Here are some of the cutest pit bulls! 
American Pit Bull Terrier
The American pit bull terrier is a muscular and active dog known for its agility. These dogs are also super cute! They are medium-sized with solid bodies and short coats. They have a short tail that is pointed at the end. 
Historically, American pit bull terriers have been bred for about 150 years. In England, breeders began mixing bulldogs and terriers, trying to create a dog with the agility of a terrier and strength of a bulldog. When they came to America, farm and ranch owners fell in love with them for hunting and driving livestock. The United Kennel Club first registered them in 1898.
American pit bull terriers are special animals with a zest for life. They love to please their humans and make excellent companion animals. They especially love children and take to socializing easily, as they are naturally friendly dogs. Aggressiveness toward humans is not their normal behavior, so they make terrible guard dogs. A generally healthy breed that may have common conditions like hip dysplasia and allergies, their life expectancy is between 12 to 14 years.
American Staffordshire Terrier
Fans of the American Staffordshire terrier have nicknamed them AmStaffs. These cute dogs are smart and confident. They come in many colors and patterns, with a short coat and a medium-length pointy tail. 
The full history of the American Staffordshire terrier is often difficult to ascertain, as it is constantly in dispute. We know several varieties of bull and terrier mixes came from Britain in the mid-19th century. Some for farming and hunting and some for dog fighting. Breeders chose the name because the breed is believed to be from Staffordshire, England, although various sources disagree with this claim. 
What we know for sure is that AmStaffs are muscular and highly aware of their surroundings. They are loyal and trustworthy and make good-natured companion animals. Their life expectancy is between 12-16 years with excellent care. 
Staffordshire Bull Terrier
This super cute pit bull is muscular and courageous. These dogs are wonderful playful companions and are especially fond of children. They are on the shorter side, about 16 inches high, and live to around 12 to 14 years of age.
They originated from Staffordshire in the 19th century and were first recognized as their own breed by the Kennel Club of Great Britain in 1935. 
 Nicknamed Staffies, these cute dogs are all heart and patience. Highly social, they take to training well. They are family dogs and love nothing more than to be in a houseful of happy people who want to play. They have a strong desire to please their companions and make excellent pets. 
American Bully
The American bully is an extension of the American pit bull terrier. It is natural when different types evolve from the parent breed and take on their own characteristics. The American bully takes on features of the American Bulldog, but also the English bulldog and Olde English Bulldogge. It has been its own breed, recognized by the United Kennel Club, since 2013. 
American bullies are known for their compact structure and athletic appearance. This breed has several sizes, from 17 to 21 inches tall. They have smooth, short coats in many colors and patterns. They are exuberant animals that are playful and funny. 
American bullies are very trainable dogs and love to play sports, especially those that involve pulling or chasing. They are also lapdogs and like snuggling on the couch with their companions. They have an average lifespan of 8 to 12 years but some may live longer.
Bullmastiff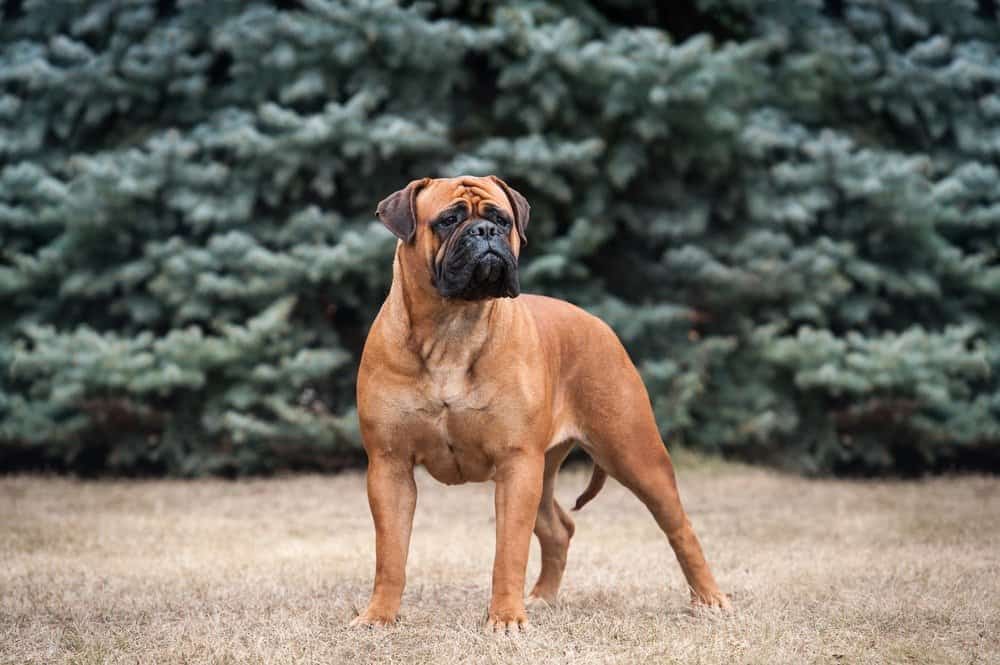 This cute dog is not a pit bull at all, but it often gets confused as one because of its size and having the word bull in its name. They are not classified as a pitbull-type breed by any organization, but they occasionally get mixed in with the bunch. 
Bullmastiffs are much larger than any pit bull, coming in at 27 inches tall and weighing over 100 pounds. Their color variety isn't as extensive as the pit bull family, with only fawn, red, and a few brindle variations of these colors to offer. They are more docile than pit bulls, leaning on the lazy side. They are reliable, trainable, make intelligent and confident companions, and live to about 8 to 10 years of age. 
Dogo Argentino
Dogo Argentino is another cute dog often mistaken for a pit bull. Dogo Argentino is quite a bit taller (27 inches) and heavier (80-100 pounds) than a pit bull. They were bred as pack-hunting dogs to catch wild animals like boar and puma. They are fast and strong, and highly intelligent. 
Unlike pit bulls, Dogo Argentino comes in only white, sometimes with small darker patches on their heads. They are known for being full of energy, and they love to run. With an average life expectancy of 10-15 years, this energetic dog will be around to guard the family for quite a few years.
American Bulldog
American Bulldogs are often mistaken for pit bulls, which is understandable as they are relatives. The American bulldog descends from the English bulldog; both dogs are famous for being working dogs on the farm. Interestingly the American bulldog wasn't given its name because it looked a certain way but because it did genuine bulldog work, like its predecessor. 
American bulldogs are social and fully alive. They are most at ease living with a family and form very strong bonds with their companions. Anyone who lives with an American bulldog will tell you that they want every minute of your attention, time, and affection. They are definitely not the type of dog you can leave alone in the house all day, as they suffer terribly from boredom. You will be rewarded for your efforts with unconditional love and snuggles. Like many bull breeds, they have a relatively average life length, which can be anywhere from a short 10 to a longer 15 years.
Cane Corso
Cane Corso is very cute, but it is not a pitbull, either. Cane Corso is much taller than any pitbull, coming in at a whopping 28 inches tall and up to 100 pounds. They are strong, muscular dogs that were bred for hunting large game animals and herding livestock on the farm. As a large dog breed, the lifespan of this dog averages to about 9.5 years.
Cane Corso is closely related to the Neapolitan Mastiff. Highly intelligent, they are known for being loyal to their companions and often outsmart humans. They are willful, have their own agenda, and require early socialization and training. The extra effort is worth the work as they are highly entertaining companions. 
Five Fun Pit Bull Facts
Pit Bull dogs are not known for aggression. In temperance tests, they are second only to Golden Retrievers in their tolerance and obedience. Non-aggression was specifically bred into the breed. Dachshunds, chihuahuas, and Jack Russell terriers all tested higher in aggression toward humans than pit bull breeds.
Pit bulls are not good guard dogs because they are too friendly. 
Pit bulls do not have locking jaws. This myth has been busted.
Pit bulls used to be called nanny dogs because they are so good with kids. 
Pit bulls can smile! Any pit bull owner will tell you that their dogs are constantly grinning.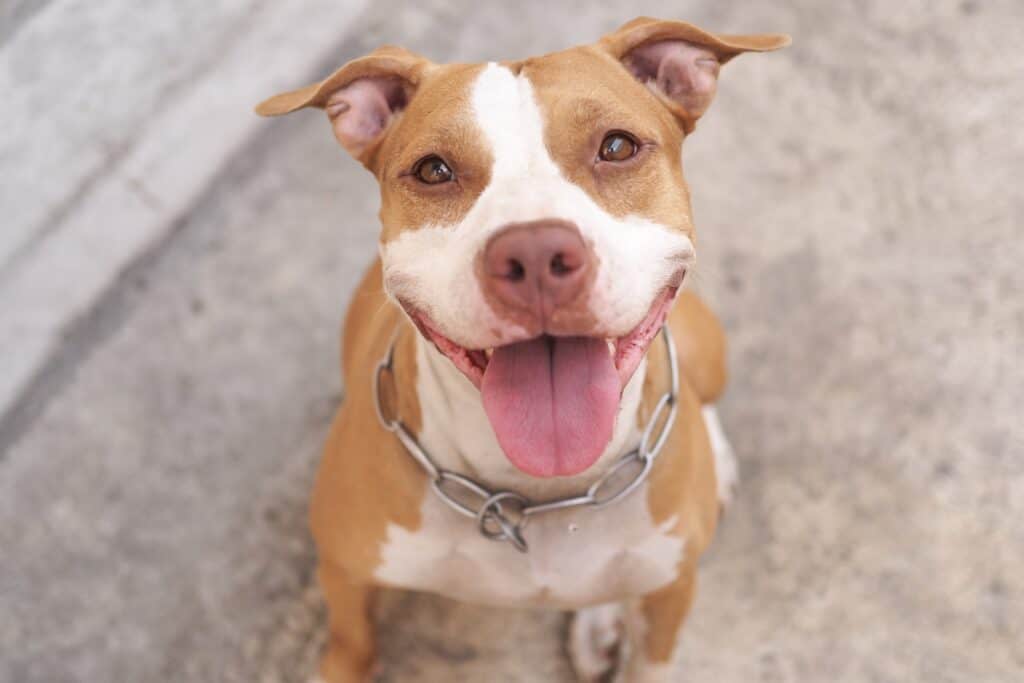 Famous Bull Breeds
One of the most famous pit bulls that most people know and love is Petey from The Little Rascals. His real name was Pal and his trademark black eye was added with makeup. Here are a few more famous pit bulls:
Bullseye, the Target dog is a bull terrier.
Sergeant Stubby, the most decorated dog of World War I.
Champion, the 3-legged pit bull, who starred on Parks and Recreation.
Ready to discover the top 10 cutest dog breeds in the entire world?
How about the fastest dogs, the largest dogs and those that are -- quite frankly -- just the kindest dogs on the planet? Each day, AZ Animals sends out lists just like this to our thousands of email subscribers. And the best part? It's FREE. Join today by entering your email below.
---
The Featured Image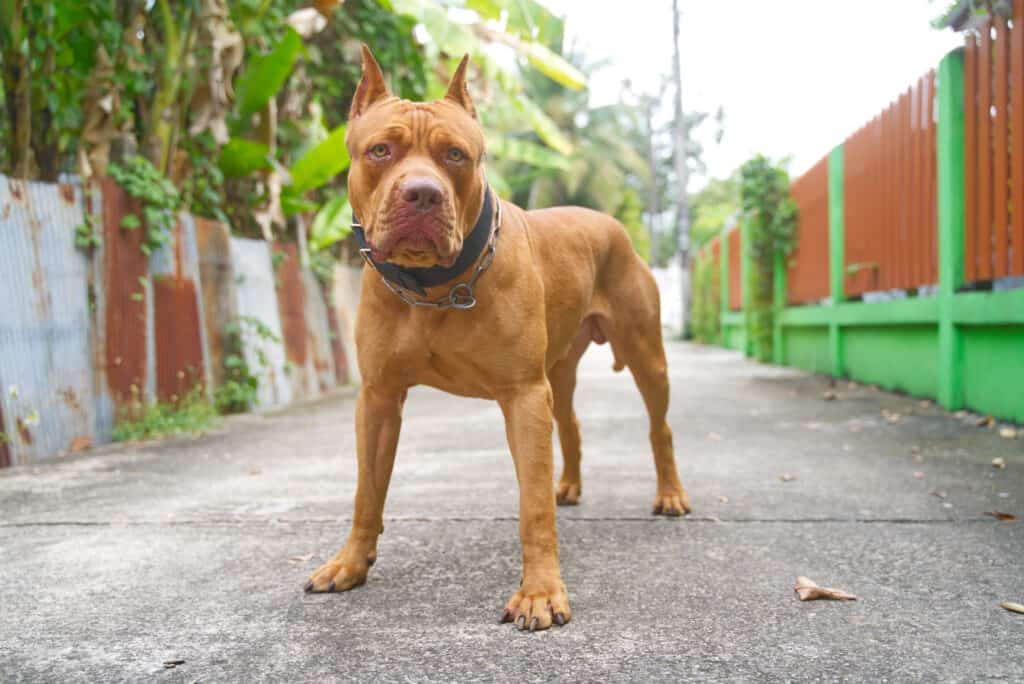 ---
Sources

ScienceDirect, Available here: https://www.sciencedirect.com/science/article/abs/pii/S0168159108001147
Informa UK Limited, Available here: https://www.tandfonline.com/doi/abs/10.1080/10888705.2014.895904
ScienceDirect, Available here: https://www.sciencedirect.com/science/article/pii/S2211124717304564
Woods Scholars, Available here: https://scholars.smwc.edu/handle/20.500.12770/149
HeinOnline, Available here: https://heinonline.org/hol-cgi-bin/get_pdf.cgi?handle=hein.journals/janimlaw5&section=5
Pitbullinfo.org & PitbullHero.org, Available here: https://www.pitbullinfo.org/pit-bulls-mixed-breed-dogs.html