North America is home to many lakes, ranging from a few thousand to millions of acres. Apart from the tens of thousands of lakes nestled within the continent, North America is also home to the largest freshwater system in the world — the Great Lakes. The North American Great Lakes are the five largest lakes in the continent that take up 10% of the world's freshwater.
In the United States alone, there are plenty of lakes worth noting. Some are vast, others are insanely clear and picturesque, while others are incredibly deep. North America holds the highest number of lakes globally (most of them are freshwater lakes), and several have pretty impressive volume and surface area. Although many of these lakes are worth noting, this article will list the 14 biggest lakes in North America and their fascinating facts.
The Biggest Lakes in North America
14. Lake Nipigon
Lake Nipigon, one of North America's largest lakes, has a total surface area of 1,872 square miles or 4,848 square kilometers and has its deepest point at 540 feet or 165 meters. Because much of the lake is untamed and underdeveloped, it contains one of its most exquisite cold-water fisheries. Superior Country's crown jewel is Lake Nipigon, the largest lake fully inside the limits of the Canadian province of Ontario. Lake Nipigon is also part of the Great Lakes drainage basin.
13. Nettilling Lake
Another exclusive Canadian lake makes it to our list. Nettilling Lake is a chilly freshwater lake in Canada with a total surface area of 1,956 square miles or 5,066 square kilometers. Numerous minor lakes and streams feed Nettilling, Nunavut's largest lake. Its eastern half is littered with several islands and comprises three bays (Mirage, Camsell, and Burwash). Only three kinds of fish have been reported in its waters, which are ice-covered for most of the year.
12. Lake Winnipegosis
Between Lake Winnipeg and the Saskatchewan border lies Lake Winnipegosis, a vast lake in western Manitoba, Canada. The 2,070 square mile (5,370 square kilometer) lake is fed from various small tributaries on the west and drains southeastward into Lake Manitoba and Lake Winnipeg. Although the lake's population of pike, walleye, sauger, and perch has been declining, significant efforts have been made to restore certain populations to average amounts.
11. Reindeer Lake
Located in western Canada, Reindeer Lake is one of North America's largest lakes by surface area, measuring 2,180 square miles (5,650 square kilometers). It is also the continent's 10th deepest lake, measuring up to 720 feet (220 meters) deep. The lake is an important place for Canada's fishing industry because it is one of its largest lakes. Its clean and deep waters are extremely popular with sport fishers.
10. Lake Athabasca
Lake Athabasca is a lake in Alberta, Canada, measuring 3,030 square miles or 7,850 square kilometers. It is one of the deepest lakes on the continent as well, with a maximum depth reaching 407 feet (124 meters). The lake is well-known for its excellent fishing and is economically important for commercial fisheries. Whitefish, lake trout, goldeye, walleye, yellow perch, and northern pike are some fish found in the area. The lake's north bank was also a major uranium and gold mining center.
9. Lake Nicaragua
Lake Nicaragua is a freshwater lake in Nicaragua known as Cocibolca or the "sweet sea." With 3,191 square miles (8,264 square kiolmeters), it is the largest lake in Central America and one of the world's largest tropical lakes, just slightly smaller than Lake Titicaca in Peru. Many people believe the lake was formerly an ocean bay transformed into an interior basin by a volcanic explosion. Bull sharks, tarpon, and swordfish were caught in the net, and they adapted to their new freshwater habitat. 
8. Lake Ontario
Lake Ontario is the smallest Great Lake in terms of surface area. It is shared by the province of Ontario and the state of New York. It is 7,340 square miles (18,960 square kilometers) in size. However, it still outnumbers its neighbor, Lake Erie, in terms of water volume, with 1,640 cubic kilometers (393 cubic miles) compared to 480 cubic kilometers (116 cubic miles) for the latter. Lake Ontario is one of the continent's deepest lakes, with a maximum depth of 802 feet or 244 meters.
7. Lake Winnipeg
Lake Winnipeg is a vast, shallow body of water in Manitoba, Canada. It covers an area of about 9,465 square miles (25,514 square kilometers) and has a maximum depth of only 118 feet (36 meters). It is most known for its gorgeous white sand beaches, which are quite popular with Manitoba residents throughout the summer. Lake Winnipeg is also home to many fish and several vital commercial fisheries.
6. Lake Erie
Lake Erie is the fourth-largest of the Great Lakes, stretching from the Canadian province of Ontario to the American states of Pennsylvania, Ohio, New York, and Michigan. Lake Erie covers a total area of 9,910 square miles (25,667 square kilometers). Although it is the shallowest of the Great Lakes, it is one of the deepest lakes in the United States. Lake Erie touches both the U.S and Canada and boasts a maximum depth of 210 feet (64 meters).
5. Great Slave Lake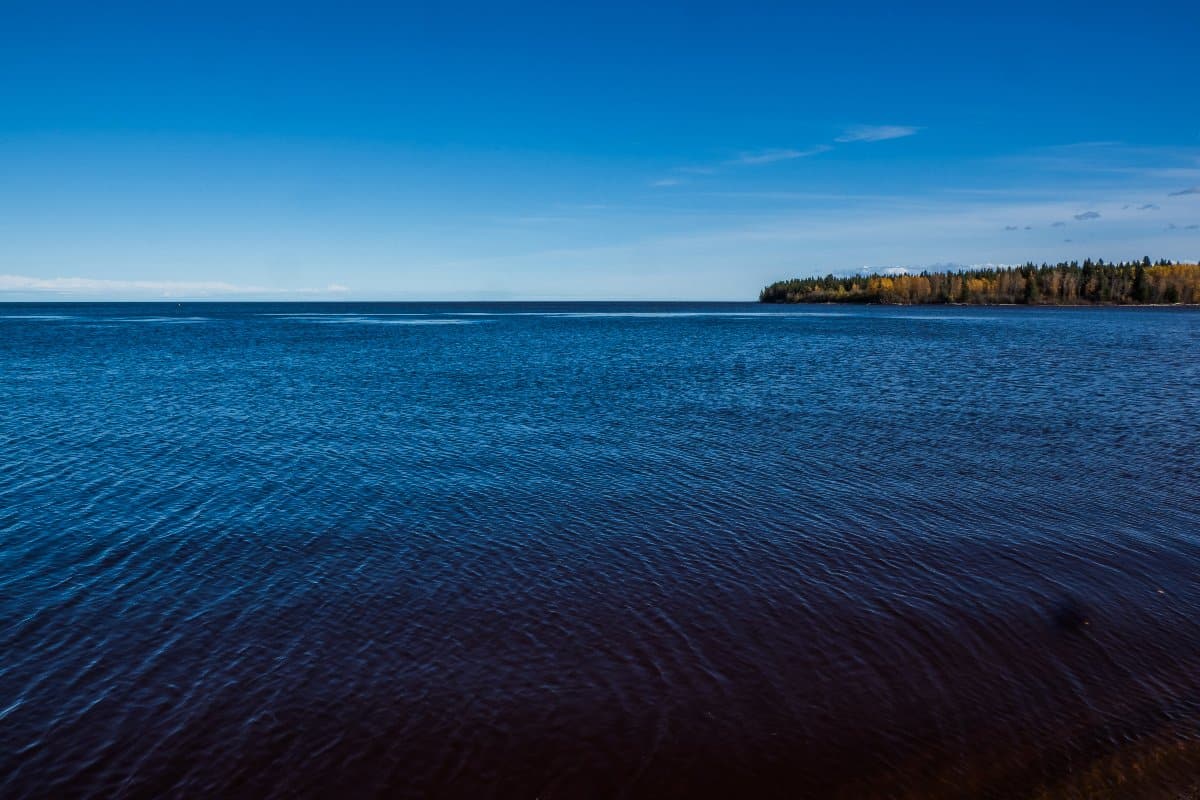 Great Slave Lake, located in Canada, is the deepest lake on the whole North American continent and the fifth-largest. It is also Canada's second-largest lake, with a surface area of 10,502 square miles (27,200 square kilometers). Moreover, the lake is the world's eighth deepest lake, reaching a maximum depth of 2,014 feet (614 meters). The Slave River, which empties its water into the Arctic Ocean via the Mackenzie River, is the lake's primary water source.
4. Great Bear Lake
Great Bear Lake is the fourth-largest lake in North America, with a total surface area of 12,028 square miles or 31,153 square kilometers. It is also the largest lake that is exclusively within Canada. The Great Bear Lake is one of the top 10 deepest lakes in North America, with a maximum depth of 1,463 feet (446 meters). Because of its uneven shape and numerous small islands, the Great Bear Lake is an ideal habitat for freshwater fish, including the rare speckled trout. One of its amazing inhabitants, the grizzly bear, is named after it. It also has moose, musk-ox, fox, and wolverine, among other creatures.
3. Lake Michigan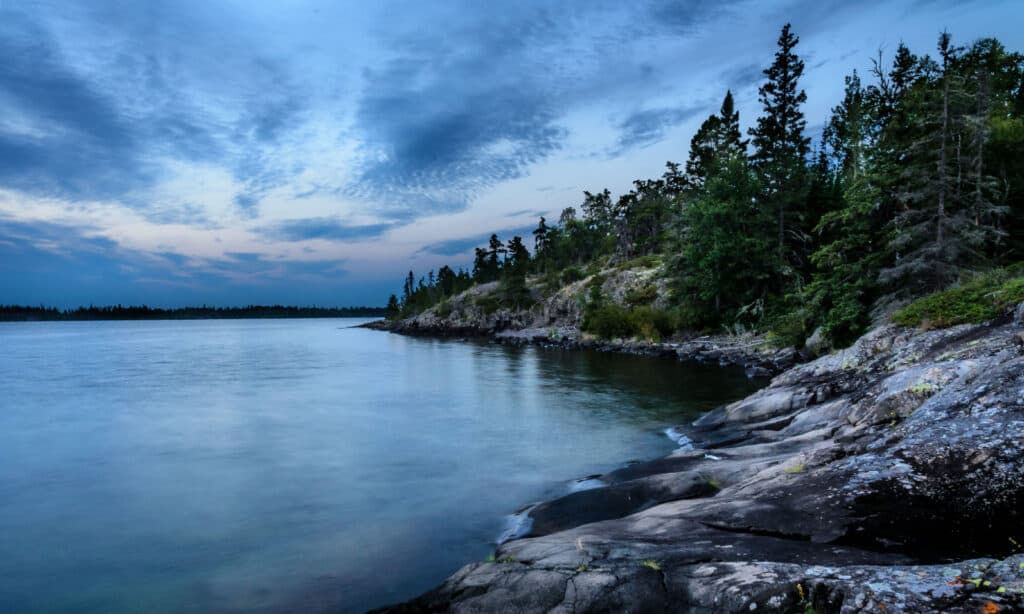 In terms of surface area, Lake Michigan is the third-largest of the Great Lakes, but it is one of the largest lakes in the United States and the third-largest on the continent. The lake extends 22,300 square miles (57,800 square kilometers) and is bordered and shared by four states: Michigan, Illinois, Indiana, and Wisconsin. Lake Michigan is the world's fifth-largest lake and one of the largest freshwater lakes. Water from many streams fills the lake to one quadrillion gallons of water or 1,200 cubic miles.
2. Lake Huron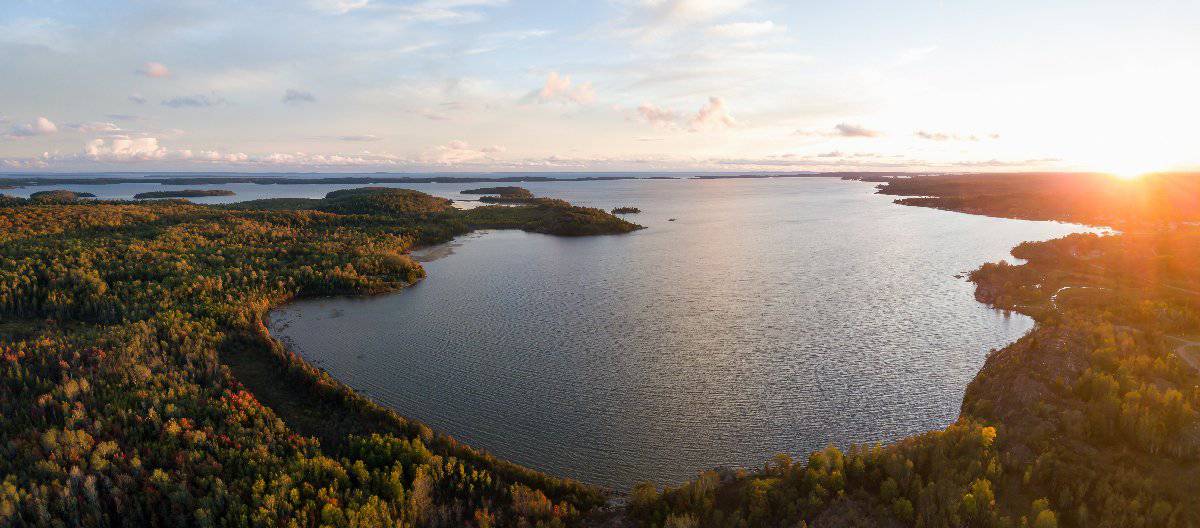 Lake Huron is part of the Lake Michigan–Huron basin and shares Lake Michigan's elevation of 577 feet (176 meters). The Channel of Mackinac, a 5-mile-wide, 120-foot-deep strait connects Lake Huron to Lake Michigan. The lake measures 23,007 square miles (59,588 square kilometers). Despite not being the largest Great Lake, Lake Huron has the longest shoreline, reaching 3,827 miles and containing 30,000 islands. Lake Huron is noted for its magnificent beauty and is the second-largest of the Great Lakes and the fourth-largest lake on the planet by surface area. There are wetlands, woods, beaches, dunes, and large river systems on Lake Huron.
1. Lake Superior
Without question (and as its name suggests), the largest lake in North America is Lake Superior. When it comes to surface area, Lake Superior is the largest of the five Great Lakes, covering 37,700 square miles (82,103 square kilometers). The lake extends from Ontario, Canada, to Wisconsin, Minnesota, and Michigan's Upper Peninsula in the United States. The term "Lake Superior" refers to the lake's massive size and location in the far north. 
Lake Superior is the second-largest lake in the world, behind the Caspian Sea. But since the Caspian Sea is a saline lake, Lake Superior still holds the title of the largest freshwater lake on the planet. It is deserving of its crown, as it contains 10% of the world's freshwater.
Summary of the 14 Biggest Lakes in North America
Here's a recap of the 14 largest lakes in North America ranked by total surface area:
| Rank | Lake | Size | Location |
| --- | --- | --- | --- |
| 1 | Lake Superior | 37,700 square miles | Canada and USA |
| 2 | Lake Huron | 23,007 square miles | USA |
| 3 | Lake Michigan | 22,300 square miles | USA |
| 4 | Great Bear Lake | 12,028 square miles | Canada |
| 5 | Great Slave Lake | 10,502 square miles | Canada |
| 6 | Lake Erie | 9,910 square miles | USA |
| 7 | Lake Winnipeg | 9,465 square miles | Canada |
| 8 | Lake Ontario | 7,340 square miles | Canada and USA |
| 9 | Lake Nicaragua | 3,191 square miles | Central America |
| 10 | Lake Athabasca | 3,030 square miles | Canada |
| 11 | Reindeer Lake | 2,180 square miles | Canada |
| 12 | Lake Winnipegosis | 2,070 square miles | Canada |
| 13 | Nettilling Lake | 1,956 square miles | Canada |
| 14 | Lake Nipigon | 1,872 square miles | Canada |
---
The Featured Image
---