The Golden State has built itself quite the reputation over the years, with its constant good weather and movie stars walking down the street. But California has another side to it, the oceanic side, and we will learn about the best aquariums in California to visit.
While on vacation in California, you can surely learn to surf and sip on some delicious wine, but you also should be interested in marine life. California is a long, beautiful stretch of coast with so much to explore.
The Colorado River crosses through California, as does the Sacramento River. This includes estuaries, where the tide meets the stream and has all sorts of unique life within them.
A few popular aquariums include:
Aquarium of the Bay
Aquarium of the Pacific
Monterey Bay Aquarium
Sea Life California
Santa Barbara Museum of Natural History Sea Center
Some of these aquariums are more scientific, and some are meant to be enjoyed with the whole family. We're going to dive right in and see what makes these the best to visit in California.
Aquarium of the Bay
| Aquarium of the Bay | |
| --- | --- |
| Location | PIER 39 The Embarcadero &, Beach St, San Francisco, CA 94133 |
| Animal to See | Moon Jellies |
| Known For | The first place to breed Pacific angelsharks |
The Aquarium of the Bay is focused on the San Francisco Bay and outlying areas extending up to the Sierra Mountains. More than 750,000 gallons of water make up the aquarium, and 24,000 animals fill it. This serves to bring to life the reality of the local waters this aquarium emulates.
Sea lions are of historical significance to the aquarium because one day, they just started showing up on the docks near Pier 39. Now, there are beautiful sculptures that mark their entry into our world.
The Aquarium of the Bay is also known as being the first place in the United States to successfully breed Pacific angelsharks. It holds more than fifty species of sharks within the waters.
Another fun exhibit this aquarium is known for is its moon jellies, bred in captivity. They also participate in local research studies, such as one in which they tagged a species of shark to help track and learn about. 
The four main exhibits are:
Discover the Bay
Under the Bay
Touch the Bay
North American River Otters
Within that, the sections are broken up into more specific areas where you can view different animals and habitats.
Aquarium of the Pacific
| Aquarium of the Pacific | |
| --- | --- |
| Location | 100 Aquarium Way, Long Beach, CA 90802 |
| Animal to See | Lorikeets |
| Known For | Earth-Friendly Garden |
More than 11,000 animals are available to be gawked at within the Aquarium of the Pacific. This aquarium holds 500 species to discover and is organized in a fun and unique way.
The setup is just different animals in different locations with specific conservation messages in each exhibit. There are many exhibits. These exhibits include:
Southern California & Baja Gallery
Northern Pacific Gallery
Tropical Pacific Gallery
Shark Lagoon
Lorikeet Forest
Explorer's Cove
June Keyes Penguin Habitat
Pacific Visions
There is also an Earth-Friendly Garden that makes up the front lawn of this aquarium. The garden is full of native plants important to California and is a great way to educate yourself on what is meant to grow in the Golden State.
Monterey Bay Aquarium
| Monterey Bay Aquarium | |
| --- | --- |
| Location | 886 Cannery Row, Monterey, CA 93940 |
| Animal to See | Sharks |
| Known For | First Kelp Forests |
Opened in 1984, the Monterey Bay Aquarium was the first of its kind to hold a kelp forest within its tanks. Like a coral reef, kelp forests grow their ecosystems in shallow water. The aquarium is also known for being the first to be able to care for a great white shark.
The Monterey Bay Aquarium focuses on regional marine life, meaning everything it holds is found locally, and lots of the educational structure concerns what occurs in Monterey Bay itself. There are a few huge galleries and many different exhibits. These include:
Into the Deep
Splash Zone and Penguins
Sandy Shores and Aviary
Rocky Shore
Open Sea
Monterey Bay Habitats
Life on the Bay
Kelp Forest
Giant Pacific Octopus
Tentacles
It is exciting to visit the Monterey Bay Aquarium because there are two floors and hundreds of animals to find. There is so much to see, some of which are sea otters, octopi, penguins, and sturgeon.
Sea Life California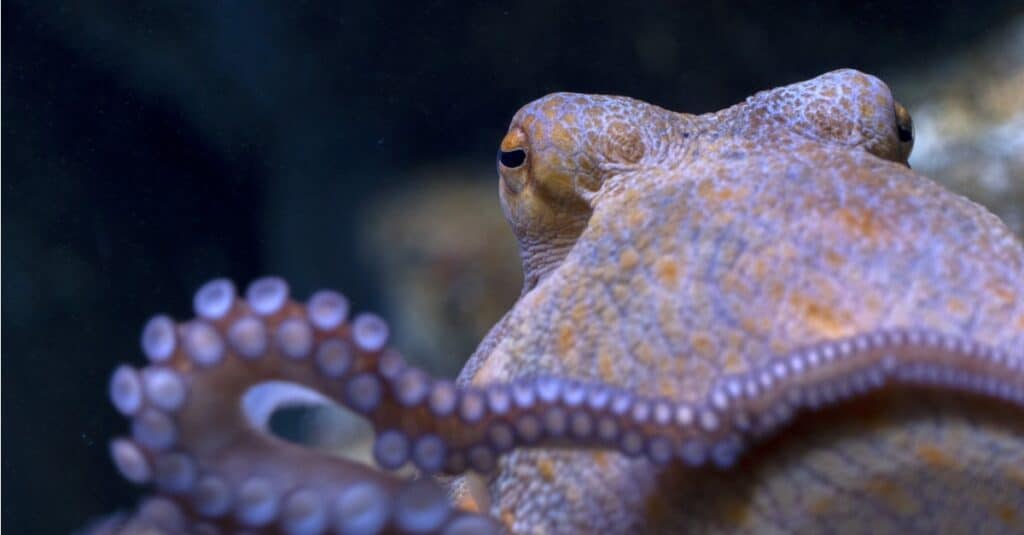 | Sea Life California | |
| --- | --- |
| Location | LEGOLAND California Resort, 1 Legoland Dr, Carlsbad, CA 92008 |
| Animal to See | Giant Pacific Octopus |
| Known For | Bioluminescent Night Stroll |
Sea Life California is a riveting aquarium located at the heart of the LEGOLAND California Resort. When visiting Sea Life California, check the feeding times of various undersea life or watch divers go through the tanks to help educate you on animals.
There is an exhibit where you can stroll through parts of the aquarium at night and get a whole different feel than during the day with bioluminescent activity. It is also possible to involve yourself with interactive touch pools and caress a stingray or touch a seastar.
Vacations are better than ever when you choose to stop by Sea Life California and spend the day amidst the beautiful marine life the world offers.
Santa Barbara Museum of Natural History Sea Center
| Santa Barbara Museum of Natural History Sea Center | |
| --- | --- |
| Location | 211 Stearns Wharf, Santa Barbara, CA 93101 |
| Animal to See | Seahorses |
| Known For | White Abalone Conservation |
Get to know animals from the Santa Barbara area and the conservation efforts targeted at the Santa Barbara Channel. There are two floors within the Santa Barbara Museum of Natural History Sea Center.
First opened in 1986, the Sea Center provides special educational shows and exhibits that showcase animals from the local waterways. They are also part of white abalone restoration helping to bring back the snail from extinction.
This aquarium is a great way to learn about the white abalone and other sea life integral to the area.
---
The Featured Image
---