Although lakes are among the most beautiful bodies of water, not all lakes possess the same life-giving properties as most. Lakes are supposed to provide numerous functions and benefits to humans and animals, but some lakes fail to do so because of pollution.
One of the world's most severe dangers to our environment, nature, wildlife, and biodiversity is pollution. Pollution does not only take away healthy habitats for wildlife, it also ruins future homes for humanity. It can take many forms: from simple fertilizer waste and agricultural runoff down to the uncontrollable rise of plastic use and radioactive waste.
Sadly, water bodies such as lakes and rivers are the worst damaged regions as various waste from factories and other industries often drains into them. Because local communities rely on these bodies of water for food, drinking water, and recreation, pollution can create a ripple effect. In this article, we will explore the 7 most polluted lakes in the world and what dangers they can bring.
The 7 Most Polluted Lakes In The World
7. Bellandur Lake, India
Bellandur Lake is a lake (or at least it used to be) in India. It sits in the suburban Bellandur, located southeast of Bengaluru City. The lake is the city's largest lake used for landing amphibious aircraft back when the place was still under British rule. However, when urbanization came, the lake became a part of the city's drainage system and is currently a highly polluted lake with sewage. The foam covering the lake's surface caught fire in May 2015 and burned for hours, garnering international attention. Since then, the lake has seen fire several times, most recently in January 2018 and March 2021.
A few decades ago, Bellandur Lake, one of Bengaluru's oldest and largest lakes, was the lifeline for the surrounding 18 villages. Residents of Bellandur village remember the good old days when the lake was full, and the area around it was fertile, which was until the 1970s. Due to untreated sewage water infiltrating the lake through different inlets, it has eventually become a sewage tank. The sewage intrusion into Bellandur Lake is caused by a faulty sewage infrastructure and a lack of effluent treatment plants to remove contaminants from small factories.
6. Potpeć Lake, Siberia
Potpeć Lake is a man-made reservoir in Siberia and was built to provide hydroelectric power. As heavy rain fell in January 2021, loads of floating trash and plastic garbage almost clogged the dam's outlets. Often known as 'The Lake of Garbage,' Potpeć Lake is now a vast expanse of plastic that stretches nearly as far as the eye can see. The waste is projected to span 706,293.33 cubic feet or 20,000 cubic meters, with the majority of it originating from landfills uphill along the Lim River.
Environmentalists have cautioned that most landfills are not properly maintained, allowing harmful chemicals to escape into rivers and threaten ecosystems and wildlife. The amount of plastic accumulated over many years now threatens to choke the dam's hydropower plant. Due to this, Serbian authorities have begun cleanup efforts, collecting up to 3,531.47 cubic feet or 100 cubic meters of plastic per day and dumping it in landfills.
5. Serra Pelada Lake, Brazil
The Serra Pelada Lake in Brazil isn't an actual lake at all. Instead, it's an old gold mine that's become abandoned and flooded. The mine, located 270 miles (430 kilometers) south of the Amazon River's mouth, has generated a small polluted lake. Large regions around the mine are considered dangerously contaminated due to mercury in the gold extraction process. Mercury levels in fish eaten downstream from the mine are also high.
4. Lake Victoria, Kenya/Tanzania/Uganda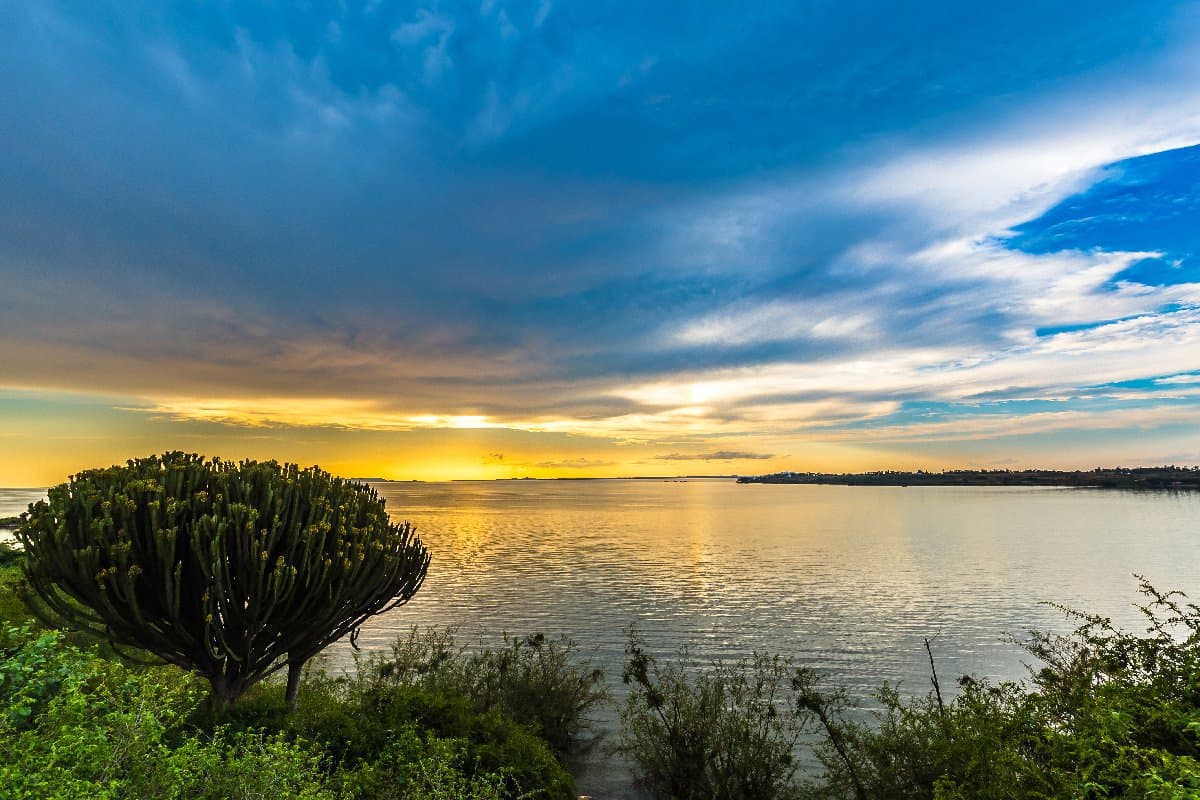 Lake Victoria is known worldwide as it is the largest tropical lake globally. It is also the largest lake in Africa and second to Lake Superior's surface area for the largest freshwater lakes. The Nile River is the only outlet for the lake, which receives the majority of its water from rainfall. Due to its vastness and extensive shoreline, which includes islands that make up 3.7 percent of the entire shoreline, the lake is home to various indigenous fish species. Despite Lake Victoria's popularity, it may surprise you that this African Great Lake is actually polluted. Its vast surface area and volume only made pollution prevention more difficult, primarily because three countries – Kenya, Tanzania, and Uganda share the lake. Thus, all three countries must take action and work together to reduce the lake's waste.
Lake Victoria has long been a favorite dumping area for domestic and industrial waste and is polluted by raw sewage, chemicals, and fertilizers. These contaminants degrade its water quality, which millions of people who live along the lake's shoreline rely on.
3. Lake Tai or Taihu Lake, China
Lake Tai is bordered by 'megacities' such as Suzhou, Wuxi, and Shanghai and is located in the Tai Basin's built-up area. Its location alone makes it the center of three huge cities, making it inevitable for Lake Tai to suffer from pollution. Lake Tai is China's third-largest freshwater lake, and it has been burdened by pollution in recent years due to the neighboring county's fast urbanization. While there is little information about the lake's contamination, many factories are on its banks, all of which are likely to dump waste materials into its waters. Despite the governments' apparent efforts to lessen the pollution levels, the situation appears to be worsening.
Rapid urbanization, population expansion, and overfishing are all apparent reasons behind eutrophication in the lake. It is a process in which the lake gets loaded with minerals and nutrients, resulting in water quality reduction. The decreasing water quality causes toxic algae blooms, providing the lake its green hue. The algal blooms were so harmful in 2007 that it was designated a public health emergency. Despite extremely high levels of pollution, the lake serves as a source of drinking water for millions of people.
2. Onondaga Lake, New York
Located in Central New York, Onondaga Lake is a dimictic lake with a surface area of 4.6 square miles. Two natural tributaries, namely Ninemile Creek and Onondaga Creek, contribute approximately 70% of the total water flow to Onondaga Lake. METRO, or the Metropolitan Syracuse Wastewater Treatment Plant, accounts for 20% of the lake's annual flow. No other lake in the United States gets as much treated wastewater as Onondaga Lake.
Pollution in Onondaga Lake has been an issue since the late 1800s, with ice harvesting prohibited as early as 1901. Swimming was outlawed in 1940, and fishing was banned in 1970 due to mercury poisoning. A variety of reasons have pointed to the lake's high pollution. For years, raw sewage was thrown directly into the lake, resulting in high nitrogen levels and algae blooms. The Allied Chemical Corporation kept polluting the lake with heavy metals and toxic waste until 1986. An estimated 165,000 pounds of mercury were discharged into the lake during the company's operations.
1. Lake Karachay, Russia
Lake Karachay is a small lake in western Russia's southern Ural highlands. It is regarded as the most polluted lake or even site on the planet. The lake, which is only one square mile in size, was used by the Soviet Union as a nuclear waste dump for 12 years between 1934 and 1957. According to reports, high-level radioactive waste covers practically the entire lake, down to a depth of 3.4 meters. In some places around the lake, radiation levels are enough to be fatal to a human in as short as 30 minutes.
The Soviet Union began using Lake Karachay as a dumping ground for radioactive waste from a local nuclear waste containment and reprocessing plant in 1951. According to some estimations, the lake possesses 4.44 exabecquerels (EBq) of radiation, close to the Chernobyl tragedy, which spewed 5 to 12 EBq of radiation over a far broader area.
What Is The Most Polluted North American Great Lake?
Lake Erie is one of the massive North American Great Lakes. It is also one of the deepest lakes in North America. It extends both to Canada through Ontario and to the United States through the states of Pennsylvania, Ohio, New York, and Michigan. However, despite being one of the famous Great Lakes, Lake Erie has not-so-great health.
By the 1960s, Lake Erie had become the most polluted of the Great Lakes, owing to the substantial industrial activities along its coasts. Lake Erie is highly impacted by human activity, with 11.6 million dwellers in its basin and large towns and extensive agriculture occupying its watershed. For decades, companies have been discharging harmful chemical toxins into the lake and its tributaries, such as the Cuyahoga River in Cleveland, Ohio, and the Detroit River in Michigan. Due to a lack of regulatory monitoring, waste and pesticides from nearby towns' sewers, industrial sites, and farmland found their way into the Great Lakes Basin.
Summary Of The 7 Most Polluted Lakes In The World
| Rank | Polluted Lake | Location |
| --- | --- | --- |
| 1 | Lake Karachay | Russia |
| 2 | Onondaga Lake | New York |
| 3 | Lake Tai or Taihu Lake | China |
| 4 | Lake Victoria | Kenya/Tanzania/Uganda |
| 5 | Serra Pelada Lake | Brazil |
| 6 | Potpeć Lake | Serbia |
| 7 | Bellandur Lake | India |
The photo featured at the top of this post is © iStock.com/PapaBear
---