Waterfalls are attractive and add to the beauty of nature. Flowing water sounds are soothing, and you can find peace by watching a waterfall.
If waterfalls' beauty and power draw you, you may want to discover the tallest waterfall in California. California is home to many waterfalls located in different corners of the state.
Each waterfall is beautiful, and you can have a thrilling experience viewing these natural wonders. The smallest waterfall is only 10 feet high, but there are others whose height surpasses 2,000 feet. 
Today, we discover the tallest waterfall in California, its history, a few animals you can find around it, and much more. Keep reading.
Tallest Waterfall In California
Yosemite Falls is California's and North America's tallest waterfall. It drops a total of 2,425 feet from the top to the base.
This beautiful waterfall is located in Yosemite National Park and is considered a top destination for people looking for exciting and challenging excursions in California.
 A Brief History of Yosemite Waterfalls
Yosemite Waterfalls is believed to have been formed through creeks that tumbled into Yosemite Valley. The valley edges eroded slowly, and side streams formed gulches around it. The waterfalls fell from the giant hanging valleys, creating a spectacular thundershower waterfall.
Over the years, the Yosemite waterfalls have undergone many changes due to the strong power of water, which easily finds ways into new places. 
This waterfall is made of three separate falls, which include the lower fall (320 feet), the middle fall (675 feet), and the upper fall (1430 feet). The lower Yosemite fall is the easiest of the three, although some visitors prefer to hike up to the upper fall.
Today, Yosemite Falls are among the most magnificent waterfalls in Yosemite National Park and California. The state has put intense efforts towards managing this historic site, including creating staircases for easy movement, among other tourist attraction features. 
Visiting Yosemite Waterfalls
Yosemite Falls is located inside Yosemite National Park, so you should pay a small entrance fee while entering the park.
The valley is open all year round, and there is no right or wrong time for visiting the waterfall. But many people go to the park to see the waterfalls during spring.
People who visit Yosemite waterfalls enjoy more than just watching the flowing water and listening to the powerful soothing sound. There are plenty of other activities in the park, including hiking.
If you plan to visit Yosemite waterfalls in California, get your permit in time, and carry travel essentials like hiking boots, sun protection, waterproof gear, and a spare change of clothes. You may also come alongside your friends for utmost enjoyment and fun.
Where Is Yosemite Falls Located On A Map?
Yosemite Falls is located on the south side of Yosemite Valley, west of Sentinal Rock. Yosemite Valley is inside Yosemite National Park, which is in the Sierra Nevada in the east-central part of California.
Other Yosemite Waterfalls
At 2,425 feet, Yosemite Falls is Yosemite's tallest waterfall. But there are many other waterfalls in the park. 
You can easily view these falls from any part of Yosemite National Park, so you will still enjoy the view if you don't wish to come close to it. Yosemite Falls mostly flows from November to July, but July enjoys the peak flow.
The other waterfalls in Yosemite Valley include:
Sentinel Falls
Ribbon Falls
Horsetail Falls
Nevada Falls
Sentinel Falls
This waterfall, located south of Yosemite Valley, got its name from the nearby giant monolith, Sentinel Rock, which towers over it.
Sentinel Falls enjoys a peak flow in May, just like Yosemite Falls. It is 2,000 feet high.
The Four-Mile Trailhead on Southside Drive is the easiest way to view Sentinel Falls. Here, you'll get a good view of the waterfall's stair-stepping characteristics.
Ribbon Falls
At 1,612 feet high, Ribbon Falls is another spectacular free-falling waterfall you can easily spot during your Yosemite tour. It's one of the U.S.'s highest free-leaping waterfalls. Its peak flow is in May, and you can easily view it from the Yosemite Valley rails.
Horsetail Falls
The Horsetail Falls tumbles 1,000 feet on the eastern part of El Capitan. It flows easily from December to April, and you can spot this waterfall on Yosemite Valley's Northside Drive.
Horsetail Falls glows when backlit by sunset, making it appear like it's on fire. This happens only on clear-sky evenings, especially between mid- and late February. The lighting effect attracts many tourists, causing safety concerns, parking issues, and traffic congestion. 
It may also cause a strain on the area's cultural and natural resources.
Nevada Falls
Nevada Falls is another attractive waterfall that flows all year round, with its peak in late May. It is 594 feet high. Unfortunately, you can only see this waterfall at a distance using the wheelchair-accessible trail.
Yosemite Valley is home to over 25 beautiful waterfalls, but the above are the tallest. 
When visiting the tallest Yosemite Falls, you will also see the other waterfalls because they are aligned in the valley. But you need expert guidance for a smooth experience.
Wildlife Around Yosemite Waterfalls in California
Besides the breathtaking views of the tallest waterfall in California, you will meet different animal species in the park. Here are some animals you can expect to see at Yosemite National Park.
American Black Bear
It is the most common animal species that you will see in most areas of the park. There are nearly 500 black bears in the park, and you will occasionally hear the park guides tell you to give the bears enough space whenever you come near them.
American black bears have dark, sharp eyes, but the mouth and neck areas are mostly brown. They are omnivores, so they feed on meat and vegetables. The bears feed on insects, berries, meat, larvae, and other vegetables at Yosemite National Park.
Black bears are calm and only turn aggressive when guarding their food. Therefore, it is advisable to watch the bears at a distance and avoid feeding them.
Sierra Nevada Bighorn Sheep
It is among the most endangered animal species in the United States. In Yosemite National Park, there are more than 600 Bighorn sheep that you can spot or watch with binoculars if they are at a higher elevation.
Generally, Sierra Nevada bighorn sheep tend to stay in highly elevated areas to spot their predators easily. They are herbivores who prefer to stay in groups. 
Sierra Nevada bighorn sheep are harmless to humans unless provoked. Therefore, it is advisable to avoid frightening them so that they can stay calm during your visit.
Mule Deer
Mule deer are one of the most iconic animals in North America that you will find in Yosemite National Park.
You can easily recognize a mule deer with its characteristic long ears. Most have brown skin, and only a few have a brownish-gray appearance.
Mule deer are herbivores and only feed on twigs and leaves. You will spot most deer in the park's lower busy areas.
The Yosemite National Park management does not encourage feeding deer due to the number of injuries that have occurred in the past. Besides, human food may be harmful to them because they are herbivores.
Bobcats
Bobcat is a small and fluffy animal that you might see during your visit to the tallest waterfall in California. Bobcats belong to the lynx family but are smaller than the Canadian lynx.
Bobcats have small bobbed tails, and their skin color ranges from beige to brown. They are carnivores and feed on birds, rodents, and bats. In Yosemite, bobcats play a vital role in the ecosystem as they help control the population of rodents and other small animals.
Bobcats are usually caged in the park, so humans have nothing to fear about these animals. But they remain calm and only turn aggressive when protecting themselves or their cubs.
Coyotes
Yosemite National Park has plenty of coyote species which you might be lucky to see during your visit to the amazing waterfall. Unfortunately, these animals are shy and prefer to stay away from people. 
In appearance, coyotes are smaller than wolves. However, they have sharp dark eyes and are very fast when running after their prey. They have strong family packs and mostly come out at night to search for food. But you can easily see them in the park during the daytime.
Coyotes are adaptable animals that feed on almost everything that comes their way. They feed on frogs, birds, insects, fish, rodents, and small deer. They can also eat small snakes, grass, fruits, and livestock. 
Like other animals in the park, you should not disrupt coyotes. It is allowed to take pictures, but do not give them food or come too close to them.
Birds
If you like birds, you will have an amazing birding experience in Yosemite, thanks to the many bird species available. The park is a natural habitat for more than 255 bird species that you can easily see during the day.
The most common birds in Yosemite include the American white pelican, ruddy duck, acorn woodpecker, osprey, California quail, and many more. 
The grasslands, trees, and bushes around Yosemite Waterfalls in California provide an amazing habitat for the birds, and that is why you can easily spot many birds during your visit. 
Staying Safe at Yosemite Waterfalls
The Yosemite waterfalls are a top destination for travel enthusiasts in California. The place attracts more than four million visitors annually, but the population is usually high during spring. 
If you plan to visit Yosemite waterfalls, follow these simple practices to remain safe and enjoy your stay to the fullest.
Stay away from the slippery rocks. The flowing water may be deceptively calm, but you should be cautious if you intend to come near or touch it. The nearby rocks can be slippery.
Avoid trails off the rocks if you are not an avid hiker. Only experienced hikers are allowed to use trails off the rocks.
Avoid rope hopping near the flowing water or around the grass during summer. Some accidents have been reported by people who attempted this over the years. However, there is enough space to participate in rope hopping, among other fun activities, away from the valley, the waterfall, and the rocks.
Cary insect protection because some insects like mosquitoes and ticks may transmit diseases.
Avoid direct contact with animals because some become aggressive when provoked.
Lastly, come prepared! Yosemite National Park does an incredible job of ensuring the safety of the visitors, but you should be sure to come fully prepared since you are visiting the wilderness. Remember to carry some food, drinks, and heavy clothing if winter or the cold season is approaching. The waterfall region can sometimes turn very cold, and you will be safe if you are well prepared.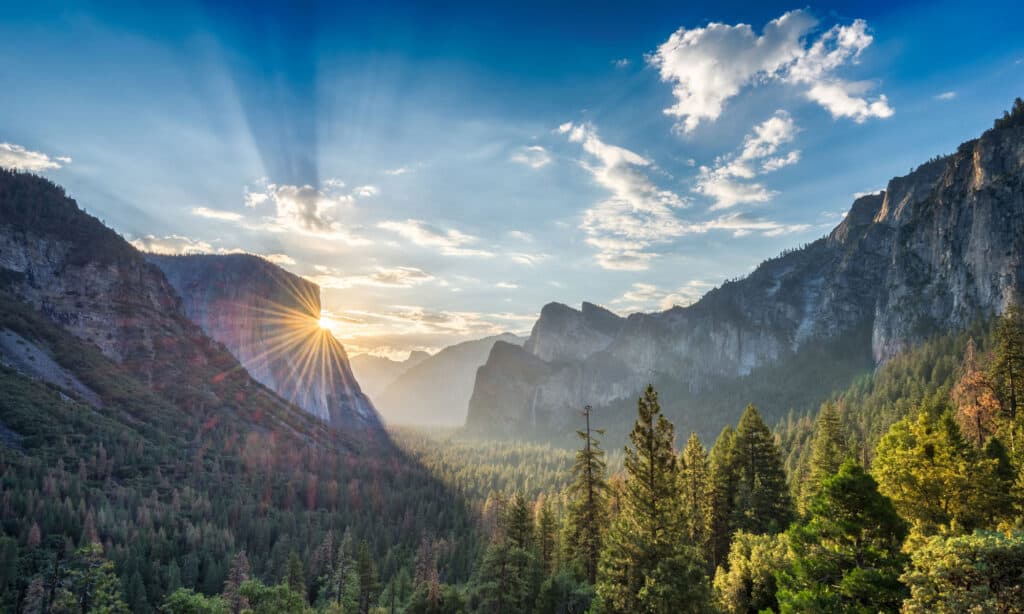 Final Remarks
California boasts many waterfalls that offer spectacular views to visitors. The tallest waterfall is Yosemite Falls (at 2,425 feet), comprising three main falls. The waterfalls' location in a national park allows visitors to enjoy seeing animals and other beautiful features.
If you plan to visit the Yosemite Waterfalls in California, do your research and plan well to have an amazing tour. Also, ensure you are physically fit if you plan to participate in hiking along the trails.
---
The Featured Image
---