When it comes to venomous snakes, you may or may not have heard of the eastern brown snake bite. Why is this bite so powerful, and how can you properly treat a bite as potent as the one from this particular snake? What can you do to avoid being bitten, and roughly how long does it take for the venom from this snake to kill?
In this article, we will address everything you need to know about the bite of the eastern brown snake. We will discuss why the bite of the brown snake is so powerful, including how much venom the snake has per bite. We will also address the different styles of bites that this snake has, as well as how you treat a bite if you happen to get bitten. Let's get started now! 
Why is the Eastern Brown Snake Bite So Powerful?
The eastern brown snake has a powerful bite because of the lethal components found in its venom. It doesn't inject very much, which is surprising, especially when you consider just how quickly some people who have been bitten show symptoms. However, let's discuss how the deadliness of snake venom is calculated for a moment.
To determine the potency of snake venom, researchers rank snakebites using the LD 50 scale, which means "lethal dose". The lower the number, the more potent or toxic the bite is. The eastern brown snake has a LD 50 score of .03, which means it is extremely toxic. Comparing this LD 50 score to the king cobra, which has a score of 1.09, is significant!
Plus, this isn't the only reason why the eastern brown snake has such a powerful bite. It is a notoriously aggressive snake, known for biting people when stumbled upon or surprised. It can also move as fast as 12 miles per hour, and some people have been pursued by the eastern brown snake.
How Much Venom Does an Eastern Brown Snake Bite Have?
The amount of venom found in the bite of the brown snake greatly depends on the size of the snake itself. For example, research suggests that, the larger the eastern brown snake, the more venom is injected per bite. But how much venom does an eastern brown snake bite produce on average, and how does this compare to other snakes?
The average eastern brown snake produces anywhere from 5 mg to 155 mg per bite. To put this into context, the average human perishes with only 3 mg of eastern brown snake venom. Additionally, snakes like the black mamba and king cobra produce far more venom per bite than the eastern brown snake, but the brown snake is capable of killing far more people, given the potency of its bite.
Do Eastern Brown Snakes Bite Repeatedly?
Given their highly aggressive nature, it is likely that eastern brown snakes may choose to bite repeatedly. However, there are very few records of this occurring. In fact, very few brown snake bites are reported, despite this snake living in populated areas of Australia. However, it should be noted that the eastern brown snake is responsible for more snake deaths than any other snake in Australia!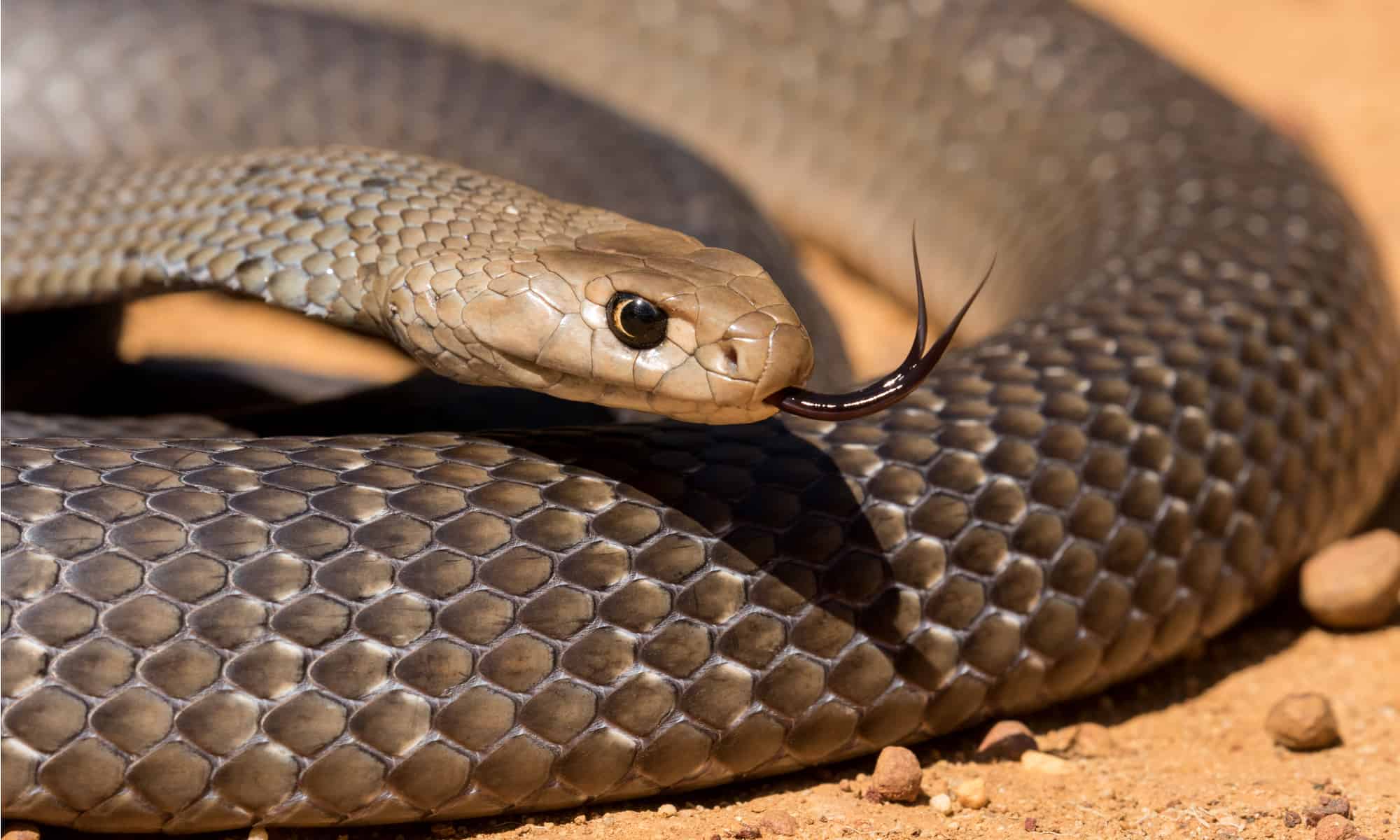 What Animals Do Eastern Brown Snakes Hunt?
Eastern brown snakes are impressive in that they hunt using their sight primarily. They raise their heads over obstacles in their path, seeking out prey when they are most vulnerable, often in their dens or nests. Eastern brown snakes eat a variety of animals including:
Despite their highly potent venom, brown snakes use their large bodies to constrict prey, biting on occasion. This is likely due to the fact that the fangs of the eastern brown snake are very small, likely not able to penetrate the hides or scales of other reptiles. However, they don't consume very much overall, especially during the winter months.
How Do Eastern Brown Snakes Interact with Humans?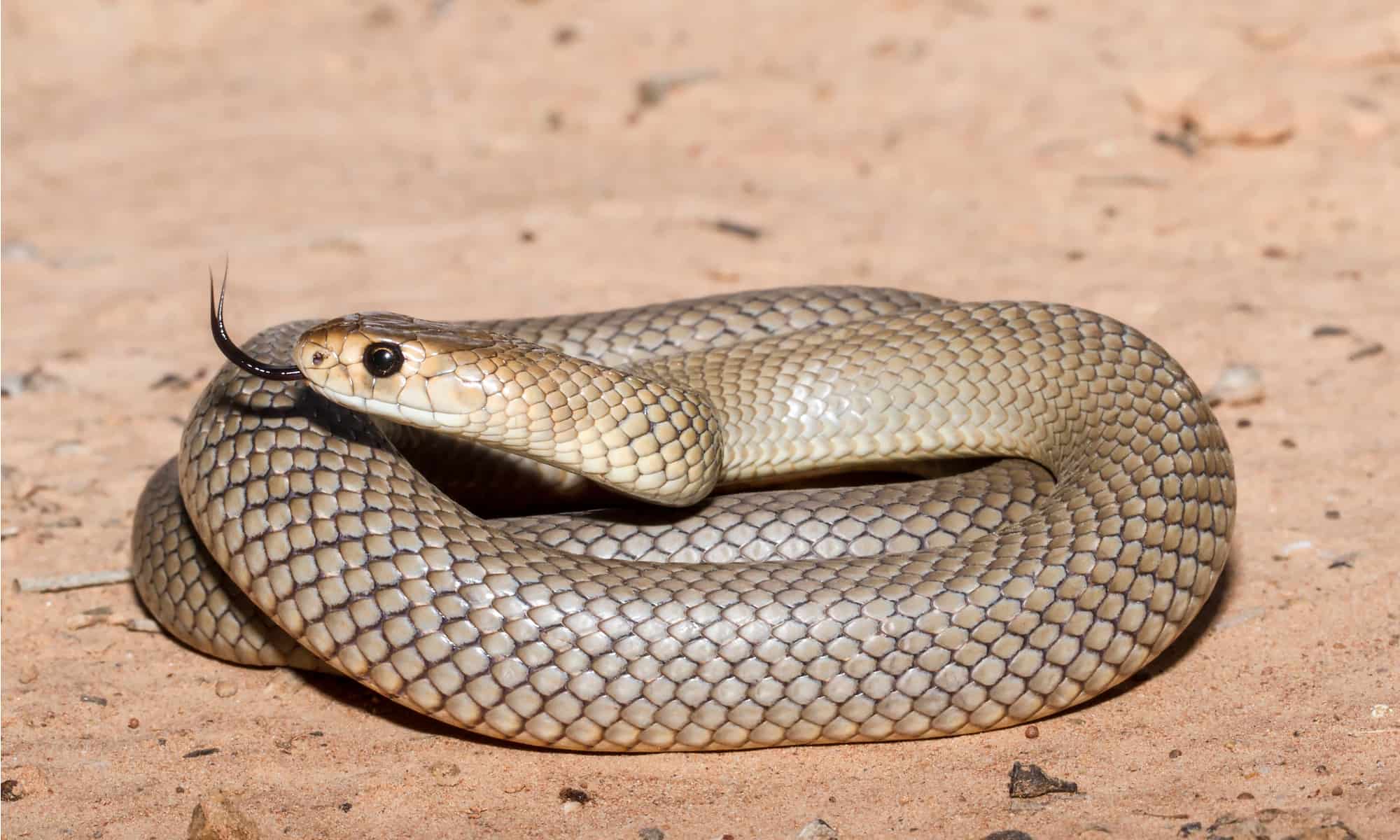 Despite their penchant for aggression when surprised, the eastern brown snake prefers to leave people alone, like most other snake species. While this snake is fast and extremely dangerous, it truly only lashes out when stumbled upon or otherwise frightened. However, this snake has a very clear defensive positioning that should alert just about anyone to stay away!
When threatened, the eastern brown snake rises up into the air, opening its mouth and contorting its neck into an S shape. This means that, should you be bitten by a brown snake, the bite is likely to be on your upper thigh or leg rather than near your ankle or feet. Given how obvious it is when an eastern brown snake feels threatened, it is always best to back away slowly!
How Do You Treat an Eastern Brown Snake Bite?
If you are bitten by an eastern brown snake, it is imperative that you seek medical assistance immediately. Antivenom will need to be distributed throughout the body, and adverse side effects can occur within 15 minutes of being bitten. In fact, some reports state some controversy regarding the amount of antivenom a person needs when bitten by a brown snake.
No matter what, the potency of this particular snake bite cannot be said enough. The eastern brown snake is the second most venomous snake in the world, and it is a necessary snake for scientific research. With further study and examination, studies may prove just how best we can treat eastern brown snake injuries, as well as snake bites around the world!
The photo featured at the top of this post is © Ken Griffiths/Shutterstock.com
Discover the "Monster" Snake 5X Bigger than an Anaconda
Every day A-Z Animals sends out some of the most incredible facts in the world from our free newsletter. Want to discover the 10 most beautiful snakes in the world, a "snake island" where you're never more than 3 feet from danger, or a "monster" snake 5X larger than an anaconda? Then sign up right now and you'll start receiving our daily newsletter absolutely free.
---