With the Ohio River as your northern border and the Shenandoah and Potomac Rivers, you can imagine there is some fine fishing in West Virginia. From good sized bass to trophy sized catfish there are fish just waiting to be snagged. Some of the state records are more than 60 years old while a series of others were just broken this year! Here are the 10 biggest trophy fish ever caught in West Virginia.
10. Freshwater Drum: 27 pounds
If you are peacefully casting from your boat and you hear an odd grunting sound it might be fishing buddy expressing a fish that got away or it could be the fish itself. Freshwater drum or sometimes called sheepshead, make a low grunting noise during spawning season. The males use this odd noise to attract females. It must be working because you can find drum all over the U.S.
The biggest freshwater drum ever caught in West Virginia was a 27 pound drum caught by Charles M. Lott on the South Fork of the Hughes River. The Hughes is a tributary of the Little Kanawha River about 90 miles north of Charleston, WV. Lott made his lucky catch back in 1989.
9. Tiger Muskie: 36 pounds 8 ounces
Muskie and tiger muskie are often trickier to catch and are sometimes referred to the "Fish of 10,000 casts." They are in the pike family and can average 20 pounds or more. Tiger muskie have a distinctive striped pattern compared to common muskie. The biggest tiger muskie in West Virginia was 36 pounds 8 ounces caught by Clyde E. Beckett. In 1994, Beckett was fishing on the Mountwood Park Lake, east of Parkersburg when he reeled in this record breaking tiger muskie. This record catch is not nearly as big as the biggest muskie on record, but you'll read more about that catch later.
8. Channel Catfish: 36.96 pounds
Now for some epic catfish! A couple of the catfish records were just broken this past summer. For 17 years the biggest channel catfish record was 33.42 pounds until June 20, 2022 when Allen Burkett caught a 36.96 pound channel cat, breaking the record. Burkett was fishing on South Mill Creek Lake, just fishing from shore, when he landed this giant cat. South Mill Creek is in northeastern West Virginia and apparently a great place for catfishing. What was the lucky bait, (in case you want to try your luck)? Chicken liver!
7. Buffalo Fish: 38 pounds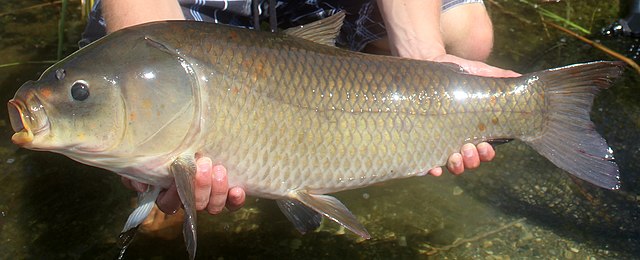 Buffalo fish are heavy-set sucker fish with smallmouth, bigmouth, and black buffalo being common species. The biggest buffalo fish ever caught in West Virginia was a 38 pound buffalo caught by Robert Null back in 1976. He was fishing on the Little Kanawha River, which is a river you will see later on our list as having another record breaker. The Little Kanawha is a tributary of the Ohio River.
6. Striped Bass: 45 pounds 11 ounces
While a tiger muskie has tiger-like vertical stripes, the striped bass has horizontal stripes running the length of their bodies. Striped bass also get quite long. The term "trophy fish" sometimes refers to the length of the fish, especially in catch-and-release categories. Some stripers as they are commonly called can get to be 45 inches long or more!
The biggest striped bass ever caught in West Virginia was a 45 pound 11 ounce striper pulled from Bluestone Lake in 2010. James Brooks was able to reel in his record catch that measured 47.16 inches (that is just shy of 4 feet!).
5. Common Carp: 47 pounds
Carp are another heavy-bodied fish with large distinct scales. This past spring a trophy sized common carp beat the length record but not the weight record. Ayden Minick caught a carp that was 41.2 inches long, beating the length record of 41 inches set back in 1988 by Charles Cook. However her fish did not outweigh the record breaking 47 pounds set by Gary Johnson in Preston County in 1998. Her carp was just a couple pounds shy at 45.2 pounds. That is still a lot of carp!
4. Muskie: 51 pounds
Here is the other muskie on our list and it's a big one! This one was also set just this year in March 2022 and it was also pulled from the Little Kanawha River. A 51-pound muskie was caught by Lucas King on Saturday, March 19. He was fishing from the shore near the tailwater area of the Burnsville Dam. West Virginia has a clever fishing award program called the "Husky Musky Club" for those lucky enough to land a muskie (can be spelled either way) that is 30 inches or longer. There are also special awards for muskie's more than 40 inches and for weight. I wonder if they offer "Proud Member of the Husky Musky Club" bumper stickers?
3. Blue Catfish: 67.22 pounds
This really was a good year for fishing in West Virginia. This is a great fish story (and it's verified by the West Virginia DNR so it is not just a fish tale). Cody Carver was fishing on April 8, 2022 on the Kanawha River when he snagged a giant blue cat. After reeling it in and having it officially weighed by WVDNR hatchery manager Ryan Bosserman it was confirmed to be the biggest catch in the state. It weighed in at 61.28 pounds and was 45.51 inches long. But wait, there's more!
Carver's glory was short lived because just seven weeks later a bigger blue was caught! On May 25, 2022 a 67.22 pound blue catfish was caught on the same river, the Kanawha, by Steve Price. Price's blue catfish broke the weight and length record, beating out Carver's 61.28 pounder and Justin Good's length record of 50.15 inches. The new length record was just a tad longer at 50.7 inches. Now that is a great story!
2. Flathead Catfish: 70 pounds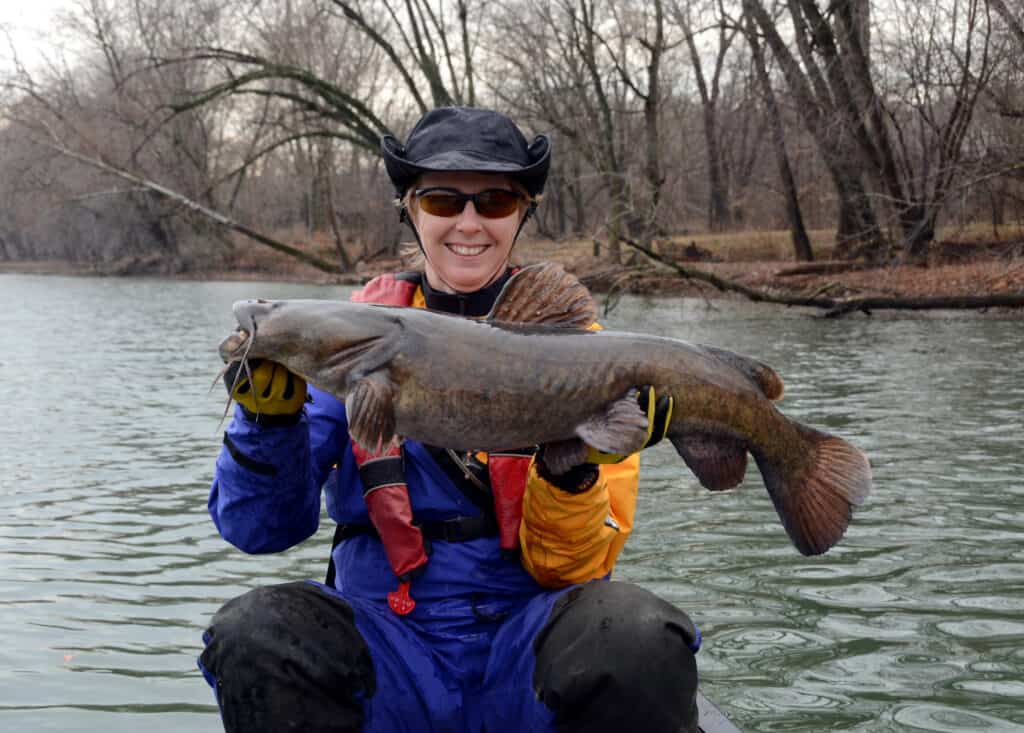 Blue catfish are typically bigger than flatheads but not in West Virginia. A 70 pound flathead catfish was caught by L.L. McClung in 1956 on the Little Kanawha River (pretty sure I know the luckiest fishing spot in West Virginia). This flathead was heavier than the record blue cat and longer, but just by a bit. It measured in at 52 inches long, that is almost 4.5 feet.
1. Grass Carp: 71 pounds 11 ounces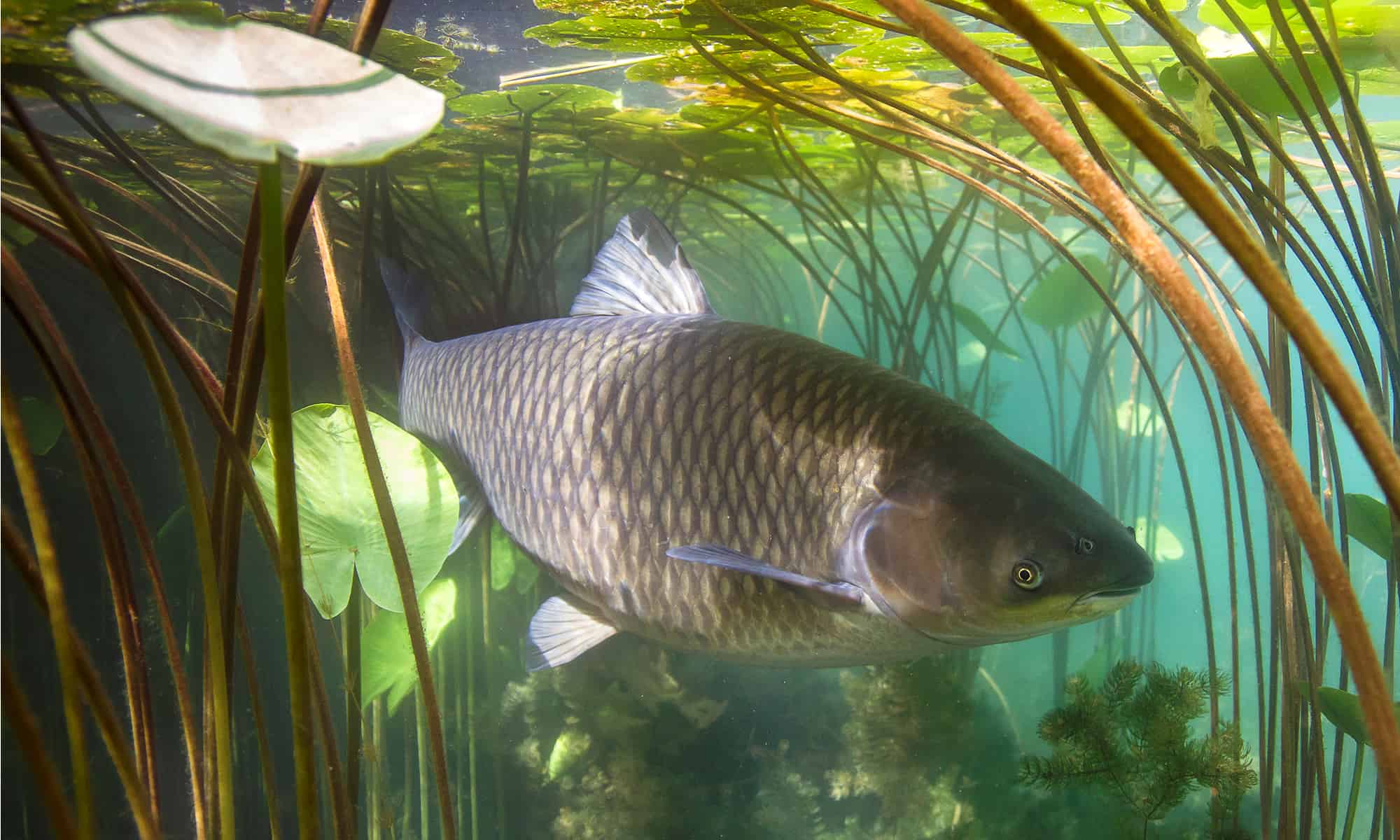 The biggest trophy fish ever caught in West Virginia was a grass carp. Grass carp are herbivores and eat a variety of lake and pond weeds like hydrilla, bladderwort, and milfoil. So keep that in mind when choosing your bait going with something like canned corn or fresh cut pondweeds.
The biggest grass carp was just a pound and change heavier than the biggest flathead, weighing in at 71 pounds 11 ounces. William R. Tucker has held the title of catching the biggest fish in West Virginia for 17 years and counting. Tucker caught the grass carp in 2005 while fishing on Warden Lake.
We have to mention a recent length record that was just a couple of years ago. The longest grass carp record was broken by Zach Adkins on January 3, 2020 with a 53.1 inch grass carp but then two months later another giant grass carp was reeled in. This one broke the length record again with a length of 54.75 inches. The record now belongs to John Miller. Tucker still holds the record for the heaviest grass carp. What do all these fish have in common? They were all caught on Warden Lake!
Summary of 10 Biggest Trophy Fish Ever Caught in West Virginia
Here's a recap of the 10 largest trophy fish recorded in West Virginia that we looked at.
| Number | Fish | Weight | Record Holder / Location / Date |
| --- | --- | --- | --- |
| 1 | Grass Carp | 71 pounds 11 ounces | William R. Tucker on Warden Lake in 2005 |
| 2 | Flathead Catfish | 70 pounds | L.L. McClung on the Little Kanawha River in 1956 |
| 3 | Blue Catfish | 67.22 pounds | Steve Price on the Kanawha River on May 25, 2022 |
| 4 | Muskie | 51 pounds | Lucas King on the Little Kanawha River in March 2022 |
| 5 | Common Carp | 47 pounds | Gary Johnson in Preston County in 1998 |
| 6 | Striped Bass | 45 pounds 11 ounces | James Brooks on Bluestone Lake in 2010 |
| 7 | Buffalo Fish | 38 pounds | Robert Null on the Little Kanawha River in 1976 |
| 8 | Channel Catfish | 36.96 pounds | Allen Burkett on South Mill Creek Lake on June 20, 2022 |
| 9 | Tiger Muskie | 36 pounds 8 ounces | Clyde E. Beckett on the Mountwood Park Lake in 1994 |
| 10 | Freshwater Drum | 27 pounds | Charles M. Lott on the South Fork of the Hughes River in 1989 |
---
The Featured Image
---
Sources

Premier Angler, Available here: https://premierangler.com/west-virginia-state-record-grass-carp/
Virginia State Gov, Available here: https://dwr.virginia.gov/fishing/private-pond-management/triploid-grass-carp-stocking-for-aquatic-vegetation-control/grass-carp-frequently-asked-questions/
Land Big Fish, Available here: https://www.landbigfish.com/staterecords/records.cfm?state=west%20virginia
West Virginia State Gov, Available here: https://wvdnr.gov/angler-breaks-west-virginias-long-standing-channel-catfish-record/