Spanning eight countries and 2.1 million square miles, the Amazon rainforest is one of the world's most vast and diverse ecosystems. As well as having around 40,000 species of plants and trees in it, the Amazon is home to approximately 2.5 million species of animals — from tiny insects to the powerful anaconda. These animals thrive in the unique environment of this stunning rainforest. But which are the most common animals in the Amazon rainforest? Let's find out!
1. Boa Constrictor
We begin the list with one of the best-known snakes around — the boa constrictor. Boa constrictors are large snakes with heavy bodies and can reach lengths up to 13 feet. They are usually brown or gray and have reddish-brown markings that become more distinctive towards their tail. This is the reason they are also sometimes called "red-tailed" boas. Boa constrictors are semi-arboreal and can often be found high up in the trees, although juveniles are more arboreal than adults. They are powerful snakes and prey on a wide range of animals — virtually anything they can catch — which they kill by constriction.
2. Toco Toucan
One of the most stunning birds you will ever see is the toco toucan, easily distinguished by its large, colorful bill. Although they live high up in the canopy, they are a sight to behold when you do see them. Toco toucans have a black body with a white throat and chest and a patch of red underneath their tail. Their bill is six to nine inches long and is a combination of yellow-orange and reddish-orange with a black spot on the tip. Toco toucans mainly eat fruit but will also sometimes eat insects, frogs, and small birds. They typically nest in a hollowed-out cavity high up in the trees, and both parents incubate the eggs.
3. Squirrel Monkey
Monkeys are easily some of the most common animals in the Amazon, with nine different species living there. However, one that you are most likely to encounter is the squirrel monkey. These unique monkeys live in large, social groups of up to 500 members and inhabit the canopy layer of the rainforest. They are small animals at only 10 to 14 inches long, with a 14 to 17-inch long tail. Squirrel monkeys have short hair, which is typically grey to brown, with distinctive yellowish-orange arms and legs. They also have a white face with a black muzzle and forehead. Squirrel monkeys are omnivores and eat a variety of insects, fruit, and nectar.
4. Green Iguana
Although there is a vast array of animals in the Amazon, the largest and most common lizard you might encounter is the green iguana which can be as much as six feet long. Despite their name, their color varies; they can be orange, blue, red, or even purple. They have a distinctive row of spines along their back and tail and a dewlap (large flap of skin) underneath their chin. Green iguanas are highly arboreal and often live high up in the tree canopy. They are herbivores and prey mainly on leaves, flowers, and fruit. However, they have sharp, serrated teeth and can inflict a serious bite if they are threatened.
5. Jaguar
Another common animal in the Amazon rainforest is the jaguar, a stunning and stealthy hunter. Jaguars are the world's third largest species of cat and usually weigh between 120 and 210 pounds, although large males can exceed 300 pounds. They are yellowish-brown to tan and are covered with irregular black spots and rosette markings. Jaguars are apex predators and ambush their prey, hiding amongst the bushes and undergrowth before pouncing with a devastating display of speed and strength. Their diet includes monkeys, birds, capybaras, tapirs, and caiman.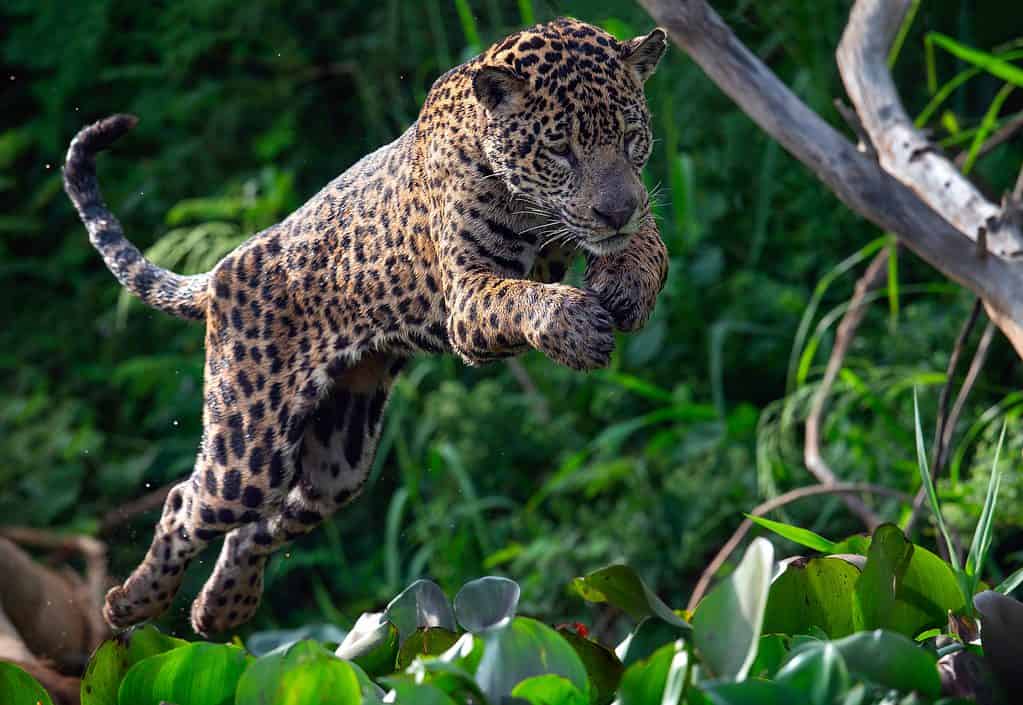 6. Howler Monkey
Another monkey you're likely to see in the Amazon is the howler monkey, which can be easily noted for its extremely loud calls. There are 15 species of howler monkeys, nine of which live in the Amazon. They are all characterized by their hunched appearance, beard, and particularly furry tail. Howler monkeys typically live in groups of between six and 15 animals. They are much larger than squirrel monkeys, ranging between 20 and 24 inches long, with a tail of a similar length. Howler monkeys are folivores and eat leaves from the trees' upper canopy, fruit, flowers, and nuts.
7. Tapir
The largest terrestrial animal in the Amazon is the tapir which stands approximately three feet high at the shoulder but weighs as much as 700 pounds. Tapirs have an unusual appearance: small, rounded ears, a round rump with a stubby tail, and a short nose trunk. Despite their somewhat strange appearance, they are fast-moving animals. They have few predators, with jaguars and caimans being their only predators in the Amazon. Tapir mainly eats vegetation, fruit, and berries. However, they also sometimes enter rivers and streams, sink to the bottom, and then walk along the riverbed to forage on the aquatic plants.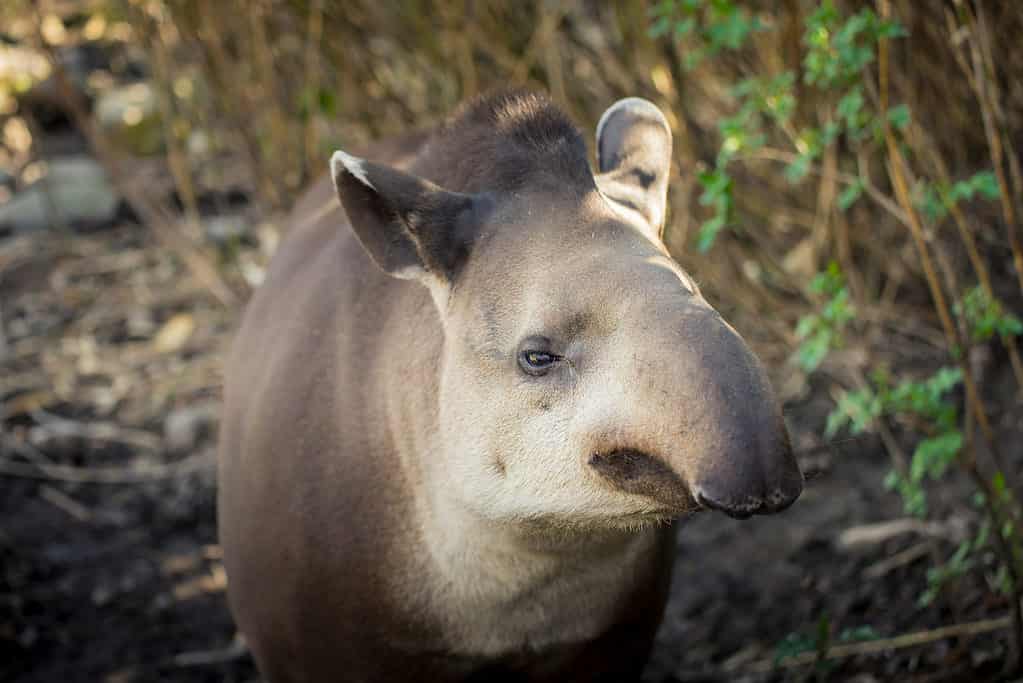 8. Caiman
There are six species of caiman and four of them live in the Amazon rainforest. Although some species are fairly small, the largest — the black caiman — can reach 13 feet long. Caimans are dark-colored crocodilians and live in lakes, streams, and slow-moving rivers. They prey mainly on fish but also eat small mammals, reptiles, and birds. They have a ferocious nature, and jaguars and anacondas are their main predators.
9. Capybara
The largest rodent in the world — the capybara — is also one of the most common animals in the Amazon rainforest. Capybaras live in social groups typically consisting of 10 to 20 animals. However, in some cases, they can be as large as 100. They are closely related to guinea pigs and have heavy, reddish-brown bodies with short heads. They can reach almost five feet long and stand up to two feet high. Capybaras are excellent swimmers that can hold their breath for up to five minutes at a time. They are herbivores and eat a variety of grass, bark, fruit, and aquatic plants.
10. Scarlet Macaw
The final animal on the list is another stunning bird — the scarlet macaw. Scarlet macaws are large parrots with beautiful red, yellow, and blue plumage. They thrive in the humid environment of the rainforest and live in large family groups. They typically mate for life; the females lay up to three eggs in a tree cavity. Only the female incubates the eggs, and the chicks fledge after 90 days. However, the juveniles remain with their parents until they are around one year old.
Summary of The 10 Most Common Animals That Live in the Amazon Rainforest
| # | Animal | Type |
| --- | --- | --- |
| 1 | Boa Constrictor | Snake |
| 2 | Toco Toucan | Bird |
| 3 | Squirrel Monkey | Monkey |
| 4 | Green Iguana | Lizard |
| 5 | Jaguar | Cat |
| 6 | Howler Monkey | Monkey |
| 7 | Tapir | Mammal related to rhinos |
| 8 | Caiman | Crocodilian |
| 9 | Capybara | Rodent |
| 10 | Scarlet Macaw | Bird |
Up Next:
More from A-Z Animals
---
The Featured Image
---