There is something magical about caterpillars with their soft furry bodies and kaleidoscopes of colors. These incredibly unique creatures undergo a spellbinding life cycle, reshaping their entire physical structure through various stages of metamorphosis until they reemerge into the world as moths and butterflies. Let's take a closer look at the many different shapes, sizes, and even textures of these amazing creatures with 15 types of white caterpillars!
What is a Caterpillar?
Butterflies and moths begin life as tiny larvae — also known as caterpillars. After hatching from an egg, a caterpillar spends its life eating as much as it can. Then when the time comes, it moves into a pupa state inside of a cocoon or chrysalis, where it will eventually transform into an adult butterfly or a moth.
The word "caterpillar" has been around since the early 16th century. It is believed that when the French came upon these hairy insects, they reminded them of furry cats. They called them "chatepelose", which means "hairy cat". This charming description captures the fluffy, furry nature of many of these unique larval insects, as well as their wriggling movements. There are some very hairy caterpillars out there, as well as ones with smooth bodies, and each species has its own unique colors and patterns. Here are 15 uniquely white caterpillars to enjoy!
1. Hickory Tussock Moth Caterpillar (Lophocampa caryae)
These fuzzy caterpillars are white with black markings. They eventually turn into rusty-brown moths with cream-colored blotches all over their wings. Hickory tussock moth caterpillars grow around 1.77 inches long, with fuzzy white hairs covering their bodies. There are also stark black markings down the middle of their backs, and tiny black spots on their sides. In addition, hickory tussock moth caterpillars also have two long, black, pencil-like chunks of hair protruding from near their head, and two more near the end of their body.
You might be tempted to touch one of these itty-bitty black-and-white beauties — but don't do it! Their hairs excrete a substance that causes itching, rashes, and other allergic reactions in your body. They are not venomous, but this harmful substance makes them taste pretty bad to potential predators. Hickory tussock moth caterpillars are found in Canada and the United States from June to September. They commonly feast on raspberry plants and corn stalks, as well as trees like oak, apple, willow, aspen, and ash.
2. Sycamore Tussock Moth Caterpillar (Halysidota harrisii)
The sycamore tussock moth caterpillar is plastered with white and yellowish-white hairs all across its body. Like the hickory tussock moth caterpillar, this caterpillar also has two long pencil-like hairs protruding from both ends of its body, except that these are white instead of black. It also has an additional two to four pencil-like orange chunks of hair near its head.
Although these caterpillars do not sting, their hairs can cause skin irritation, itching, and rashes. Sycamore tussock moth caterpillars grow around 1 to 1.4 inches long. They can usually be found in sycamore trees in northeastern Mexico, eastern parts of the U.S., and southeastern Canada. As adults, they transform into moths with pale blue, gossamer-like wings.
3. Virginian Tiger Moth Caterpillar (Spilosoma virginica)
Caterpillars of the Virginian tiger moth are often called white yellow woolly bears, even though technically they are not woolly bear caterpillars at all! However, like a woolly bear, tiger moth caterpillars are very fuzzy. They come in different colors, but they usually have white or light tan hair. Some caterpillars are also dark or rusty brown. They grow up to 1.77 inches long and have spiky hairs of the same length covering their bodies.
Virginian tiger moth caterpillars "skeletonize" leaves, which means that they eat leaf tissue so that all that remains is the skeleton-like vein structure of the leaf. They can cause a lot of damage during the late summer as they feast and prepare for winter. As adults, they transform into stunning white moths with distinct black dots running down the middle of their bodies.
4. American Dagger Moth Caterpillar (Acronicta americana)
Found east of the Rocky Mountains in North America, the American dagger moth caterpillar has fluffy yellow or white hair and a shiny black head. In addition, there are five long and distinct black tufts of pencil-like hair extending out from its 2-inch long body. Like many other fuzzy caterpillars, the American dagger moth caterpillar is not venomous, but its fine setae (bristle-like hair) can cause skin irritation if you touch it.
These caterpillars are usually seen from August through October and are common visitors to backyards as well as forested areas. They feed on different types of hardwood trees, but they do not cause any substantial damage.
5. Dalceridae Moth (Dalceridae)
A rather unique-looking group of caterpillars comes from the scientific family Dalceridae. These insects live in neotropical wet regions, and are commonly known as "jewel caterpillars". They look more like slugs than your average caterpillar, with plump, rounded bodies — which is why they are often called "slug caterpillars" as well. However, what makes jewel caterpillars so unique is that they are translucent. They look more like a pile of gummy candy than an insect! 
Jewel caterpillars are not toxic and they do not sting, but they are rather sticky. Their bodies are encased by a gooey gelatin-like covering over the exoskeleton. Some species have bright colors, while others appear almost completely white. The caterpillar's gummy-like spines break off easily. This might be a defense mechanism to allow them to escape from hungry predators. These gooey spines are also incredibly sticky. In one experiment ants attempted to take a bite out of the caterpillars, only to back off after filling their mouths with the sticky goo.
6. Spotted Apatelodes Caterpillar (Apatelodes torrefacta)
The sensational long coat of hair on the spotted apatelodes caterpillar makes it easy to identify. These lengthy and luxurious hairs are a brilliant white when the caterpillars are young. As the caterpillars mature, their hairs transition into a dazzling neon yellow. They are so stark and vibrant that it's nearly impossible to overlook them on a tree trunk or a green leaf! In addition, they have a group of long, black lashes that stick out from behind their heads, and another on their backside. They also have short black spikes along their segments and almost look like a land-dwelling sea bunny!
Spotted apatelodes caterpillars also have cute red feet and legs, which contrast nicely with their white and black furry bodies. Although they do not sting, their fine, soft hairs can embed themselves into your skin and cause irritation, itching, and rashes — so it's best to look and not touch these fanciful little creatures. These caterpillars eat the leaves of maple, oak, and ash trees. They transform into adult moths with a black spot on the inner portion of each wing.
7. Laugher Caterpillar (Charadra deridens)
The laugher caterpillar could be considered creepy or cute — you can decide for yourself. These peculiar caterpillars have squishy white bodies covered in wispy long white hairs. These hairs are so fine that they appear almost translucent and seem to glitter in the sun. However, what sets this caterpillar apart from the rest are the unique black-and-white patterns on its head.
Young caterpillars typically have creamy white heads with black markings that almost look like laughing faces. Older caterpillars, on the other hand, have black heads with creamy-white markings that make them look somewhat like human skulls. Laugher caterpillars live in Canada and the U.S., except for the southwestern states. From June to October they eat the older, hardened leaves of oak, elm, beech, maple, and birch trees. They make their homes in unique silken nests tucked between leaves. As adults, laugher caterpillars transform into strikingly patterned laugher moths or marbled tuffet moths.
8. Planthopper Parasite Moth Caterpillar (Fulgoraecia exigua)
Found in parts of North and Central America, the planthopper parasite moth caterpillar has a stout and stark white body. It is covered with a short hairy fuzz that looks like cotton or some type of fungus. Unlike other caterpillars, the planthopper parasite caterpillar prefers to eat small insects. It often sucks the fluids out of planthoppers for its nutrition. Planthoppers are a group of insects that look like leaves and move quickly like they're "hopping". When the planthopper parasite larva hatches, it latches onto a planthopper and becomes an ectoparasite, feeding off of the small insect. Adult moths are a dark brownish-gray color.
9. Little Metalmark Caterpillar (Calephelis virginiensis)
These hairy white caterpillars have light green bodies covered with a multitude of tiny white dots. They are peculiar cute critters with long and delicate wispy-white hairs. They also have a row of long white feathery setae (hair) down each side of their bodies that make them look extra fluffy, and two rows of rust-colored spots. Some scientists think this appearance helps them to camouflage with thistles — one of their favorite snacks. When older caterpillars nibble away at leaves, they create intricate windowpane patterns as they go. If a caterpillar doesn't reach its full size before winter comes, it simply snuggles up somewhere warm for the winter and goes back to eating in the springtime!
Adult little metalmark butterflies are very tiny, with a wingspan of only 0.4 to 0.9 inches! These minuscule mottled beauties are one of only three types of metalmarks that live in the eastern U.S. Little metalmarks only live in the southeastern Coastal Plain. Metalmarks get their name from the silver markings on their wings. The wings of little metalmark butterflies are light brown to rusty orange with patterns of tiny dark dots and silver markings. The underside of their wings is a vivid and bright orange.
10. Domestic Silk Moth Caterpillar (Bombyx mori)
Unlike many of the other white caterpillars on this list, the domestic silk moth caterpillar has a smooth, hairless body that looks like a worm or grub. In fact, these small caterpillars are often called silkworms! They grow around 1.5 inches long and have a tiny horn on their backs and yellowish-white feet. Each segment of their body also has a single dot on each side. Silkworms eat mulberry leaves, so they are also sometimes called mulberry silkworms.
Domestic silk moth caterpillars — or silkworms — produce exquisite silk fabric. People carefully collect and unravel the cocoons of these intriguing little creatures and use them to create luxuriously soft raw silk, which is highly sought-after for its delicate texture and beautiful shine. People in China have been making silk from silkworms for at least 5,000 years, and it's likely that these creatures were domestically bred even before the Neolithic Age! As such, their evolution has resulted in the flightless domestic silk moths we know today. Silk moths have small wings that are not strong enough to carry their large bodies through the air.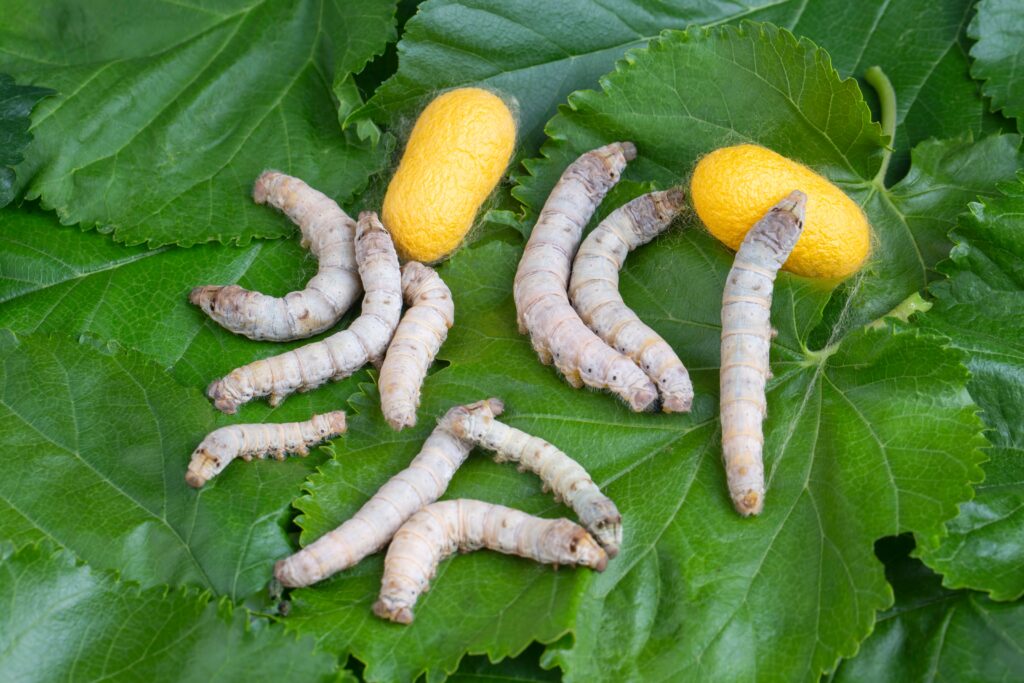 11. Mullein Moth Caterpillar (Cucullia verbasci)
The caterpillars of the mullein moth are usually easier to find than the moths themselves. Mullein moths are nocturnal, while caterpillars eat pretty much anytime they feel like it. Mullein moth caterpillars also have bright colors and are easy to spot. They have white rounded bodies with bright yellow patches and lots of small black dots. The caterpillars are particularly fond of mullein plants, but they also eat the leaves of other plants like figworts and buddleia. They are common in gardens across many parts of England, although they are less common further north and in some areas of Wales.
Mullein moth caterpillars grow quickly and within about a month of hatching, they make a strong cocoon in the soil. However, it can take them quite a long time to complete their transformation from caterpillar to moth — sometimes they spend several years pupating in their cocoon! While the caterpillar is bold and colorful, the mullein moth is much more inconspicuous. Its wings have cryptic and subtle markings of light and brown that make it easy to miss.
12. Hieroglyphic Moth Caterpillar (Diphthera festiva)
Another beautifully patterned caterpillar is the hieroglyphic moth caterpillar. This artistically designed animal lives in the tropics of Central and South America, the Caribbean, and some parts of North America. Hieroglyphic moth caterpillars have chunky white bodies with bold black and gray rings and stripes. Their heads are a bold and beautiful red-orange color, and their legs are white and black with a yellow-orange spot on each side. Basically, the hieroglyphic moth caterpillar looks like a Jackson Pollock painting brought to life!
Although strikingly beautiful, hieroglyphic moth caterpillars are also voracious eaters and can cause a lot of damage. They feast on the leaves of plants like soybeans, pecans, and sweet potatoes. Adult hieroglyphic moths are just as stunning as the caterpillars, with dramatic light gold wings patterned with bold black stripes, delicate blue-black metallic lines, and three rows of shiny metallic dots. The moth's abdomen, legs, and antennae are all glossy black, giving it a classy and bold appearance.
13. Virginia Ctenucha Moth Caterpillar (Ctenucha virginica)
This little critter has a small, black body covered with dense and soft creamy-white hairs that make you want to pick it up and give it a cuddle! It also has tufts of white and yellow bristles, which give it an overall whitish coloring. The Virginia ctenucha caterpillar also has dark red legs and a shiny dark red and black head, adding to its eye-popping appearance. As it ages, the caterpillar darkens so that by the time it's ready to pupate, it looks almost completely black!
The caterpillars eat iris plants and a variety of grasses and sedges. As adults, Virginian ctenucha moths have metallic blue-green bodies and black or olive-brown wings with a fiery orange-colored head. They are native to eastern North America from Labrador and Newfoundland all the way to Virginia, but more recently they have been expanding westward. These moths are now found in every province in Canada and as far west as Utah in the U.S.
14. Catalpa Sphinx Moth Caterpillar (Ceratomia catalpa)
Another smooth-bodied caterpillar, the catalpa sphinx moth caterpillar has a large, thick white body with three rows of tiny black dots. It grows up to 3 inches long, with a pale yellow and black head. In addition, it has a unique black tail horn at the end of its body that looks like a bee stinger. As the caterpillar ages, its body becomes more yellow and the black dots come together to form stripes. Like their name, these caterpillars eat the leaves of catalpa trees — they are easy to identify because they are the only white caterpillars you'll ever see on these trees! 
Unlike the colorful caterpillars, the adult catalpa sphinx moth is a pale greyish brown color with triangular-shaped wings and a large hairy body. These moths are native to southeastern North America. They are typically seen on catalpa trees from Maine all the way to Iowa, Florida, the Gulf states, and Texas.
15. Fall Webworm Moth Caterpillar (Hyphantria cunea)
Like its name, the fall webworm moth caterpillar creates its own unique webs in the late summer and fall. Stretching across various types of hardwood tree limbs, these recognizable webbed nests look like delicate strands of silken string or cotton candy. Caterpillars live together in groups, which helps them to regulate temperatures so that their large webs and warm and cozy. They have slender bodies covered by long delicate hairs. There are two rows of dark spots running down the caterpillar's back, and their long wispy white hairs protrude from light yellow tufts, giving the caterpillars an ethereal appearance. Depending on where they live, the heads of fall webworm moth caterpillars will be either shiny black or bright red.
Adult fall webworm moths have beautifully brilliant white and furry bodies. Some moths are completely white, while others may have brown or black speckling on their wings. Although native to North America, these moths have spread across Europe and Asia, where they tend to cause a lot of trouble. Feeding on all sorts of ornamental trees and shrubs, these insects munch through leaves until there is nothing left.
How Do You Get Rid of White Fuzzy Caterpillars?
There are around 180,000 species of caterpillars and while not all of them are bad, it is believed that there are not many that are beneficial to your garden. While it may not seem possible, these insects, in particular tussock caterpillars, are capable of consuming vast quantities of plant matter in a short period of time. Many species may be feeding on your plants without you even being aware of it.
Should you find harmful caterpillars in your garden, and on your plants, and trees in particular, there are certain steps you can take to remove them without causing harm to you, or your plants. Remember – do not use your hands as touching them can cause an allergic reaction or a rash. Create a solution of water and mild dish soap or neem oil and spray it on your plants. This will act as a slippery shield, not allowing the caterpillars a surface to cling to. Should you have a more serious problem, it is always best to call a professional.
The photo featured at the top of this post is © IanRedding/Shutterstock.com
---