Although they may look intimidating, Rottweilers are typically large softies. They have a great deal of devotion and are eager to please. Even though a domesticated dog's routine typically consists mostly of enjoyable playing, the need to please people persists. Even young Rottweiler pups will demonstrate their commitment to you. A major benefit of this is how much simpler it will be to teach your young Rottie. Your pup needs a lot of work to grow into a healthy adult, and it all starts with the best dog food for Rottweiler puppies.
There are many different kinds of dog food available right now. You'll have to put in a little more effort to select the proper formula because Rottweilers puppies have particular dietary requirements. Fortunately, we've put together a list of some of the top Rottweiler puppy dog foods on the market!
A-Z-Animals Top Picks for Dog Foods For Rottweiler Puppies
Best Overall – Blue Buffalo Life Protection Chicken & Rice
For your Rottweiler puppy's finest overall dog food, we suggest Blue Buffalo Life Protection. This dog food, which is specially made for pups, provides nutrients that support healthy growth and development, such as genuine meat, vegetables, whole grains, and fruit. 
Additionally, it is loaded with vitamins, minerals, and antioxidants that will support the immune system of your dog. Additionally, you'll discover that actual chicken—not chicken by-products—offers a superior kind of protein that will promote the development of lean muscle.
What more merits does it possess? Omega fatty acids in Blue Buffalo Life Protection are good for your pup's coat, ARA and DHA are good for your Rottie's brain, and calcium and phosphorus are good for their teeth and bones. The fact that the meal bits in this dog food are smaller than those in conventional diets helps to prevent choking and reduce tartar, which is another benefit.
Best Dry Puppy Food
Best Budget: Iams ProActive Health Dry Dog Food
If you're on a budget, dog food can quickly become quite an expense. Our top choice for a cost-friendly option for your Rottweiler puppy is Iams ProActive. It's a winner for your Rottie because it's made especially for large breed puppies and is a terrific price. 
It has a lot of protein to support your dog's growth and contains genuine chicken as its first component. Additionally, it has 22 vital nutrients that pups obtain from their mother's milk! One of these essential nutrients is DHA from omega-3s, which will help your puppy's brain develop and make them the brightest dog in the neighborhood.
IAMS Dog Food is produced without the use of artificial preservatives, flavors, or fillers and contains no more than 0% of these ingredients. This affordable option uses only the best animal protein!
Best for Large Breed Puppies
Iams ProActive Health Puppy Large Breed
Provides the special nutrition large-breed puppies need to help prevent heart and joint conditions later
Calories are controlled so they don't grow too fast for their joints
Chicken is the first ingredient and provides lean protein for healthy muscle growth
Contains all 22 key nutrients your puppy needs
Also includes omega-3 fatty acid, a DHA that improves brain and eye health, especially in developing puppies
Check Chewy
Check Amazon
Best Dry Food: Purina ONE Natural High Protein +Plus Large Breed Dry Puppy Food
There's no denying that you'll have endless options when it comes to dry kibble for your pup. While many of them are great, the Purina ONE Natural High Protein stands out to us. 
This big breed, puppy-specific dog food is loaded with nutrients, vitamins, and minerals to support the healthy development of your dog. Antioxidants support immune system health while glucosamine supports joint health. 
Omega fatty acids help your dog's hair stay glossy, while DHA promotes healthy brain growth. Calcium also helps to maintain strong bones and teeth. Purine ONE is especially appealing for your child since it contains a combination of dry kibble and meaty morsels. Additionally, it is a brand that veterinarians endorse and has no fillers or preservatives. 
Best Dry Food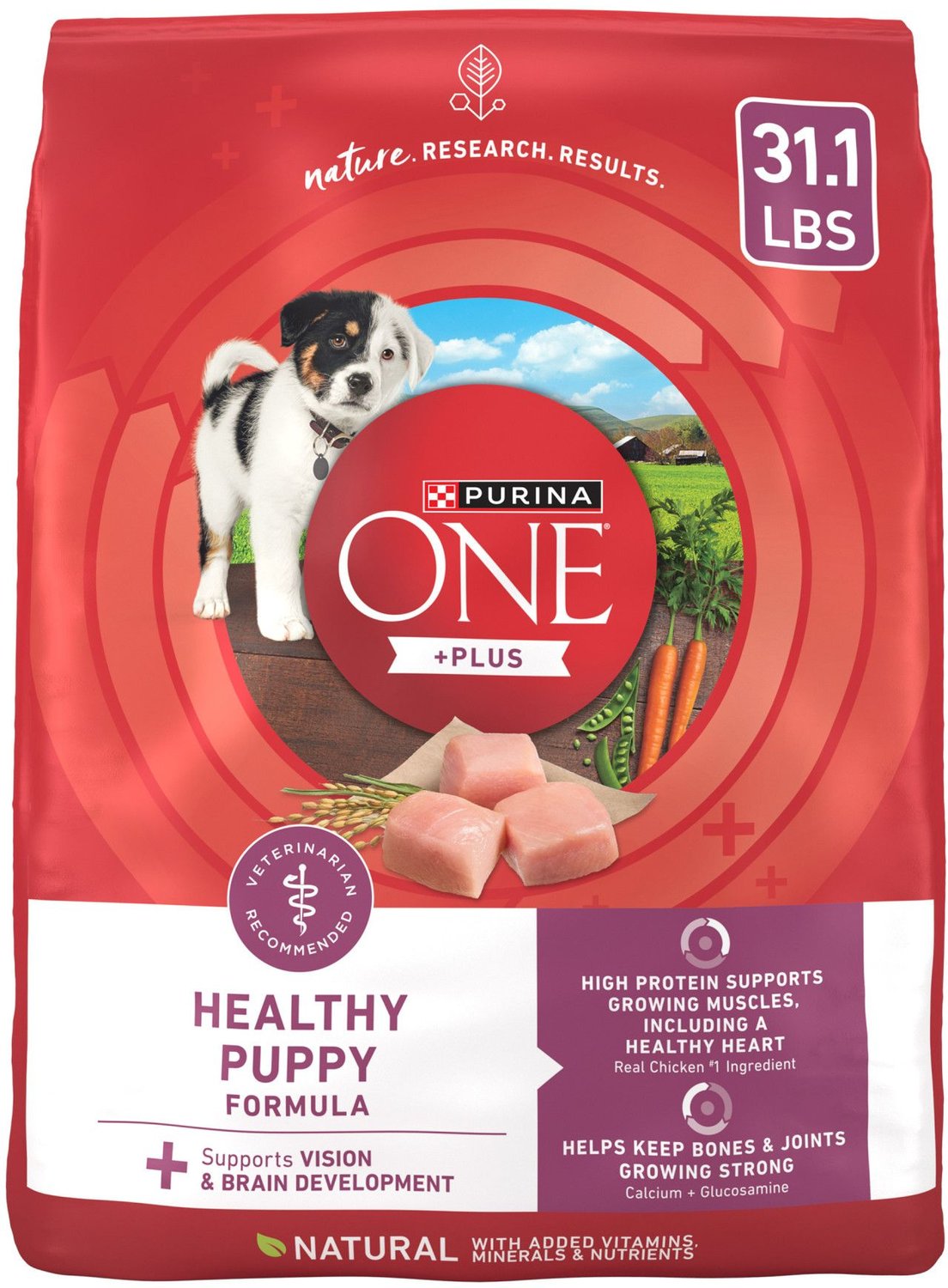 Highest Protein: Taste of the Wild Wetlands Recipe
A premium grain-free dog chow called Taste of the Wild Wetlands is created to give your Rottie food that resembles the diet of wild canines. Many of Taste of the Wild's products will be suitable for your dog, and they are all healthy choices, but we choose to focus on the Wetlands Recipe since it contains a range of bird proteins.
The ingredient list for Taste of the Wild is particularly remarkable and begins with high-quality meats like duck and chicken meal before relying mostly on sweet potatoes, beans, and potatoes for their carbohydrate content. 
To make sure that the cuisine is as appetizing as it is healthy, many additional proteins are used in the recipe, including delectable items like a baked duck, roasted quail, and smoked turkey.
The amount of protein in the recipe, 32% of its overall weight, is perfect for your little Rottie. Taste of the Wild also contains three distinct probiotic strains, antioxidant-rich fruits and veggies, and sources of omega-3 fatty acids.
Highest Protein
How to Choose the Right Dog Food for Rottweiler Puppies
You always want to find a nutritious diet for your pet, when you're attempting to feed a Rottweiler. And while isolated issues can always happen, you can prevent the majority of issues by selecting meals that are designed specifically for your pooch. 
There are several things to consider before ordering a bag of food for your new dog. Some of the more important are:
Avoiding animal by-products
Paying attention to protein content
Make sure there are antioxidants. 
Let's discuss a bit more about the things you should look for when ordering dog food for your puppy. 
Avoid Meat Meals or Animal By-Products
Meat meals and animal byproducts are not necessarily bad. Even if they make you a little queasy, your dog will likely find them to be quite delightful and they frequently offer a lot of nutritional value. But you should stick to dishes that specifically include such elements if you wish to avoid meat meals and byproducts that come from unsuitable animals. 
Make Protein a Priority
Dogs are omnivores and it is obvious that meat plays the most significant role in their diet. A complete protein should thus be listed as the first item on the ingredient list. This might be anything; Rotties typically adore veal, chicken, and even kangaroo meat. 
Observe that some business owners worry that complete proteins are high in water, meaning that if the water content were removed, they would appear farther down the list of ingredients. On a dry-food basis, this would often result in rice, potatoes, or whatever the main source of carbohydrates in the cuisine being listed as the first component. 
As a result, some people favor dishes containing beef meal as the first component. This shouldn't be a huge worry, though, as long as the diet has a proper relative protein proportion. Many foods have adequate protein amounts and feature genuine protein as the first ingredient.
Lots of Antioxidants
Antioxidants assist to maintain your dog's immune system healthy and get rid of harmful free radicals from the body. Additionally, antioxidants are believed to preserve the DNA in your dog's cells, assisting in the fight against a number of major health issues, including cancer.
The easiest approach to make sure your dog is getting enough antioxidants is to choose a diet that is full of vibrant fruits and veggies. Spinach, kale, collard greens, carrots, and berries are a few examples of what fall under this category.
Rottweiler Puppy Nutritional Requirements
The Rottweiler puppy requires a high-quality dog food that is specially made for large breed puppies as it not only contains more calories to support his entire Rottweiler development, but also contains adequate amounts of calcium, phosphorus, vitamin D, and fat to give his developing bones the stability they require to be healthy. 
They will also regulate how rapidly it develops, which is crucial for huge breeds like the Rottweiler since if it grows too fast, it is more prone to suffer osteopathic disorders like Hip Dysplasia. For these reasons, normal "all-breed" puppy kibbles must be completely avoided.
The Rottweiler puppy requires a lot of protein because it maintains its muscles fit and powerful while also giving him the stamina and pup strength he needs to thrive. Puppy food should have a protein concentration of at least 22%, according to the MSD Veterinary Manual, but bigger dogs like the Rottie should aim for a baseline protein level of 26%. Additionally, it suggests that a minimum fat level of 8% be required.
Healthy carbs are crucial because they will give him energy and keep him satisfied, perhaps reducing his snack asking and the likelihood that he will gain weight. A Rottweiler should never be permitted to gain weight or consume fatty human meals since they are known to have a number of heart issues. 
Because of this, it is important to seek foods high in omega fatty acids, including salmon oils, flaxseed, and the amino acid taurine, that all support the health of the dog's bones, coat, and heart.
The Different Types of Puppy Food: Pros and Cons Compared
So, how do you know what type of food you should be giving man's best friend? Here are some of the most common pros and cons of the most popular types of food for puppies. 
Dry Puppy  Food 
| Pros | Cons |
| --- | --- |
| Available in bigger quantities | Goes bad quicker than other options |
| Usually more affordable  | Can be hard for some dogs to chew |
| Several flavor options are available | |
| Helps with dental health | |
Wet Puppy Food
| Pros | Cons |
| --- | --- |
| Easier for puppies to eat | Doesn't get rid of tartar or plaque |
| Can be used to hide medication | |
| Tends to be tastier than dry food | |
Organic Puppy Food 
| Pros | Cons |
| --- | --- |
| Made with the healthiest ingredients | Most expensive option |
| Can be designed specifically for your dog  | Can go bad if not used quickly  |
| Great for their growing body  | Must be refrigerated |
Verified Review: Users' Experience
One pet parent tried Taste of the Wild Wetlands and had this to say about their experience: "Our dogs absolutely loved this food. It agreed with their stomachs. They had a great weight on the food. They practically banged the door down every time it was meal time."
Another option from above is the Purina ONE Natural for your young rottweiler. One review from a customer has this to say, "Its everything that was described, my puppy loves it too. I'd recommend it to anyone trying to give their puppy some healthy meals."
We here at AZA always suggest reading reviews to get the best idea of how a product works in real-life situations.
Products For This Review
Up Next
The Best Dog Food For Rottweiler Puppies FAQs (Frequently Asked Questions) 
Are rottweilers allowed to eat raw meat?
Yes, uncooked meat is edible to Rottweilers. As members of a carnivorous family, raw meat and bones make up the Rottweiler's natural diet. This is the food that wolves and wild dogs still consume today. Additionally, Rottweilers' digestive systems are considerably more adapted to processing raw meat than those of humans.
Can rottweiler puppies have milk?
When consumed in moderation, milk is a safe indulgence. Occasionally rewarding your dog with a few spoons of cow's milk or goat's milk can be pleasant without the negative effects of overindulgence.
How much should a Rottweiler puppy eat?
You shouldn't totally wean your Rottweiler puppy until they are 8 weeks old. They can then switch to the meal of their choosing at that moment. Two serving periods of three to five cups a day are advised for them.