Utah is a landlocked state in the western region of the United States. It has a vast range of ecosystems – including forests, mountains, and deserts. Utah is home to many animals, but if you're out and about in the state, then it's fairly likely that you will come across a snake or two at some point. There are 31 different species in Utah, of which seven are venomous. Many of these snakes are black or have black markings. Therefore it's a good idea to know which are which. Read on to learn about the black snakes in Utah!
1. Great Basin Rattlesnake (Crotalus lutosus)
The first snake on our list is a venomous snake – the Great Basin rattlesnake – which is also one of the most common. These snakes are 26 to 48 inches long and are a pale to yellowish brown color, which is overlaid with dark brown to black blotches. Great Basin rattlesnakes are native to the Great Basin region of the US and occur only in the western region of Utah. They live in dry, barren areas of hills, deserts, and mountainsides. Great Basin rattlesnakes are highly venomous but prey mainly on small mammals, birds, and amphibians.
2. Blackneck Garter Snake (Thamnophis cyrtopsis)
The next black snake in Utah is the blackneck garter snake which occurs mainly near bodies of water such as streams, rivers, and ponds. They are 16 to 46 inches long and have a grey ground color with yellow stripes, brown or black spots, and black blotches on the back of their neck. Blackneck garter snakes are not dangerous to humans, but they are slightly venomous to their prey which consists of small fish, amphibians, worms, and even other snakes. As they are good swimmers, they are able hunters both on land and in the water.
3. Regal Ring-Necked Snake (Diadophis punctatus regalis)
The regal ring-necked snake is a subspecies of the ring-necked snake. These snakes are rarely seen as they are small, nocturnal, and secretive. They live mainly in the deserts and the mountains and prefer areas with plenty of cover for them to hide underneath. Regal ring-necked snakes are one of the largest subspecies – ranging between 15 and 33 inches long. They are greyish-black with a speckled white belly which then becomes orange or red near their tail. In most cases, they have a signature ring of color around their neck – again, either orange or red – although in some cases, this can be absent. They are mildly venomous to their prey but not to humans.
4. Western Ground Snake (Sonora semiannulata)
Another colorful snake is the western ground snake which can be either red, orange, or brown with black bands. They are small snakes and reach only 8 to 19 inches long. Western ground snakes are fairly common but are rarely seen due to their secretive nature and nocturnal behavior. They prefer to live in rocky but dry areas where the soil is loose enough for them to forage for food. They prey mainly on invertebrates – such as spiders, crickets, centipedes, and scorpions.
5. Striped Whipsnake (Masticophis taeniatus)
A snake with a particularly slim and slender body is the striped whipsnake. The striped whipsnake is 30 to 72 inches long – making them one of the longest black snakes in Utah. These snakes are black, brown, or blueish green with cream-colored stripes down their sides and a yellowish-cream belly. Striped whipsnakes are fast-moving diurnal snakes that often move around with their head held above the ground so they can be on the lookout for both predators and prey. These snakes are not venomous, but they are powerful hunters and prey on a wide range of animals – including rattlesnakes.
6. Long-Nosed Snake (Rhinocheilus lecontei)
As its name suggests, the long-nosed snake has a distinctly long snout, particularly useful for burrowing. Long-nosed snakes spend much of their time underground in deserts, grasslands, prairies, and shrubland. They are 22 to 32 inches long and have a yellow or cream ground color with red and black markings. Long-nosed snakes prey mainly on lizards and smaller snakes. Although they are not venomous and rarely bite, they release a foul-smelling musk if threatened or picked up.
7. California Kingsnake (Lampropeltis californiae)
One of Utah's most stunning black snakes is the California kingsnake, which has distinctive black and white markings. These snakes are 24 to 51 inches long, although they can attain longer lengths in some cases. California kingsnakes are not venomous and are best known for their ability to prey on rattlesnakes – meaning that they are widely regarded as beneficial snakes. California kingsnakes are widespread across Utah and live in a variety of habitats, including grasslands, woodlands, deserts, and even in residential areas.
8. Milk Snake (Lampropeltis triangulum)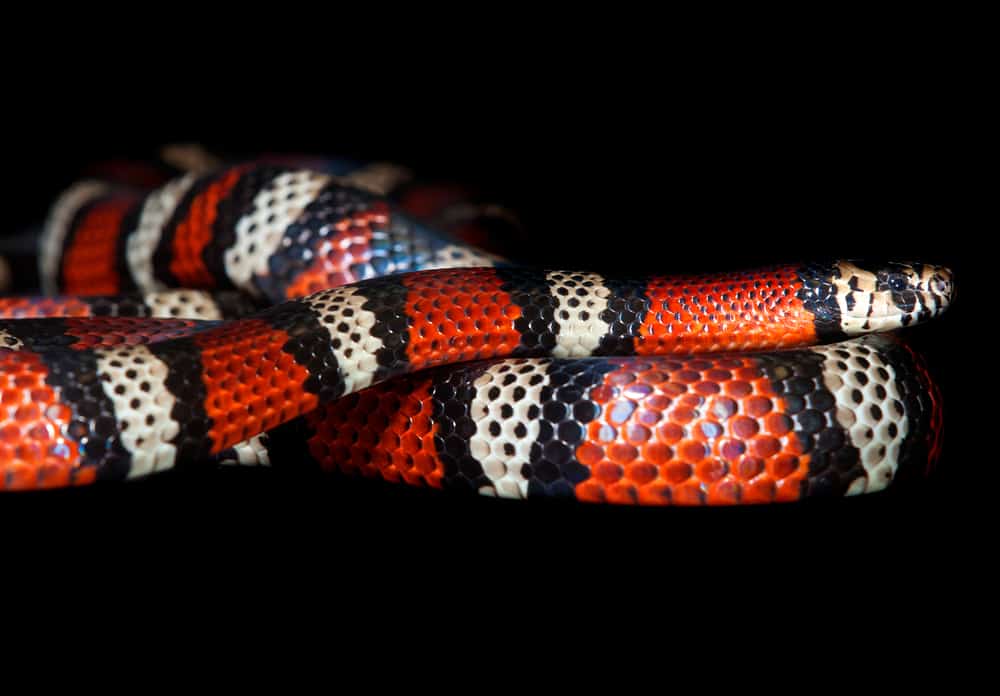 One of the most common and best known snakes is the milk snake. They have a similar appearance to the venomous coral snake (not found in Utah) as they have alternating black, red, and either white or yellow bands. Their size can vary widely from 14 to 72 inches long, depending on the subspecies. Milk snakes also live in a wide variety of habitats – such as scrubland, grasslands, forests, and deserts. However, they typically live in elevations between 4,000 and 7,500 feet in Utah.
9. Southwestern Black-Headed Snake (Tantilla hobartsmithi)
The southwestern black-headed snake is only found in the southwestern corner of Utah, where they typically live in woodlands and grasslands. They are one of the smallest snakes in the state and reach only 15 inches long, although they are often smaller. Southwestern black-headed snakes are usually brown with a black head. They are secretive snakes and spend much of their lives hidden away in the leaf litter. Southwestern black-headed snakes are mildly venomous, although they are too small to harm humans. Instead, their venom is only dangerous to their prey, consisting mainly of insects and centipedes.
10. Great Basin Gopher Snake (Pituophis catenifer deserticola)
The final black snake in Utah is the Great Basin gopher snake, a subspecies of the gopher snake. These snakes are often mistaken for the Great Basin rattlesnake due to their similar appearance. Great Basin gopher snakes average 54 inches long and are tan to yellowish brown with a series of dark brown and black spots that are connected by narrow lines. They are common snakes and live in grasslands, deserts, and woodlands. Although they are not dangerous, these snakes tend to raise their head while flattening their neck, hissing, and vibrating their tail to mimic a rattlesnake.
Up Next
Discover the "Monster" Snake 5X Bigger than an Anaconda
Every day A-Z Animals sends out some of the most incredible facts in the world from our free newsletter. Want to discover the 10 most beautiful snakes in the world, a "snake island" where you're never more than 3 feet from danger, or a "monster" snake 5X larger than an anaconda? Then sign up right now and you'll start receiving our daily newsletter absolutely free.
More from A-Z Animals
---
The Featured Image
---
Sources

Arizona-Sonora Desert Museum, Available here: https://www.desertmuseum.org/books/nhsd_longnose_snake.php
DigitalAtlas, Available here: https://digitalatlas.cose.isu.edu/bio/reptile/serp/sose/sose.htm#:~:text=Habitat%3A,to%20low%20desert%20shrub%20areas
National Park Service U.S. Department of the Interior, Available here: https://www.nps.gov/brca/learn/nature/stripedwhipsnake.htm
Utah Herps, Available here: http://utahherps.info/lampropeltis_triangulum.html