Key Points
Lake Texoma is on the border of both Oklahoma and Texas.
There are several types of snakes in and around the lake, including venomous snakes.
Practice safety measures and stay alert for snake activity.
As one of the largest reservoirs in the United States, Lake Texoma is an essential wildlife habitat that is home to many species of fish. Many visit Lake Texoma as a vacation or fishing destination. However, the lake also has species of venomous snakes that utilize the water. The most common are cottonmouths (also known as water moccasins), rattlesnakes, and copperheads. So, as vacationers travel to Texas, many may wonder about the snakes in Lake Texoma: is it safe to swim?
About Snakes in Lake Texoma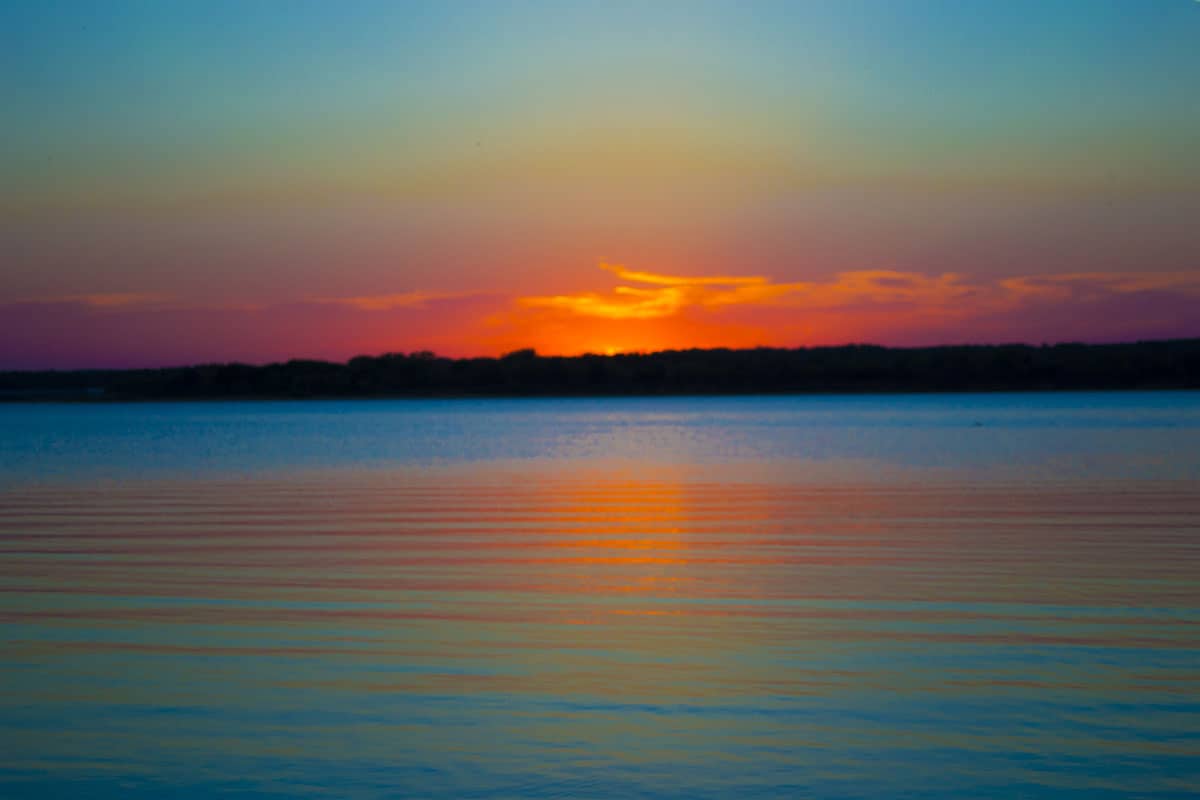 While many snakes take advantage of Lake Texoma and the surrounding area, the venomous ones are what swimmers must be concerned about. Learning to identify cottonmouths, copperheads, and rattlesnakes will help you to determine when you do see a snake, if it is venomous or not, and whether it is safe to swim in Lake Texoma.
Cottonmouths
These snakes have almost triangular heads when viewed from above. The cottonmouth's eye is an elliptical-shaped pupil, much like an ordinary cat's. The heat sensory "pits" appear between the eye and nostril, which is a marker of all pit vipers. Rattlesnakes and copperheads also have these pits.
Adult cottonmouths are dark brown in color with black tails. And, they have between 10-15 bands striping their backs. Adults also have white lines that travel from below the eyes to the corner of the jaw. A pale white line also streaks above their eyes.
Young cottonmouths have slightly different coloring. Their bodies are light brown or tan with yellow tails. The yellow attracts prey for these baby snakes to eat. But as they age, their coloring and tails darken.
Cottonmouths are generally 2-4 feet long and weigh between 3-4 pounds. As it has a thicker body than most, cottonmouths are quite buoyant, and they swim almost entirely on top of the water. Many people spot a cottonmouth swimming because of how high it holds its head above the water.
Cottonmouths are semi-aquatic snakes. They are the only type of venomous snake that spends more time in the water than on land. If you are wondering if it is safe to swim in Lake Texoma, looking for cottonmouths is your first priority.
Copperheads
Because their heads are the hue of an old copper coin, people began calling these snakes "copperheads." Their heads are broad and triangular in shape with "cat eyes" or elliptical pupils, like the cottonmouth. Their bodies are usually tan, light brown, or coppery in color, with hourglass-shaped bands across their backs. You can also spot the "pit" sensors on these snakes, as they are part of the pit viper family.
Copperheads typically grow 24-36 inches in size but only weigh around 0.5-0.75 pounds. When it is hot out, copperheads are mainly nocturnal creatures. And, while copperheads are fair swimmers, they don't spend much time in the water. Considering whether swimming in Lake Texoma is safe, you generally don't have to worry about copperheads. They mainly go into the water to avoid predators or catch prey. But if they have the choice, they would rather hunt on land.
Rattlesnakes
While there are 10 types of rattlesnakes in Texas, the most likely rattlesnake you will come into contact with in Lake Texoma is the Western diamondback rattler. Like the other snakes, the diamondback has a triangular-shaped head. It has a thicker body than the other two snakes, and you can observe dark, diagonal lines running on each side of its face. These lines extend from the eyes to the snake's jaw.
Most distinctive, and where the snake gets its name, is the dark diamond-shaped markings along its back. While this snake is typically a brown, tan, or gray color, the diamond markings are dark with white outlines. Also, the diamonds may seem more like a loose oval or round rectangle shape rather than a distinctive diamond.
What is also different about the diamondback, compared to the cottonmouth or copperhead, is its rattle. Black and white bands encircle the tail just below the rattle, and the rattle itself is a pale yellow color.
Diamondbacks are typically 3.5-4.5 feet long and weigh about 3-6 pounds. Of the three snakes, the diamondback is the biggest. When threatened, the western diamondback forms a raised S-shaped coil to give it leverage to strike.
When weighing whether swimming in Lake Texoma is safe or not, you are more likely to see a cottonmouth than a diamondback. Like the copperhead, although diamondbacks can swim, they prefer to catch their prey on land.
Snakes in Lake Texoma: Is It Safe to Swim?
As mentioned previously, if you see a venomous snake, it is most likely a cottonmouth. Copperheads and rattlesnakes are both strong swimmers, but their purpose for being in the water is to pursue prey or make a fast escape from a predator. And while these snakes can swim underwater, it is usually just for a few minutes. Most of the time, you will observe them winding on top of the water with their heads up.
Rattlesnakes may bite in the water, but their usual strike stance is the S-shaped coil. Swimming in the water doesn't give the snake much leverage to strike out. More likely, you have to be right next to the snake to risk a bite.
Copperheads are known for warning, or "dry," bites. This is to scare off a threat, but it doesn't usually contain venom. The second bite is the one that contains venom. Again, you must be near a copperhead to risk being bitten in the water.
Because cottonmouths use the water to hunt for amphibians or fish, they, too, can bite underwater. However, this is extremely rare. In fact, only 2-4 people are bitten by a cottonmouth per year in the United States.
While there is a small chance of being bitten while swimming in Lake Texoma, there are many precautions you can take to remain safe.
How to Avoid Snakes Swimming in Lake Texoma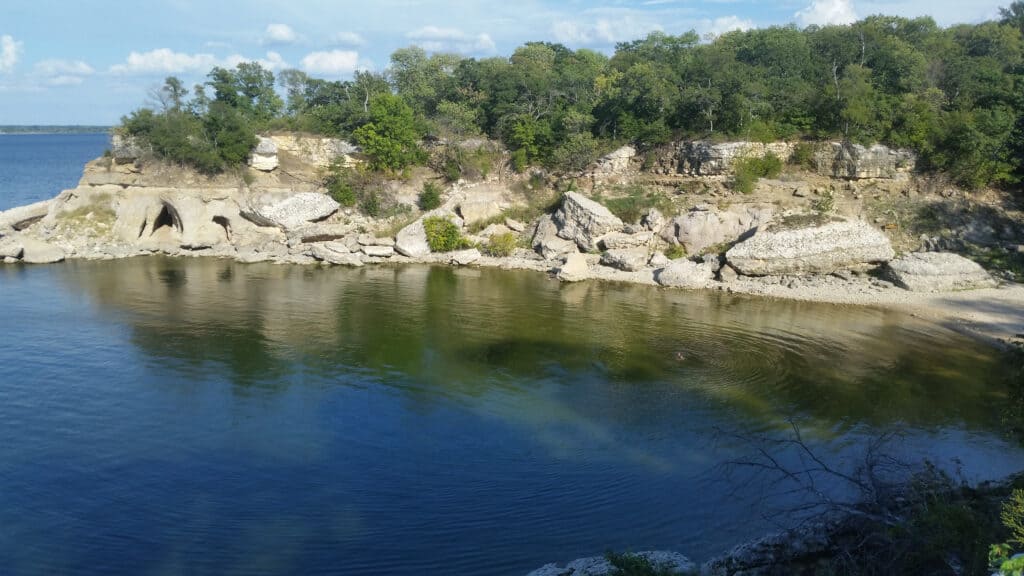 Here is a list of precautions to take before enjoying a swim in Lake Texoma:
Watch the water for any snakes skimming or weaving across the water. You will most likely see the head first. If it has a triangular head, this indicates that it is most likely one of the above species, and you should swim the other way. If you are unsure, give the snake space in either case.

If in the shallow end, watch your feet and where you step. Many snakebites occur because someone accidentally steps on the snake.

Avoid shorelines with heavy vegetation, as the snake may be hiding from predators or waiting to ambush prey.

Don't step onto any rocky crevice where you don't have full visibility. Again, snakes may be using these crevices for cover.

Don't grab for any "sticks" or "branches" in the water, as it may be a floating snake.

Give snakes space. Snakes will avoid humans if given the opportunity, as they are shy creatures. They will only bite if they feel threatened or in danger. Avoid a snake, and it will avoid you.

You can also check out this link by the USDA regarding snake safety on land.
If You Are Bitten…
If bitten, do not try to suck the poison out, ice the wound, or apply a tourniquet. These methods only cause additional damage. However, what you should do is:
Call 911 or get transported to a hospital immediately.

If you can, wash the wound with soap and water.

Take off jewelry or watches that may restrict swelling.

If possible, inhibit movement of the affected area and keep the bite injury below the heart.

Stay calm and keep your heart rate restful.

Once at the hospital, they will treat you with the required care and anti-venom.
Is It Safe to Swim in Lake Texoma?
While there is no one hundred percent guarantee that swimming in Lake Texoma will be completely safe, it is very unlikely you will get bitten. If you practice safety measures, are alert for snake activity, and respect a snake's space, it is easy to swim with snakes in Lake Texoma safely.
Discover the "Monster" Snake 5X Bigger than an Anaconda
Every day A-Z Animals sends out some of the most incredible facts in the world from our free newsletter. Want to discover the 10 most beautiful snakes in the world, a "snake island" where you're never more than 3 feet from danger, or a "monster" snake 5X larger than an anaconda? Then sign up right now and you'll start receiving our daily newsletter absolutely free.
---