↓
Continue Reading To See This Amazing Video
The Nevada we know today was a different place in the beginning. You might get lost in an unfamiliar shallow sea and woods if you traveled back in time, before statehood and even long before man ever set foot in what would become Nevada state. If you ever wanted to envision a world full of water, look no further than millions of years ago, merely a blip in the planet's lifetime.
Much like it is today, oceans covered the globe. Sediments from these ancient oceans were later deposited in what became the mountain ranges in central Nevada. Nevada's state fossil, known as ichthyosaurus communis, dates back to this time. Most people are unaware of what occurred in this "Sagebrush State" long ago.
Giant mammoths and dire wolves weren't the only megafaunas to call Nevada home. Read on to discover the scope of gigantic animal species that once lived in Nevada.
8 Extinct Animals That Lived in Nevada
Thousands of years ago, a Wallman mammoth could have relieved itself on the ground you stand on, a dire wolf could have nursed pups in your backyard, or a dinosaur could have fought off a ground sloth in the park down the street. 
Here are 8 extinct animals that once called Nevada home:
1. Wallman Mammoth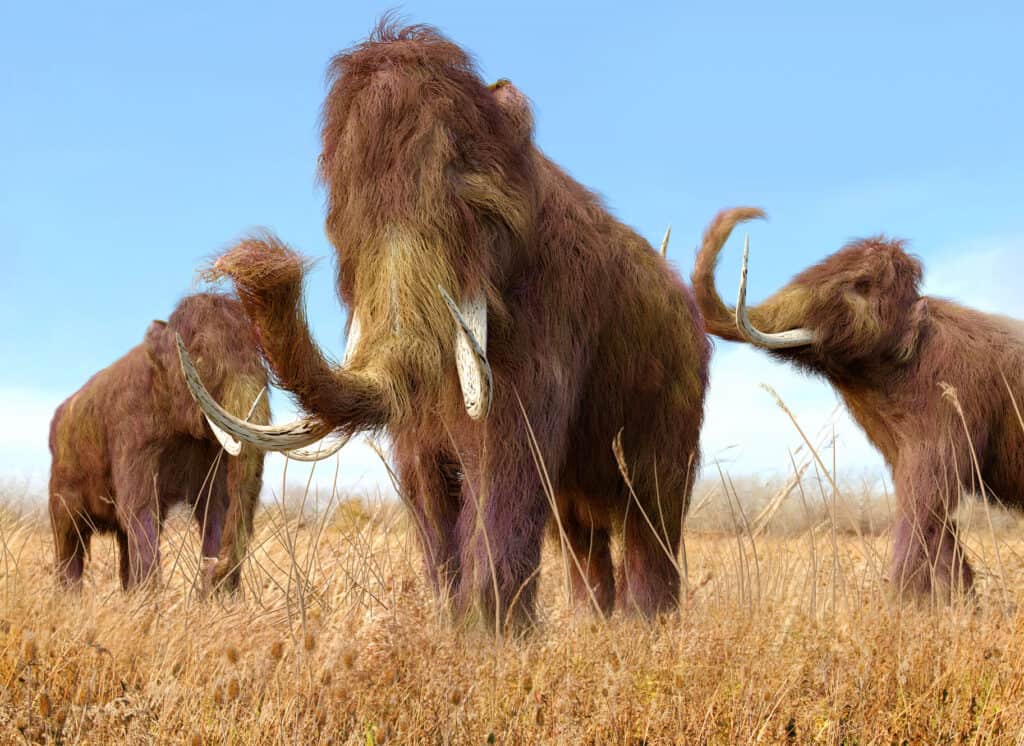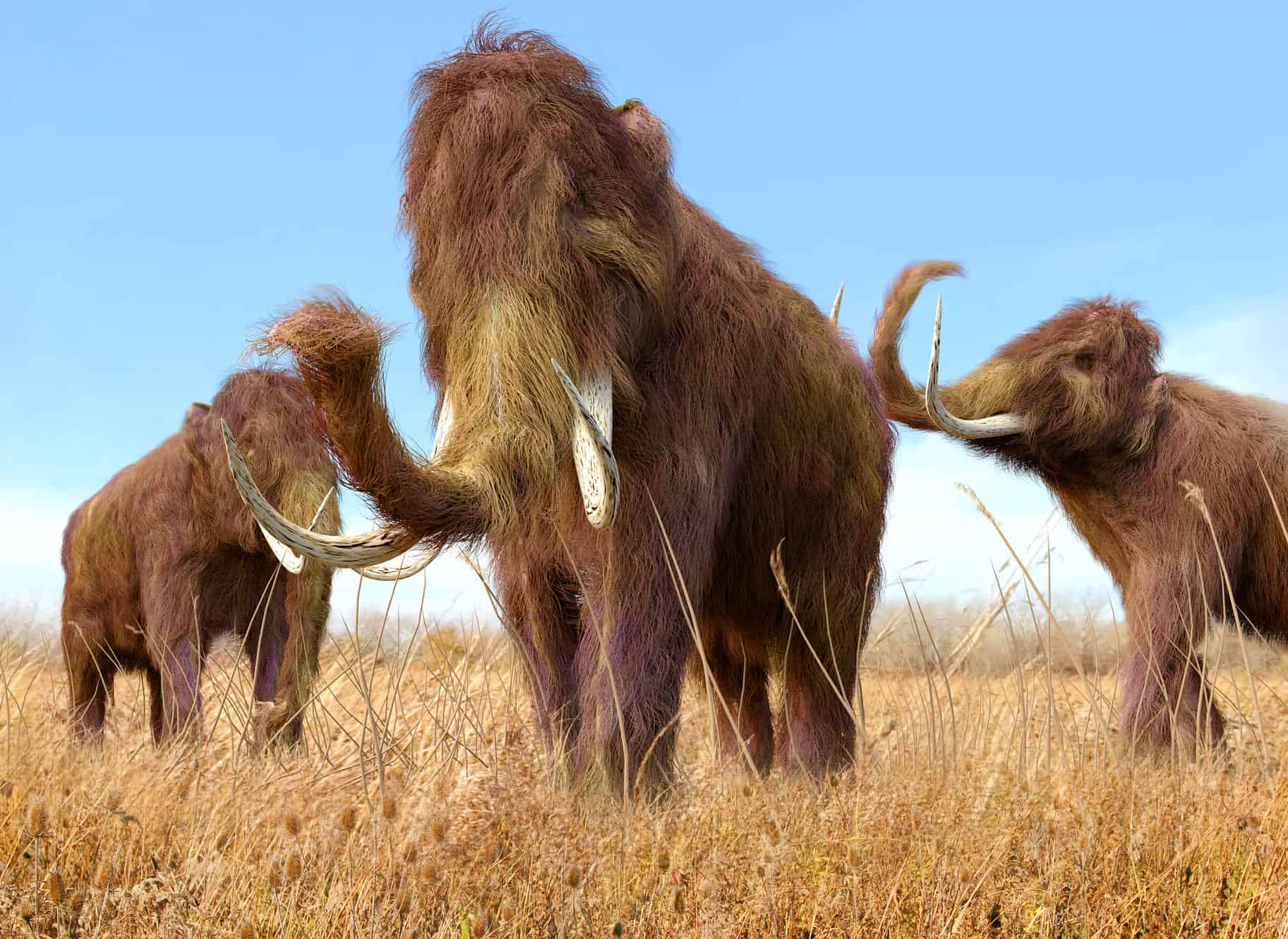 | Wallman Mammoth | |
| --- | --- |
| Kingdom | Animalia |
| Phylum | Chordata |
| Class | Mammalia |
| Order | Proboscidea |
| Family | Elephantidae |
| Genus | Mammuthus  |
| Species | Mammuthus primigenius |
| Living period  | Between 800,000 years ago to 4,000 years ago |
The Nevada State Museum excavated the first discovered Wallman mammoth on Black Rock in 1979. It took about 14 years to prepare and reconstruct the fossils, an effort well worth it as this specimen has greeted museum visitors for two decades. While Wallman mammoth fossils in Nevada have been limited and vastly scattered, paleontologists continue to look for obscure mammoths that once roamed the Great Basin. 
A mammoth is an extinct species of the elephantid genus Mammuthus that was typically equipped with long, curved tusks. They lived from approximately 5 million years ago to about 4,000 years ago, and various species resided in North America, Asia, Europe, and Africa.
2. Shonisaurus popularis
Shonisaurus popularis
Kingdom
Animalia
Phylum
Chordata
Class
Reptilia
Order
Ichthyosauria
Family
Shastasauridae
Genus
Shonisaurus
Species
Shonisaurus popularis
Living period 
Late Triassic Period
237-227 million years ago
Shonisaurus popularis is an extensive genus of ichthyosaur. They represent the largest of the marine reptiles to have swum the seas during the age of dinosaurs. The first fossils of Shonisaurus were discovered in Nevada in 1920. They were excavated thirty years later, uncovering the remains of 37 very large ichthyosaurs. They were then named after the place where the fossils were found. The name Shonisaurus means "lizard from the Shoshone mountains." These mountains are situated in west-central Nevada and make up one of the most extended mountain ranges in the state.
3. Dinosaurs
Dinosaurs
Kingdom
Animalia
Phylum
Chordata
Clade
Dracohors
Clade
Dinosauria
Living period
Mesozoic era
243-233 million years ago
Dinosaurs are a diverse species of reptiles that first appeared between 243 and 233 million years ago. The first dinosaur fossils were established in the 19th century. In 1841, Sir Richard Owen gave this great fossil lizard the name "dinosaur," meaning "terrible lizard." Since then, dinosaur fossils have become the primary attraction in all museums worldwide.
Paleontologists have found a mixed record of life in Nevada during the last part of the dinosaur age. So far, the fossil list consists of meat-eating dinosaurs (the ancestors of tyrannosaurs and cousins of allosauruses) and plant-eating dinosaurs like sauropods and duck-billed dinosaurs. 
Some of Nevada's ongoing research on dinosaurs can be seen at the Sierra College Natural History Museum in Sacramento or the Las Vegas Natural History Museum.
4. Ancient Bison
| Ancient Bison | |
| --- | --- |
| Kingdom | Animalia |
| Phylum | Chordata |
| Class | Mammalia |
| Order | Artiodactyla |
| Family | Bovidae |
| Subfamily | Bovinae |
| Genus | Bison |
| Species | Bison antiquus |
| Living period  | Late Pleistocene until about 10,000 years ago |
The ancient bison (double the size of the modern species) is an extinct species of bison that lived throughout North America, from Alaska to southern Mexico. This species lived in the Late Pleistocene until about 10,000 years ago. Approximately 15% of the large mammal fossils discovered at Tule Springs Fossil Beds National Monument were identified as ancient bison. 
Softer tissues like hooves and horn keratin of the ancient bison are missing in Tule Springs, unlike those found in the polar regions of North America and Siberia. A complete skull of an old male ancient bison was first discovered in southern California.
5. Ice-Age Horses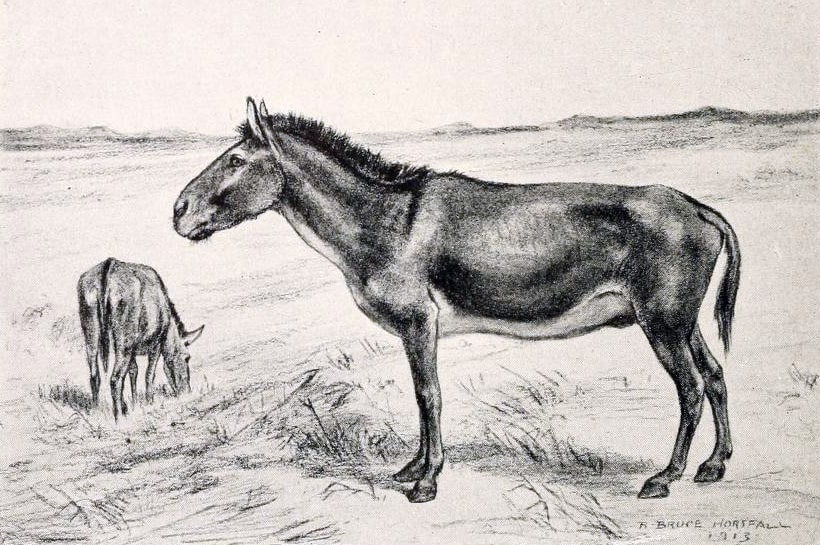 | Ice-Age Horses | |
| --- | --- |
| Kingdom | Animalia |
| Phylum | Chordata |
| Class | Mammalia |
| Order | Perissodactyla |
| Family | Equidae |
| Genus | Equus |
| Subgenus | Incertae sedis |
| Species | Equus scotti |
Horses were abundant across Nevada during the Ice Age. They were remarkably similar in appearance and genetically related to today's wild horses. Throughout the 20th and 21st centuries, paleontologists have defined over 50 distinct species of horses based on the shape and size of their skeletons. In Nevada, horse fossils from the Ice Age were found in a Las Vegas backyard. During the construction of a pool, workers exhumed bones that could be around 14,000 years old.
6. Dire Wolf
| Dire Wolf | |
| --- | --- |
| Kingdom | Animalia |
| Phylum | Chordata |
| Class | Mammalia |
| Order | Carnivora |
| Family | Canidae |
| Subfamily | Caninae |
| Tribe | Canini |
| Subtribe | Canina |
| Genus | Aenocyon |
| Species | Aenocyon dirus |
| Living period | 125,000-9,500 years ago |
Along with its extinct competitor, Smilodon, the dire wolf was a massive carnivore in North America. This canine lived during the Late Pleistocene and Early Holocene epochs (roughly 125,000–9,500 years ago). Fossil remains of dire wolves have been found in a wash northwest of Las Vegas. Geologist Josh Bonde from the University of Nevada, Las Vegas, together with a group of researchers, discovered the fossil of a dire wolf's foot bone during a survey of the Upper Las Vegas Wash. The Upper Las Vegas Wash has been famed for remains from diverse geological eras, either the Late Pleistocene or the Cretaceous.
7. Cave Bear
| Cave Bear | |
| --- | --- |
| Kingdom | Animalia |
| Phylum | Chordata |
| Class | Mammalia |
| Order | Carnivora |
| Family | Ursidae |
| Genus | Ursus |
| Species | Ursus spelaeus |
The cave bear (Ursus spelaeus) is an extinct bear species that lived throughout Asia and Europe during the Pleistocene. Cave bears were up to 50% larger than the most prominent modern bears. They became extinct roughly 30,000 years ago during the last glacial maximum. Fossil samples have been found throughout the United States, but a complete fossil from a single animal was found in White Pine County on National Forest Land in 1982. 
8. Ground Sloth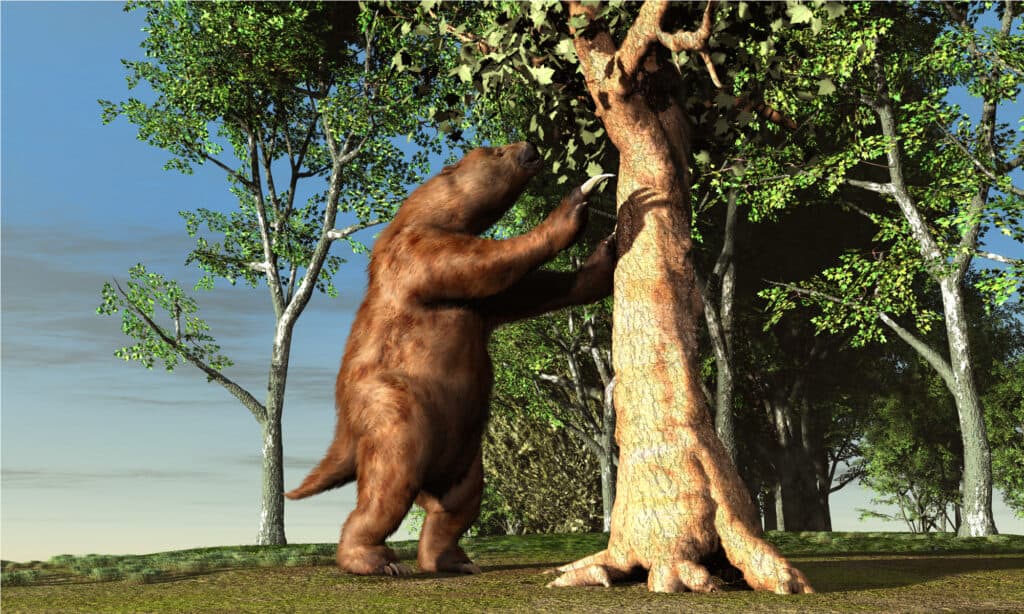 | Ground Sloth | |
| --- | --- |
| Kingdom | Animalia |
| Phylum | Chordata |
| Class | Mammalia |
| Superorder | Xenarthra |
| Order | Pilosa |
| Suborder | Folivora |
Giant ground sloths once roamed Nevada. Though now extinct, these animals were among history's most heavy and robust animals. They were roughly 2,000 and 4,000 pounds in total weight and grew up to ten feet tall. While these animals were relatively easy to spot, they had thick hides containing osteoderms, making the hunter's weapons difficult to penetrate. Ground sloths went extinct roughly 10,000 years ago or more. Their fossils were found in the Carson City trackway, Nevada.
---
The Featured Image
---