Perhaps best known as the slowest moving mammals on earth, sloths live in the rainforest canopies of Central and South America. This is where they hang upside down, munching leaves and sleeping 15-20 hours a day. In fact, sloths sleep, eat, mate, and even give birth while upside down!
Sloths move so slowly and so infrequently that their bodies can become covered with algae during the rainy season. Yet, these languid tree-dwellers who often move less than 40 yards daily are excellent swimmers! The sloth is a fascinating and surprising animal, and there may very well be a zoo near you where you can see a sloth for yourself. Here are 20 zoos in the United States where you can "hang" with sloths on your next visit.
Northeast
Southwicks Zoo – Mendon, MA
One of the largest zoos in New England, Southwicks Zoo is home to 850 animals in naturalistic habitats. Along with lions, tigers, white rhinos, and chimpanzees, you can also check out the two-toed sloth. You can even register for a sloth encounter if you really want to get up close with one of the zoo's sloths.
Salisbury Zoo – Salisbury, MD
The spunky little Salisbury Zoo traces its roots back to the 1950s when some unwanted wild animals were released into a marshy area that belonged to the city of Salisbury. From those humble beginnings, the zoo quickly grew into the 12-acre home of birds, mammals, and reptiles that it is today. It also counts a Linnaeus's two-toed sloth (Choloepus didactylus) among its animal family.
This zoo is completely free of charge. Even parking is free! The zoo is located on the Delmarva Peninsula. This Atlantic Ocean peninsula's name is derived from the three states that occupy it: Delaware, Maryland, and Virginia.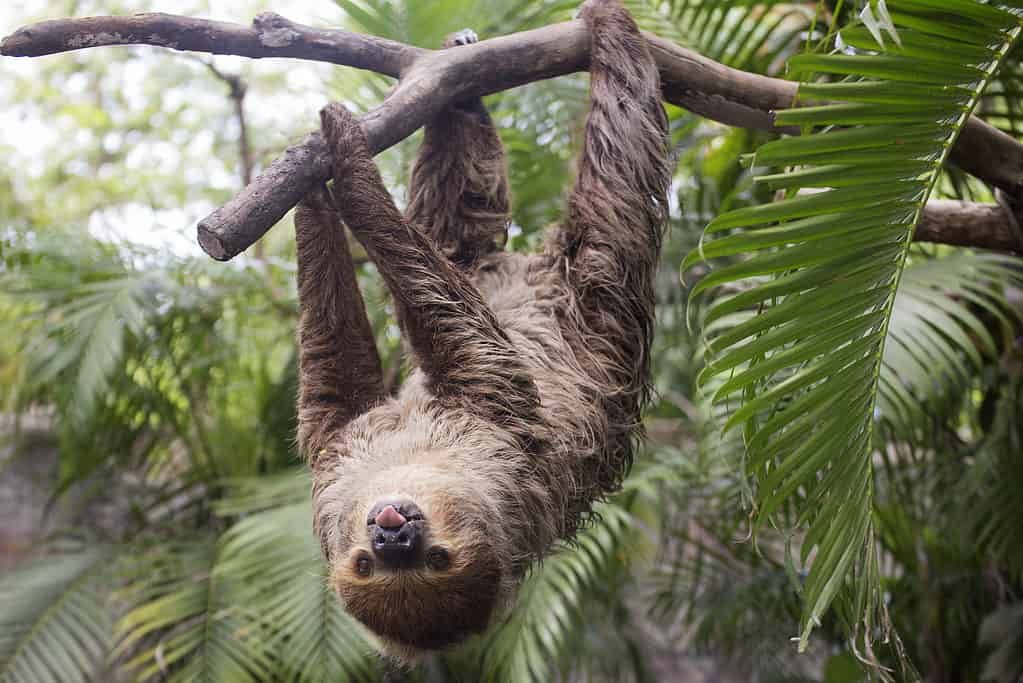 Bronx Zoo – Bronx, NY
Located in Bronx Park, the Bronx Zoo is the largest metropolitan zoo in the United States. This 265-acre zoo is home to some 10,000 different animals. It is a truly amazing animal sanctuary right in the middle of the United States' largest city.
The children's zoo is open from April-October and is home to Linnaeus's two-toed sloth. It is a great place for a family day while in New York City!
Philadelphia Zoo – Philadelphia, PA
The Philadelphia Zoo is the oldest true zoo in the United States. Chartered in 1859, the zoo's opening was delayed until July 1, 1874, due to the American Civil War.
Today, the zoo is home to more than 1,700 rare and endangered animals, including a Hoffman's two-toed sloth (Choloepus hoffmanni) named Latte. Bonus: you can check out Latte on the zoo's sloth cam when you can't visit in person.
Southeast
Palm Beach Zoo & Conservation Society – West Palm Beach, FL
What started as a small barn with a few farm animals has evolved over the decades to become the thriving Palm Beach Zoo that is home to more than 500 animals from all over the world, including Hoffman's two-toed sloth named Wilbur.
If you want an up-close encounter, you can register for the zoo's sloth experience. Maybe you'll even get to take a "slothie" with Wilbur!
Zoo Atlanta – Atlanta, GA
Located in Grant Park, Zoo Atlanta is just minutes from downtown Atlanta. You can experience more than 1,000 animals from all over the globe. You could even book an opportunity to feed giant pandas!
Along with this vast array of animals, visitors can view Hoffmann's two-toed sloths. Zoo Atlanta's sloths can be found in two habitats, KIDZone and Base Camp Discovery.
Memphis Zoo – Memphis, TN
The Memphis Zoo was established in 1906. Located in Midtown, the zoo sits on 76 acres and houses over 3,500 animals.
The zoo's Animals of the Night exhibit is home to three of Linnaeus's two-toed sloths: Marilyn and Sparky, along with their daughter, Lua.
Louisville Zoo – Louisville, KY
Louisville is not only home to the Kentucky Derby, Louisville Slugger, and some top-notch bourbon. It is also home to the Louisville Zoo, which houses over 1,200 animals.
Among those animals, you will find Sunni, Linnaeus's two-toed sloth. The zoo also announced a new sloth encounter in 2023.
National Zoo – Washington, DC
The National Zoo is part of the Smithsonian Institution and is open 364 days a year (closed on Christmas Day). There is no charge for admission (reservations are required) to this 163-acre zoo located in the heart of Washington, DC's Rock Creek Park.
The National Zoo is home to more than 2,700 animals, including Linnaeus's two-toed sloth. The sloth resides in the zoo's Small Mammal House.
Midwest
Cincinnati Zoo & Botanical Garden – Cincinnati, OH
Located in Cincinnati's Avondale neighborhood, the Cincinnati Zoo is the sixth oldest zoo in the U.S. The Reptile House at the zoo is the oldest zoo building in the nation. The zoo was declared a national landmark in 1987.
The Cincinnati Zoo became known worldwide in 2017 when Fiona, the Nile hippopotamus, was born six weeks premature. She is the smallest hippo ever to survive and can be seen in the zoo's Hippo Cove.
While visiting Fiona and the thousands of other animals at the Cincinnati Zoo, be sure to stop by the Discovery Forest to visit Moe, Linnaeus's two-toed sloth. Moe is an expectant father. His mate, Lightning, is pregnant and is expected to deliver the first sloth pup ever born at the zoo in the summer of 2023. Lightning will be off-display for the duration of her pregnancy.
Lincoln Park Zoo – Chicago
Lincoln Park Zoo is a 35-acre Chicago zoo that was founded in 1868. There is no admission fee, making it the only privately managed free zoo in the country (parking fees may apply).
This zoo, which is just minutes from downtown Chicago, celebrated the arrival of three new lion cubs in January 2023. Along with their growing lion pride, the zoo is home to thousands of animals, including Hoffman's two-toed sloth. The sloths can be seen in the Helen Brach Primate House at the zoo.
Detroit Zoo – Royal Oak, MI
A short 15-minute drive from downtown Detroit, the Detroit Zoo sits on 125 acres and houses more than 2,000 animals. The zoo features immersive exhibits, like the Polk Penguin Conservation Center. The Arctic Ring of Life is one of the largest polar bear habitats in the United States. The Australian Outback Adventure allows visitors to walk amongst kangaroos and wallabies
While visiting the zoo, stop by The Hangout to see Molasses (Mo, for short), Linnaeus's two-toed sloth. He lives alongside some neighbors: five African straw-colored fruit bats.
Como Park Zoo & Conservatory – St. Paul, MN
A visit to the Twin Cities is not complete without checking out the Como Park Zoo. Admission to the zoo is free, but a donation of $4 per adult and $2 per child is requested. Reservations are required and can be made on the zoo's website.
The conservatory gardens will lift your spirits as you walk among gorgeous seasonal flowers, tropical gardens, and a highly-acclaimed Japanese Garden.
Animal exhibits include gorillas, giraffes, sea lions, orangutans, and, of course, Hoffman's two-toed sloths. The sloths are located in the Tropical Encounters exhibit and in the Primates Building.
Southwest
Phoenix Zoo – Phoenix, AZ
The Phoenix Zoo is the largest privately owned, non-profit zoo in the United States. It sits on 125 acres in the Papago Park area of Phoenix. Home to more than 3,000 animals, the zoo features miles of trails through lush gardens and desert landscapes. There are splash pads to beat the desert heat, as well as multiple playgrounds and lots of rides and attractions. It's a great place for a family day in Phoenix.
No visit to the zoo is complete without a stop to visit Fernando, declared by the zoo to be "the world's cutest sloth." Fernando is Linnaeus's two-toed sloth. The zoo's website even has an entire page where you can check out photos, videos, and all things Fernando.
Dallas World Aquarium – Dallas, TX
The privately-owned Dallas World Aquarium is housed in a massive refurbished warehouse in Dallas' Historic West End. Don't let the word "aquarium" fool you, though. While the Dallas World Aquarium has an amazing array of aquatic animals, everything from manatees to sharks, it also has a stunning collection of other animals.
In the Orinoco Rainforest exhibit, you will find both Hoffman's two-toed sloth and the brown-throated three-toed sloth, (Bradypus variegatus). Three-toed sloths often can't thrive in captivity due to their extremely limited diet, but DWA receives a constant supply of Cecropia leaves. This has allowed their male brown-throated three-toed sloth named Leno to thrive in their care since 2005.
West
Utah's Hogle Zoo – Salt Lake City, UT
A 42-acre complex in Salt Lake City, Utah's Hogle Zoo is located at the mouth of Emigration Canyon.
While at the zoo, visitors can visit the African Savanna where they can see zebras, giraffes, and lions. The zoo also features Asian big cats, as well as polar and grizzly bears. And if you have little ones, they're sure to enjoy the carousel and multiple play areas.
The zoo's sloths can be found in the Small Animal Building.
Cheyenne Mountain Zoo – Colorado Springs, CO
With an elevation of 6,714 feet, the Cheyenne Mountain Zoo is the highest zoo in the U.S. An easy 15-minute drive from downtown Colorado Springs, the 146-acre zoo is nestled in a picturesque mountain setting.
The zoo takes advantage of its beautiful setting by featuring exhibits such as Rocky Cliffs and Rocky Mountain Wild. But it also boasts habitats and animals from all over the world, including two Hoffman's two-toed sloths named Bosco and Bean. Bosco can be found in the zoo's Scutes Family Gallery, while Bean hangs out in The Loft.
San Francisco Zoo & Gardens – San Francisco, CA
The San Francisco Zoo is situated in the southwestern corner of San Francisco. It sits on the Pacific coast and is home to more than 2,000 exotic, endangered, and rescued animals.
The zoo features big cats in the Cat Kingdom exhibit, gorgeous American black bears in Bear Country, imposing grizzly bears in Hearst Grizzly Gulch, and lemurs in Lemur Forest, the largest outdoor lemur habitat in the U.S.
There is so much to experience at this zoo! We haven't even mentioned the adorable koalas, red pandas, and North American river otters. The list just goes on and on.
The zoo's Linnaeus's two-toed sloths can be found in the South American Tropical Rainforest and Aviary.
San Diego Zoo – San Diego, CA
Home to more than 3,700 animals, the San Diego Zoo occupies 100 acres of Balboa Park. The zoo is only 10 minutes from the Gaslamp Quarter and San Diego Airport. It's also near major freeways, making it an easy destination from any part of the city.
The zoo features lush natural habitats, including a botanical collection of over 700,000 plants. Some of the zoo's most well-known exhibits include polar bears, koalas, and pygmy hippos. Combine that with an aerial tram, a guided bus tour, and a 4-D theater, and it's no wonder this is considered one of the premier zoos in the U.S.
The zoo features both the Hoffman's and the Linnaeus's two-toed sloths.
Honolulu Zoo – Honolulu, HI
The 42-acre Honolulu Zoo is found in Queen Kapiʻolani Park in Honolulu. It is the only zoo in the U.S. that was established by a sovereign monarch's grant. In 1876, Hawaii's King Kalakaua, often known as the "Merrie Monarch," made the Leahi Crown Holdings lands available "to the people of Hawaii." This is where the zoo now sits today. It is the only zoo to be found in a nearly 2,400-mile radius!
The zoo features a lovely botanical display of tropical plants, in addition to being the home of a wide array of amphibians, reptiles, birds, and mammals, including Linnaeus's two-toed sloth. And, when you can't visit the zoo, you can always check out their sloth cam.
Sloths, Sloths, And More Sloths!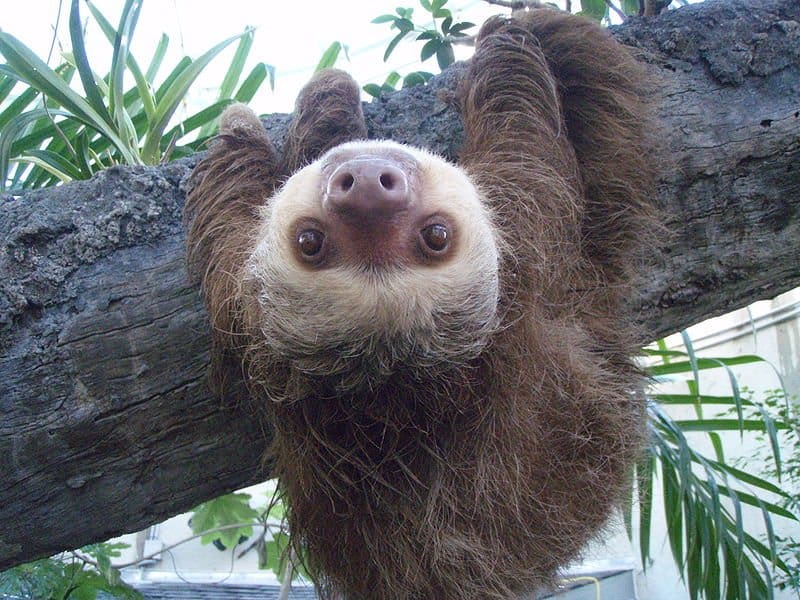 This, of course, is not an exhaustive list by any means, but it's a good start. There are ethical, accredited zoos throughout the United States where visitors can not only view animals, but also learn more about them, their habitats, and what they can do to help with conservation efforts to save those animals that are at risk.
Many of those zoos feature adorably lazy sloths in their animal families. Whether you are mildly interested in sloths, or if you claim the sloth as your spirit animal, there are U.S. zoos coast-to-coast (and even beyond the coast in Hawaii) that feature these slow-moving, algae-growing, long-clawed, oh-so-fascinating animals.
Where Is the Oldest Sloth in Captivity?
There is one famous sloth recognized by the Guinness Book of World Records as the oldest living sloth in captivity. However, if you were hoping this senior sloth was living in the U.S., that is not the case. Jan, a two-toed sloth (Choloepus didactylus), was originally found in South America, estimated roughly six months old, and came to live at the Hagenbeck Zoo in Hamburg, Germany on December 9.
After 15 years of residence, he was moved to Krefeld Zoo in 1986, where he still lives to this day. The zoo he originally took up residence in named his birthday as April 30, 1970. Jan, now 53 years old, is still living his best long life, and has sired 21 babies in the zoo's breeding program.
Summary of 20 Amazing Zoos in the U.S. with Sloths
Here are 20 great zoos in the United States that feature sloths. The zoos are numbered but not ranked.
| Number | Zoo and Location |
| --- | --- |
| 1 | Southwicks Zoo – Mendon, MA |
| 2 | Salisbury Zoo – Salisbury, MD |
| 3 | Bronx Zoo – Bronx, NY |
| 4 | Philadelphia Zoo – Philadelphia, PA |
| 5 | Palm Beach Zoo & Conservation Society – West Palm Beach, FL |
| 6 | Zoo Atlanta – Atlanta, GA |
| 7 | Memphis Zoo – Memphis, TN |
| 8 | Louisville Zoo – Louisville, KY |
| 9 | National Zoo – Washington, DC |
| 10 | Cincinnati Zoo & Botanical Garden – Cincinnati, OH |
| 11 | Lincoln Park Zoo – Chicago |
| 12 | Detroit Zoo – Royal Oak, MI |
| 13 | Como Park Zoo & Conservatory – St. Paul, MN |
| 14 | Phoenix Zoo – Phoenix, AZ |
| 15 | Dallas World Aquarium – Dallas, TX |
| 16 | Utah's Hogle Zoo – Salt Lake City, UT |
| 17 | Cheyenne Mountain Zoo – Colorado Springs, CO |
| 18 | San Francisco Zoo & Gardens – San Francisco, CA |
| 19 | San Diego Zoo – San Diego, CA |
| 20 | Honolulu Zoo – Honolulu, HI |
The photo featured at the top of this post is © iStock.com/Christopher R Mazza
---