Located in North Carolina, Lake Norman is the state's largest manmade body of fresh water. It is notable for its reddish-brown hue and its role in providing essential power to the region. The reservoir covers a considerable area, but how deep is Lake Norman compared to its area? Read on to find out this and much more!
How Deep Is Lake Norman?
Lake Norman averages 33.5 feet deep with a maximum depth of 112 feet. Its maximum depth occurs only at its outlet. It is longest from north to south with a width of nine miles. Interstate 77 and North Carolina Highway 150 both cross the lake.
The table below lists several measurements for Lake Norman:
| Measurement Type | Size |
| --- | --- |
| Area | 50.80 square miles (132 km2) |
| Length | 33.6 miles (54.1 km) |
| Width | 9 miles (14 km) |
| Maximum Depth | 110 feet (34 m) |
| Average Depth | 33.5 feet (10.2 m) |
| Shore Length | 520 miles (840 km) |
| Height Above Sea Level | 760 feet (230 m) |
Summary of Lake Norman's measurements.
How Deep Is Lake Norman Compared to Other Well-Known American Lakes?
Below is a table comparing the depth of Lake Norman to the depths of several other well-known or sizeable American lakes. All measurements are in feet and indicate the depths of the lakes at their deepest points.
Comparison of Lake Norman's depth with the depths of other American lakes.
Where Is Lake Norman?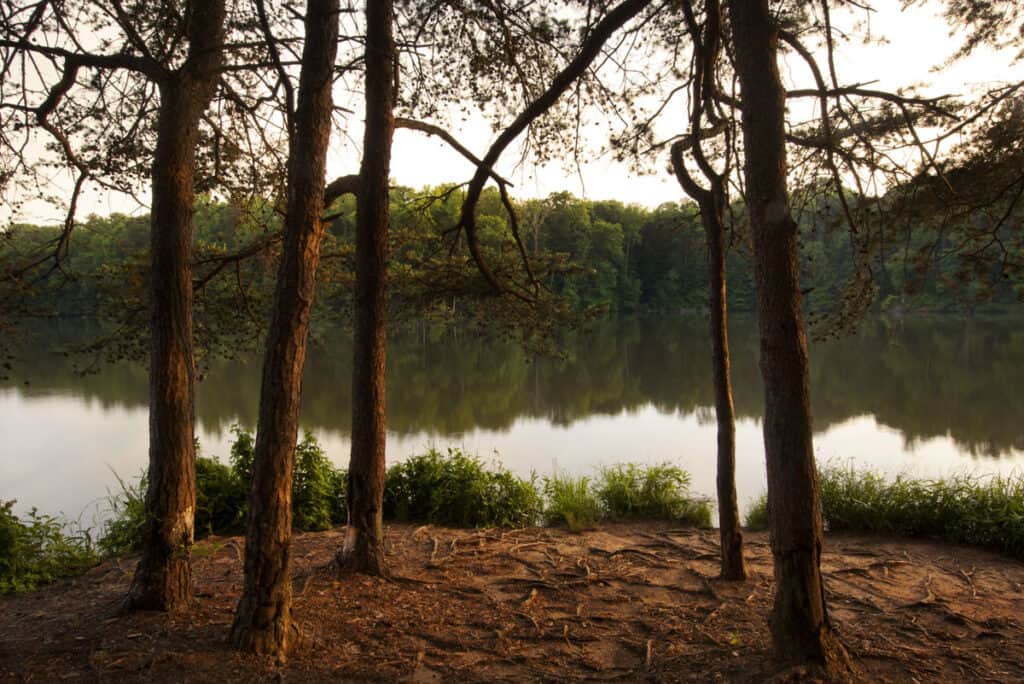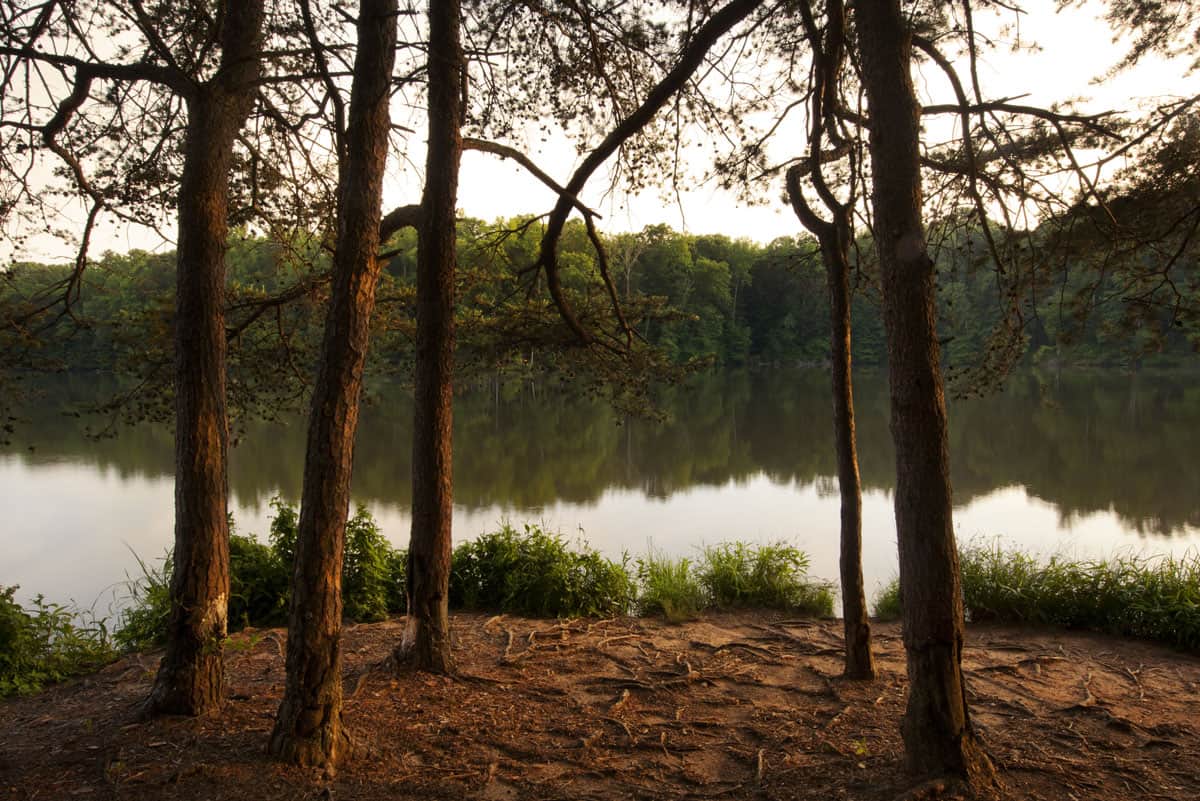 The reservoir known as Lake Norman is located in the Charlotte area of North Carolina. Lake Norman State Park encompasses 17 miles of its northern shoreline. The reservoir receives water from the Catawba River and drains southward into Mountain Island Lake. Because of its size and location, Lake Norman is also known as North Carolina's "inland sea."
Several counties rely on Lake Norman for their water supply: Catawba County, Iredell County, Lincoln County, and Mecklenburg County. Notable towns within Mecklenburg include the county seat Charlotte and the towns of Cornelius, Davidson, and Huntersville.
Lake Norman State Park
Lake Norman State Park lies in Iredell County about 40 miles north of Charlotte. It includes 17 miles of Lake Norman's northern shoreline as well as 1,942 acres of wilderness. The park contains 38 miles of hiking trails and 30.5 miles of biking trails. Other popular activities include swimming, fishing, paddling, and picnicking. Camping facilities include camper cabins, tent sites, trailer and RV sites, and group tent sites. Visit the official Lake Norman website to learn more and plan a visit.
Animals in Lake Norman
A wide variety of animals call Lake Norman home. This includes several fish species:
Black bullhead (Ameiurus melas)
Black crappie (Pomoxis nigromaculatus)
Blue catfish (Ictalurus furcatus)
Bluegill (Lepomis macrochirus)
Bodie bass (Morone saxatilis crossed with Morone chrysops)
Channel catfish (Ictalurus punctatus)
Flathead catfish (Pylodictis olivaris)
Largemouth bass (Micropterus salmoides)
Sauger (Sander canadensis)
Smallmouth bass (Micropterus dolomieu)
Spotted bass (Micropterus punctulatus)
Striped bass (Morone saxatilis)
Walleye (Sander vitreus)
White bass (Morone chrysops)
White crappie (Pomoxis annularis)
White perch (Morone americana)
Yellow perch (Perca flavescens)
Yellowfin bream (Acanthopagrus australis)
Lake Norman also has a variety of other animals like frogs, toads, turtles, and salamanders as well as birds like red-tailed hawks, ravens, and ospreys. Additionally, it offers several mammals like white-tailed deer, coyotes, foxes, beavers, and squirrels.
The Lake Norman Monster
Similar to Loch Ness's Nessie, Lake Norman has its monster: Normie. Many people have reported spotting this mythical creature in the waters of the reservoir. Most say it appears to be reptilian, somewhat like a massive crocodile with fins or flippers. Some believe that the nearby nuclear power plant may have caused a mutation that resulted in Normie's unusual size. Check out Normie's official website for more information on this intriguing legend.
History of Lake Norman
Before the arrival of Europeans in the area, Native American tribes lived in the area now known as Lake Norman. They also lived along the banks of the Catawba River. Archaeologists have unearthed several artifacts testifying to the existence of these indigenous peoples.
A Niagara Falls dam engineer originally came up with the plans for the Cowans Ford Dam in the 1890s, though he would not propose them to James Buchanan Duke until 1905. Eventually, the Duke Power Company (originally the Catawba Power Company and now known as Duke Energy) built the dam across the Catawba River over five years between 1959 and 1964. Lake Norman formed as a result of the dam. The reservoir was the seventh and biggest lake Duke created. The company named the lake after Norman Atwater Cocke, who served as president until his retirement in 1959.
The lake covers several notable sites and features. For example, certain graveyards had to be moved from the area, including the Cornelius Family Cemetery and the Hunters Chapel M. E. Zion Church Cemetery, to accommodate the new lake. A 1938 summer camp now lies buried beneath the water as well as the site of the 1781 Battle of Cowan's Ford. Homesteads, plantations, highways, and an airplane also once existed on the submerged land.
The Piedmont region of the Carolinas draws power from Lake Norman. The reservoir powers the generators at the Cowans Ford Dam hydroelectric station, provides power to the Marshall Steam Station, and cools the reactors at McGuire Nuclear Station.
The photo featured at the top of this post is © KyleHohler/Shutterstock.com
---